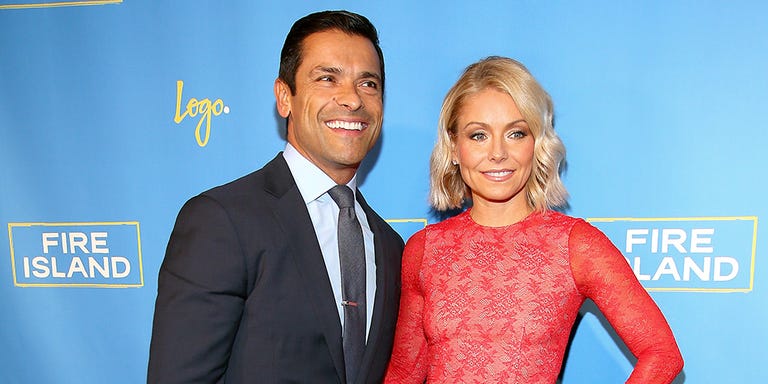 Apparently, the secret sauce to a happy, decades-long marriage is being flexible. Literally.
Need proof? Kelly Ripa and her hubs, Riverdale star Mark Consuelos, shared a series of partner yoga photos on Sunday, and. Damn.
The couple is currently on vacation in the Bahamas to celebrate 22 (!!) years together—and apparently ultra-intense yoga is how they like to party.
In her Instagram caption, Kelly joked that "trust and flexibility" keep their relationship alive, as she shows off her partner acro yoga (aka yoga poses, with acrobatic flare) talents. Mark also shared shots where he's holding Kelly up in the air with his feet, and then vice versa. Plus, there's a few ~interesting~ positions where they're intertwined (inspiring Mark's comment that they were into "freaky shizz.")
Both sets of photos got about 100K likes and lots of hearts and heart-eyed emojis, because #relationshipgoals.
But the best part: Their daughter's hilarious response. On her dad's racy IG post, Lola Grace Consuelos commented, "OK, wth…" Kelly joked that they joined Cirque du Soleil. Uh huh, suuuuure.
Kelly and Mark met back in the 90s on the on the set of the soap opera, All My Children, and eloped in Las Vegas in 1996, according to People. In addition to 16-year-old Lola Grace, they're also parents to sons Joaquin (15) and Michael (20).
And this isn't the first time they've shared their support for each other via the 'gram. In March, Mark posted a photo of Kelly, 47, in a bikini, which generated some unexpected buzz. Several haters posted negative comments about the Live with Kelly and Ryan host and her age (super lame, amiright?). But Mark stuck up for his wife, defending her fit, healthy body and mega career success.
Of course, it's no secret Kelly does have a pretty sick body, six-pack included—that's probably why she can so easily balance upside down or hold her husband up in the air. She works hard for her figure, exercising with AKT founder, Anna Kaiser three to four days a week for 90 minutes each.
Her mix of intervals and dance cardio clearly does the body good—and makes for some pretty 'grammable yoga poses, too.
The lesson here? The couple that holds intense yoga poses together, stays together.
Follow Delish on Instagram.
From: Women's Health US
Source: Read Full Article