Taking to his social media platform, the 'Jay and Silent Bob Strike Back' director says that he feels 'like an a**hole' upon learning about the 'Die Hard' actor's medical issues.
AceShowbiz –Kevin Smith is showing remorse over his "Cop Out" feud with Bruce Willis. Upon learning of the "Die Hard" actor's aphasia diagnosis, the filmmaker made use of his social media platform to post an apology note.
On Wednesday, March 30, the 51-year-old director turned to Twitter to apologize to Bruce. "Long before any of the 'Cop Out' stuff, I was a big Bruce Willis fan – so this is really heartbreaking to read," he wrote of Bruce's diagnosis. "He loved to act and sing and the loss of that has to be devastating for him. I feel like an a**hole for my petty complaints from 2010. So sorry to BW and his family."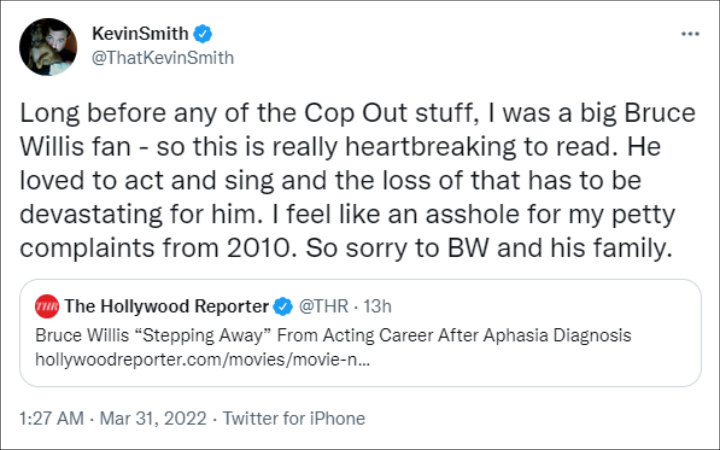 Kevin Smith issued an apology to Bruce Willis for their 'Cop Out' feud following the latter's aphasia diagnosis.
Back in 2011, Kevin described working with an unnamed star, assumed to be Bruce, "soul crushing" during an appearance on Marc Maron's "WTF" podcast. "One guy wouldn't even sit for a f**king poster shoot," Kevin, who directed the comedy film which starred Bruce and Tracy Morgan, allegedly said.
"Everyone knows who it is," Kevin continued. "Put it this way, remember the really funny guy in the movie? It ain't him. He's a f**king dream. Tracy Morgan, I would lay down in traffic for. Were it not for Tracy, I might've killed myself or someone else in the making of that movie."
Kevin later said that it was "difficult" as he's "never been involved in a situation like that where, one component is not in the box at all." He added, "It was f**kin' soul crushing. I mean, a lot of people are gonna be like, 'Oh, you're just trying to blame the movie on him.' No, but I had no f**king help from this dude whatsoever."
Then during the "Cop Out" wrap party, Kevin slammed Bruce when he toasted the cast and crew. "I want to thank everyone who worked on the film, except for Bruce Willis… who is a f**king d**k!" he reportedly said.
On March 30, Bruce, via his family, announced that he decided to give up acting following his health issues. "To Bruce's amazing supporters, as a family we wanted to share that our beloved Bruce has been experiencing some health issues and has recently been diagnosed with aphasia, which is impacting his cognitive abilities," read a statement posted on Instagram.
"As a result of this and with much consideration Bruce is stepping away from the career that has meant so much to him," the family added along with a photo of the actor. "This is a really challenging time for our family and we are so appreciative of your continued love, compassion and support. We are moving through this as a strong family unit, and wanted to bring his fans in because we know how much he means to you, as you do to him."
Source: Read Full Article