Khloe Kardashian's relationship with Tristan Thompson has been the roughest emotional roller coaster in recent Hollywood-romance history. The couple seemed like they were on the road to a happy life together until alleged video footage of Thompson seemingly kissing other women dropped days before Khloé was set to give birth. Like I said, things have been rough. And although the reality star has been putting on a brave face publicly for the sake of her and Thompson's new daughter, baby True, chances are things aren't perfect between the couple. And it seems that Khloé has made somewhat of a statement with her most recent gift to sister Kim Kardashian and her husband, Kanye West (have you heard of him?). Basically, fans think Khloé Kardashian's anniversary present for Kim dissed Tristan Thompson and world, I am SHOOKETH.
In case you haven't been keeping up with the Kardashians (lol), Kim and Kanye celebrated their fourth wedding anniversary on Thursday, May 24. Kim gave Kanye the gift of having his wife become a blonde again, taking to Twitter to show her fans a video of herself debuting dyed blonde hair once more. "Went blonde again for my anniversary it's @kanyewest's favorite," the KUWTK star and mom of three shared. Bleaching your scalp for the one you love: Aww!
Kanye gave Kim the gift of a very normal and heartfelt Twitter post, which we haven't exactly been seeing from the rapper as of late. He wrote,
Not even going to lie, that was pretty cute. Good job, Kanye!
But this story isn't about Kim and Kanye being the ultimate #couplegoals. This is about our girl Khloé, and what she gave to the happy couple on her anniversary. And I'm not going to lie, it's a bit shady (read: shady AF) towards Tristan Thompson. So let's get right to it folks, shall we?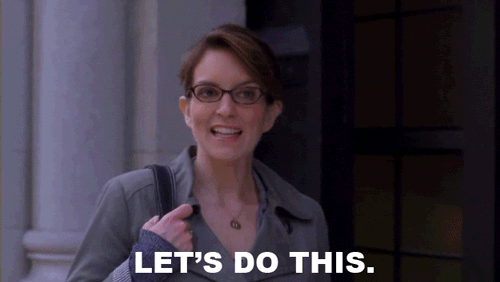 For their anniversary, Khloé did what any loving sibling would do for her sister's anniversary: Sent a gorgeous bouquet of roses. (Please note that I have never given my sister a floral arrangement for her anniversary, but that's because I'm poor, and that's where Khloé and I really start to differ.)
Kim K posted a video to her Instagram Story to show off the stunning flowers. Super beautiful, very heart-warming, and so, so thoughtful, yes?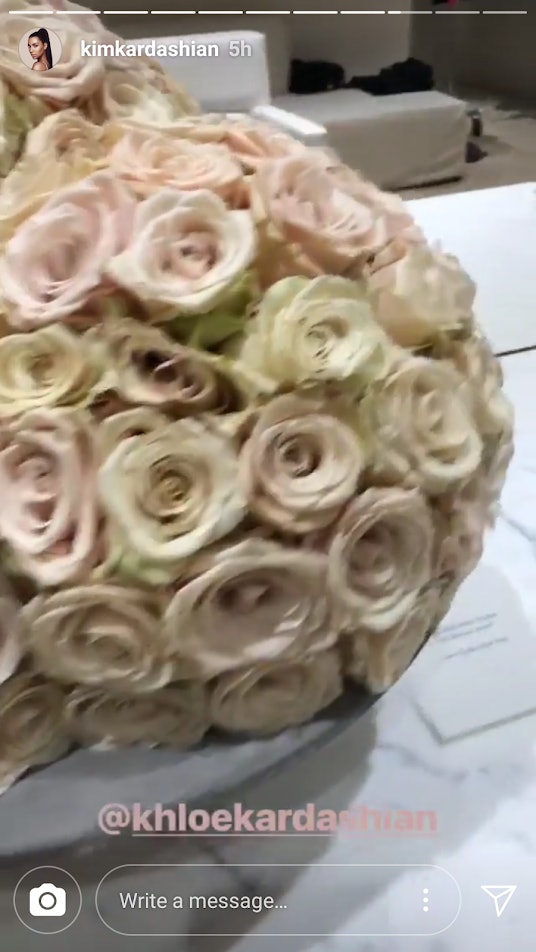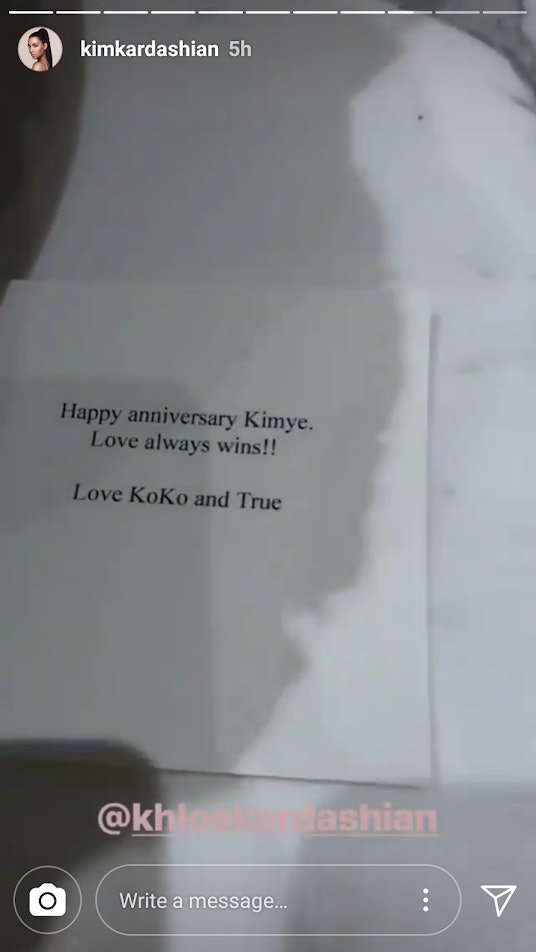 Look at it. Look harder. Then look at it some more. No mention of Tristan anywhere. Elite Daily reached out to Kardashian's team about what the subtle snub means, but did not hear back by the time of publication.
Fans are starting to notice the small detail, because obviously:
And now that there are reports that Khloe Kardashian & Tristan Thompson are "fighting constantly" I feel like things might be taking a turn for the worse between her and her man. A source revealed to Us Weekly that the pair is going through a ton of troubled times in their relationship. "Khloé and Tristan are fighting constantly. All the time," the source said, adding, "She doesn't know how she's going to rebuild trust in him. She knows her family and friends aren't supporting him or her right now." Elite Daily reached out to Kardashian's team for comment, but did not hear back by the time of publication.
So, was it just something that Khloé simply overlooked? Did she not include him so as not to ruffle any feathers with her sister (who has made it abundantly clear she's not a fan of the NBA star)? Or is there much more at play here, perhaps signifying that Khloé's relationship with Tristan is truly on the rocks? Fam, I couldn't tell ya, but I'm anxious to see where this goes.
Source: Read Full Article