Having only just missed Tristan Thompson's name off of a wedding anniversary card for Kimye, Khloé Kardashian appears to be sending a message to the basketball player.
Just yesterday, Khloé shared a photo on her Instagram Stories of the anniversary card she was sending to Kim Kardashian and Kanye West on their wedding anniversary. Instead of signing it from her whole family, she simply wrote "Love KoKo and True," hinting that her relationship with Tristan might not be as solid as was previously reported.
And now, taking again to her Instagram Stories, Khloé has shared a quote which appears to be aimed at Tristan. Her message reads, "You can be a good person, with a beautiful spirit, and still possess the authority to tell someone: 'you got me fucked up'":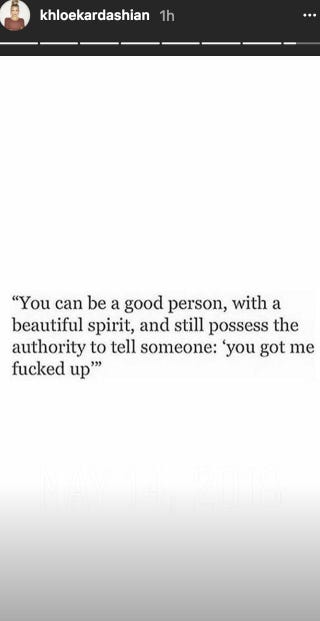 Considering the number of cheating allegations brought against Thompson, while Khloé was still pregnant with baby True, it's extremely possible that this new quote is a message directed at him.
As any fan of Keeping Up With the Kardashians will know, Khloé has always tried to remain supportive of anyone close to her, as evidenced by how she looked out for her ex-husband Lamar Odom following his hospitalization.
Perhaps this message is Khloé's way of telling Tristan that his actions messed her up. But whether or not the quote is actually directed at the father of Khloé's baby remains to be seen. Still, Khloé's latest Instagram Story seems to suggest that she's not totally over those allegations against her significant other, just like the rest of us.
Source: Read Full Article