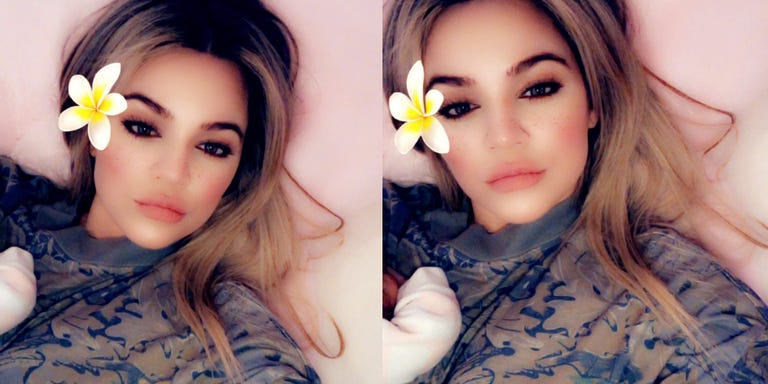 Kylie Jenner may be holding backfrom posting new pictures of her daughter, but Khloé Kardashian is on a sharing spree. Since welcoming her baby girl, True Thompson, in April, the new mom has treated her followers to adorable shots of her first child on Instagram and Snapchat. See all the photos below.
June 13, 2018: True's First Selfie?
True seems to be modeling for the camera (in true Kardashian style) for her (maybe) first-ever selfies. True is dressed in her usual all-pink get-up, accessorized with a floral headband.
June 12, 2018: Green-Eyed Girl
Khloé shared this close up photo of True taking a bath, where you can really see her green eyes—and cute chubby cheeks.
June 6, 2018: "Lookin' Like a Little Lady"
True is dressed in a head-to-toe pink outfit—bow and tutu included—sitting up on a couch before letting out an adorable sneeze. Proud mom Khloé can be heard in the background asking, "Who's the cutest little munchkin!?" (Hint: the answer is True.)
May 30, 2018: Baby Bunny
In honor of True's seven-week anniversary of being born, Khloe shared this adorable throwback photo of her sleeping two-week-old daughter with a bunny filter, writing, "why is time flying!!"
May 28, 2018: Happy Memorial Day
Khloé posted this selfie holding True (in another pink headband) with the "Happy Memorial Day" Snapchat filter.
May 26, 2018: Mother-Daughter Selfie
Khloé posted a filtered selfie with her sleeping daughter on her Instagram, captioning the photo, "Mommy's Little Love."
May 13, 2018: Happy 1st Mother's Day Khloé!
In a candid snap, True is seen in a black-and-white patterned onesie, and later seen fast asleep while celebrating Khloé's first Mother's Day.
May 12, 2018: Hiccuping Cutie
Khloé posted this precious video of True—with her favorite flower filter—who lets out the most adorable set of baby hiccups.
May 12, 2018: True is One Month Old
On True's one-month birthday, Khloé posted an adorable video of her daughter with a Snapchat filter, saying, "I love you sweet girl!"
May 11, 2018: A Sneak Peak
In her first post, just one month after giving birth, Khloé teased a teeny tiny bit of True in a selfie posted on Snapchat. You can see a small piece of True's arm and her little head.
Source: Read Full Article