There's just something about drama that piques people's interests, and suddenly everyone has something to say. Well, Khloé Kardashian is shutting down unsolicited advice on social media, and honestly, good for her. She's a human being, so let her live people.
On May 27, Good American designer took to Twitter to share some thoughts about blame and advice. In the first tweet, Kardashian talked about how people constantly "blame" others, and focus on other peoples lives rather than their own.
She tweeted,
In the second tweet, she continued by urging people to "live the advice they offer," and to focus on addressing problems in their own lives rather than other people's issues.
She tweeted,
I don't blame Khloé for shutting down unwanted advice. If I were her, I'd do the exact same.
It's not 100 percent clear who and what the younger Kardashian is referring to through these cryptic tweets. However, I don't think it's too much of a stretch to assume it has something to do with the daily headlines concerning her and Tristan Thompson's relationship. Even though Kardashian may be in complete maternal bliss since giving birth to her daughter, True Thompson, on April 12, things haven't been looking as smooth between her and Thompson. Since The Daily Mail reported in April that Thompson allegedly cheated on Kardashian with several women during her pregnancy, everyone has been wondering about the status of the power couple's relationship. Elite Daily reached out to Kardashian's and Thompson's teams for comment at the time, but didn't hear back.
It can't be easy having to handle a rocky relationship in the public spotlight, and apparently she's done with hearing what haters have to say. On May 2, fans started noticing that the Kardashian had disabled comments from her and Thompson's Instagram photos dating all the way back from Jan. 2. It might be for the best, especially because people have been trolling Thompson's Instagram since the alleged cheating reports surfaced. Go ahead and nip that in the bud Khlo.
It may not be my life, and therefore not my business, but I do really care whether Khloé is happy or not. On May 25, a source told Us Weekly that the two are apparently "fighting constantly" over trust issues, and I'm cringing. Elite Daily reached out to Kardashian's team for comment, but did not hear back.
"Khloé and Tristan are fighting constantly. All the time," the source told Us Weekly. "She doesn't know how she's going to rebuild trust in him. She knows her family and friends aren't supporting him or her right now."
I don't know about y'all, but my heart is seriously aching for Khloé. No one deserves this kind of spotlight, and it must be even harder while juggling a newborn. However, if anyone can handle the drama, it's Khloé Kardashian.
Despite the constant headlines, the new mom is busying herself by taking care of her beautiful baby girl. Since True's arrival, Kardashian has taken to social media a few time to #bless us with a few glimpses of the family's latest addition. I'm totally in love.
I'm not crying, you're crying.
Who knows exactly what's happening with her and Thompson's relationship, and honestly that's completely her business. The important thing is that Khloé is happy, healthy, and enjoying her new role as a mom. Judging from those photos, it looks like that's in fact the case. These headlines may never stop, but I have no doubt that the Kardashian sisters will always be there to have Khloé's back no matter what.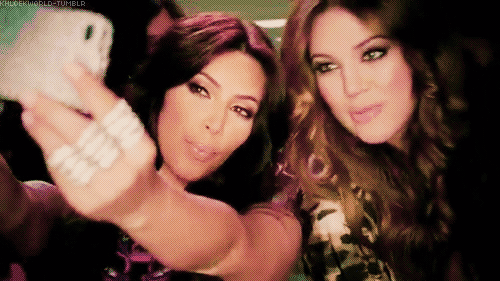 Keep that head up Khlo, and never stop speaking your mind.
Source: Read Full Article