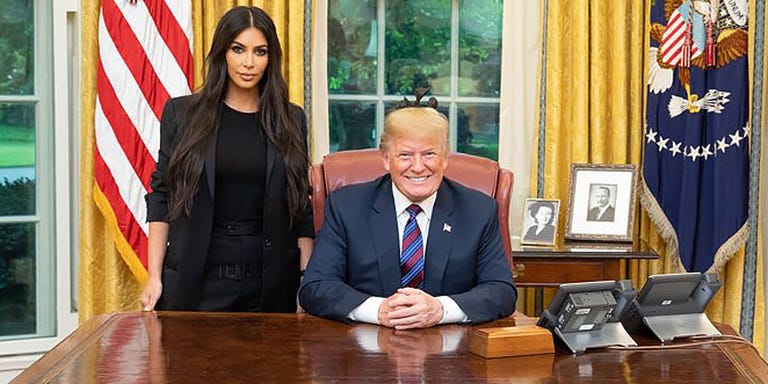 Kim Kardashian went on CNN last night to talk about her visit to the White House and the commutation of 63-year-old Alice Marie Johnson, who had been serving a life sentence in prison for a first-time drug offense. Van Jones asked how she feels about the idea that she may have been Trump's political pawn, and Kim defended herself by saying she's actually been working on this case for months.
"I was working on this before," she said. "I don't think I would be used. At the end of the day, he heard me out. We got the job done. What could he really use me for?"
[email protected] on White House visit: "I never get starstruck. I was starstruck over the Oval Office" pic.twitter.com/wsSdcjXm5H
Many people on social media commented on how Kim's visit to the White House felt like an endorsement for Trump, and Jones also asked about that, if she feels like she's given Trump legitimacy.
"I think Kanye's already given him legitimacy in that way," she said of her husband, who not only had a meeting with Trump before the inauguration but had a tweet exchange with him in April.
So grateful to @realDonaldTrump, Jared Kushner & to everyone who has showed compassion & contributed countless hours to this important moment for Ms. Alice Marie Johnson. Her commutation is inspirational & gives hope to so many others who are also deserving of a second chance.
Kim said that getting the call about Alice's commutation was a really heartwarming experience that she'll remember for the rest of her life. "I remember I was on the phone with my husband and I said, 'Wait, babe, I have to call you back.' And it was a secretary on the line who said she had the president on the phone and I knew it had to be some news," Kim said. "When he said he has the papers in front of him and he's signing it, my heart was so full."
The phone call I just had with Alice will forever be one of my best memories. Telling her for the first time and hearing her screams while crying together is a moment I will never forget.
FYI, Kim, who is arguably the most famous woman in the world, said that even she got a little starstruck being in the most important office on earth. "I have to say I never get starstruck. I was starstruck over the Oval Office."
Stars, they're just like us!
Follow Emma on Instagram.
Source: Read Full Article