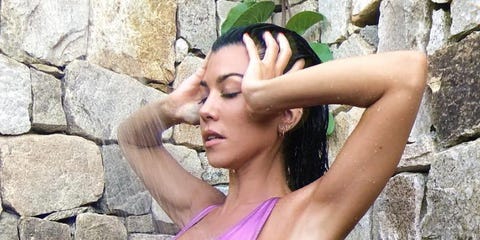 All of the Kardashian-Jenner sisters continue to up their Instagram game with every revealing photo that they post. And this weekend is no exception as Kourtney Kardashian is sporting the most gorgeous pink metallic swimsuit on Instagram, and she looks absolutely flawless, as always.
Posing under an outdoor shower, Kourtney's Kai Lani candy-colored metallic one piece is not only cut super high on her hips, but the swimsuit also has a deep V-neck. Showing off her killer figure, Kourtney looks calm and relaxed, posting the completely apt caption, "sometimes i take all the shine"—and in this outfit, she most definitely does:
sometimes i take all the shine
A post shared by Kourtney Kardashian (@kourtneykardash) on
SHOP NOW
Kai Lani Resort '18 Candy Metallic V One Piece, $202, KaiLaniSwimwear.com
SHOP NOW
Wearing the very same shiny costume, Kourtney was spotted with her sister's former personal assistant, Stephanie Shepherd, reports the Daily Mail. In the up-close-and-personal photos, Shepherd can be seen checking out Kourtney's amazing physique in the skimpy swimsuit, before sitting alongside her. Despite not working for Kim Kardashian West anymore, Shepherd is obviously still extremely close with the reality TV family.
Kourtney recently broke up with her boyfriend, Younes Bendjima. The breakup fuelled reunion rumors about Kourtney and her ex, Scott Disick, although a number of sources have refuted this gossip. The co-parents were caught on camera sitting next to one another at Kylie Jenner's 21st birthday party, with sister Khloé sharing a Snapchat about them with the suggestive caption, "a girl can dream." However, at least for now, it doesn't look as though a romantic reunion between Kourtney and Scott is remotely on the cards.
Source: Read Full Article