Kristen Bell has been a mom for several years now, and she occasionally shares with fans some interesting stories from her motherhood experience. Recently, Bell opened up about a time when one of her daughters questioned if Bell is her "real mom."
Kristen Bell has 2 daughters with husband Dax Shepard
Bell is married to fellow actor Dax Shepard. The couple started dating in 2007 and tied the knot in 2013 after same-sex marriage was legalized in the United States.
Bell and Shepard have two daughters: Lincoln (born 2013) and Delta (born 2014).
Kristen Bell says daughter Delta once questioned if Bell is her 'real mom'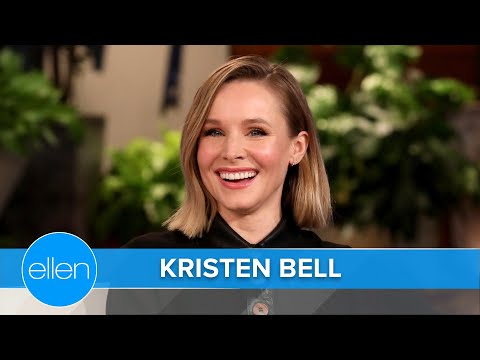 Bell recently appeared on The Ellen DeGeneres Show, where she shared that her daughters are "at the age where they have so many thoughts and opinions." The actor described it as both "shocking and great."
As an example, she revealed that her younger daughter, Delta, has started questioning Bell's identity.
"About two months ago, we were lying in bed and she said, 'How do I know you're my real mom?'" Bell recalled. "She was having an existential thing, and I was like, 'I don't know any other way to prove it to you other than, like, you lived in my body. I can show you the DNA proof.'"
Bell continued, "She said, 'How do I know you're not really a zombie? And you're gonna peel my mom's face off and prove that you're a zombie?' And I… I couldn't prove that that wouldn't happen. I was really stumped."
Coincidentally, during one night, Bell tripped over a chair and bruised her face. When Delta saw Bell afterward, the young girl apparently saw it as evidence of "the zombie coming out."
Kristen Bell says her kids will be a 'nightmare' for many years
Bell and Shepard have been open about encouraging their kids to be curious and opinionated, so it does not seem like Bell will stop her daughter's questions about Bell being a zombie anytime soon. In fact, Bell has predicted that Lincoln and Delta might be a "nightmare" for some people.
"My husband and I are very opinionated. We talk a lot," she told Channel Q's The Morning Beat. "Our kids are a nightmare. They're a nightmare because they will tell you your opinion. We constantly joke about the fact that we're raising two girls that — they're going to be a nightmare for 18 years. But God bless when we send them into the world, they are going to be formidable, opinionated, kind, morally-compassed women."
Bell and Shepard also try to not hide things from their kids, even when it comes to taboo topics such as sex. For Shepard, this decision to be open and honest comes from his own childhood.
"My mom was unbelievably unfiltered with us," Shepard told PureWow. "And I just always appreciated that as a kid and I respected that. I could tell when adults were fibbing to me and I had friends who had parents who didn't tell them how babies were made, and they believed in the stork. I felt grateful that I was being told the truth…We have a pretty hardcore policy of 'We'll just tell you how it is.'"
Source: Read Full Article