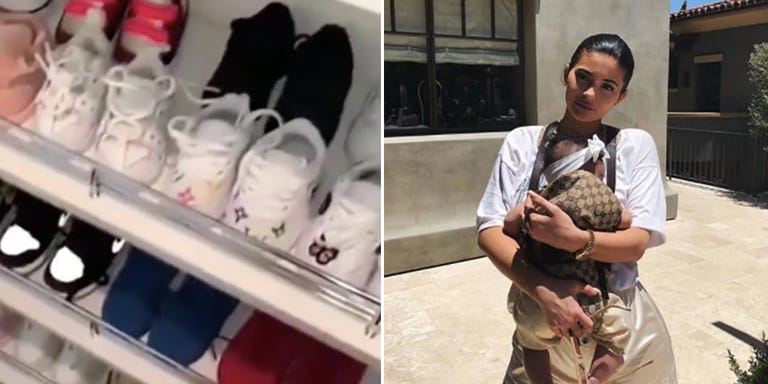 If you need another reason to submit your "please adopt me" form to Keeping Up With The Kardashians, look no further than Kylie Jenner's daughter Stormi Webster's shoe collection.
She genuinely owns more shoes than we have seen in our entire lives. AND SHE CAN'T EVEN WALK YET.
MailOnline reports that the shoes cost around $22,000, including the likes of $1,000 Giuseppe Zanotti's, $275 Gucci flats, and $50 Nike Air Force 1's.
"Stormi can finally fit into some of her sneakers," Kylie says in the voiceover. "So, I'm about to see if she likes shoes. Too cute."
Kylie welcomed her first child with boyfriend Travis Scott at the beginning of this year, and though Kylie did share a number of photos of their newborn with the world, she later deleted them all, and told a fan she was "not sharing photos of my girl right now."
An insider at People said it was because nasty comments had been made about Kylie's daughter, commenting:
But Stormi's shoe closet isn't off limits, so we can all spend the day feeling envious of a baby's shoes.
From: Cosmopolitan UK
Source: Read Full Article