Ariana Grande's "God is a woman" music video is pop (music) art. And that's a fact. It had Greco-Roman art references, trippy cosmic wonderment, Madonna, and, yes, one of the video's most iconic scenes features a nude, body-painted Ari swimming in a vagina-shaped pool of… primordial purple soup? (OK, technically it was a custom-colorized "special effects fluid.")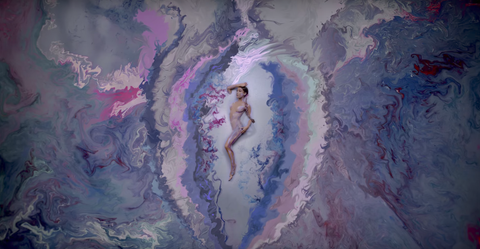 That particular moment was possible thanks to artist and body painter Alexa Meade. Meade, 31, studied politics at Vassar College and planned for a career in D.C.—or at least having a job "with a desk and health insurance." But she decided to put that all aside to embrace her creative side. "A lot of my friends thought that I was absolutely crazy," she explained in an interview with Cosmopolitan.com of her decision to follow her heart art. "But I knew there was something there I needed to explore. I was really inspired and I just had to give it a chance."
A self portrait #selfie
A post shared by Alexa Meade (@alexameadeart) on
Since 2009, Meade has been using people's bodies as her canvas. The Los Angeles-based artist has since gone viral in the past for a cute 3D painting couple proposal video, and she's also made an award-winning short film—which tackles societal issues such as gun violence—called "Color of Reality."
Below, Meade talks about her "God is a woman" inspirations, the process of painting Ariana, and whether the singer got ticklish. You know you would!
How did you land this gig for the "God is a woman" video?
This was my first music video. I've been asked to do them by so many people over the years, but I wanted to make sure that [I'd be working] with an artist that I really respected, and for a song that I thought had the right type of message, and also with a creative team that I knew could pull off something breathtakingly beautiful. So when I was contacted by Ariana's team about doing this video, I was really excited.
What was the concept for this shoot? How did you think about what this was going to look like?
The video's director Dave Meyers had been a fan of a series I did with [the performance artist] Sheila Vand in 2012—I painted her in a swimming pool filled with milk. And the colors [bled off] of Sheila's body into the milk, and there were all these beautiful patterns around her. For the video, Dave thought it would be really interesting to have Ariana at the center of this universe [full of] swirling pink colors.
My work on @arianagrande's #giaw video was inspired by this awesome series I created with the amazing @dontworryitssheila
A post shared by Alexa Meade (@alexameadeart) on
There was also a lot of inspiration taken from Georgia O'Keeffe and her paintings of flowers—the idea was to have Ariana at the center of this unfolding petal shape that could feel like an O'Keeffe painting.
I'm used to having the people that I paint just sit there and watch, but Ariana was really part of the process
What was it like painting Ariana? How was she handling it?
I assumed this was her first time being body-painted—although I didn't think to ask! But it was so cool. I'm used to having the people that I paint just sit there and watch, but Ariana was really part of the process. She had all sorts of ideas. She said, "What if we left my skin showing through [in parts] so that there's contrast between the purples and my natural skin tone?" That was a stroke of brilliance! It's actually something that I'd never experimented with before—I have Ariana as the muse for prompting this shift.
That's amazing!
She has this incredible artistic eye. I was blown away. When I started painting her face, she asked me for a brush—she painted her lips baby blue herself, and put in those hints of pink. Ariana was just a pro. She had a vision.
when all is said n done ….
A post shared by Ariana Grande (@arianagrande) on
Was she nervous or ticklish at all?
There were definitely moments where I had to stop because she said it tickled too much. I'd say, at first, she didn't know quite what to expect—she was a little bit nervous. But then I told her, "Oh, you can put on music, you can move around. You don't have to stay still," and she completely loosened up, started dancing around, started singing. I felt like I had a front row seat to a concert.
Ariana was just a pro. She had a vision.
What was the most challenging part of the job for you?
Trying to figure out what to do about her hair [was a challenge]. Ariana was totally gung ho—she didn't have any objections about me putting paint in her hair. But the problem was that the painted hair would have behaved unpredictably in the liquid [she was lying in]. So, instead, I had to paint on a piece of rope that was then braided and attached to her bun so that [it would look like] her hair.
@arianagrande thank you for being such an incredible, inspiring woman to paint and have as the greatest muse! You're unbelievably talented and you bring so much light into the world! It's been a huge honor #giaw #godisawoman @dave_meyers @freenjoy @dontworryitssheila ? by @alfredoflores
A post shared by Alexa Meade (@alexameadeart) on
So how was this experience compared to all your previous body paint projects?
Usually, when I paint people, I have a painted background, a room, a floor, a chair—tangible things for the model to interact with. In this one, because Ariana was lying in the liquid, in an enormous custom-fabricated bath, the considerations were very different.
Behind the scenes of my collab with @arianagrande in her new video, "God is a woman", inspired by my work with @dontworryitssheila. The video, directed by @dave_meyers, comes out in an hour! ? by @alfredoflores #staytuned #arianagrande #giaw @sweetener #linkinbio
A post shared by Alexa Meade (@alexameadeart) on
It was like working in a whole new medium, trying to figure out [brushstrokes] that would hold on the surface of the liquid. It took a lot of work to figure out how we could make [the paint] hold in the liquid without immediately bleeding out.
You previously went viral for painting an engaged couple. Would you paint Ariana and Pete Davidson if they asked you for an engagement shoot?
If Ariana and Pete asked me to paint them for an engagement shoot, I would be very happy to oblige! I love painting people in love, and they are just the cutest. I can only imagine what magic would come from the chemistry they have together.
This interview has been edited and condensed for clarity.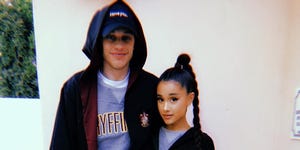 Source: Read Full Article