In addition to doubting that Lil Boosie will say sorry, the 'Old Town Road' hitmaker's half-brother, Robert Sleepy, calls the 'Bad Azz' artist's new movie 'My Struggle' 'trash.'
AceShowbiz –Lil Nas X has found support in his half-brother Robert Sleepy. After the "Industry Baby" hitmaker was attacked with homophobic slurs by Boosie Badazz (Lil Boosie), Robert defended his brother online and said that he doubted the "Wipe Me Down" rapper would apologize.
Taking to his Twitter account on Wednesday, October 27, the "Old Town Road" rapper's stepbrother trolled Boosie as saying, "Boosie if u apologize we might give you a #1 [laughing emojis]." In a following tweet, he stressed, "Doubt it though."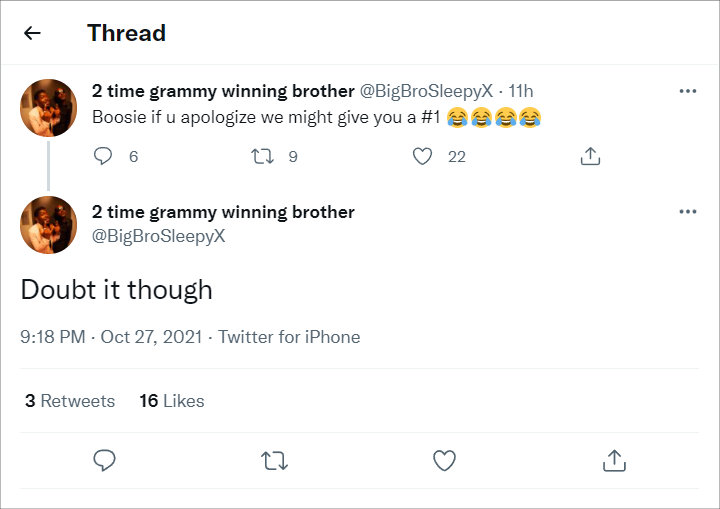 Robert Sleepy trolled Boosie Badazz after his homophobic insult against Lil Nas X.
In a separate post, Robert quoted Lil Nas X's lyrics from "Industry Baby" before bragging about his brother's accomplishments. "Baby back aye couple racks aye couple Grammys on him couple plaques aye @BOOSIEOFFICIAL yea we not mad at all homie more hits [than] your whole trash a** catalog," he tweeted, before offering a critique of Boosie's recent film "My Struggle".
"My brother [is] on his way to being a billionaire at 22 and that's y boosie mad lol I'll be mad too Lil $800,000 @BOOSIEOFFICIAL need to relax big homie," Robert continued. "And I bought ya movie @BOOSIEOFFICIAL s**t was trash."
Robert also noted that Boosie hasn't publicly received any support from the celebrities that he's constantly defending. "Ain't no celebrity defending boosie like he was defending them… Idiot," he tweeted.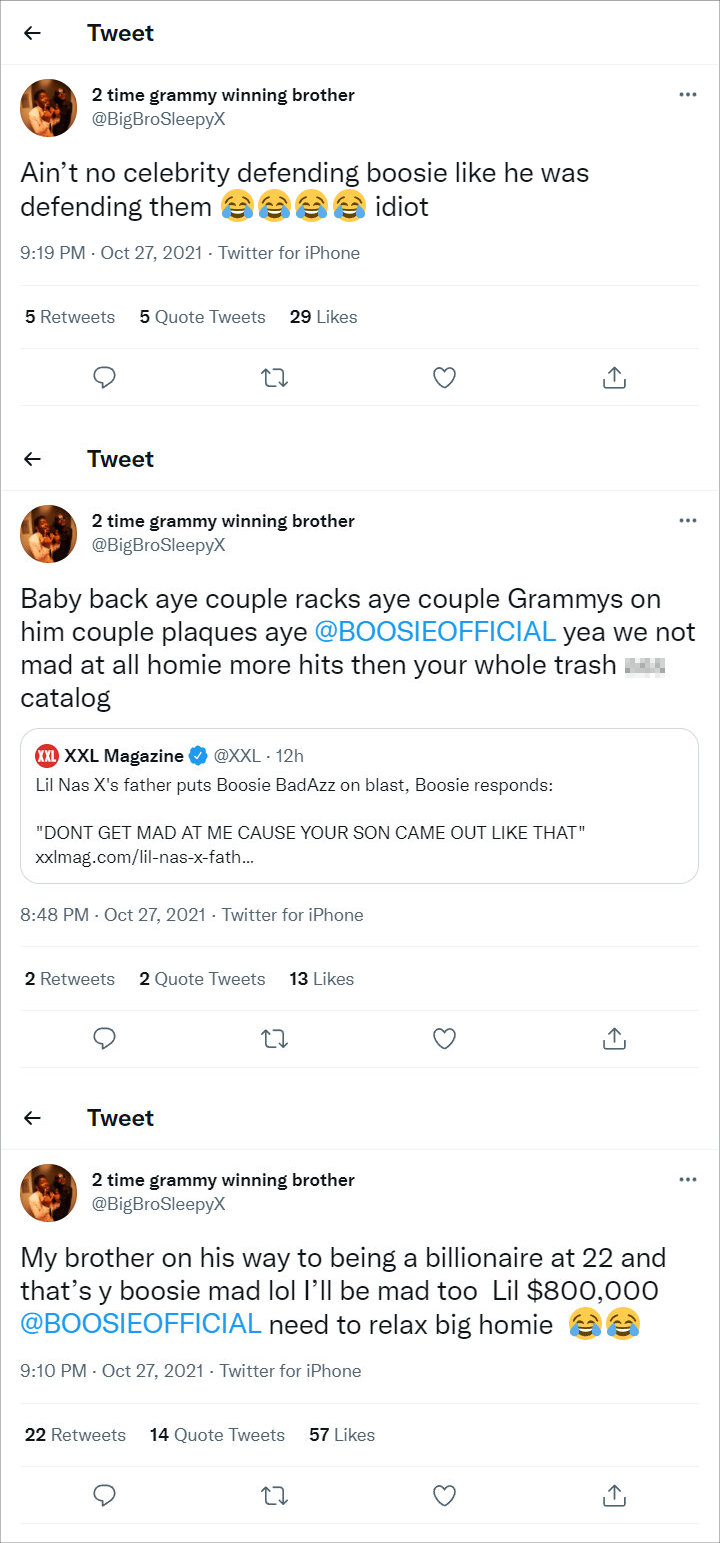 Robert Sleepy defended Lil Nas X via Twitter.
Also defending Lil Nas X was his father, Robert Stafford. "How the hell you're a gangsta rapper promoting drugs, gun violence, degrading women and getting high every video talking about you're for the kids man sit your old man looking a** down," the proud dad previously wrote in an Instagram Story. "The game has past you. We real Bankhead over here. Not like the guy who claims it."
Responding to Lil Nas X's dad, Boosie blamed the "Holiday" rapper's sexuality confession for the homophobic insult. "DONT GET MAD AT ME CAUSE YOUR SON CAME OUT LIKE THAT LOL [shrugging emoji] I KNOW IT HURTS," the "Bad Azz" artist tweeted.
The feud began after Boosie attacked Lil Nas X with homophobic rant using slurs and suggesting him to take his own life following the "MONTERO (Call Me by Your Name)" hitmaker's joke that he's "been working" with Boosie for a new song. "Stop trolling me f****t Lol. U a whole b***h playing with a gangsta SMH U can keep sucking d**k n getting f**ked n your a** n peace," Boosie tweeted.
"N #uhateyourself I would too if I was you LOL," Boosie added. The "Youngest of da Camp" artist ended his tweet as saying, "NasX if you #commitsuicide you would do this world a huge favor Nobody wants U here."
Responding to Boosie, Lil Nas X tweeted, "I am truly saddened. i have never been so mortified in my life." He added, "I can't believe disney channel has yet to play halloween town this entire October."
Boosie then insisted that he has "international love." He penned, "If yall think the whole world hate me 'yall trippin'. I have international love n respect for how I am n what I stand for n never forget there's a ghetto in every city, state, country etc. who rock with Boosie frfr #therealest."
Source: Read Full Article