GASP!
The Game of Thrones cast has always been tight lipped when it comes to promoting the new seasons of the HBO fantasy series. Whenever interviewers ask for spoilers, the cast usually just responds with offhanded quips about it being the bloodiest season yet.
Well, that method worked beautifully… until Maisie Williams let a MAJOR spoiler for the eighth season slip during her interview on The Tonight Show Monday night!
The actress was reflecting on her final bow as Arya Stark when Jimmy Fallon asked her — begged her, really — if she could spill anything about the last string of episodes. Naturally, Williams responded by saying that she'd be first on HBO's kill list if she said anything about the final season.
So, the 21-year-old instead recalled how emotional it was playing the young assassin for the final time… before accidentally dropping a MOUNTAIN-sized spoiler!
From there, things got awkward and, quite frankly, upsetting. On the brink of tears, Williams asked Fallon if he could edit out her slip-up before realizing that his studio audience would "still tweet it."
She was so ashamed, the Brit ended up running off stage, leaving the host baffled. Watch the incredibly awkward moment go down (above).
OMG, we feel so bad for her!
If you don't want to have the final season spoiled, we'll give you a BIG hint as to what she said in the interview without giving too much away: Arya Stark…
Just pranked the hell out of y'all for April Fools' Day!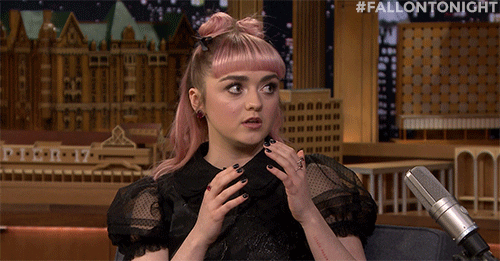 Ha!
Honestly, she really got us with that reaction. Great acting, gurl!
This was quite the delicious treat, because it illustrates exactly what would happen if a cast member actually did drop a spoiler like so many Thrones fans have hoped for in the past — it would result in a cocktail of panic, disappointment, and shame.
Thanks to Williams' live theater performance, we can see that spoilers are like White Walkers: they're fun in theory, but it's best for everyone if they don't get out.
Yes, Thrones fans will still have to wait a few more weeks to find out what happens in the final season, as the Lord of the Light intended. In the meantime, HBO dropped two new (spoiler free, obvi) promos for Season 8 featuring some new footage and ominous voiceovers.
Ch-ch-check them out (below) and catch the final Game of Thrones premiere on April 14!
Source: Read Full Article