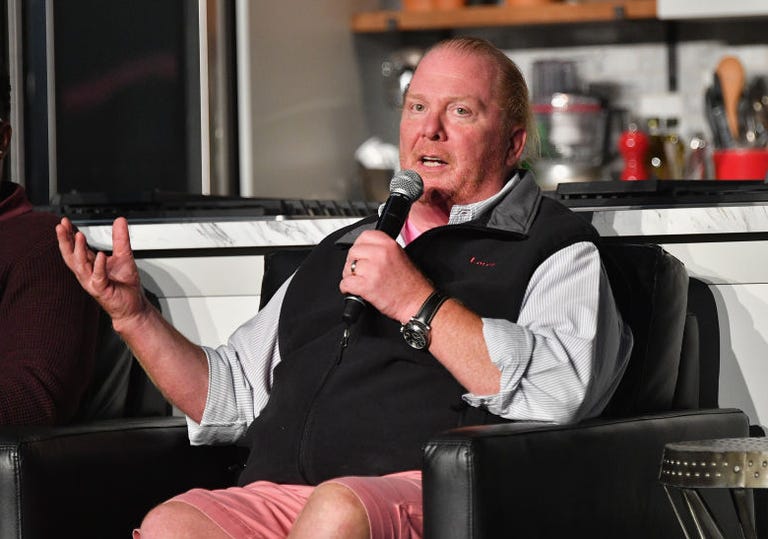 Celebrity chef Mario Batali is the subject of an ongoing investigation by the New York Police Department after he was accused of sexual misconduct in investigations published by Eater, The New York Times, and 60 Minutes. Now, more women are coming forward claiming Batali acted inappropriately around them.
Seven women have come forward saying Batali touched them without their consent in a new Eater investigation. Several of them said they were fans of his who asked for photos, and when they went to pose, the celebrity chef groped and kissed them, sometimes putting his tongue in their mouths. Eater published video clips from two of the women showing their encounters with Batali.
Batali and Bastianich Hospitality Group told Eater in a statement they will finalize separating Batali from his restaurants by July 1, and he hasn't been involved with them since December. Batali declined to comment for this latest article. But when Eater published a report in December 2017 detailing alleged sexual harassment of employees and fellow chefs over the course of two decades, Batali said the investigation "matched up" with his behavior. "That behavior was wrong, and there are no excuses. I take full responsibility and am deeply sorry for any pain, humiliation, or discomfort I have caused to my peers, employees, customers, friends, and family," he said at the time.
Here are some of the most striking claims made in the new Eater report:
"Is This How You Treat Your Fans?"
Natali Tene, who said she was a fan of Batali's, told Eater she tried to sneakily take a photo of him at a bar in Boston when he called her over and asked to take selfies. But the result was "shockingly uncomfortable," she said. "He was just so drunk, and I'm, like, trying to smile for these pictures, and he's pushing my face into his, kissing me, rubbing my breasts, my body and saying, 'One more pic, one more,'" she said. "It all happened so fast, in the moment I was just like, 'What is going on, this is so pervy — is this how you treat your fans?'" She then claims Batali invited her to his hotel room, and she declined.
"He Obviously Has No Shame."
Sharelle Klaus said she met Batali in 2012, and posed for a photo with the chef at his request. She claims that right after the picture was taken, Batali put his hand down her pants, under her underwear, and groped her behind. "In one moment, you go from being really excited to meet this guy, who's like a hometown hero, to just disgust," she said. "He obviously has no shame."
"Would You Kindly Remove Your Hand From My Breast?"
An anonymous woman told Eater that she met Batali at The Spotted Pig restaurant in New York in 2008. After chatting for about 30 minutes, she claims Batali "fully palmed" her breast and wouldn't let it go. "In total shock, I just said, 'Would you kindly remove your hand from my breast?'" she said. "And he just looked at me, still holding my breast and said 'Why should I?' I pointed to his wedding ring and said 'Well, you're married and this is disgusting.'" According to her account, he then stopped and she went to a different part of the room.
"Is This How People in New York Shake Hands?"
Several women who worked at Batali's restaurant told Eater Batali would grope women's crotches, and had a reputation as a "serial crotch grazer" to the point where women employees knew to "stay away from his hands."
One anonymous woman said when she met him for the first time, he rubbed her crotch instead of giving her a handshake. "It was so bizarre, and shocking," she said. "I had this moment, like, 'Is this how people in New York shake hands?'"
He "Stuck His Tongue in My Mouth"
Rebecca Marshall told Eater she met Batali in 2017 and asked him to take a photo with her. He allegedly asked her to sit on his lap, which she did, but then she says his behavior made her uncomfortable. He started kissing her on the cheek, and when she turned her head, he "stuck his tongue in my mouth," Marshall said. Eater published photos from that moment, which you can see on their website.
She said she tried to laugh it off, even posting the photo on Instagram with the caption, "I didn't order the tongue with my dinner." Later, she wrote about her encounter with Batali, without naming him, for Cherry Bombe. But she told Eater she's going public now to send a message to other women. "I hope that [people] understand that if it happens to them, they don't have to be ashamed," she said. "It's not anything I did. I asked for a picture."
From: Delish
Source: Read Full Article