By now, you know that Prince Harry and Duchess Meghan aren't exactly a traditional royal couple. They've gone about their romance and their nuptials in their own way with little regard for royal tradition. From Meghan walking the aisle by herself to Harry donning a wedding ring, Meghan and Harry's marriage is breaking more traditions than any other royal marriage in the history books.
So, here is a comprehensive list of all the ways in which Meghan and Harry's marriage has already broken royal tradition:
The Bridal Procession
Just days before the wedding, Meghan's father, Thomas Markle, found himself indisposed due to a serious heart condition. And this left Meghan without someone to walk her down the aisle.
What many people don't know is that Meghan planned all along to walk at least part of the way down the aisle all by herself. The plan, according to CNN, was for Meghan to let the world know she could stand on her own. And she definitely did just that!
Traditionally, brides at royal weddings walk the aisle with a father figure at their sides. Meghan is the first in history to pave her own path down the aisle. Amazing!
Royal Affection
While royal family enthusiasts were stunned at all the ways in which Prince William and Duchess Kate expressed their affection for each other during their wedding, they couldn't hold a candle to Harry and Meghan. The newlyweds held hands (with intertwining fingers!) during their ceremony, which many believe is against the rules.
There's actually no protocol that says royal couples can't be affectionate, which is great news for Harry and Meghan, who both seem head over heels for each other.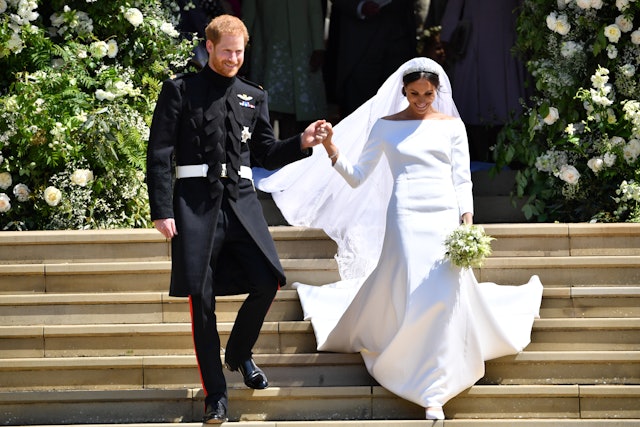 St. George's Chapel
It's well-known that most royal couples exchange vows at Westminster Abbey, the famous location of Kate and William's 2011 wedding. But Harry and Meghan opted for St. George's Chapel at Windsor Castle, which is a bit more low-key.
Weekend Wedding Date
In an unexpected move, Harry and Meghan scheduled their wedding for a Saturday. And it was much to the dismay of British citizens since they typically get a day off from work when the royals are saying their wedding vows. For context, William and Kate were married on a Friday. So, Harry and Meghan definitely strayed from tradition here. Rebels!
Wedding Rings
Did you know that it's not customary for a royal groom to wear a wedding ring? Prince Charles didn't wear one after marrying Princess Diana. And William didn't exchange rings with Kate either. But Harry? He's all about breaking the rules and changing the game …in more ways than one!
According to People, royal wedding rings are traditionally made from Welsh gold. But Harry has opted for a platinum ring with a textured finish.
The Cake
Traditionally, whoever bakes the royal wedding cake adheres to a very specific recipe. According to Harper's Bazaar, fruitcake is the customary cake for a royal affair. It was served at William and Kate's wedding. But Harry and Meghan went for something a little less traditional: lemon elderflower cake.
The cake was honestly beautiful. Have a look at it:
Meghan's Speech
Royal wedding tradition typically calls for the groom, the father of the bride, and the best man to raise a class and make a speech during the reception. But Meghan, being the feminist hero she is, chose to make her own speech. According to royal expert Katie Nicholl, Meghan was the first to stand up and say a few words about the big day:
She's a bold one, that Meghan! How can you not admire all that she stands for? And she's breaking royal traditions to boot!
Source: Read Full Article