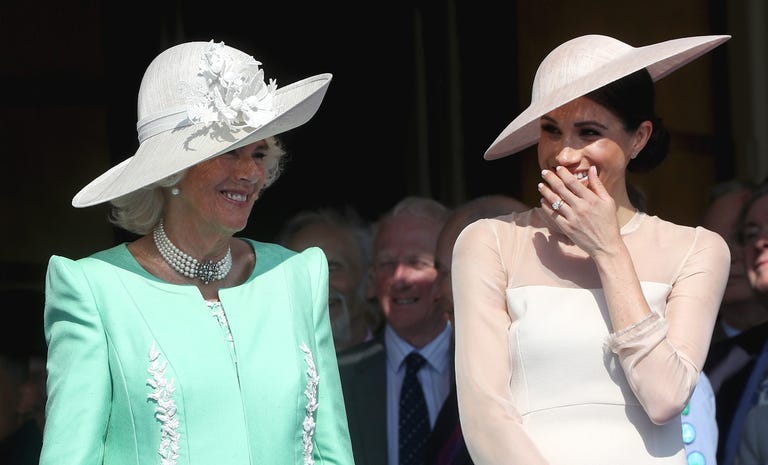 Meghan Markle not only showed PDA with Prince Harry at Prince Charles' garden party on Tuesday, she also showed how she's getting along with her royal in-laws. The new Duchess of Sussex shared some laughs with the Prince of Wales and the Duchess of Cornwall while her husband gave a speech, but she and Camilla Parker Bowles also had some sweet moments of their own.
Royal fans on Twitter spotted Markle and Harry's stepmom holding hands during the Buckingham Palace celebration, thanks to a photo taken by Daily Mirror's Ian Vogler. Others got enthusiastic when the duchesses exchanged a kiss goodbye.
It's possible the hand-holding was taken from this longer encounter.
Some eagle-eyed viewers also noticed Camilla even motioned to Meghan to move in closer to her and Charles when Harry stepped to the podium.
Others simply gushed over the Duchess and Prince Charles welcoming their new daughter-in-law into the family.
Duchess Camilla—who wed Prince Charles in 2005, eight years after he divorced Princess Diana—had an enthusiastic reaction to Harry and Meghan's engagement in November.
She said she was "absolutely thrilled" over the "brilliant" news. She added, per People, "America's loss is our gain. We are all absolutely delighted. As you can see, they're so happy. Sometimes in a climate where we're surrounded by a lot of bad news, it's a real joy to have a bit of good news for once."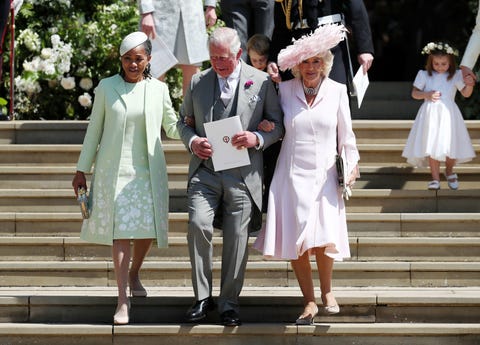 Harry believes that if his birth mother, Princess Diana, were still alive, she'd be close with Meghan too. They "would have been thick as thieves, without question," he said in his post-engagement interview with Markle. "I think she would just be over the moon, jumping up and down, so excited for me, but then would've also probably been best friends with Meghan."
Although Princess Diana couldn't be present at their wedding, the couple still paid homage to her by having her sister, Lady Jane Fellowes, do a reading; including her favorite flower, forget-me-nots, in the bridal bouquet; and incorporating the "something blue" wedding tradition through Diana's aquamarine cocktail ring as a sparkly addition to Meghan's reception look.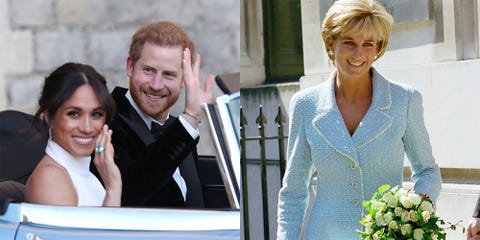 "It is days like today when I really miss having her around and miss being able to share the happy news," Prince Harry said of his late mother after announcing his engagement to Markle in November. "I'm sure she's with us, jumping up and down somewhere else," he added.
We have no doubt he felt the same way on his wedding day.
Source: Read Full Article