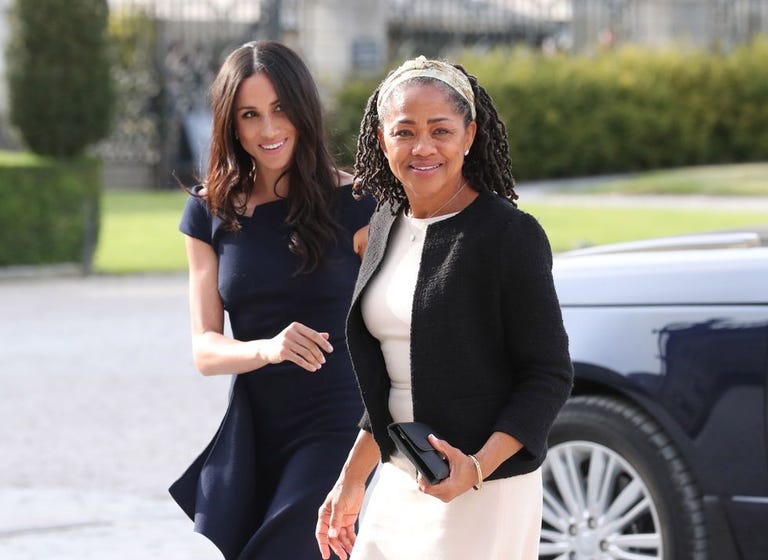 Meghan Markle and her mother, Doria Ragland, were photographed arriving to the hotel they'll be staying at the night before the royal wedding. This marks the first time the mother-daughter duo have been publicly photographed together in months.
Markle wore a navy Roland Mouret dress (as she is friends with the designer) while her mom was glowing in a white dress, black jacket, headband, and leather clutch. They looked adorable together.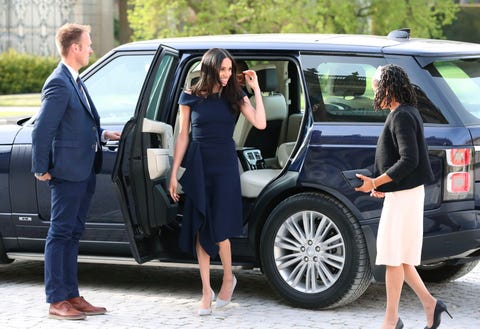 When asked how she was feeling ahead of her big day, Markle told reporters, "Wonderful, thank you!" The bride-to-be and her mom will be lodging at Cliveden House the night before she says "I do," while her future husband will stay at Coworth Park, a separate hotel.
Markle and Ragland were just at Windsor Castle this afternoon, where the mother of the bride met with Queen Elizabeth II and Prince Philip, palace officials confirmed to Daily Express reporter Richard Palmer. Prince Harry was also present, and the group enjoyed tea together, The Sun's royal correspondent Emily Andrews reports.
Ragland arrived in the UK earlier this week, following reports that Meghan's dad, Thomas Markle, wouldn't be able to attend the wedding because he's currently recovering from heart surgery. (Ragland and Markle senior divorced when Meghan was six years old.)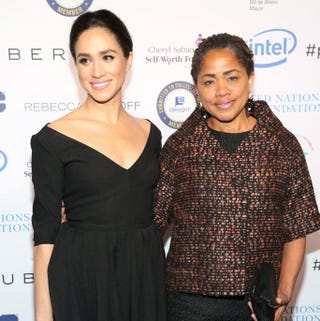 Meghan's mom will accompany her in the car as they travel from their hotel to Windsor Castle tomorrow morning. It was previously speculated that Markle would ask her mother to walk her down the aisle in her father's place, but she asked Prince Charles, her future father-in-law, to fill in instead.
However, it's rumored that Markle did ask her mother to give her away after all, but Harry suggested his dad for the role. Royal biographer Duncan Larcombe told Harper's BAZAAR UK:
Whether she walks Meghan down the aisle or not, we're sure Doria Ragland will make a stunning appearance with her daughter tomorrow.
Source: Read Full Article