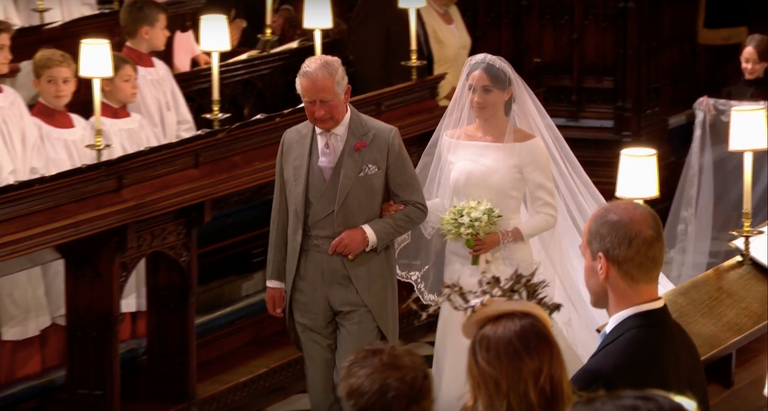 Meghan Markle just walked down the aisle in her stunning Givenchy look. The bride was accompanied by her father-in-law, Prince Charles, as they made their way to the altar at St. George's Chapel. After climbing up the steps and making her initial entrance solo, she linked arms with the Prince of Wales before heading down the aisle.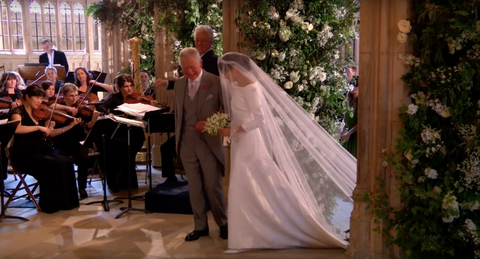 Her bridesmaids and page boys, including Prince George and Princes Charlotte, followed her to the altar.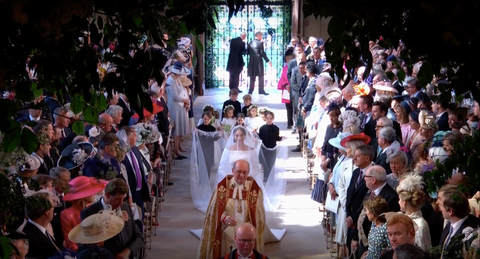 This very moment had been surrounded by much uncertainty in the past week, after back-and-forth reports left fans unsure if Meghan's dad, Thomas Markle, would be present to give her away. The royal family just announced yesterday that the Prince of Wales would give the bride away. The change was so last-minute, his name was still printed on the official programs.
The controversy began last weekend when Meghan's dad was exposed for getting paid staged paparazzi photos ahead of the wedding. This Monday, after the news broke, he announced he wouldn't attend the ceremony to avoid embarrassing his daughter and the royal family. Though he changed his mind the next day and decided to attend, he was ultimately unable to make the trip due to heart surgery. Markle Sr. said he has no hard feelings that his daughter chose Prince Charles to replace him.
Previous royal brides like Kate Middleton and Princess Diana were both given away by their respective fathers, but that wasn't always the case. Princess Margaret was accompanied by her brother-in-law Prince Philip at her 1960 wedding. In the 19th century, Queen Victoria was said to have given her daughters away at their weddings.
Though the Prince of Wales is the father of two sons, this isn't his first time walking a bride down the aisle. In 2016, he accompanied family friend Alexandra Knatchbull at her wedding, People reports. Plus, at his own nuptials to Camilla Parker Bowles in 2005, the pair walked together as they entered their religious ceremony, per The New York Times.
Source: Read Full Article