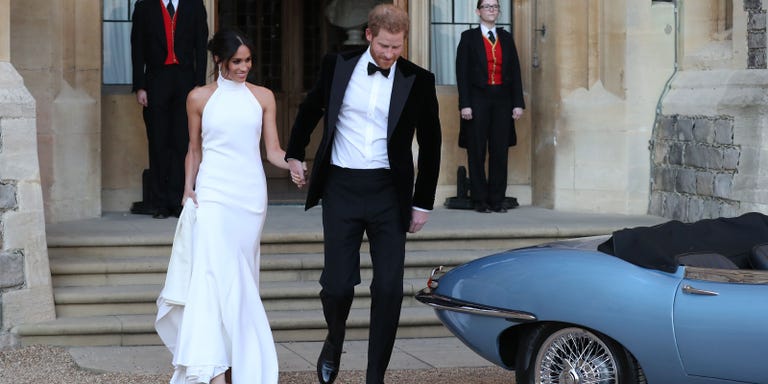 If you thought Meghan Markle's dog flew with her from Toronto all the way to England just to be a simple lap dog, think again. Her four-legged pal is here to reap all the benefits of their their new royal life together, and he's clearly enjoying it.
Guy, Markle's 17-pound beagle, was last spotted in the U.K. hitching a ride with Queen Elizabeth II en route to Windsor days ahead of the royal wedding. (Yes, a dog has shared a car with the Queen of England before you have.) The royal pup sat beside the sovereign and adorably popped his head out the window from the back seat.
But it appears that wasn't the last of Guy's involvement in the wedding; he was also rumored to attend the evening reception at Frogmore House. "The pet pooch had revelers in stitches as he caused chaos, running all over the place lapping up any spilled canapés," Mirror reports.
The evening menu reportedly included "dirty burgers" and cotton candy, so His Royal Highness Guy, Beagle of Sussex, probably had plenty of treats to munch on at the party.
Guy has had quite an incredible journey before joining the royal family. According to The Guardian, he was rescued from being put down in a shelter in Kentucky and was transported to Canada, thanks to the Ontario-based charity, A Dog's Dream.
Soon after crossing the border, he was brought to an adoption event outside of Toronto, which was where Meghan found him. Markle adopted Guy in 2015, and the rest is (royal) history.
Source: Read Full Article