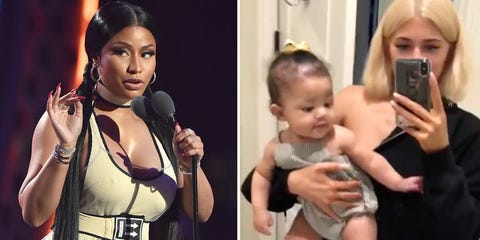 On Sunday, Nicki Minaj accused Travis Scott of unfairly landing the number one album with Astroworld, and preventing her own album, Queen, from scoring the top spot. She called out her fellow rapper for launching new merchandise and promoting his tour days before her record dropped, which she claims Billboard counted as additional album sales. She also brought Kylie Jenner into the mix, saying the beauty mogul used her and Travis' daughter Stormi Webster to promote Scott on social media.
This afternoon, Minaj doubled down on her comments about Scott during an episode of her Queen Radio on Apple Music. She gave him the "Ho N**** of the Week award" and proceeded to give a shoutout to Kylie, Complex reports.
"I love Kylie, I love Kim, I actually love all of them," Nicki said, before acknowledging the internet's comments and jokes about her possible feud with Kylie and Travis' six-month-old daughter.
"I know that you guys are saying me and Baby Stormi have beef," she said laughing, as reported by The Fader. "Yes we do. Now, this is what the fuck is happening today. Me against baby Stormi. We have this rivalry now."
She continued with another jab at Scott. "I'm going to start from scratch. He out here selling f*cking clothes got y'all thinking he selling fucking music," she said.
Twitter had a lot to say about Minaj's comments.
Nicki, Travis, and Kylie were all under the same roof last night when they attended the VMAs in New York. Apparently, Scott and Jenner were supposed to sit behind Minaj during the ceremony but switched to sitting on the other side of the room last minute, TMZ reports. Stormi, however, stayed home.
Source: Read Full Article