Olivia Jade may have moved out of Lori Loughlin's home, but that doesn't mean she's leaving her momma's side amid the ongoing college admissions bribery scandal.
According to an Us Weekly source, the embattled YouTuber has been regularly contacting her parents as they gear up for their trial over their alleged involvement in the nationwide scheme.
The insider revealed:
"Olivia has been very supportive of her parents. She now knows that this is very serious and has been calling her mom and dad every day to check in and see what is the latest with the upcoming court dates."
Great to hear Liv is making the time to check in with them!
We're sure Loughlin and husband Mossimo Giannulli could use all the support they can get right now, as they each face 40 years in prison for charges of mail fraud and money laundering conspiracy.
This parental support is a complete 180 from the 19-year-old's initial response to the scandal. Back in March, the Instagram influencer was said to be "furious" with her parents after they were arrested and charged for allegedly paying $500,000 to facilitate Liv and sister Isabella Rose's admission to USC by having them designated as recruits to the school's crew team — despite the fact that neither had ever participated in crew.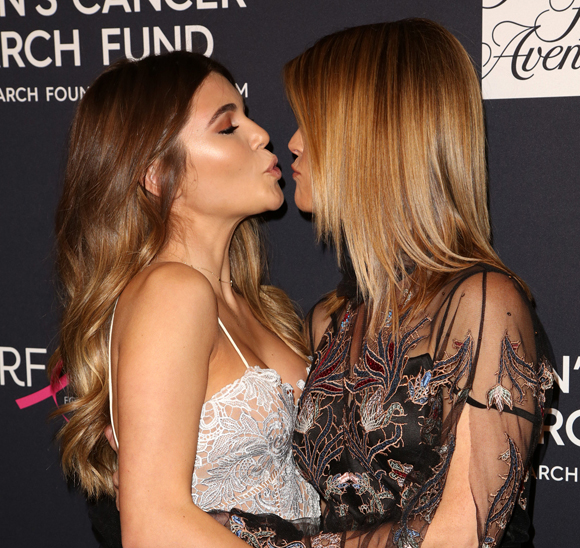 An insider told Us at the time that Olivia "blames her mom and dad for this scandal and for the downfall of her career." As we reported, the makeup maven lost sponsorships with brands like Sephora and TRESemmé in the wake of the scandal.
But more recently, the social media star has seemingly decided to forgive her parents after she realized that "they were just trying to do what's best for her," according to a separate insider who explained to the outlet last month:
"Olivia loves her mom and dad very much, but is especially close with Lori."
Yes, it appears that young Liv has learned a lot from this drama.
In addition to gaining a lesson in family values, the fallout from the scandal has apparently made the influencer re-think her stance on higher education in general.
As we reported on Tuesday, the celebuspawn is now "begging" USC to let her back in, weeks after she withdrew herself from the university in fear of being bullied over her alleged connection to the admissions scheme. A source told Us:
"Olivia Jade wants to go back to USC… She wants to come out looking like she's changed, learned life lessons and is growing as a person, so she for sure wants people to think she is interested in her education."
This renewed interest in academia would be a huge change for Liv — who, just last year, was regularly lamenting in her vlogs about her disdain for going to school.
Sounds like this legal mess has changed OJ for the better!
Source: Read Full Article