When athletes make it to the Olympics, they hope that their lifelong hard work will be rewarded with fame, glory, and a gold medal. But sometimes, even the most successful Olympians see their career go down in flames in only a matter of seconds.
At the 2021 Tokyo Olympics, every competitor's fear is that a single sneeze will undo all their practice. As of this writing, one American gymnast has already tested positive for COVID-19, as the BBC reported, and is isolating without the rest of the team in a hotel in the Japanese city of Inzai. It remains to be seen whether there will be any further outbreaks of the virus, but anyone who does catch it will probably be kicking themselves.
They wouldn't be the first Olympic athlete to ruin their own career in one dramatic life-changing moment, however. Let's take a look at some formerly celebrated contenders who probably regret the choices they made at past Olympics ceremonies.
Tonya Harding was banned over a violent scandal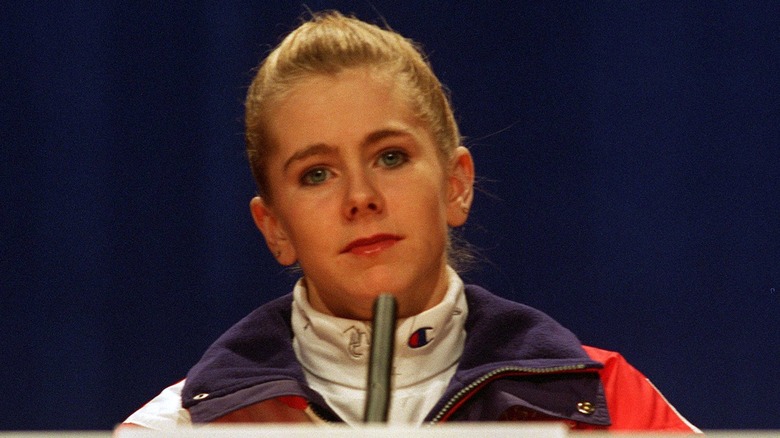 Tonya Harding's downfall was so notorious that it inspired an Oscar award-winning movie 23 years later.
Harding had overcome a tough background to become the first American to perform the triple axel jump in competition, per ABC News. She had secured a national title and fourth position at the Winter Games before the incident that would change her life: the skater and her husband Jeff Gillooly were accused of hiring a hitman to injure her rival Nancy Kerrigan. As the BBC reported, Kerrigan had been attacked in the run-up to the Olympics while she was leaving a practice session at Cobo Hall in Detroit. The perpetrator hit her knees with a metal crowbar and immediately fled, leaving the skater sobbing in the hallway. Kerrigan made a full recovery and was able to compete in the 1994 Winter Olympics later that year, where Harding finished eighth.
Although she still denies any knowledge of the attacks, Harding's skating career came to an end. Per NBC, she was charged with "conspiracy to hinder prosecution" over the plan, which the public blamed her for. After she eventually pled guilty, the court gave her a $100,000 fine, as well as three years of probation and 500 hours of community service. The most crushing punishment came from the U.S. Figure Skating officials, however, who retroactively took her 1994 victory away and banned her from ever skating in any USFS events ever again.
Marion Jones was sent to prison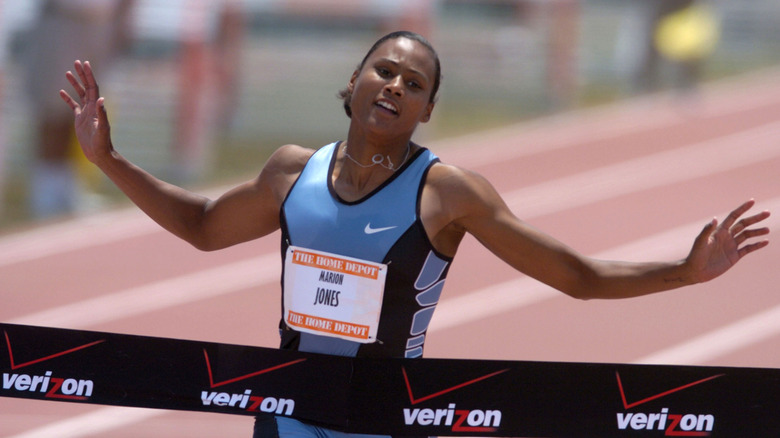 Marion Jones had a dramatic fall from grace when she admitted to doping and participating in a check-cashing scam.
According to the BBC, she first transformed into America's golden girl by taking home five medals at a single Olympics ceremony in 2000, which no woman had ever managed before. The sprinter soon became one of the "first female millionaires" in the world of athletics, but experts began to speculate about her superhuman performance — especially after her ex-husband C. J. Hunter and ex-boyfriend Tim Montgomery were both convicted for doping in their respective fields of shot putting and sprinting.
In 2007, Jones admitted that she had lied under oath about using performance enhancers, as well as her connections to the same Bay Area laboratory that provided Hunter and Montgomery with their drugs. She also confessed to participating in a check fraud scheme with Montgomery, per Sportscasting. The bombshell testimony led to her losing her medals and being sent to prison for six months. "I have no one to blame but myself for what I've done," she insisted at the time, per the BBC. "Making the wrong choices and bad decisions can be disastrous." Despite a brief stint in the WNBA, Jones never returned to the pinnacle of athletic achievement.
Oscar Pistorius shocked the world with a violent homicide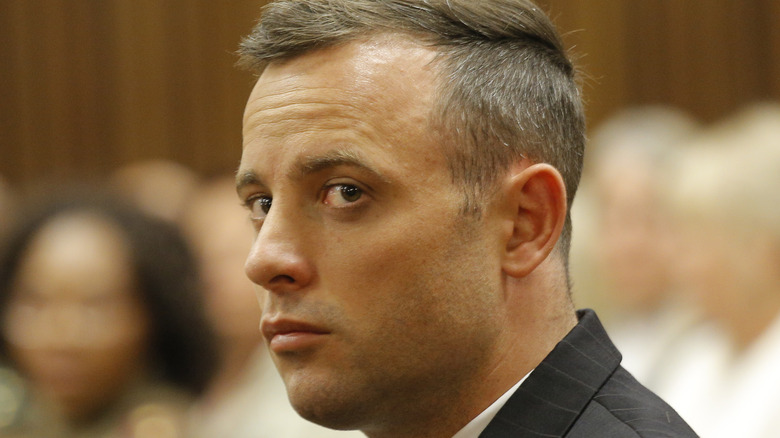 Oscar Pistorius was an inspirational figure to millions when he became the first double amputee to ever compete in the Olympic Games, per ABC News. Nicknamed "Blade Runner," the sprinter ran on prosthetic legs during his events, as he had during the Paralympics. But everything changed in February 2013, when Pistorius shot his girlfriend, Reeva Steenkamp. His reputation and his career were wrecked in a matter of seconds and, more importantly, Steenkamp was mortally wounded.
As the BBC reported, the South African fired four shots through his bathroom door, later claiming that he believed there was an intruder. Steenkamp died soon after being shot by the high-caliber weapon. Although Pistorius was initially found guilty of "culpable homicide," an appeals court later changed the verdict to murder, which carries a minimum prison sentence of 15 years in South Africa. The judge pointed out that the athlete did not try to fire a warning shot, calling the sad case "a human tragedy of Shakespearean proportions."
According to The Guardian, Pistorius won't be available for parole, let alone any more sporting events, until 2023 at the earliest.
Ben Johnson ran the 'dirtiest race in history'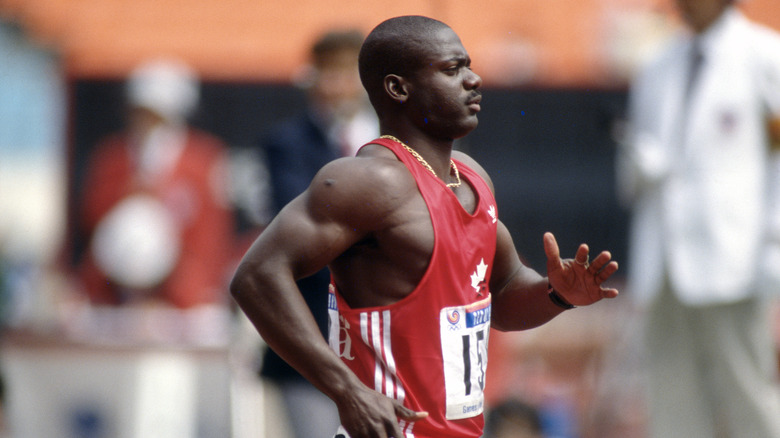 Although Ben Johnson was the world's fastest man at one point, he's now mostly remembered for an infamous cheating scandal. And as it turned out, he wasn't the only sprinter using illegal tactics to get ahead.
At the 1988 Olympics, Johnson had set an astonishing new record, finishing the 100m final in only 9.79 seconds. According to CNN, the athlete told the press afterward that a gold medal was "something no one can take away from you." This remark became ironic, however, when Johnson was stripped of his gold medal after they found a steroid called Stanozolol in his system. Five other sprinters from that race would later be exposed for drug use too.
He had been using steroids for years, per The Guardian, after being talked into it by his coach Charlie Francis. "Charlie said, over a few conversations, that you only cheat if you're the only one doing it," Johnson recalled, insisting that there was a wider culture of doping. "This means if the other guys are doing it, and you start doing the same thing, it's not cheating. It took me a while to follow his advice." He was persuaded to start experimenting with performance enhancers but kept it hidden from his mother, who was the first person the Jamaican-born sprinter called after the positive test that would destroy his career.
Nathan Baggaley went from rowing to drug trafficking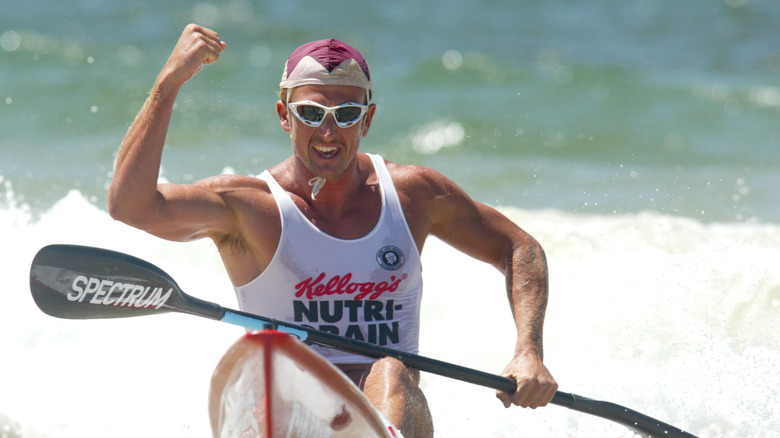 Nathan Baggaley may have won two silver medals at the 2004 Athens Olympics, but one moment led to him falling into a life of crime instead of athletic excellence. The Australian had taken home three world championships for canoeing, as Sky News noted, before he tested positive for performance-enhancing drugs in 2005. Baggaley alleged at the time that his brother's orange juice was the reason for his positive result, insisting that it had been laced with steroids without his knowledge. His suspension was only supposed to last two years, but in 2007, police found 762 ecstasy pills in his car.
Baggaley also began manufacturing banned substances alongside his brother Dru Baggaley, which meant that the former athlete was in and out of prison for the next decade. "I've had my dramas in jail," he revealed in 2015, according to ABC News. "I'm obviously a profile person due to my sporting background and, yeah, it does attract a lot of attention." The brothers were ordered to work on their family's oyster farm after their release, but it didn't stop them from getting involved in a more serious high-seas caper.
In 2018, Dru was chased down in a speedboat by the navy and the police, per Sky News, while attempting to smuggle 650 kg of cocaine. Nathan, who had bought the boat, was convicted due to his role in the $150 million scheme.
Ryan Lochte lied about a gas station robbery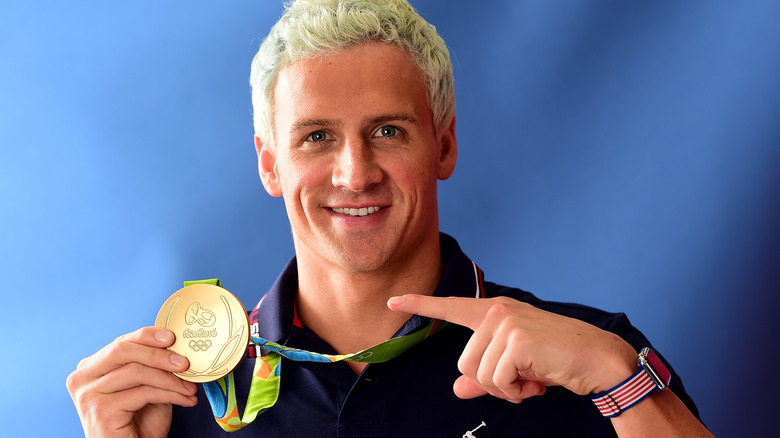 Ryan Lochte managed to sabotage his own reputation with one lie in 2016, ruining a triumphant track record of gold medals and glory. "Lochtegate" made international headlines when the swimmer claimed he was robbed at gunpoint in Rio alongside his American teammates, per USA Today. His story was immediately questioned by local authorities, who announced that their "attackers" were actually security guards, who had confronted the US team after they drunkenly vandalized a gas station's restroom and broke a sign.
In the end, Lochte was suspended by USA Swimming and the Olympic committee for ten months, per ESPN. He was also given 20 hours of community service and had to forfeit his prize money for winning a gold medal in Rio. The swimmer's sponsorships started to dry up too, as Speedo and Airweave dropped their endorsement deals in the aftermath. 
Lochte wasn't banned from competition permanently but failed to qualify for the Tokyo 2021 games due to his performance. "I still want to race, but as far as another Olympic Trials, I don't know about that," the 12-time medallist told NBC. "I'll be 40. That's pushing it, but we'll see. I mean, anything can happen." So, it's possible that the swimmer may never return to the Games — even if he cuts down on his partying.
The Black Power salute seen around the world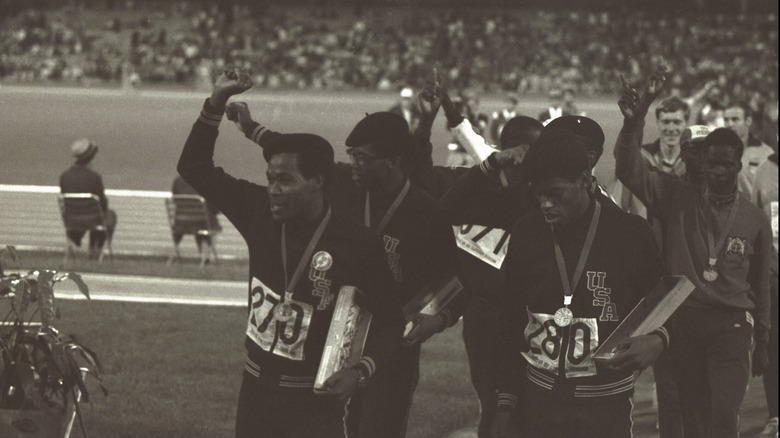 Tommie Smith and John Carlos knew they were risking their careers in 1968 when they decided to raise their fists during the medal ceremony since Olympics rules forbid athletes from taking a political stance. But they couldn't have known how the salute would affect the rest of the world.
When Smith and Carlos, two Black American athletes, won gold and bronze in the 200m race, they decided to protest racism in America by giving the Black Power salute, per the BBC. "If I win, I am an American, not a black American," Smith later explained to the press. "But if I did something bad, then they would say 'a Negro.' We are black and we are proud of being black. Black America will understand what we did tonight."
Newspapers around the world printed pictures of the pivotal moment and the International Olympics Committee responded by banning both athletes for life. One representative called their protest "a deliberate and violent breach of the fundamental principles of the Olympic spirit." And they weren't the only ones whose sporting careers were affected, as CNN reported. The white Australian runner who had won silver, Peter Norman, wore a human rights badge to support them and was ostracized by his country for the rest of his life. Australia even refused to send him to the 1974 Munich Olympics, despite him continuing to surpass the time needed to qualify.
Shelby Houlihan was brought down by a burrito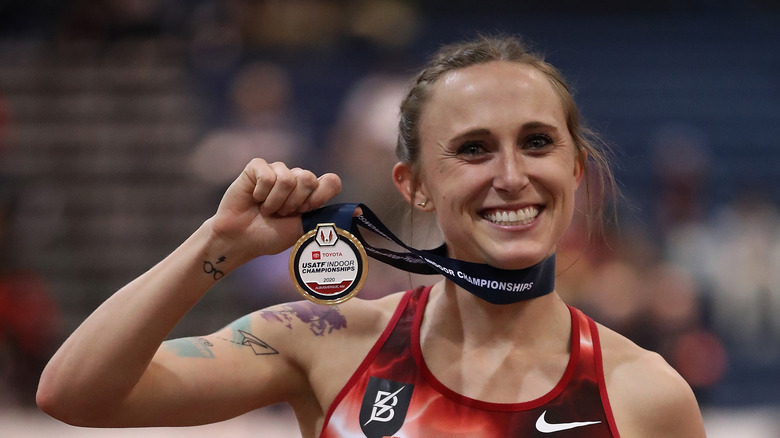 Shelby Houlihan had an unusual excuse for anti-doping officials when her future was endangered in 2021. The American middle-distance runner claimed that she tested positive for the banned substance nandrolone because of a contaminated pork burrito. Houlihan, who smashed the American record for the 5000-meter race per NBC, received a four-year ban, which takes her out of the running for Tokyo 2020 as well as Paris 2024.
"I feel completely devastated, lost, broken, angry, confused and betrayed by the very sport that I've loved and poured myself into just to see how good I was," Houlihan wrote in an emotional Instagram post. She also shared her team's explanation for the positive result, insisting that "the most likely explanation was a burrito purchased and consumed approximately 10 hours before that drug test from an authentic Mexican food truck that serves pig offal near my house in Beaverton, Oregon."
"I'm going to continue to fight to prove my innocence," Houlihan told reporters during a virtual press conference, promising to clear her name. "I absolutely respect and wholeheartedly support the fight to catch athletes who disrespect the sport by cheating and doping. But I'm not one of them."
Boris Onishchenko used a rigged fencing sword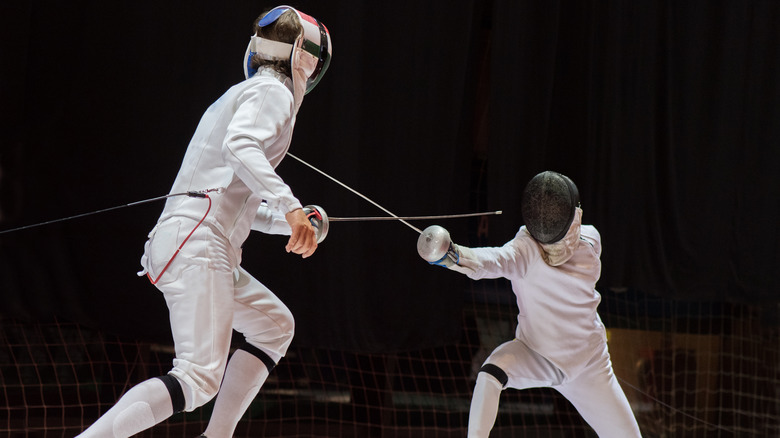 The Russian fencer Boris Onischenko caused an international uproar at the 1976 Olympics when it was discovered that his fencing sword had been mechanically altered. Onischenko was an experienced sportsman who had received many awards and accolades over the years, according to Sports Illustrated, but had never scored an individual gold medal. When he began fencing on July 19, the Russian easily beat his first few opponents from Great Britain's team, his sword electronically registering whenever he scored a successful hit. During his match against Jeremy Fox, however, the scoreboard seemed to light up despite his sword being nowhere near the athlete.
"It was like waving a magic wand," Fox recalled, per The Guardian. "I said: 'Something is wrong here.' He said: 'Yes, I know I didn't hit you,' and tried to change his weapon. I wasn't having that, not because I thought he was cheating but because I thought the weapon was faulty … I wanted it examined." Further investigation proved that the sword had been carefully rewired so that it would register a hit whenever pressure was applied in a particular spot.
Onischenko's career was over and his country was keen to distance themselves from the disgraced fencer. According to The Guardian, he wasn't just stripped of his gold and silver medals: the Soviet leader Leonis Brezhnev himself summoned Onischenko to scold the athlete and officially discharge him from the Red Army. He was rumored to have spent the rest of his life as a taxi driver in Kyiv, Ukraine.
Hans-Gunnar Liljenwall's career was ended by two beers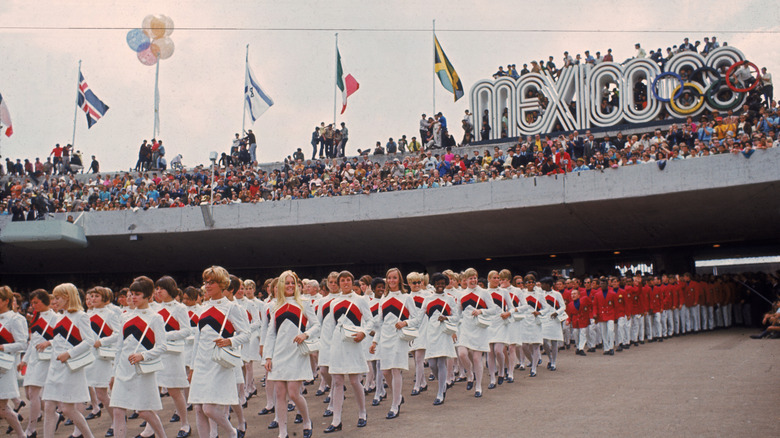 When anti-doping rules were first introduced, one Swedish pentathlete became the first athlete to ever be disqualified for drugs, setting an unenviable Guinness World Record. In 1968, the Mexico City Olympics introduced new regulations around narcotics and stimulants. For the first time ever, medallists would have their urine tested for banned substances, including alcohol. And according to SB Nation, these early anti-doping tests were responsible for crushing the dreams of Hans-Gunnar Liljenwall, as well as the rest of his pentathlon team.
The Swedish Olympian was under a lot of pressure ahead of the pistol shooting event, especially since his teammate Björn Ferm was performing very well. Wracked with anxiety, Liljenwall attempted to give himself some Dutch courage by drinking two beers. His shooting was good enough to secure bronze medals for the whole Swedish team, as well as gold for Ferm, but his blood-alcohol level sabotaged their success.
It was discovered after the medal ceremony that the "distraught" Liljenwall's urine had tested positive for alcohol, leading to the Swedish trio losing their awards. He did compete in the Olympics again in 1972 but failed to get within reach of the medals.
Lance Armstrong admitted to doping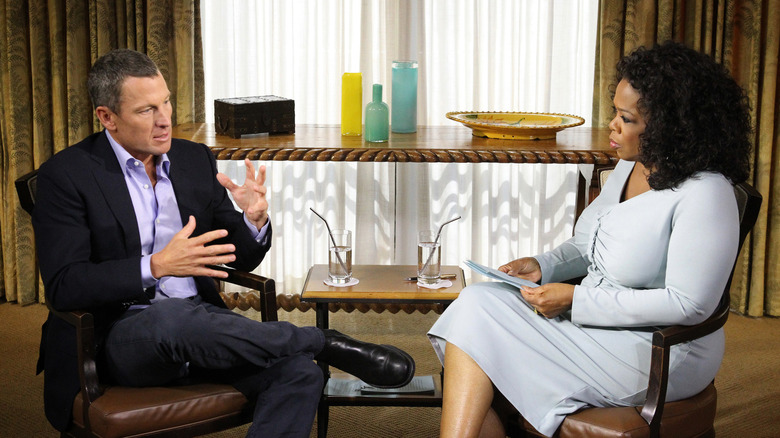 Lance Armstrong's career ground to a sudden halt after years of doping allegations were suddenly proven true. The cyclist had been one of the world's most beloved athletes after overcoming testicular cancer, going on to Olympics success and seven consecutive Tour de France wins, per ESPN. But Armstrong was shadowed by accusations that he used performance-enhancing drugs, which eventually led to the United States Anti-Doping Agency launching a formal investigation.
As the Los Angeles Times reported, the impact was immediate: Armstrong lost eight sponsors in one day, equivalent to $75 million. In an interview with Oprah Winfrey on "Oprah's Next Chapter" in 2013, the cyclist finally confessed that his impressive victories had been the result of doping, and claimed that it was so widespread in the cycling world that no one could win without banned substances.
Despite receiving a lifetime ban for his rule-breaking, Armstrong told the BBC in 2015 that he would "probably do it again" if he was racing in 1995.
Hope Solo went too far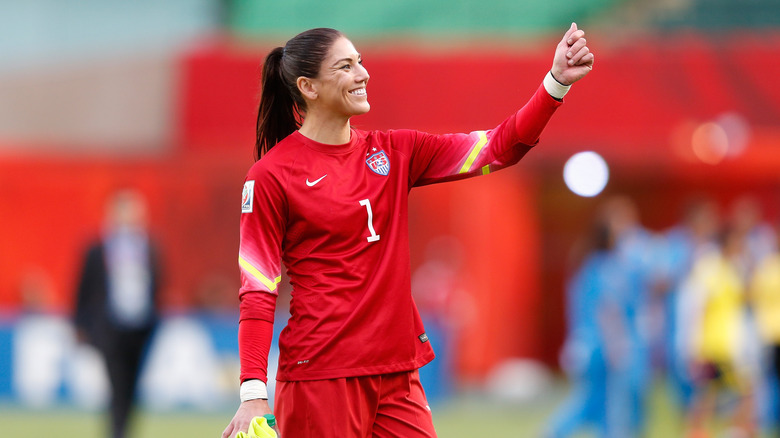 After years of controversies, Hope Solo finally pushed the U.S. Soccer Federation too far and ended her career as a goalkeeper. Solo's impressive run included World Cup victories and Olympic medals, and, according to the University of Colorado Boulder, she's "widely regarded as the best goalkeeper in the world." That being said, she's caused problems, too. In 2014, the soccer player was arrested for assaulting members of her family, although she was never formally charged. And a year later, her husband Stevens received a DUI while the couple was in a van owned by the USSF (via The New York Times).
The breaking point came during the 2016 Rio Olympics, however, when Solo called the Swedish team "cowards" for their defensive playing. Despite reportedly apologizing, she was dismissed for good. As ESPN reported, Solo blamed the suspension on her outspoken remarks about equal pay. "I feel like I'm being pushed out, because it can't be based off performance, my health," she claimed in the documentary "Keeping Score," insisting that the U.S. Soccer Federation didn't like her because of her battles against wage discrimination.
"They're going to use my comments as an excuse to get rid of me forever so that they don't have to deal with such a strong voice," Solo continued, comparing herself to "a thorn in their side."
If you or someone you know is dealing with domestic abuse, you can call the National Domestic Violence Hotline at 1−800−799−7233. You can also find more information, resources, and support at their website.
Ibragim Samadov was a sore loser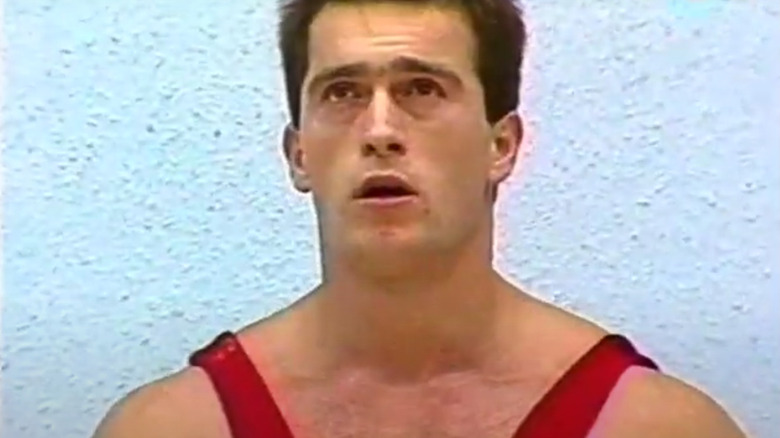 Nobody likes a sore loser, as the 1992 Barcelona Olympics proved. Ibragim Samadov had already scored the top prizes in weightlifting at the 1991 World Championships and 1992 European Championships, so his self-esteem was probably wounded when he received bronze at the Barcelona games. As the Los Angeles Times reported, the Russian weightlifter had been knocked down to third place due to his weight. He had initially finished in a tie with two other competitors, but Samadov weighed one-tenth of a pound more than the other men so he missed out on the gold. This result prompted an angry response from the athlete, who refused to lean forward so his bronze medal could be hung around his neck, taking it by hand and dropping it to the floor instead.
"I lost my head," Samadov told the Los Angeles Times, denying rumors that his display at the medal ceremony was politically motivated. "It was not a premeditated gesture. I did not wish to offend anyone. I only remember that that medal was very much wanted." Although he apologized for his "error," the International Weightlifting Federation retaliated by banning him for life.
"He did not respect the International Olympic Committee, the spirit of the Games, his colleagues, the anthems or the flags," an IWF representative commented. "He did this in front of 4,000 people and a television audience of billions."
Source: Read Full Article