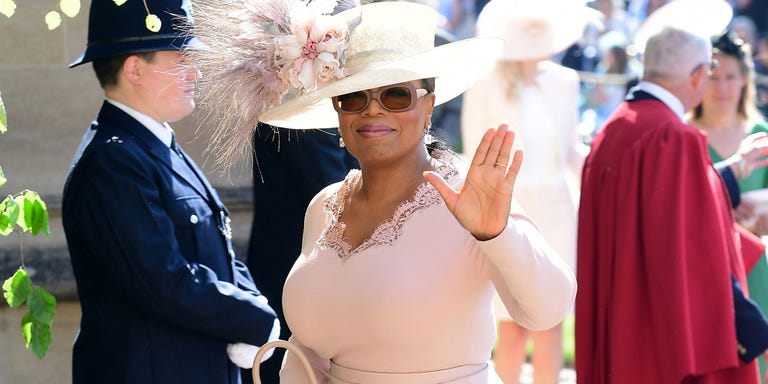 Oprah just showed up to Meghan & Harry's wedding on the early side to catch all the action in a blush pink Stella McCartney dress with lace trim. Aside from a dramatic hat with a feather flourish, the legendary TV host arrived arm in arm with the best accessory for the royal wedding–Idris Elba.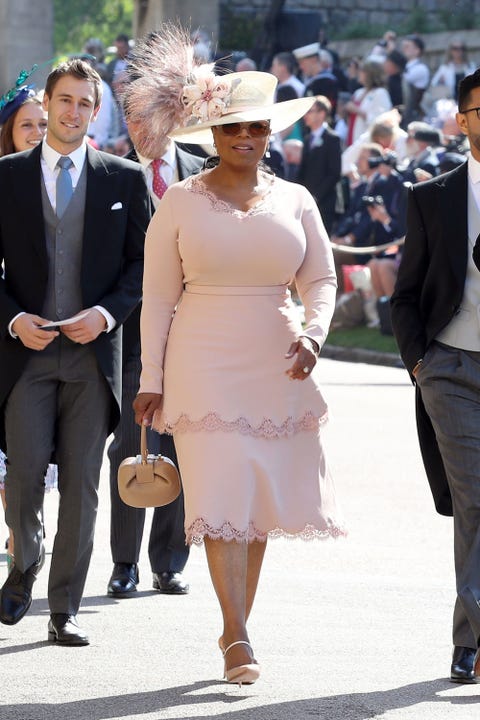 Winfrey's look is cocktail length, featuring a double-tiered skirt, trimmed in the same lace as her neckline. Oprah capped off her look with a cinched waist, and a pointed-toe Mary Jane pump, and finished the look with taupe extras: a round chic lady bag by Gabriela Hearst with a top handle, and diamond drop earrings which we are guessing are way larger than they appear on camera.
Not quite sure where to sit, Winfrey arrived to St. George's Cathedral at Windsor castle and searched for her seat in the pews, to hopefully catch the perfect glimpse of America's first British royal. The tweet that caught her in the act rightly sent her a message via Twitter: "Look for the seat marked QUEEN."
A dramatic hat, a perfect pastel, a cocktail length, a prim and proper shoe, epic diamonds and a feather flourish so big you can see it from Windsor Castle via drone? We're pretty sure Oprah just nailed royal wedding style–and promptness. Not one to upstage the actual Queen, this royal-in-our-eyes arrived bright and early so as not to take eyes away from some of the day's most anticipated arrivals, like hosts, Queen Elizabeth II, Prince Charles, Prince William and the Duchess of Cambridge, and, of course, the bride-to-be.
Source: Read Full Article