Pete Davidson and Machine Gun Kelly have been best friends for years. The famous pals recently surprised fans by taking over Calvin Klein's Instagram account for a pretend underwear photoshoot.
Here's what happened and what fans are saying about the spicy Instagram Live.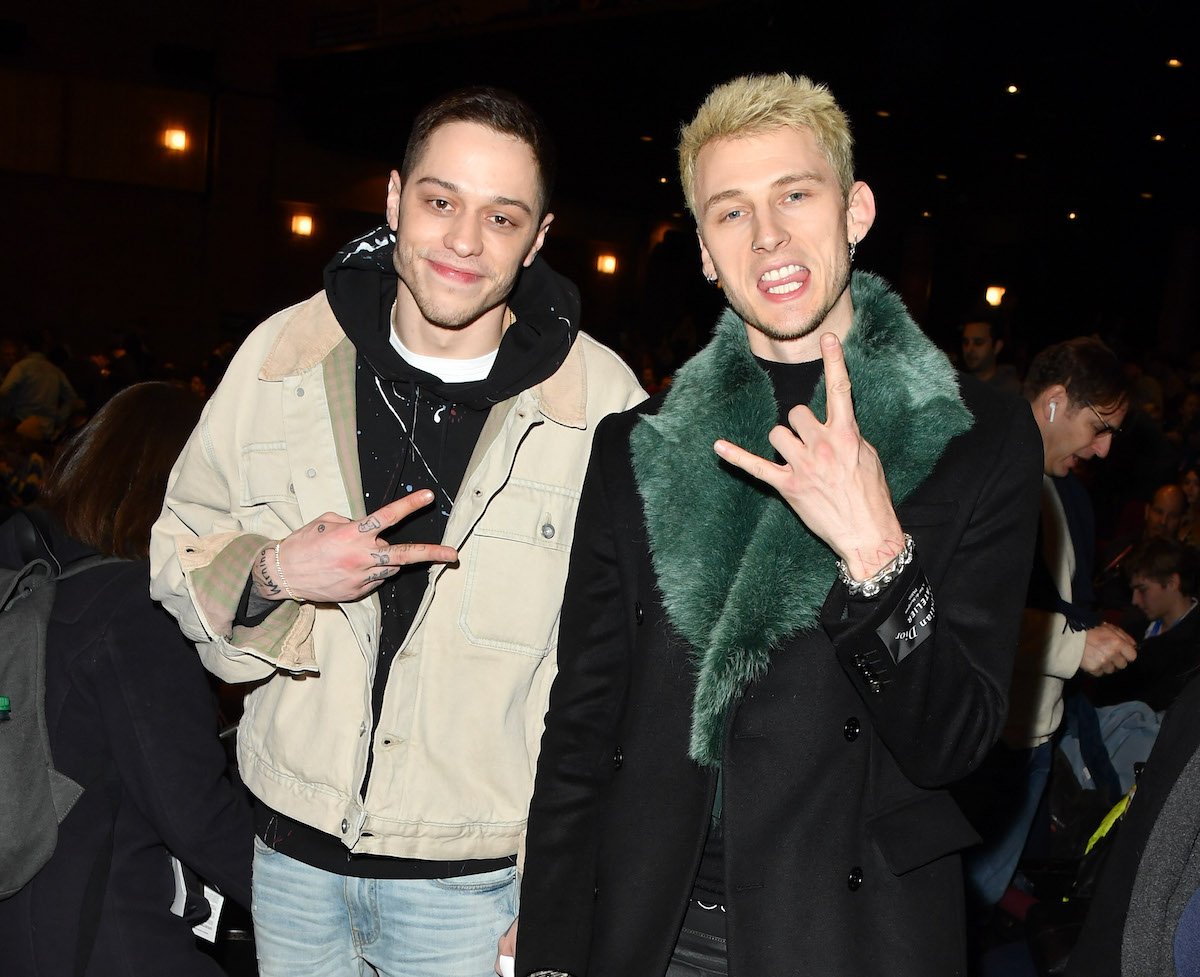 Pete Davidson took over Calvin Klein's Instagram and only followed Machine Gun Kelly
On Monday, Dec. 6, social media users were shocked to see a photo of Pete Davidson's face as the profile picture for Calvin Klein's Instagram account. The Saturday Night Live star wore a navy blue Calvin Klein cap in the image. Interestingly, it appears to be the same hat he wore in the paparazzi photos of him holding hands with Kim Kardashian West. The photos were published on Nov. 18, just two days after Davidson's 28th birthday. 
Davidson also posted a mirror selfie to Calvin Klein's Instagram grid. In the photo, the comedian flashes a peace sign, showing off painted fingernails and a white Calvin Klein T-shirt. He captioned the picture, "I got Instagram."
The SNL star also removed all the accounts Calvin Klein was previously following. Now, the brand's Instagram follows just one person: Davidson's best friend, musician Machine Gun Kelly.
Pete Davidson and Machine Gun Kelly went live on Calvin Klein's Instagram
The same day that Davidson took over Calvin Klein's Instagram, Machine Gun Kelly posted an Instagram Story tagging the fashion brand's account.
The photo MGK posted showed him in a white undershirt and sweatpants, his Calvin Klein underwear peeking out over the waistband. Over the image, the musician wrote, "Hey @calvinklein 5pm PST tonite?"
Fans eagerly tuned in at the time Kelly mentioned to watch him go live with Davidson on Calvin Klein's account. The two friends sat on a white couch together with snacks and beverages on a coffee table in front of them. 
They took turns pulling down their pants and doing a pretend photoshoot for Calvin Klein, showing off how they would pose. Besides their spicy underwear shots, the two stars also got a little racy during their conversation. 
"Nice stuff, by the way," Davidson told his friend, referring to MGK's underwear-clad genitalia (per Page Six). "I get it now. Good for you. Good for you, dog."
The comedian went on to describe his own manhood. "I'm a grower for sure. I'm not really a grower or a shower. It's actually the same small and hard. It's actually a scientific wonder."
Acknowledging the camera, Davidson added, "I hope everyone's horny at home. We really brought the horniness. We bring the horniness."
https://www.instagram.com/p/CXKctUYjP48/
Fans can't get enough of the two friends' spicy pretend photoshoot
After finishing their Instagram Live, Davidson and Kelly posted a photo of themselves peering into the camera on Calvin Klein's Instagram grid. They captioned the picture, "did we nail it or did we nail it."
MGK commented from his account, "should we remake zoolander," while his new nail polish brand, UN/DN LAQR, commented, "💅'd it."
Fans couldn't get enough of the collaboration between the fashion brand and the two famous pals. One Instagram user commented, "this will break Instagram," while another implored, "PLEASE give us more content we literally are begging of you for a real shoot even though this was pure gold 🔥"
One fan wrote, "thank god thank calvin thank klein," and another commented, "GIVE ME UNDIE PHOTOS OR GIVE ME DEATH."
Source: Read Full Article