Remember a time not too long ago where Ariana Grande and Pete Davidson weren't even an item? Yeah, me neither. Their reported relationship came on real strong, and, TBH, I didn't hate it. While the two met back in 2016, it wasn't until Monday, May 21 that the story broke about the seemingly new couple. And since then, we've been seeing little bits and pieces of just how intense their relationship is already: We're talking matching tattoos, magical trips to Hogwarts, and now, some seriously adorable social media exchanges. Believe me when I say that Pete Davidson's comment on Ariana Grande's Instagram is the cutest thing you'll see all day.
The "No Tears Left To Cry" singer took to Instagram on Monday, June 4, post a photo of herself looking gorgeous on the cover of British Vogue. She wrote, "thank you @britishvogue ♡ I don't even know where to begin to express my love and gratitude @edward_enninful," and guess what? The girl looks like PERFECTION.
Apparently, SNL's Pete Davidson agrees, because he left such a sweet comment that undoubtedly made Grande swoon. He wrote, "Ummmmmm hiiiiiiiiiiii. i'm the luckiest contest winner ever," and come on, that's cute AF. But it gets even better, because Grande responded back, writing, "Nahhhh i am."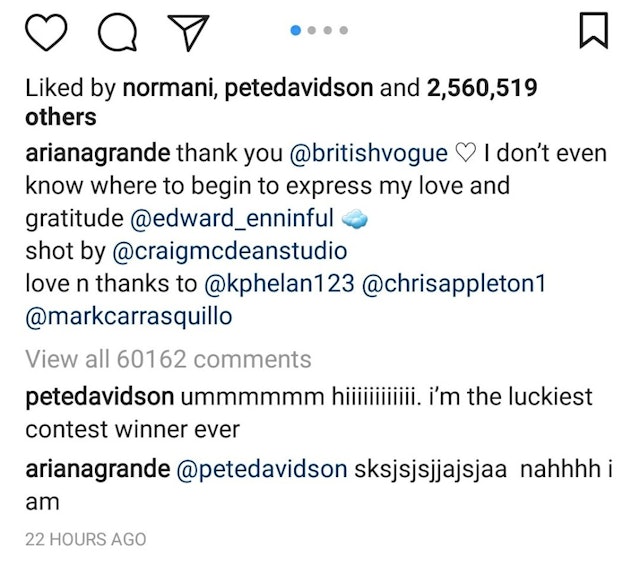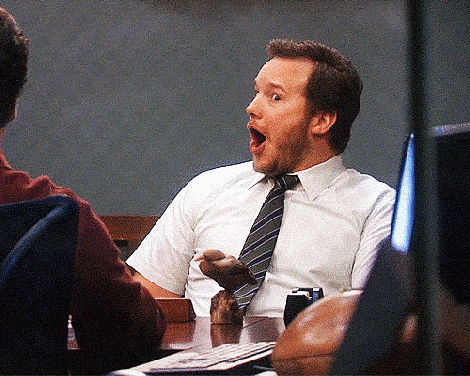 GET IT, GIRL!
And look, while the two haven't yet confirmed that they are dating, it's SO obvious that there's something going on. Why else would Ariana Grande post a picture of Pete Davidson kissing her to her Instagram account? Why else would she caption the picture, "i thought u into my life ? woah ! look at my mind ?⚡️?"?
You guys aren't fooling anyone. Love is in the air, and it's really no secret that the two of you are breathing that sh*t in like oxygen.
Of course, it's understandable to be feeling a bit sympathetic towards both of their exes, especially after finding someone so, so quickly after both Grande and Davidson split with their respective partners.
On May 9, we found out that Grande had split from her longtime boyfriend Mac Miller, which was ultra-sad. A source close to Grande recently revealed to Us Weekly that their relationship wasn't a good fit for Grande:
Elite Daily reached out to Mac Miller's team about the claims made about His relationship with Grande, but did not hear back by the time of publication.
Then word broke that on May 16, Davidson confirmed that he'd broken up with his girlfriend Cazzie David after two years of dating, after interviewing with Complex's Open Late with Peter Rosenberg. Davidson revealed that they were no longer dating, saying, "We're not together anymore. Very talented girl, she'll be great and she'll be fine. Yeah, I think she'll be okay."
While breaking up is definitely hard to do, it looks like both Ariana Grande and Pete Davidson are adjusting justtt fine.
Source: Read Full Article