"How do you know someone is paleo? They'll tell you," and Australia's paleo king, Pete Evans, can certainly attest to that.
Not content in his bid to inspire the nation to turn against grains, legumes, refined sugars and dairy, the My Kitchen Rules favourite and healthy living advocate, 45, is now on a mission to transform the eating habits of our furry little friends too.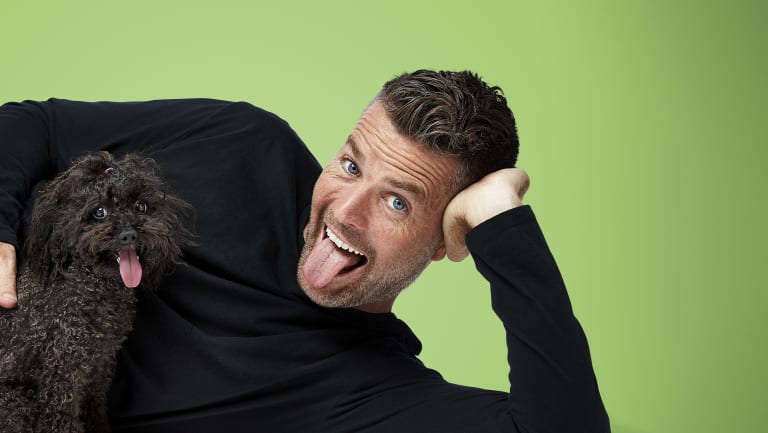 Pete Evans with his dog Shikoba promoting his new range of cat and dog food, called Healthy Everyday Pets with Pete Evans.
Evans has launched a new range of cat and dog food called Healthy Everyday Pets with Pete Evans in the hopes that the extended members of our family lead healthier, balanced lifestyles by eating paleo diets specific to their species.
A keen animal lover, Evans lives on his north NSW farm with a dog Shikoba, a cat Anais, over a dozen chickens, 20,000 bees, and horses and said he has had the idea to enter the pet food world for "many years".
"So many pets are suffering the diseases of modern day humans – cancer, diabetes, joint issues, skin issues – and a lot of that can be taken back into what we feed our pets," Evans told Fairfax Media this week.
He continued: "If you look at what's out there on the market, so many are filled with these really dodgy fillers, such as grains and legumes and other things, it's completely crazy."
Evans has worked on the pet food line with a pet nutritionist that includes dry food, raw meat patties, freeze-dried bite-sized treats and, of course, a bone broth.
"The ingredients are all natural, they are human grade. They are tested on humans, I have tested them all," he laughed.
"It's no different between what is going into the food product for the animals than what we normally eat anyway – well-sourced meat, seafood and a small amount of vegetables. There's nothing strange about [sampling the products]."
It's a paleo diet specific to dogs and cats.
Evans has been a popular television chef and author for almost two decades with 1.5 million Facebook followers, but in some circles, he has become best known as a controversial health advisor.
Without prompting, he said: "Over the last several years I have been known as a destructor for people to start talking about different ideas, whether it be: what are we feeding our children? What are we feeding ourselves?"
He continued: "I am a huge fan of understanding what we put onto our bodies and our children's bodies, whether it's sun screen, whether it's in the water that we drink, has it got fluoride added?"
He has at times been on the receiving end of backlash to his opinions, including for advising a woman diagnosed with osteoporosis to avoid dairy and his potentially fatal recipe for "bone broth" baby formula.
My Kitchen Rules hosts Manu Fieldel and Evans.
He puts the resistance to his ideas down to "the agenda of the person writing the story" or "the industry that it may be causing an issue to".
"You've always got to follow the dollars as to why people take offence and it's pretty self-explanatory because it's never from a nutritional point of view," he claimed.
Source: Read Full Article