Prince Harry has officially announced that Prince William will be his best man at the May 19 royal wedding. The Duke of Cambridge "is honored to have been asked, and is very much looking forward to supporting his brother at St George's Chapel," Kensington Palace announced.
Choosing his older brother as his right hand man is a smart move for Harry; William had a royal wedding of his own in 2011, when he married Kate Middleton, and likely has plenty of advice for his sibling for how to undergo (and survive) the process.
"We're very excited and delighted for them both, and wish them all the happiness in this very exciting time," the Duke of Cambridge said of Harry's engagement news in November. He continued with a joke: "For me, personally, I hope it means he stays out of my fridge and will stop him scrounging my food, which he's done for the last few years."
Here's what we know about Prince William's position as best man so far.
There is technically no "best man" at royal weddings.
"The best man or best men are officially called supporters," royal expert Marlene Koenig previously told Town & Country. "William will probably be Harry's supporter." Prince Charles, for example, simply chose his brothers Prince Andrew and Prince Edward to be his supporters at his royal wedding to Princess Diana in 1981. Edward did the same with his two brothers on his wedding day, Hello reports.
However, William broke protocol in 2011 when he appointed his only brother for the position, according to CNN. Similarly, Kate Middleton chose her sister, Pippa, as her maid of honor, instead of a "chief bridesmaid."
It looks like Harry, like William, is breaking tradition by having a best man at his nuptials. (But it may also be because he only has one sibling, after all.)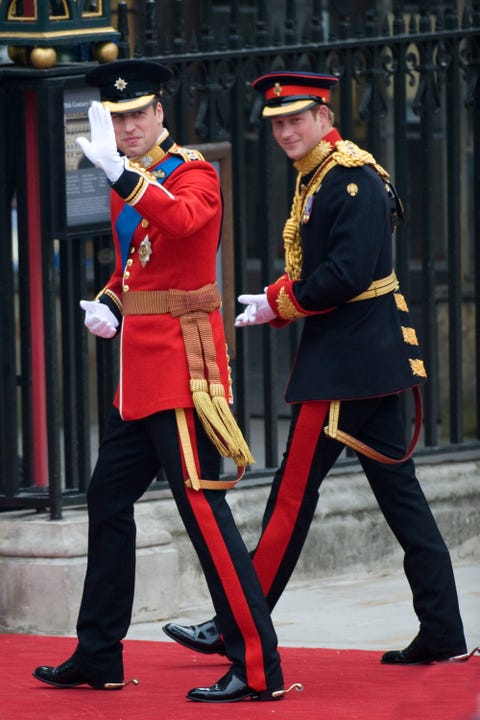 In January, Prince William said Harry hasn't asked him.
At the beginning of the year, the Duke of Cambridge revealed that his brother hadn't invited him to take on the position. "He hasn't asked me yet, just to clear that up," Prince William told British radio host Roman Kemp, People reports. "It could be a sensitive subject," he joked.
There were already reports in December that Harry asked William to take on the role.
In December, Us Weekly reported that Prince Harry had already asked Prince William to be his right hand for the royal wedding.
"Harry has several close guy friends, but there's no way he would ask anyone but William to take on the top job," the source told Us. Four months later, we finally have confirmation that the Duke of Cambridge said yes to his brother's offer.
Like a typical best man, Prince William is planning the bachelor party.
The Duke and Harry's friend Tom Inskip are "in charge of his all-important sending-off party," Vanity Fair reported in March. The stag do is speculated to take place at a swanky boutique hotel in Mexico, since Inskip was reportedly spotted there scouting for party locations.
However, in January, the Daily Mail reported that the bachelor party would likely take place at Verbier, a Swiss ski resort, "after royal protection officers were spotted in the upmarket bar La Vache." The Daily Star added that Prince Andrew (William and Harry's uncle) had offered the group his ski chalet to hold the party in.
The family will be involved in the ceremony.
"The wedding will be a family event," a spokesperson told The Sunday Times in December. "You can expect the family to be involved."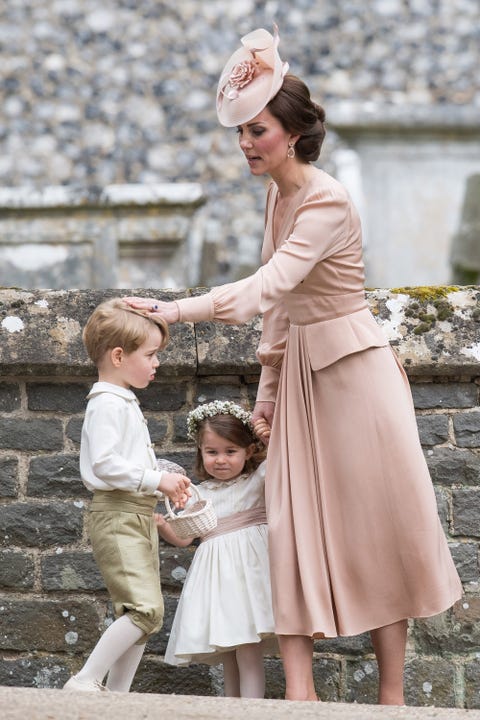 In addition to the Duke of Cambridge, his children, Prince George and Princess Charlotte, are also reportedly participating in the ceremony. They're expected to be a page boy and bridesmaid, respectively, just as they were for their aunt Pippa Middleton's wedding. Will royal baby #3 be present, too?
"George and Charlotte are Harry's only niece and nephew, so it would be a real shocker if they were not included," Koenig told BAZAAR.com.
However, one family member that might not be involved is Kate Middleton. The Duchess of Cambridge likely won't be Markle's maid of honor or in her bridal party because she "barely knows Meghan," Koenig added. Instead, the bride-to-be is expected to pick a close friend for the role.
Want more royals? Now you can watch all of the best episodes from Bazaar's Royal Watch—right here on Prime Video.
Source: Read Full Article