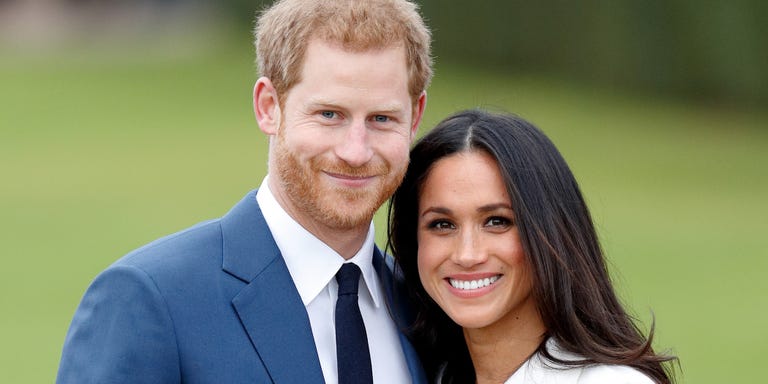 Now that Prince Harry and Meghan Markle have officially announced their engagement, another royal wedding will be upon us in a matter of months. Here's everything we know about the couple's upcoming nuptials so far.
The Date
Harry and Meghan will tie the knot on May 19, 2018, according to Kensington Palace's official statement.
This also leaves an ample amount of time after the birth of Prince William and Kate Middleton's third child, who is expected to arrive in April 2018.
The Time
The wedding ceremony will take place at 12 p.m. noon, local time, which translates to 7:00 a.m. EST. Luckily the event will be televised, but royal fans in the U.S. will have to rise early to follow along.
The Location
The couple will wed a St. George's Chapel at Windsor Castle. The Dean of Windsor will conduct the service and the Archbishop of Canterbury will officiate the vows, Kensington Palace announced.
Though their chosen wedding venue isn't Westminster Abbey, where Prince William and Kate Middleton wed in 2011, they'll still follow a number of royal couples who said "I do" at the same location. The most recent include Peter Phillips (Harry's cousin) and Autumn Kelly in 2008 and Prince Edward (Harry's uncle) and Sophie Rhys-Jones in 1999. Harry's father, Prince Charles, and stepmother, Camilla Parker Bowles, also had a special blessing ceremony here after getting married in a civil service in 2005.
"Windsor is a very special place for Prince Harry, and he and Ms. Markle have regularly spent time there during the last year," a rep from Kensington Palace told People. "They are delighted that the beautiful grounds of Windsor Castle will be where they begin their lives as a married couple."
Prince Harry was also baptized here in 1984.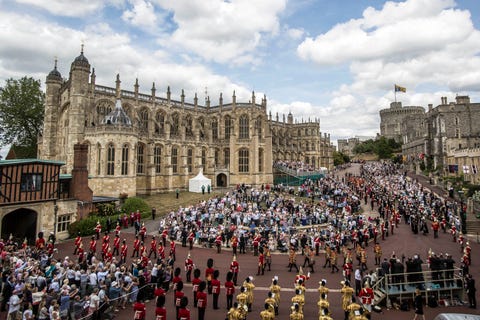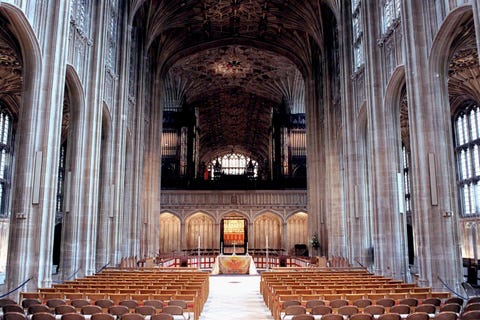 The Procession
At 1 p.m., after saying their vows, the newlyweds will participate in a procession through the town of Windsor and return to Windsor Castle via the picturesque, tree-lined Long Walk.
The newlyweds will embark on a horse-drawn carriage ride through the town of Windsor in one of the five Ascot Landaus kept by the Royal Mews. The Queen uses one for her procession at the Royal Meeting at Ascot, and two were previously used at the 2011 royal wedding. Harry actually rode on on one during his entrance as best man.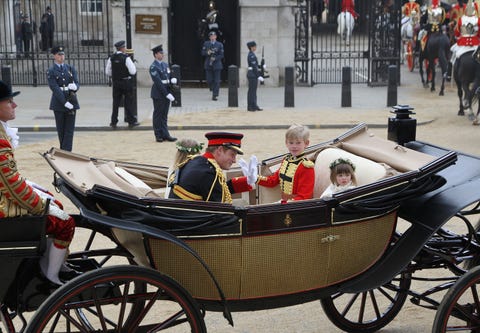 If it rains, the duo will board a covered alternative, the Scottish State Coach. (You might recall the Queen and Prince Philip riding it during Her Majesty's 90th birthday festivities in 2016.)
The carriage will be pulled by four Windsor Grey Horses—Milford Haven, Sir Basil, Tyrone and Storm—and two additional horses— Plymouth and Londonderry—will serve as outriders.
The Receptions
There will be two "afterparties" celebrating the newlywed couple, Kensington Palace announced. The first will include guests of the congregation from the wedding ceremony and will take place at St. George's Hall. The modern gothic-designed space is the largest room in Windsor Castle, stretching over 180 feet (55.5 meters) long. It can hold up to 162 for a state banquet, according to the Royal Collection Trust. About 600 guests were invited to the ceremony and this reception, Kensington Palace confirmed.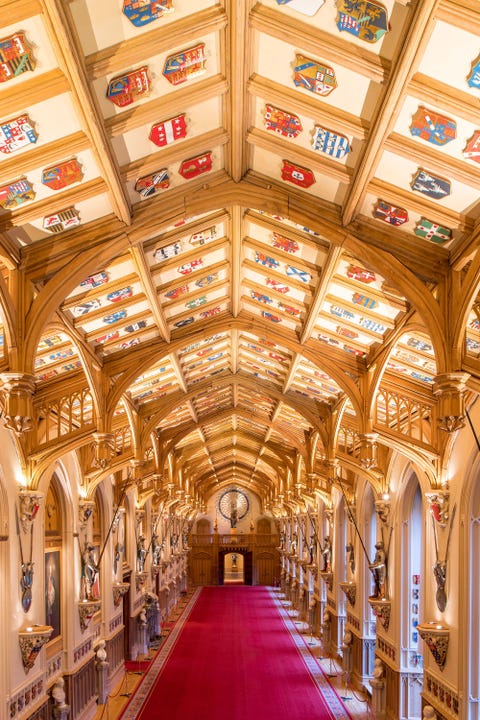 The second reception will be a private celebration later in the evening hosted by Prince Charles, with about 200 guests. It will take place at Frogmore House, a royal residence located a half mile away from Windsor Castle. The estate has been in royal possession since the late 1600s and was a favored retreat for Queen Elizabeth II and her family. You might even recognize the location — it's where Harry and Meghan staged their official engagement portraits. It's unconfirmed if there will be a performance at the evening festivities, but rumors are circulating that the Spice Girls will serenade the newlyweds and their guests.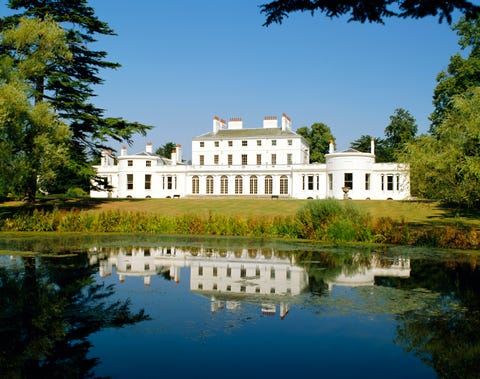 Read more on Harry and Meghan's wedding receptions here.
The Proposal
Though the couple's engagement was announced on Monday, November 27, Harry actually proposed to Meghan in London earlier in the month. The couple was having a regular, "cozy night" together at Kensington Palace (they were even in the middle of trying to roast chicken) when Harry "got on one knee," they revealed in their first joint interview.
Markle was so excited she said yes before Harry could even finish proposing. "I was like, 'Can I say yes now?'" she recalled.
"It was a really nice moment, it was just the two of us and I think I managed to catch her by surprise as well," Prince Harry said.
The Engagement Ring
Prince Harry proposed with all-diamond ring he designed for Meghan. It features a cushion-cut stone in the center, sourced from Botswana, in honor of his and Markle's special getaway trip together. The diamond is flanked by two smaller round-cut stones from Princess Diana's jewelry collection "to make sure she's with us on this crazy journey together," Harry said. The stones are set on a yellow gold band—Markle's favorite.
The ring is from London jeweler Cleave and Company, and Fortune estimates it's worth $1 million due to its precious royal connections. Learn more about Markle's engagement ring here.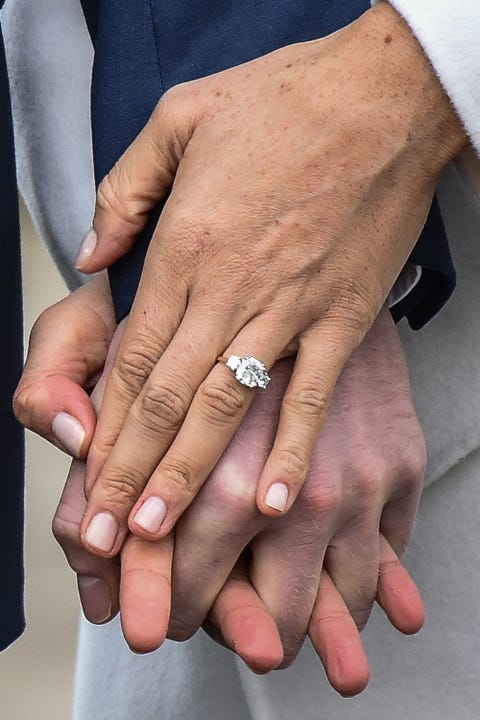 Prince George and Princess Charlotte's Roles
When asked if the the royal tots would be included in the ceremony, a Kensington Palace rep said, "The wedding will be a family event. You can expect the family to be involved." The four- and two-year-old have already met Markle "several times," The Sunday Times reports, and they've already had plenty of wedding practice at Pippa Middleton's nuptials in May 2017.
The Engagement Portraits
Prince Harry and Meghan Markle released their official engagement photos nearly a month after announcing their betrothal. They were taken by Alexi Lubomirski at Frogmore House, Windsor in mid-December.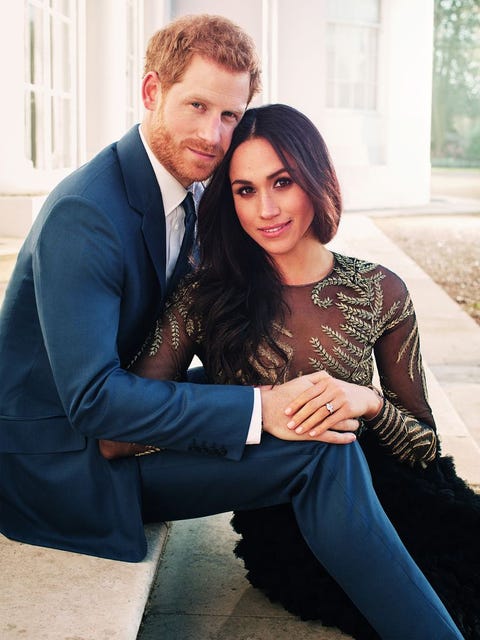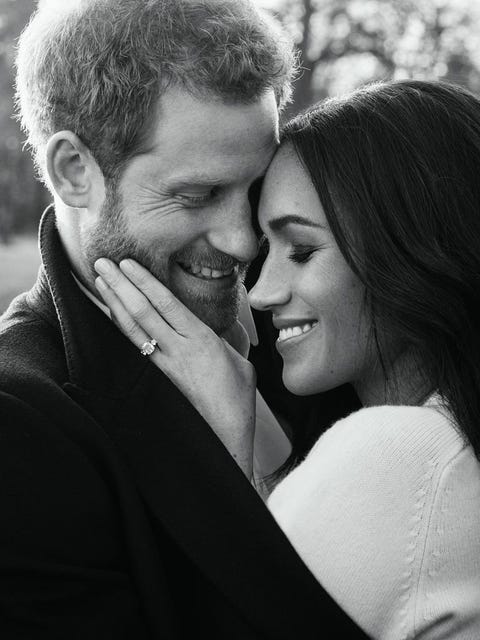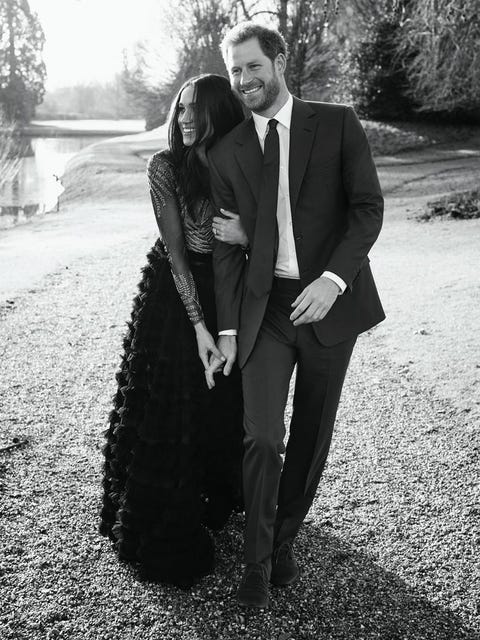 The Invitations
Exquisite cards were made by Barnard and Westwood, a fine printing company that's been crafting royal wedding invitations since 1985. The invites feature an elegant script and the Prince of Wales' three-feathered badge in gold ink. The printers used American ink on English paper, representing the union between Markle and Harry.
The message reads:
The couple has already sent out about 800 invitations (600 for the ceremony and lunch party, and 200 for the evening reception).
See how Meghan and Harry's invitations compare to William and Kate's here.
The Dress Code
According to a note on the official invitation, guests are urged to wear "uniform, morning coat, or lounge suit" and a "day dress with hat."
The Wedding Cake
Claire Ptak, owner of Violet Cakes, and organic bakery in London, will create a "lemon elderflower cake that will incorporate the bright flavors of spring," Kensington Palace announced. It'll be covered in buttercream frosting and fresh flowers.
Like Markle, Ptak was raised in California before moving to London to launch her business. The bride-to-be also once interviewed the pastry chef for her blog, The Tig. Ptak has praised the couple for sharing her values in "food provenance" and "sustainability."
Though the flavor is uncommon for royal weddings, it still sounds delicious. This is what one of Ptak's elderflower cakes looks like:
The Dress
Markle's dress likely won't be unveiled until May 19, but she's reportedly already chosen the designer as of mid-January. Her best friend and stylist Jessica Mulroney (who helped Meghan and Harry hide from paparazzi when their relationship first made news) assisted her in picking a dressmaker. Mulroney is also reportedly creating a custom number for Markle to wear on the big day.
The Military's Role
More than 250 members of the armed forces, from "Regiments and units that hold a special relationship with Prince Harry," will be involved in the ceremonial duties at the wedding and carriage procession, at the request of Kensington Palace.
The military holds a place in Prince Harry's heart, after he served in armed forces for 10 years.
Members of the Household Cavalry will form a staircase party at St. George's Chapel for the wedding, the palace announced. The Captain's Escort of the cavalry will join the State Trumpeters in providing "ceremonial support" for the occasion.
Streets within Windsor Castle will be lined by:
The Wedding Photographer
Kensington Palace announced that Alexi Lubomirski will take the official photos after the wedding at Windsor Castle, following the wedding at St. George's Chapel. He's the same photographer who took the couple's engagement portraits at Frogmore House late last year. He's also a former resident of Botswana, which holds a special place in Harry and Meghan's hearts. The photographer is royal, too—he's a prince of the Polish House of Lubomirski.
Lubomirski shoots regularly for Harper's BAZAAR. His recent works include Selena Gomez's March 2018 cover story and Angelina Jolie's November 2017 cover story.
Watch this space for more updates. In the meantime, read up on more royal wedding news below.
More on the Royal Wedding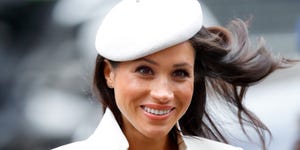 All the Details on Meghan Markle's Wedding Tiara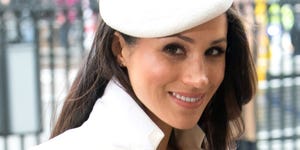 Meghan Markle On Her Dream Wedding Gown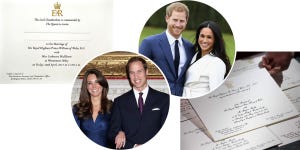 William and Kate's Invites vs. Harry and Meghan's
Source: Read Full Article