This weekend, Elton John is expected to perform at the wedding of Prince Harry and Meghan Markle. The pop singer has a long history with the royal family and, particularly, Harry's late mom, Princess Diana.
It was friendship at first sight when the pair met in 1981 at Prince Andrew's birthday party at Windsor Castle. That night, they danced the Charleston alone for 20 minutes. But the relationship was complicated. Six weeks before Diana's death, they reconciled after a major falling out.
Here's a complete timeline of their relationship:
1970s: The royals are fans of Elton John.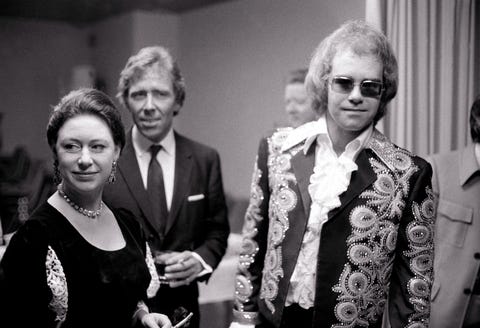 John has been friends with the royals since the 1970s. Princess Margaret and The Queen Mother were fans of his music, according to the Press Association. He attended art events with Margaret and was a regular at Charles' Prince Trust annual concerts.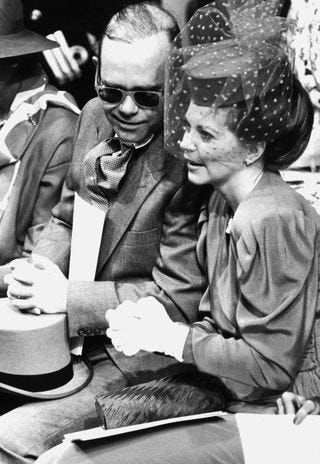 "He had remained for years on the guest list to parties at Buckingham Palace and, again according to reports, at one such event jived with the Queen to Bill Haley's hit 'Rock Around The Clock,'" the Press Association wrote earlier this year.
John and his then-wife Renate sat front-row at the royal wedding of Sarah Ferguson and Prince Andrew in 1986. And Margaret's son David Linley, a furniture craftsman, counts John as a client, according to Town & Country.
1981: The pop star meets the People's Princess.
John and Diana met at Windsor Castle, where Harry and Meghan will wed this weekend.
"[I was] playing for Prince Andrew's 21st birthday party at Windsor Castle," he told his biographer Philip Norman, who recounted the story to the Vancouver Sun in 2000. "When I arrived, there was no one there but the dance band and Princess Diana. We danced the Charleston alone on the floor for 20 minutes."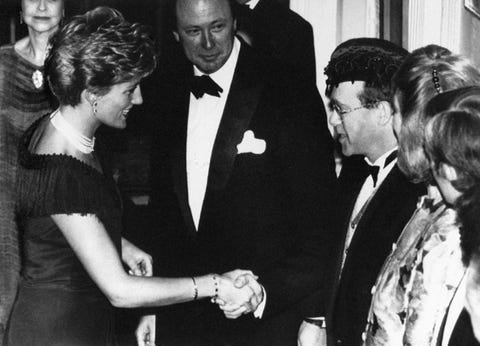 Diana wasn't the only royal he danced with that evening.
"Then Princess Anne came up to me and said, 'Would you like to dance?' What am I going to say — 'No, f- off?' We went into this disco where the music was so quiet, you could hardly hear it," he said. "As we're bobbing up and down, the Queen comes up with an equerry and says, 'Do you mind if we join you?' Just at that moment, the music segues into Bill Haley's "Rock Around the Clock." So I'm dancing to "Rock Around the Clock" with the Queen of England."
1990s: John gets to know Prince Harry.
In a recent interview with Time, John recounted meeting a young Prince Harry at Kensington Palace.
"I first met an extremely shy and sweet Prince Harry at a private lunch at Kensington Palace, given by his mother Princess Diana for Gianni Versace and me many years ago," John said. "What a joy it has been to see that young boy grow to inherit his mother's warmth, sense of humor and courage to stand up and champion the causes he truly believes in."
February 1, 1997: The "deep freeze"
Diana and John didn't speak for months after the release of Gianni Versace and John's coffee table book Rock and Royalty. Tina Brown wrote in Vanity Fair that John was in a "deep freeze" after the book came out.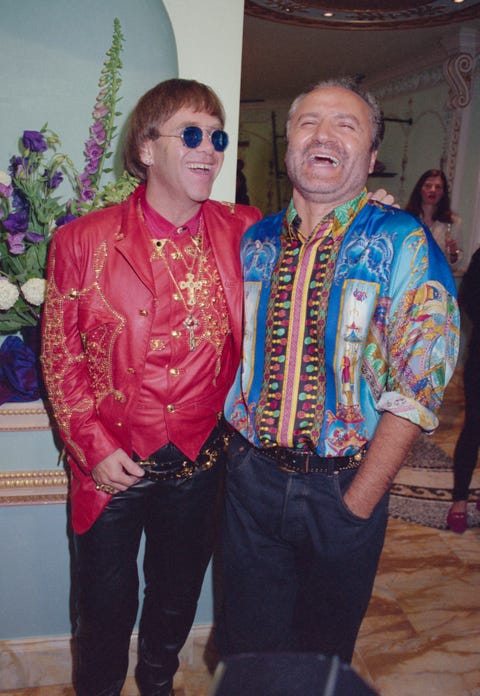 "Pictures of members of the royal family, including one of the Princess and the boys, appeared amid a portfolio of semi-nude male models, and Diana feared that would upset the Queen," Brown wrote. "Royalties from the book benefited John's AIDS foundation."
July 15, 1997: Reconciliation after Versace's death.
When the designer was shot and killed in front of his Miami Beach home, Diana called their mutual friend, John. He opened up about that time period in a recent interview:
July 22, 1997: Diana comforts John at Versace's funeral.
John and Diana sat alongside George Michael, Sting and Sting's wife, Trudy Styler, at Versace's Milan funeral.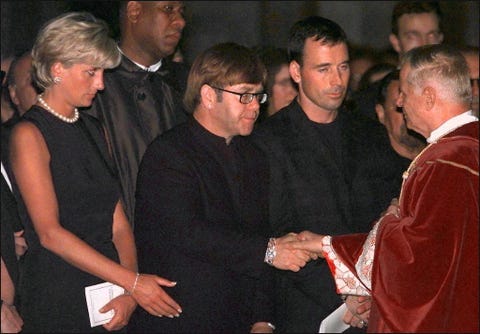 "She kept her cool for me . . . at Gianni's funeral and she held her composure. I've got to do the same for her," John told Barbara Walters in a 20/20 interview. "When I started crying and she put her arms around me and she was, that's exactly what she was like. She was such a caring and a very calming person."
August 31, 1997: Diana dies in a car crash.
Just weeks after Diana comforted John at their friend's funeral, she was killed when her car crashed while being chased by paparazzi.
September 13, 1997: John releases a song for his friend.
John rewrote the song Candle in the Wind, which was originally about Marilyn Monroe, as a tribute to Diana after her death. Goodbye England's Rose was a No. 1 hit in the U.K. and won John a Grammy. Sales proceeds helped fund the Princess Diana Trust, administered through Kensington Palace.
September 6, 1997: John performs at Diana's funeral.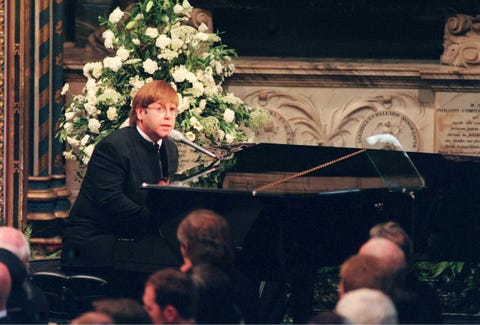 John performed the song at Diana's funeral. "Me playing at the funeral was one of the most surreal things I have ever done. What was going through my mind was 'Don't sing a wrong note. Be stoic. Don't break down and just do it to the best you can possibly do it without showing any emotion whatsoever," he told The Telegraph. "My heart was beating quite a lot, I have to say."
Seeing his mom's friend perform was emotional for Harry, as well.
"Elton John's song was incredibly emotional. That was part of this whole trigger system, which nearly brought me to the point of crying in public, which I didn't do," Harry later said.
July 1, 2007: Concert for Diana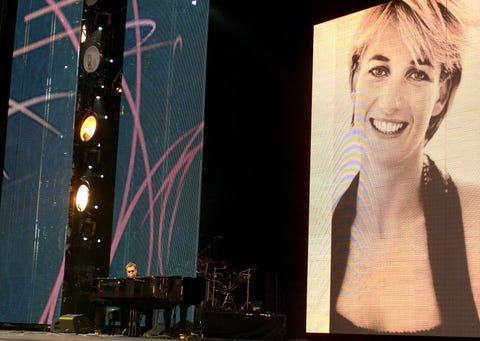 In 2007, William and Harry joined John on stage at Wembley Stadium in London for a tribute concert for Diana.
"This evening is about all that my mother loved: her music, her charities, her dance and all her friends," said Harry, 22 at the time.
April 29, 2011: John attends Prince William and Kate Middleton's wedding.
Though he'd only met Prince William a couple of times, John attended his 2011 wedding to Kate Middleton.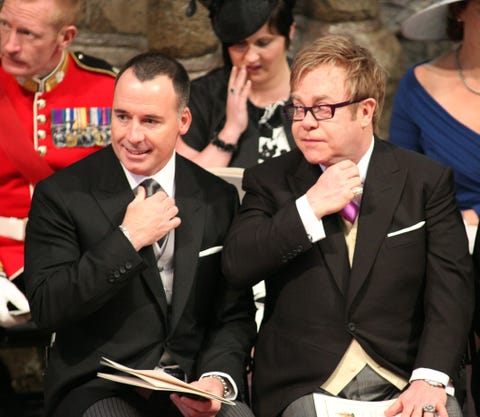 "I can't imagine at that young age having to walk in the public, following your mother's coffin. . . . And the next time we're in the Abbey it's to see him walking up the aisle with a beautiful woman, the love of his life," he said. "I think [Diana] would be very happy with his choice, [Kate] seems such a great girl and they seem so much in love."
August 31, 2017: The 20th anniversary of Diana's death.
Last year, the singer paid tribute to his good friend with a touching Instagram post. "20 years ago today, the world lost an angel," he wrote.
And his charity, Elton John AIDS Foundation, shared a tribute honoring the contribution Diana made in the fight against AIDS.
May 19, 2018: Prince Harry and Meghan Markle's wedding
Though he hasn't officially confirmed he'll be attending the wedding of Harry and Meghan Markle, John canceled two concert dates this weekend citing a "scheduling conflict." Yesterday, reports broke that John will be performing at the wedding, though Kensington Palace has not confirmed that yet.
John revealed in a TV interview he's recently spent time with the prince in Italy.
"I spent some time with him in Sicily last summer and I could tell that he was totally in love, and he didn't really discuss much personally but he said, 'I'm in love' and I thought, 'good for you,'" he said on the talk show Lorraine. "Both those boys seem to have been ecstatically happy, and that's all you want people to be."
Source: Read Full Article