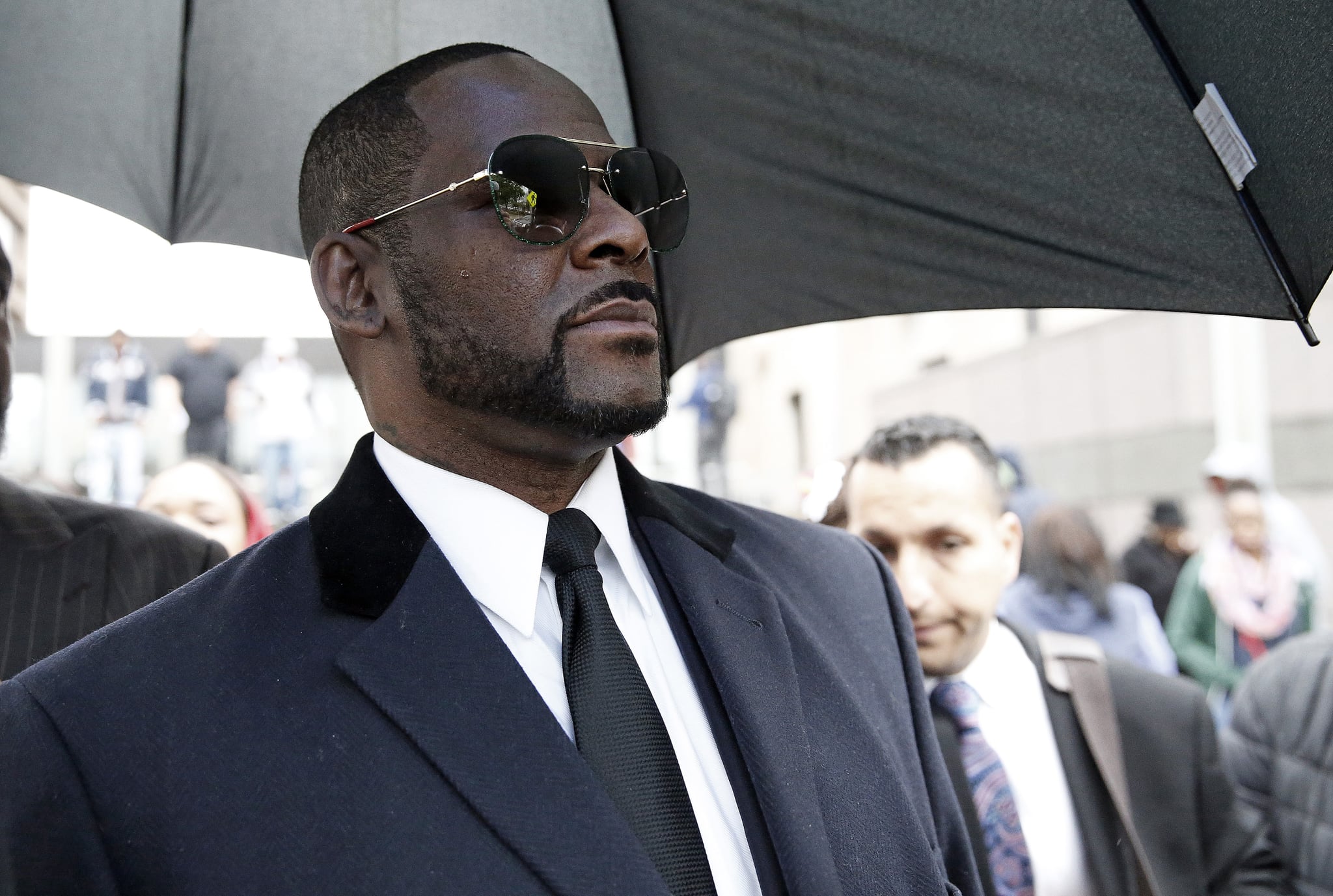 Following a decades-long scheme of sexual abuse against girls, boys, and women, R. Kelly was found guilty on Monday on all nine counts of racketeering and sex trafficking in his six-week federal trial. The charges involved six female victims, including the late singer Aaliyah, who married R. Kelly when she was just 15 years old in the 1990s. In the New York trial — which began on Aug. 18 — R. Kelly denied the allegations against him and pleaded not guilty to all charges, including human trafficking, racketeering, child pornography, kidnapping, and forced labor. R. Kelly also opted not to take the stand during the trial.
The trial set out to prove that not only did the defamed singer have a long history of predatory behavior, but he also had a team of people enabling his abuse for years. "The musician turned predator allegedly used his stardom to coax some victims into nefarious sex acts while certain members of his enterprise calculatingly facilitated the aberrant conduct," said special agent Angel Melendez following R. Kelly's 2019 indictment. "R. Kelly believed he could fly, but it will be justice to see his oppressive wings clipped." According to The New York Times, upon his sentencing hearing — which is scheduled for May 4, 2022 — R. Kelly could spend the rest of his life in prison.
"Today's guilty verdict forever brands R. Kelly as a predator, who used his fame and fortune to prey on the young, the vulnerable and the voiceless for his own sexual gratification," said Jacquelyn M. Kasulis, acting US attorney from the Eastern District, following the guilty verdict. "He is a predator who used his inner circle to ensnare underage girls and young men and women for decades, in a sordid web of sex abuse, exploitation and humiliation. This conviction would not have been possible without the bravery and resilience of R. Kelly's victims. I applaud their courage in revealing in open court, the painful, intimate and horrific details of their lives with him. No one deserves what they experienced at his hands or the threats or harassment they faced about telling the truth about what happened to them. We hope that today's verdict bring some measure of comfort and closure to the victims."
R. Kelly is also facing cases in other states, including state and federal charges in Illinois. His Chicago trial, which was put on hold until the conclusion of the New York trial, is set to resume at a later date.
Source: Read Full Article