Skittles may let you taste the rainbow, but Doritos is getting in on the fun, too. Now, you can color your world (or bowl) with limited edition Rainbow Doritos. Just when you thought that your snack game couldn't get any stronger, the flavored tortilla chip producer launched this brightly-colored goodie for you to munch on. Rainbow Doritos are the snack you didn't know you were missing, so get ready to take a bite.
Rainbow Doritos are here, and they are going to brighten up your day. Delish.com first reported on the colorful crunchy treat after food blogger Markie Devo posted pictures of the exclusive new chip on Instagram. The white bag of chips features a band of color across the front, and says it contains the flavors of "citrus and spices."
So, what exactly does that mean? Does each colored chip taste like a piece of citrus? Sort of, according to Devo. In his Instagram post, Devo writes that the flavor of Rainbow Doritos has "a sweet lemon and lime with what I believe to be grapefruit or some citrusy fruit." He describes the rainbow chips as having an "unbelievable" flavor and "very unusual" in taste. I've never had a citrus-flavored chip to know for myself (no, not even lime-flavored tortilla chips), but his description of the unique snack sounds spot on.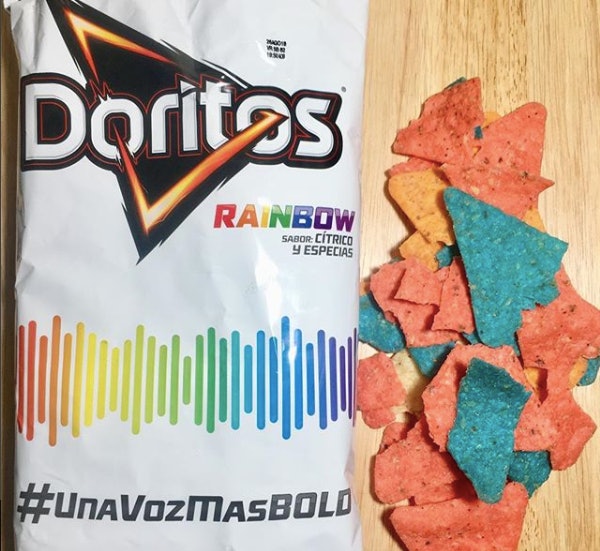 In his post, Devo continues on about the interesting flavor profile of Rainbow Doritos. The bold and bright chips "give you a nice tangy and sour vibe," and come in orange, blue, red, and yellow colors. So, it's not quite the color spectrum of an actual rainbow, but it's pretty darn close. Suffice to say, Devo is a big fan of the rainbow chips, and I think he may have won me over, too.
Sadly, it seems Rainbow Doritos are not currently available in the United States, according to Devo. The chips (which, oh, by the way, are totally Insta-worthy) can only be purchased in Mexico, but I sure hope that won't always be the case. Otherwise, I'm going to need to book a trip south of the border sooner rather than later, so I can grub on this appealing (and appetizing) snack.
Devo purchased his bag of Rainbow Doritos from The Mexican Candy Lady, as she's known on Instagram. The online snack vendor sells limited edition food items to her followers.
A quick visit to the Rainbow Doritos Mexico site tells me that the goal of these chips is to do more than provide a tasty snack for people to enjoy —it's about inclusiveness. The website reads, "We made a team together and our voices to create #UnaVozMasBOLD." That last part translates to "a voice more bold" in English.
In September 2015, Doritos partnered with the It Gets Better project to launch a line of Rainbow Doritos in support LGBTQ+ rights. A few years back, the chip colors were inspired by the Pride Flag, according to a press release. Could it all be related? It's hard to say, but maybe. Will the chips come back stateside any time soon? I wish I knew the answer. For now, I'll just be dreaming of the day I can sink my teeth into a handful of Rainbow Doritos.
Source: Read Full Article