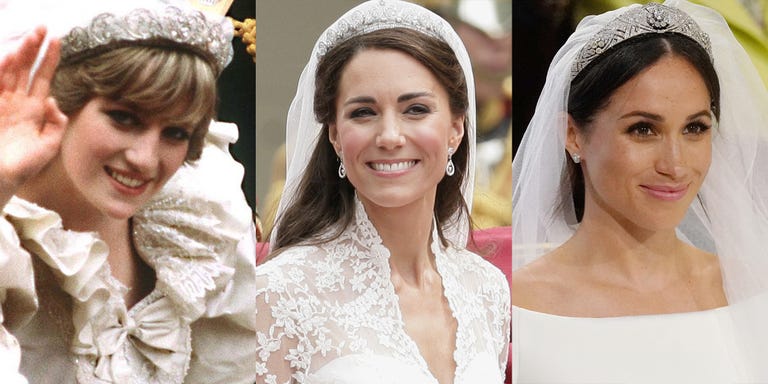 A side-by-side comparison proves that despite subtle deviation from royal tradition, Meghan Markle's wedding to Prince Harry was strikingly similar to the historic royal weddings of the past—namely, the late Princess Diana's 1981 ceremony and Kate Middleton's nuptials to Prince William in 2011.
Despite a bit of pre-wedding drama surrounding the former American actress's bridal escort, the newlywed Duchess of Sussex kept things surprisingly simple and, in many ways, by-the-book on her wedding day. From the royal wedding party of adorable little bridesmaids and page boys, to the post-wedding horse-drawn carriage procession, click ahead to see how Meghan and Harry's sweet and sentimental Windsor Castle wedding celebration honored—and broke from—classic British royal traditions, as compared to Princess Diana and Kate Middleton's ceremonies.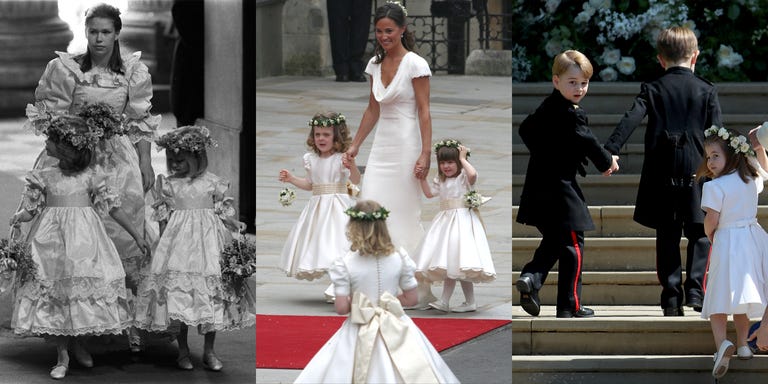 Per royal tradition, Meghan Markle's ceremony showcased an adorable royal wedding party including six little bridesmaids and four page boys, which included both Prince George and Princess Charlotte. Decades before Meghan and Harry's wedding, Princess Diana's marriage ceremony, where she wed Prince Charles also included young bridesmaids, who were the daughters of important royal friends. Kate Middleton's bridal party was slightly less traditional than Diana's or Meghan's, because the Duchess of Cambridge included her sister, Pippa Middleton, as maid of honor.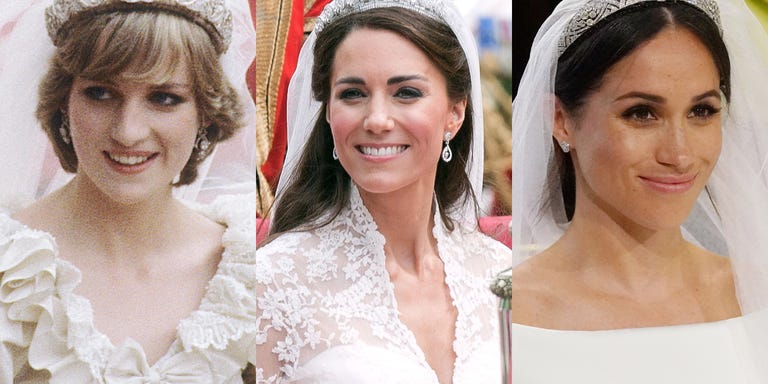 The three royal wedding beauty looks slightly varied. Diana wore her short hair down, and Kate Middleton sported a half-up half-down style. Meghan Markle wore her hair up in a low (slightly messy) bun. Meghan's makeup approach was also a bit more natural than either Diana or Kate's.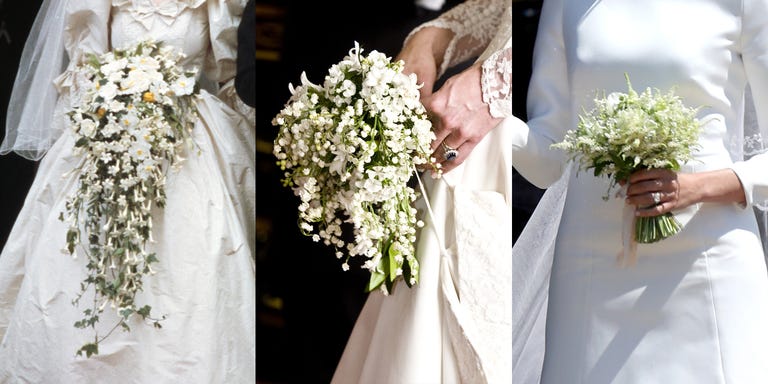 All three brides opted for white floral arrangements on their wedding days. Per royal tradition, all bouquets included a sprig of myrtle, which symbolizes hope and love. Meghan's also reportedly included forget-me-knots hand-picked by Prince Harry. The size and shape of the bouquets vary slightly between the brides, with Diana's dropping towards the floor, Meghan's more compact, and Kate's somewhere in the middle.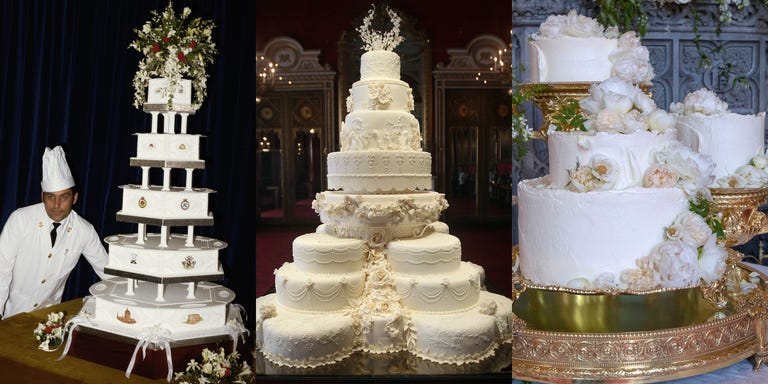 The cake is where the brides differed quite a bit. The official wedding cake for Diana's 1981 ceremony was a 5-foot-tall fruit cake with cream cheese frosting. William and Kate similarly opted for an 8-tiered fruitcake with white icing and sugar flower decorations. Meghan and Harry chose to have their non-traditional lemon elderflower wedding cake displayed in freestanding tiers.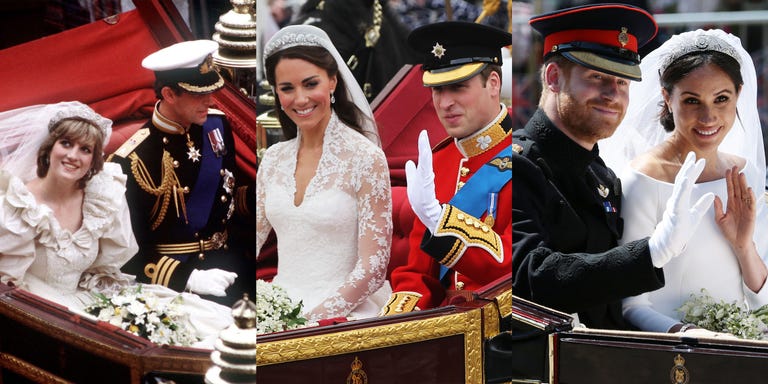 All three post-wedding processions included the bride and groom transported in an open-air Ascot Landau horse-drawn carriage. After exchanging their vows at London's St. Paul's Cathedral, Diana and Charles were whisked along a royal route, waving to onlookers. The Duke and Duchess of Cambridge also made their first appearance as a married couple on the streets of London following their 2011 ceremony. Meghan and Harry's procession included a carriage, but was a different route, as their ceremony took place in Windsor as opposed to London.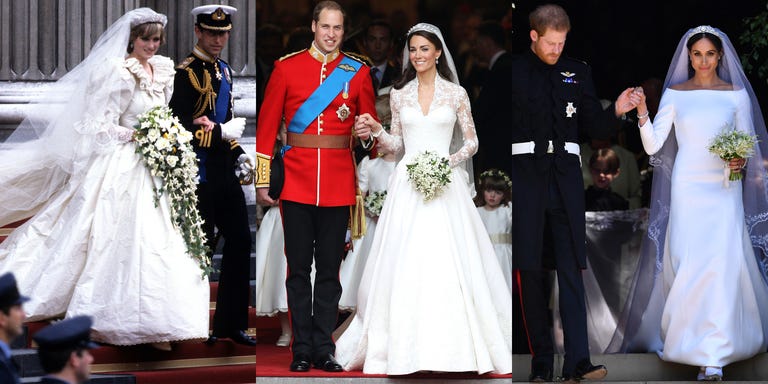 For her 1981 wedding ceremony, Princess Diana chose a puffy-sleeved taffeta gown by London-based husband-and-wife designers David and Elizabeth Emanuel. Kate Middleton wore a now-iconic Alexander McQueen lace long-sleeved dress, while Meghan opted for a minimalist Audrey Hepburn-esque bridal gown.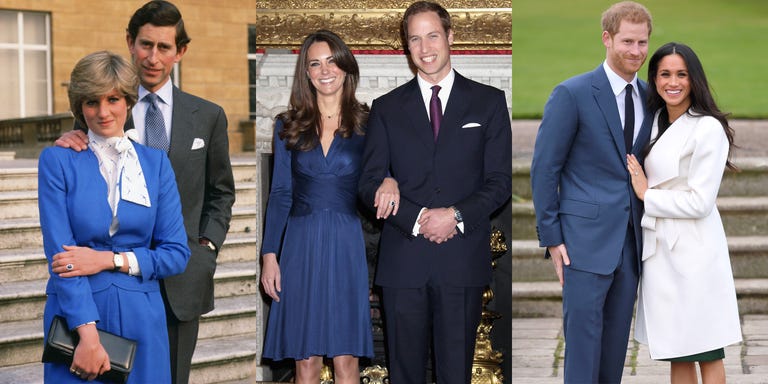 On their debut as royal brides-to-be, Diana, Kate, and Meghan appeared stunning and stylish. Lady Diana wore a timeless cobalt blue ensemble beside Prince Charles, and Kate wore a navy silk long-sleeved dress in her first post-engagement outing with Prince William. The now Duchess of Sussex wore a belted white coat dress for the couple's first photo call at Kensington Palace.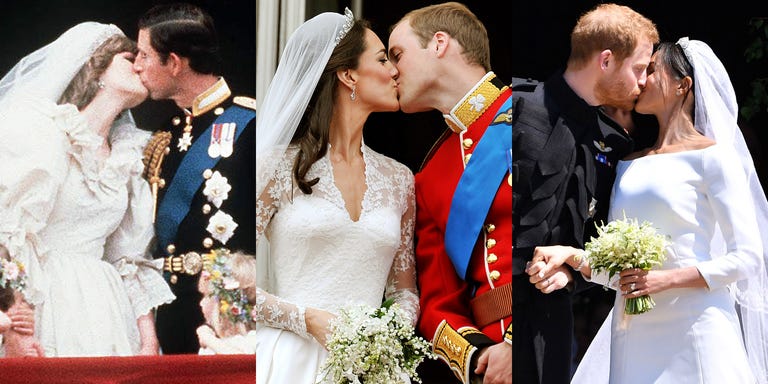 Meghan and Harry had a series of adorable kissing moments at their royal wedding. Whereas Diana and Kate made their official PDA debut as members of the royal family on the balcony at Buckingham Palace, Meghan and Harry gave the public a lip-locking moment on the steps of St George's Chapel.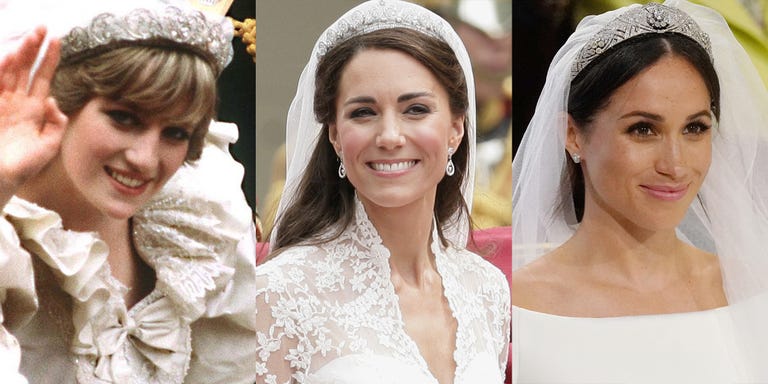 All brides wore tiaras on their respective wedding days. Princess Diana wore The Spencer Tiara, which reportedly features a combination of royal family jewels and heirlooms. For her wedding to Prince William, Kate Middleton wore the Cartier Halo Tiara, from Queen Elizabeth II's personal collection. The Duchess of Sussex also borrowed her headpiece from the queen, wearing a diamond center-stone adorned filigree tiara, which was originally designed for Queen Mary.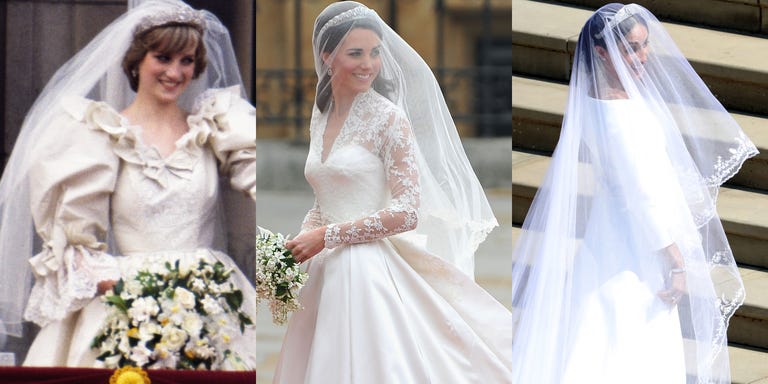 All brides wore traditional veils as they made their way down the aisle. The Duchess of Sussex's choice of an extra-long veil was especially significant as it actually honored her late mother-in-law. Princess Diana's epically long veil was designed by Elizabeth Emanuel for her wedding to Prince Charles in 1981.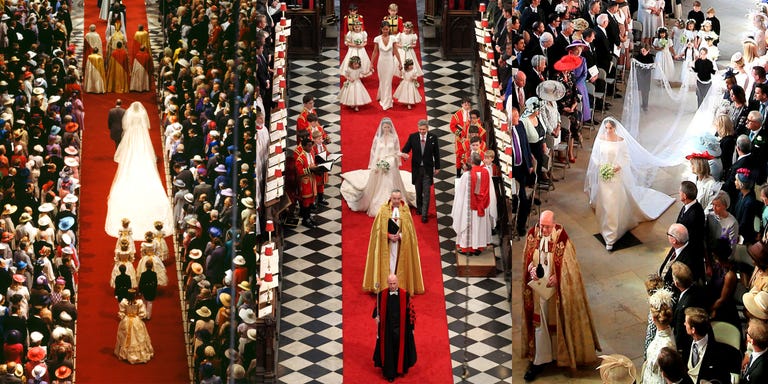 From an arial view it's clear to see how the trek down the aisle was varied for each of the three brides. Princess Diana was escorted down the aisle by her father, Earl Spencer, at her 1981 wedding to Prince Charles at the red-carpet-lined St. Paul's Cathedral. The Duchess of Cambridge was also escorted by her father at her 2011 ceremony at the similarly-lined aisle of Westminster Abbey. Meghan Markle broke with royal tradition, walking down the aisle on her own for part of the way before meeting with her father-in-law, Prince Charles, to complete the procession.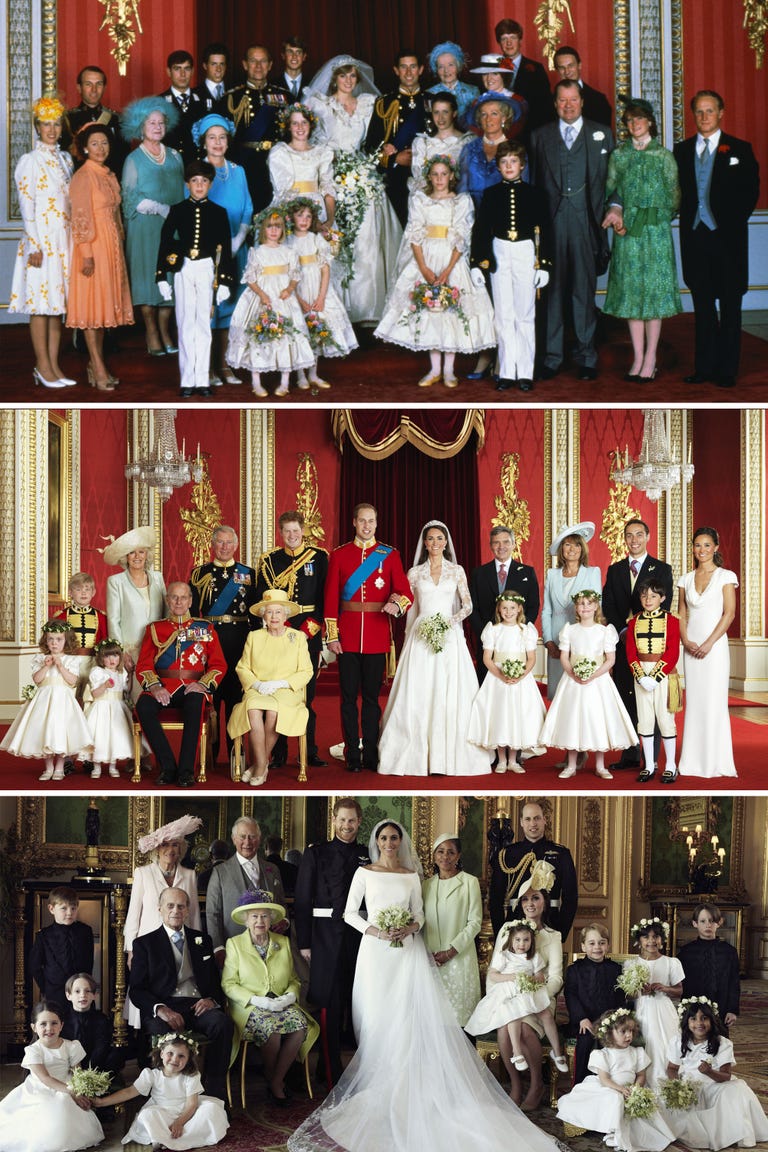 Royal portraiture is a British wedding tradition that has stood the test of time. In 1981, Charles and Diana posed for their standing wedding portraits with a large group of royal family members filling in the frame around them. Kate and William's 2011 photo call, taken in the Throne Room at Buckingham Palace, was a bit more buttoned-up, with the members of the wedding party standing rigid and upright in a straight line. For Meghan and Harry's familial photo debut, the newlyweds channeled a more laid-back vibe, a la Diana and Charles, with their family arranged in more of a circular formation with the precious bridesmaids and page boys situated casually on the floor.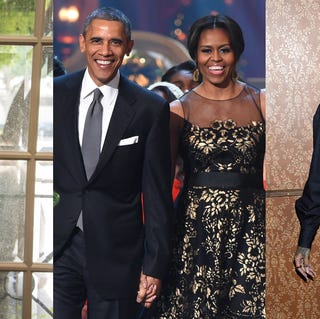 Source: Read Full Article