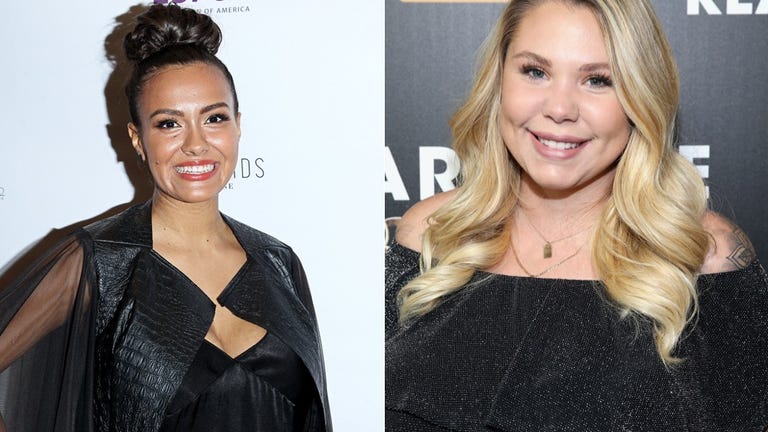 In the shocker of the century, two Teen Mom moms came to blows! This time it was Teen Mom 2's Kailyn Lowry and Briana DeJesus during the filming of the reality show's reunion. Yowza!
"There was a physical altercation between them, but both returned to resume finish filming," a source told Us Weekly.
The Ashley also reported that the fight broke out between the two women and things quickly became chaotic. The MTV stars were set to talk to Dr. Drew Pinsky during the reunion but the instant Briana stepped on the stage, all hell broke loose.
The source says Briana came out "very, very emotional and went straight at Kail" before DeJesus' sister Brittany DeJesus tried to fight Kailyn onstage. "Staff immediately jumped in to break it up and Kail kept saying, 'Bring it on.' She wasn't helping the situation," the source adds.
"Kail did try to fight Briana backstage," the source continued. "They had been kept apart all morning prior to filming beginning."
Then everything was put on hold for about 35 minutes until the heat could dissipate and the show could resume.
Lowry later tweeted, "I didn't get beat up. I didn't get hit. Reeeeeeeelax."
I didn't get beat up. I didn't get hit. Reeeeeeeelax.
Of course, there's some speculation that this could be over Javi Marroquin, Kailyn's ex-husband who Briana briefly dated. Yowza again!
As for who got the last word? Well, it was Jenelle Evans, who skipped the reunion altogether!
So glad I stayed home from #NYC this weekend with my babies. Too much drama! #CalledIt ??‍♀️
Source: Read Full Article