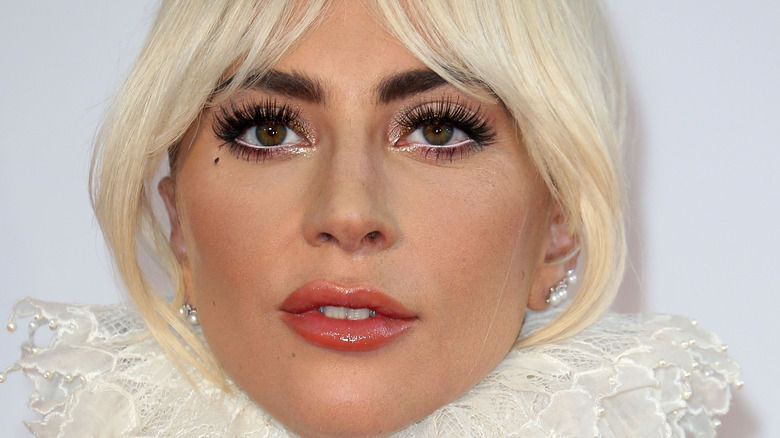 It doesn't matter if you love her or you hate her — you'd know her anywhere. In 2006, the music industry changed for good when Stefani Joanne Angelina Germanotta rebranded herself as "Lady Gaga" and burst onto the scene with her debut album "The Fame Monster" (via Billboard). Since then, the pop diva has released 7 more albums, raked in 12 Grammys, starred in "A Star is Born," and received an Oscar for best original song (via Billboard and Grammy). Throughout her career, Lady Gaga has kept audiences on their toes with her genre-defying music, her incredible vocal talent, her concert theatrics, and, of course, her insane fashion. When it comes to Lady Gaga's looks, avant-garde is certainly an understatement. Take a look back at some of Gaga's most bizarre fashion moments, created from the collaboration of the artist herself and her longtime fashion director Nicola Formichetti (via Vogue).
The meat dress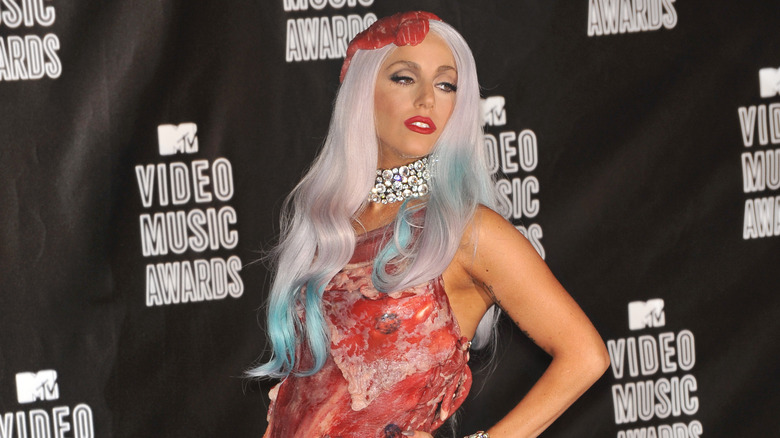 If you didn't know Lady Gaga before this look, you certainly did after. Gaga turned heads at the 2010 VMAs when she arrived in not only a dress made of raw, red meat, but in matching shoes and a hat (via MTV). According to Billboard, Gaga explained that the dress was tied to her criticism of the U.S military's "don't ask, don't tell" policy against LGBTQ+ soldiers, and that it was "no disrespect to anyone that's vegan or vegetarian." Even so, the pop star received a hefty amount of criticism, her outfit even receiving a statement from animal rights' group PETA. No matter what your thoughts on this look, it has certainly earned its spot in pop culture history!
Jo Calderone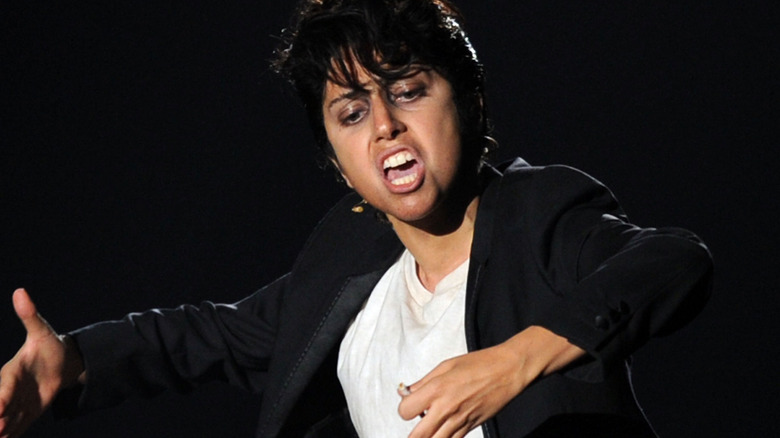 If you're squinting at this picture trying to figure out we included some random man's photo in our Lady Gaga fashion story, then consider yourself successfully duped! Pictured is Lady Gaga's seemingly Italian male alter-ego Jo Calderone at the 2011 VMAs (via Rolling Stone). Jo Calderone was the creation of stylist Nicola Formichetti and photographer Nick Knight for Gaga, and first appeared in a 2010 Vogue Hommes Japan spread. Even if Jo's style is simple for Gaga, the concept behind "his" look is certainly not!
The Met Gala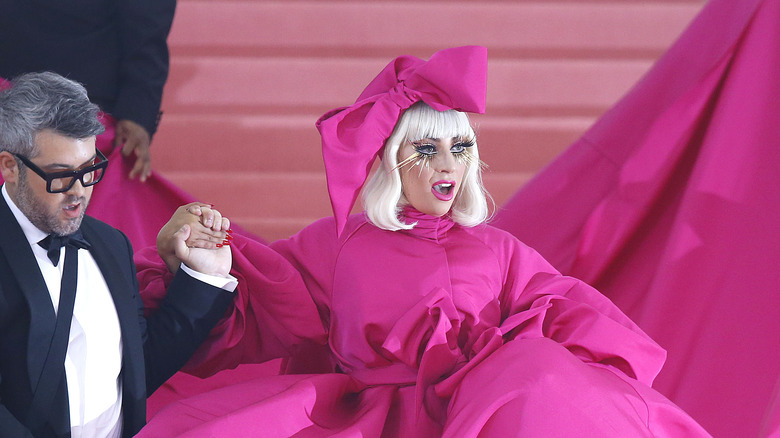 One of Lady Gaga's most outrageous looks is actually four looks in total. Gaga stole the show with her incredible entrance into the 2019 Met Gala, seen in full on YouTube. The theme of the year was camp — and who knows camp better than Gaga? The outfit began with a billowy hot pink outer jacket with a train held by several attendants. The jacket was then removed to reveal a black evening gown, but she didn't stop there! The evening gown was removed to reveal a thinner, silk floor length fuchsia gown. And just when we thought she could go no further, after receiving a call and fixing her hair, Gaga's final look was revealed — a sparkly black bra and panty set with sheer black tights (via People).
Source: Read Full Article