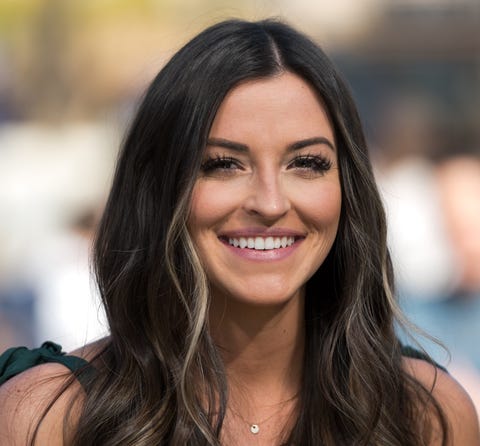 Tia Booth just shut down any doubters who thought she might make an appearance on Colton Underwood's upcoming season of The Bachelor to try and win him back.
On Monday, the reality star posted a photo of herself and her new man on a football field with the caption, "Nashville weekends."
View this post on Instagram
Nashville weekends.
A post shared by T I A B O O T H (@tiarachel91) on
In the pic, Booth didn't reveal too much about the mystery man, but an unnamed source told E! News that his name is Cory Cooper. The source said the relationship is still new, but it's "going really well."
"She has been traveling back and forth to Nashville recently within the past month to visit him and they are very happy," the source added. "Tia really likes Cory, and they are enjoying getting to know each other right now."
On Instagram, Booth's followers were happy to see that she's moved on after getting her heart broken on the most recent season of Bachelor in Paradise.
"Much better with this man. Maybe he's not so wishy washy," one fan wrote, pointing out how Underwood was so indecisive about his feelings for Booth. "Good luck Tia you deserve happiness." Another said, "Hotter Colton alert."
Booth's best friend, Raven Gates, who appeared on a different season of The Bachelor (she competed for Nick Viall), gave her stamp of approval, writing, "Nashville and love look good on you."

On Halloween weekend, Cooper shared a photo of him and Booth wearing a couples' costume. The pair looked (scary?) cute together in their matching skeleton make-up.
View this post on Instagram
Happy Halloween 💀
A post shared by Cory Cooper (@cory.cooper) on
"We look better dead honestly," Booth commented jokingly under the photo.
Meanwhile, it remains to be seen whether Booth's ex has found someone he can dress up with next year. Underwood's journey to find a fiancé will air on Season 23 of The Bachelor in January.
But don't expect to see Booth there. Not only does she seem to be super into her new man, but she also made it pretty clear with one single tweet.
And NO I will NOT be a contestant on Colton's season. Lord bless.
Lord bless indeed.
Source: Read Full Article