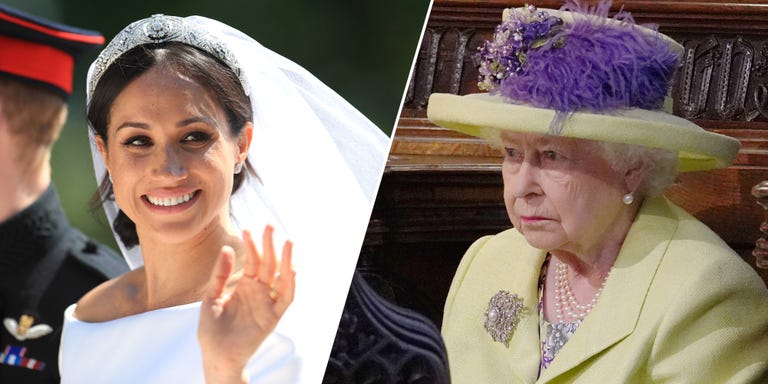 Meghan Markle, aka the Duchess of Sussex (!!!), said I do to Prince Harry at St. George's Chapel in Windsor today, and apparently (maybe?) she didn't curtsy to Queen Elizabeth, and hence, Twitter is losing it! Plenty of people on the social network hopped on to holler about the curtsy (or possible lack thereof), and it's… well, it's just CLASSIC Twitter. Like, it's such a lovely day, can't we just talk about how gorgeous they look, and how beautiful the ceremony was, and how there's now PRINCESS MEGHAN!?
No. No, we cannot.
Here we go.
Did Meghan not curtsy to the Queen or did I just miss it?! #RoyalWedding
@fuggirls Any idea why there was no curtsy to the Queen?
Could someone please tell me why she did not curtsy to the Queen? Is this a new protocol? Because she is American? Because she forgot? What?
Apparently no curtsy. Some saying as Duchess of Sussex is still a US citizen – but she has curtsied to Queen before, so a precedent had been set. Odd.
NO CURTSY? #RoyalWedding pic.twitter.com/9W87RRMPKE
Meghan – did you forget to curtsy to Her Majesty? I will have to lie down for months if you did forget. #royalwedding
There is a long list of royal protocol that Meghan will now have to follow, including knowing who to curtsy to! #TLCRoyalWedding
Notable departures in this #royalwedding: Harry wears a wedding ring. Charles escorting Meghan. No curtsy to the Queen (whether an oversight or deliberate). And the diversity of the service. — MM
Although some were quick to point out that the camera work at the wedding was "messy" and so it very easily could have missed the official curtsy.
Did they bow and curtsy to The Queen? I didn't see it, but the cameras have been very messy throughout so it might just not have been caught.
That said, whatever Meghan did was perfect, because this is her big day, and so she can't be wrong. That's just how it goes.
Source: Read Full Article