For Cosmopolitan's September issue, we brought Dog Days stars Vanessa Hudgens and Nina Dobrev together to take Insta-worthy polaroid pics and play with some seriously cute pups on set. Oh, and dish about about fansty future projects, breakups, and whiskey. Below check out exclusive bonus interview excerpts from their September cover!
Vanessa on her dog, Darla:
"My little guy. She's like four years old. She's a rescue. When I met her she wouldn't even let me touch her—she was so afraid of people, especially men. She's come full circle and is this cuddly sweetheart. My spunky sweetheart angel pup."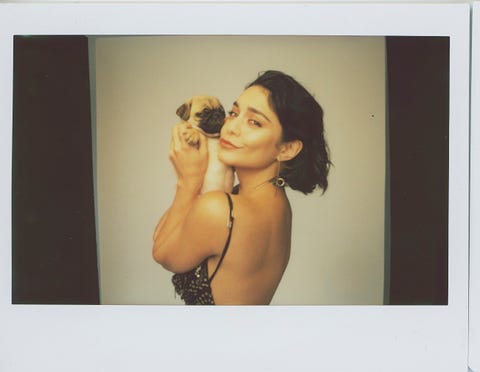 Vanessa's advice to her younger self:
"Don't be afraid of the work. Growing up it's easier to say no to things. I didn't want to be pigeonholed, but I also I think that I probably turned down some work because I just didn't really want to work. I wanted to be a kid and be lazy and not have responsibility. And at the end of the day I'm grateful that I've made all the choices that I have because it's gotten me to the place where I am today."
Vanessa's signature drink:
"Wine or whiskey. A full-bodied red or an old-fashioned with extra cherries but they have to be the good cherries."
Vanessa on her ideal role:
"A catwoman-y character where there's two sides of her—a meek, timid side that people see but she has a split personality and is also a badass and has magical qualities and is a fearless action hero. Something dark and mystical and two-sided."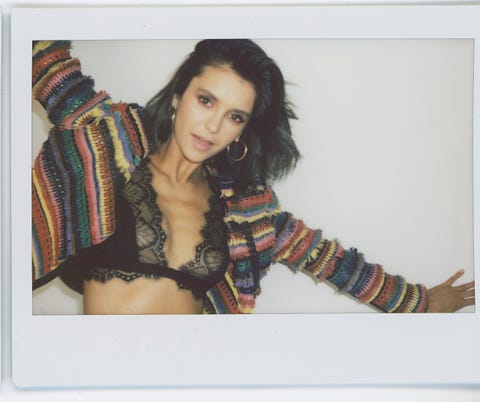 Nina on working with dogs:
"[It was] surprisingly difficult. You'd think that a dog movie would be super light and you'd get to play with the dogs, but it's actually the opposite because the dogs are so well-trained. And there are a lot of rules in place to make sure the animals are taken care of and don't get overstimulated. There's a trainer that's with them all the time. You're actually not allowed to pet the dogs—only their handler or the person in the scene with them is allowed to do that. Which was hard for me because I wanted to go to set and jump into a bouncey house full of dogs."
Nina on finding digital balance:
"I've gone through ups and downs. Phases where i've been too dependent on my phone, and it's had adverse effects on my life. I feel like I haven't been present in certain moments. I get frustrated when people are constantly on their phones and not paying attention. From seeing other people's interactions and not wanting to be that person—I want to experience life instead of constantly documenting it. It's a hard balance."
Nina on traveling:
"I've been kind of all over. I don't often splurge on material things; I splurge on flights and travel. I've been to Thailand, Japan, Australia, Brussels, Switzerland. [I like] discovering new cultures, meeting new people, getting away from my normal schedule. When you're in production, the schedules are so regimented. Every minute is scheduled to the T and you can't deviate. So when I'm not working, I like to have no schedule. I crave the opposite. I'm one of those people who works hard and plays hard—I go 130 percent in either direction and I'm not great at balancing them. I'm either in work mode or play mode."
Nina's signature drink:
"Tequila soda with lime. Maybe a splash of grapefruit if I'm feeling wild."
Nina on the best way to get over a breakup:
"A plane ticket, a glass of tequila and a group of girlfriends."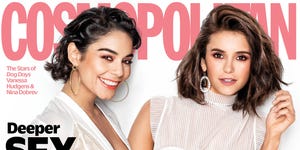 For more of Vanessa and Nina, pick up the September 2018 issue on newsstands August 8, or click here to subscribe to the digital edition.
Source: Read Full Article