Streamline recommends "Beatriz at Dinner" as the movie you should watch on Hulu this week. The platform adds "Beatriz" on May 19.
This is actually the same suggestion as our Amazon Prime recommendation. The two services have similar additions this week.
However you watch it, this 2017 movie stars many actors you probably like, including Salma Hayek, Connie Britton, Chloë Sevigny, John Lithgow and Jay Duplass.
Lithgow plays a Donald Trump-esque real estate mogul who doesn't like Mexican immigrants, while Hayek is Beatriz, a Mexican immigrant massage therapist. The two get into increasingly angry fights while attending a dinner at a mansion. While most of the party is rich and white, Beatriz is there because her car broke down after a massage session.
This well-written movie has much to say about our current times.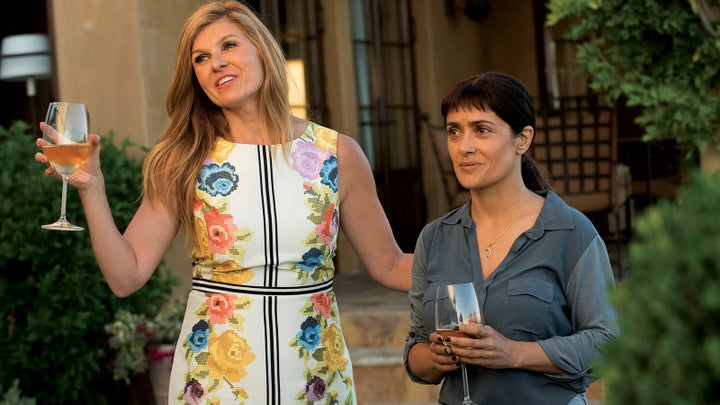 Here's the trailer:
What Else Is New This Week
There are a few halfway decent things joining Hulu. "Animals" is a 2014 movie about heroin addiction that got reasonably good reviews.
"It's a Disaster" is a 2012 dark comedy about an awkward brunch party that grows even stranger when dirty bombs go off in the nearby downtown area, forcing the guests to stay inside indefinitely.
"The Strain" is a well-respected television show that's basically about zombies taking over the world. To me, it looks laughably terrible, but it keeps getting solid reviews so I guess it's somebody's thing.
And of course there's a new episode of "The Handmaid's Tale." That's currently in the Streamline ranking for best shows on television right now.
The full Hulu list:
May 13
May 15
"Animals"
"How to Be a Latin Lover"
"It's a Disaster"
"Periods."
"Soul of a Banquet"
"Take Every Wave"
"The Other F Word"
"The Snapper"
"The Strange Ones" 
May 16
"12 Monkeys" (Season 3)
"The Strain" (Season 4)
"Knights of the Damned"
"The Mummy: Tomb of the Dragon Emperor"
May 19
"Beatriz at Dinner"
"Shooters"
Streamline Newsletter
Streamline now has a weekly newsletter. If you want streaming news and recommendations like these in your inbox on Saturdays, you can subscribe here.


Source: Read Full Article