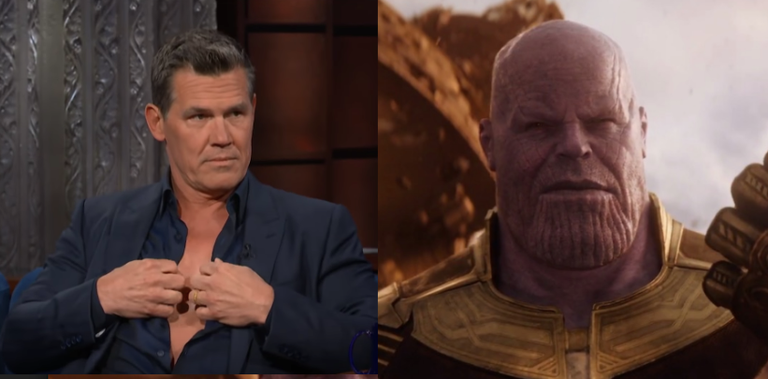 Jacked scene-ruiner Josh Brolin is back at it again.
The Avengers: Infinity War star took part in a raucous interview on The Late Show with Stephen Colbert that included near-shirtless arm-wrestling and ended with the actor reading a sampling of President Donald Trump's tweets in the voice of the Mad Titan, Thanos.
Watch it for yourself:
This is definitely, as Colbert said, the Summer of Brolin. The 50-year-old has leveraged his trademark jawline'd grittiness into three scene-stealing performances as Thanos in Infinity War, Cable in Deadpool 2, and, most recently, CIA officer Matt Graver in Sicario: Day of the Soldado.
More importantly, he got jacked AF to do so.
Quietly, the "Team" is killing it. It takes a small village: @justindlovato at @iambuilt, Jonathon Phillips @hbmaxmuscle, @goldsgym and some discipline. Just saw @davebautista at the gym and he said: "What the f*ck happened to you?!" Haha. Best compliment ever. Totally clean: no sugar, no breads, no pastas, no drugs, none of it. Fish, rice, eggs, veggies, water, one @bulletproof or @cavemancoffeeco in the morning. I'm almost 50. It's a different time: our access along with some big picture discipline results in always surprising milestones. Get on the train. #wedontfuckaround. #itaintthathard #startslowandlight @weprevail #ryanreynoldsismybitch
A post shared by Josh Brolin (@joshbrolin) on
Working more and less time to keep in the kind of shape I want to. When you do it cleanly results are harder to earn but and you can lose them fast. But even if you can't put in a 2 hour workout of abs, cardio, weights and boxing, it's always nice to remind your body what kind of shape you want to stay in. 30 minutes today of random exercises: thrusters, push ups, lunges, burpees, straight bar rows, deadlift. Not too heavy but I feel it. Lifts my mood enough where I don't want to give up from experiencing those days of the perfect scenario. …oh, yeah, then the pass out #? @prevailactivewear #cableswole @iambuilt
A post shared by Josh Brolin (@joshbrolin) on
"Remember when I was [last] here? I was fat," Brolin said to Colbert, before divulging that he lost 40 pounds since his last Late Show appearance.
#Repost @robliefeld ・・・ True Story – Josh Brolin – " Work out with me, I'm heading to the gym" Me – "No. That looks like it hurts" The mighty Brolin AKA The Chisel, went all in on practical FX for Deadpool 2 and endured all that pain for gains. Kudos to both him and his mighty trainer @justindlovato for the amazing work and effort in completing this amazeballs transformation. Seriously, one day I will train with Justin. No. That's not true. I'm likely to never do that. It looks like so much hard work. But I'd like to think I would. Or maybe one of my kids can and I can watch. Ok, well, hats off to The Brolinator! #cableswole #marvel #deadpool #xforce @iambuilt
A post shared by Josh Brolin (@joshbrolin) on
Want to sculpt a similar beach body before we truly get into the Summer of Brolin? Here's exactly how to get shredded like the Deadpool 2 star.
Source: Read Full Article