On record, it appears as though Prince Charles has not had the best year. It began when his son Prince Harry and his daughter-in-law Meghan Markle dropped one bombshell after another about the royal family in their seismic interview with Oprah Winfrey. A month later, his father, Prince Philip, died. If that weren't enough, his brother Prince Andrew has been in the headlines again for his own controversial scandal. And now it seems as though the royals are getting a lot of unwanted attention for a cash-for-honors scandal that is certainly not helping the monarchy's reputation, either.
The Prince of Wales, meanwhile, has tried to keep his dignified silence through it all. According to the book "Charles at Seventy: Thoughts, Hopes and Dreams," by Robert Jobson, Prince Charles once said: "As human beings we suffer from an innate tendency to jump to conclusions; to judge people too quickly and to pronounce them failures or heroes without due consideration of the actual facts and ideals of the period." That might be one of the reasons why he's keeping particularly quiet over the reason why one of his closest aides just stepped down from his role. Here's what you need to know.
Prince Charles' right-hand man forced to step down because of sketchy behavior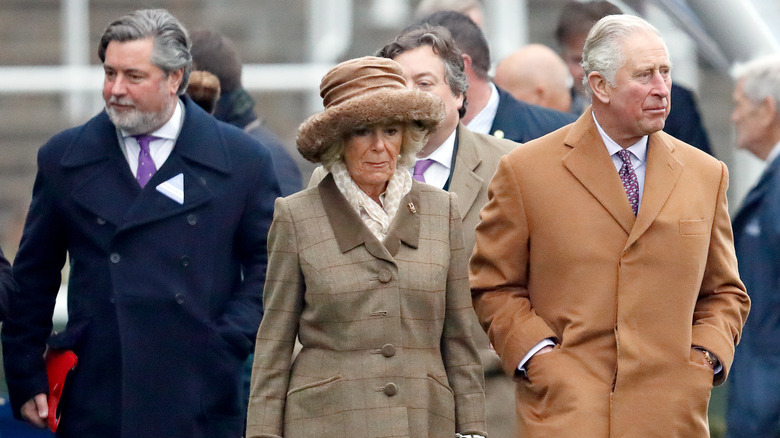 According to new reports, Prince Charles longtime aide, Michael Fawcett, has stepped down from his role at The Prince's Foundation because of alleged misconduct. Fawcett, who once worked as the future king of England's valet, is being accused of using his position to help a businessman by the name of Mahfouz Marei Mubarak bin Mahfouz receive the honorary title of Commander of the Most Excellent Order of the British Empire — which is better known as a CBE — for cash, according to Page Six.
The Prince's Foundation, which has long been near and dear to Charles' heart, is a charity that sets up to improve the quality of people's lives by teaching them ecological ways of planning, designing and building a better, environmentally sound future. Since the cash for access allegations have been made, the foundation has launched an investigation into the reports. However, in a statement to the press, the foundation said they "were not aware of any financial gain being sought by these individuals," according to The Guardian.
Charles once called Fawcett "indispensable," as detailed in CNN, but this isn't the first time he's made headlines for his supposed sketchy behavior. According to BBC, he was cleared from misconduct allegations when he reportedly tried to sell royal gifts. With so much going on behind closed doors at Buckingham Palace, it's no wonder Charles has taken the mantra of "keep calm and carry on" to heart.
Source: Read Full Article