Food Network's The Julia Child Challenge starts March 14 and pits eight megafans of the iconic chef against one another. The contestants will channel, so to speak, the late chef's unique culinary approach in each challenge to ultimately reveal the home cook who possesses Child's skill and passion the most.
While she may not be judging this competition in person, through the magic of television, Julia Child's voice and presence will be felt.
And in her posthumously published autobiography, Child revealed that she sized up the quality of cooks on their handling of one seemingly basic dish.
Food Network's 'The Julia Child Challenge'
This new competitive program will pit eight accomplished home cooks (and enthusiasts of the legendary chef) against one another to see who best captures in the kitchen her spirit, can-do attitude, and cooking skills. The contest is a true tribute to the woman who popularized culinary education on American television.
Child died in 2004 at age 92 but will "guide" contestants on a "larger-than-life television screen right in the middle of all the action," Food Network said.
The channel's president, Courtney White, said in a statement of the program: "Julia Child is a culinary hero to cooks everywhere — her love of food and sense of humor set the tone for this one-of-a-kind competition. … At the same time, the series is also very intimate, with competitors sharing their personal food journeys and how Julia Child changed their lives; we cannot wait for viewers to experience this show."
Child assessed cooks by their roast chickens
"A well-roasted chicken is the sign of a really fine cook," Julia Child said in episode 14 of Julia and Jacques Cooking at Home, her public television cooking show with fellow legendary chef Jacques Pepin. "Even among professionals," he added. (Pepin, it should be noted, serves as a guest judge on The Julia Child Challenge.)
The simple dish was one of the chef's preferred meals, as she explained in her autobiography, My Life in France.
"In January 1955, I began to experiment with chicken cookery," she wrote. "It was a subject that encompassed almost all the fundamentals of French cuisine, some of its best sauces, and a few of its true glories. … But my favorite remained that basic roast chicken."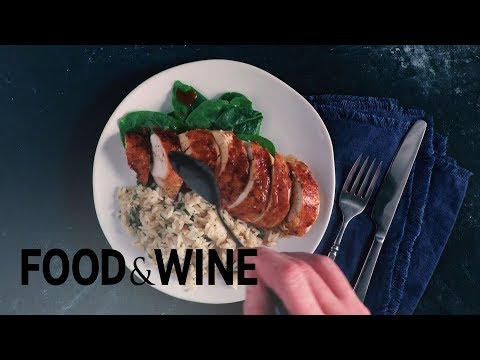 Julia Child on the 'deceptive' simplicity of roast chicken
The host of The French Chef wrote that a cook's mastery of roast chicken confirms their skill in the kitchen. A poorly roasted chicken results in dry breast meat, rubbery skin, and undercooked meat by the bone. When it's done right, however, it's magic, as Child noted.
"What a deceptively simple dish," the chef wrote. "I had come to believe that one can judge the quality of a cook by his or her roast chicken. Above all, it should taste like chicken: it should be so good that even a perfectly simple, buttery roast should be a delight."
'The Julia Child Challenge' premieres March 14 at 9 pm Eastern on Food Network and streams on discovery+.
Source: Read Full Article