A Hollywood actor who carved a successful career in the world of commercial television, Meghan Markle knows only too well how important "image" is when it comes to winning over audiences.
In a few days time she will have the ultimate "close up" as a bride, with about 2 billion sets of eyeballs watching her and passing judgment on "The Dress" she wears to marry Prince Harry.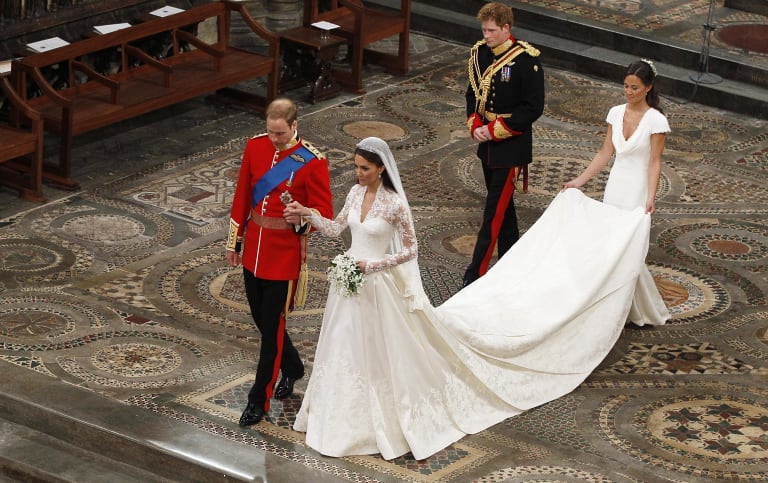 Prince William and Kate with his brother, Harry, and her sister, Pippa during the 2011 royal wedding.
That's roughly the same number that watched Prince William marry Kate Middleton in 2011, from more than 180 countries around the world who saw reports, photos and TV footage of the wedding. There were more than 8500 journalists covering the wedding in London alone.
Facebook calculated that 2.8 million people in Britain and America had written status updates about the 2011 royal wedding in the 24 hours before the service began, while Twitter recorded 237 tweets every second about the royal wedding.
And yes, much of it was about one dominant topic: The Dress.
Middleton nailed that brief, arriving at Westminster Abbey in a gown that featured a train measuring 2.7 metres long.
Just as Markle's dress is being kept under wraps, neither the design of Middleton's dress nor the designer were officially announced until the she was on her way to Westminster Abbey.
Designed by Sarah Burton at Alexander McQueen, the world soaked up every detail of the Victorian-inspired gown, replete with as much symbolism as sartorial splendour.
Before she even said "I do" we knew Middleton was wearing a gown with false hips to create the illusion of a more narrow waist.
And just as Princess Diana had done years before, Middleton followed bridal tradition: with an ancient lace technique used on her gown to represent something "old", in her ears dangled "new" earrings (from her parents), the Queen's Cartier halo tiara was "borrowed" while a "blue" ribbon was not-so-secretly sewn into the inside of the dress.
The Royals know just how key The Dress is when it comes to weddings, and preserving the secrecy before the big day is a time-honoured tradition stretching back centuries, though with the advent of modern media, over the past 50 years it has become a far more challenging proposition for palace courtiers.
But there is also a political game to play, as a young Princess Elizabeth discovered when she married Philip in post war-ravaged 1947 Britain.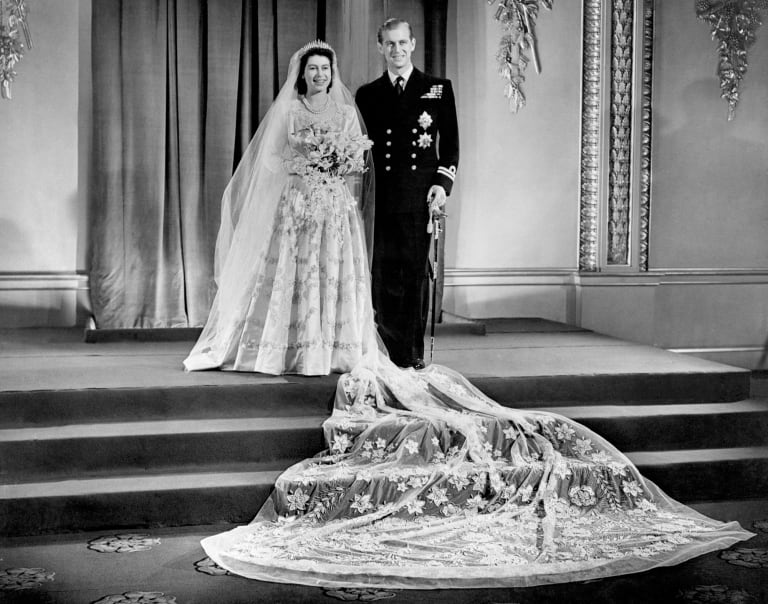 Princess Elizabeth, now Britain's Queen Elizabeth II and Lieutenant Philip Mountbatten, now Prince Philip, at London's Buckingham Palace after their wedding ceremony on November 20, 1947.
It was made clear to the public that the young royal had to purchase the tulle, chiffon and silk for her wedding gown using ration coupons, though she was  granted 200 extra ration coupons to do it.
The commoners were pleased to also learn the silk used for the gown was from China, as opposed to WWII foes Japan or Italy. Sensitivities were still understandably raw.
Princess Diana's 1981 wedding dress was seen by more than a billion television viewers globally. The puffy gown of ivory silk taffeta was designed by former husband-and-wife team David and Elizabeth Emanuel, who worked tirelessly to keep it under wraps until the big day.
With the huge amount of media interest in what Diana would wear, the Emanuels created a decoy gown that would have been worn if the actual gown was leaked to the press.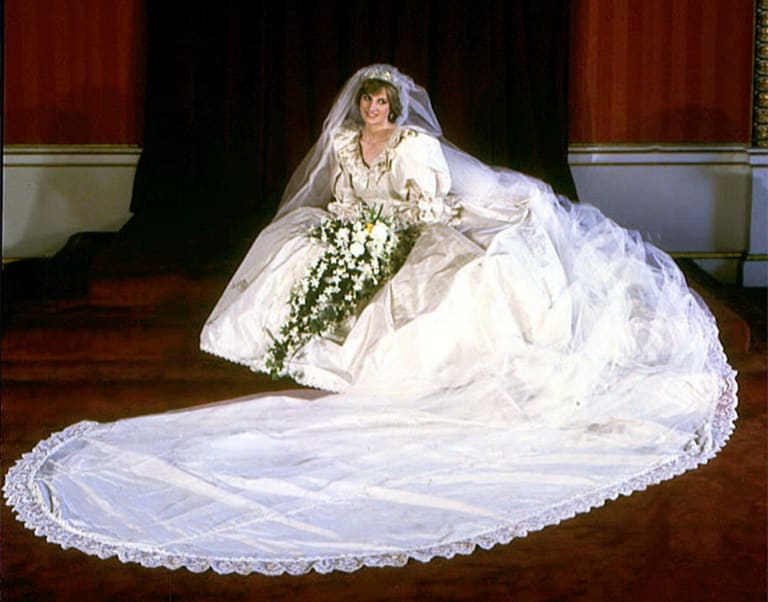 The late Diana, Princess of Wales, wearing her wedding dress in 1981.
With the advent of social media, smartphones and the internet, by 2011 it was reported Middleton had three decoy dresses commissioned … just in case.
Reportedly Markle's secret has already been let out of the bag, with news outlets last week claiming Australian haute couture duo, London-based Tamara Ralph and Michael Russo, had been commissioned to come up with the $180,000 gown, which was supposedly being paid for by Prince Harry himself, though a receipt is yet to emerge.
But the commercial value of that regal association is far greater than what Harry is reportedly paying. Middleton and Markle have become bona fide commercial fashion forces. Markle was recently credited as single-handedly saving Australian handbag business Oroton from financial ruin after being photographed holding one of its purses.
Given the astronomical price the gown is reportedly costing, Harry would no doubt hope his bride does not carry on at least one family tradition, set back in 1840 when Queen Victoria married Prince Albert.
Victoria demanded no one else could wear white at her wedding and had the pattern for her wedding dress destroyed to ensure it was never copied.
Source: Read Full Article