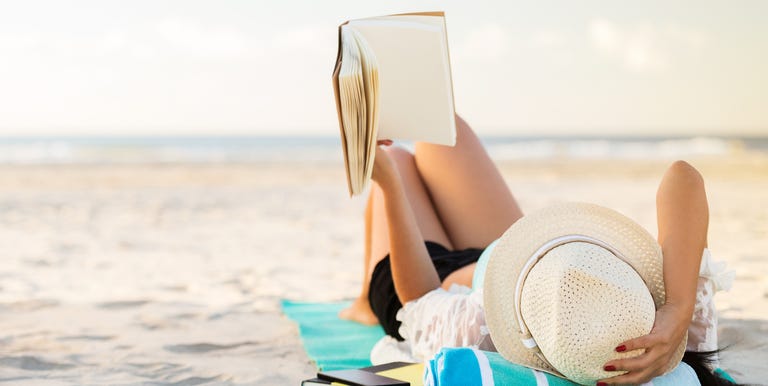 For me, reading equals relaxation—which is why, as a rule, I always bring a minimum of two books along with me on every single vacation. (It's also why my carry-on bag always weighs at least 20 pounds…)
What goes better with your shades and your SPF 50 than a super-juicy book? When you're packing for your next trip to the shore, don't forget one of these 10 amazing beach reads:
Courtesy of publisher
Anchor Books
amazon.com
$9.60
BUY IT
This hilarious book is like a modern version of Pride and Prejudice…set in Asia. Rachel Chu discovers that her boyfriend, Nick Young, is actually the heir to one of Singapore's oldest, wealthiest families—and none of his relatives approve of her ordinary roots. This beach book will have you laughing (and crying) into your towel.
Courtesy of publisher
Europa Editions
amazon.com
$4.92
BUY IT
This critically-acclaimed novel follows two best friends, Elena and Lila, through their childhoods in post-World War II Naples. The writing is insanely beautiful—you'll be invested by the third page.
Courtesy of publisher
Crown Books
amazon.com
$8.99
BUY IT
Your messed up family doesn't hold a candle to protagonist Camille Preaker's, who returns to her small hometown as a reporter covering the murder of two local girls. Her hypochondriac mom and creepy younger sister are hiding secrets of their own…which may be linked to the murders.
Courtesy of Publisher
Ember
amazon.com
$9.95
BUY IT
The grisly life of Vlad Dracul (the inspiration for the character Dracula) is reimagined: Vlad is now a girl named Lada. As a teen, she's sent with her brother to live as a prisoner at the court of the Ottoman emperor—and is obsessed with claiming her freedom. Historical fiction with a gender-bending twist? Check. Love triangle? Check. Murder? Check. That's beach read material to me.
Courtesy of publisher
Mariner Books
amazon.com
$8.56
BUY IT
Even people who aren't that into books will be obsessed with this survival story. Pi Patel becomes shipwrecked with only zoo animals for company after a terrible storm destroys the boat that's taking him and his family from India to North America. FYI: The twist at the end will truly mess with your head.
Courtesy of publisher/Starz
Vintage Books
amazon.com
$10.40
BUY IT
Get a no-holds-barred look at the intense restaurant industry through the eyes of Tess, who lands a job at a top NYC restaurant. (It's way better than the Starz show, although you won't know until you read the book first!)
Courtesy of publisher
Berkley
amazon.com
$9.99
BUY IT
Cecilia finds a letter with a disturbing secret that her husband wrote, apparently only to be opened after he dies. But he's still alive…so what will she do with this new, terrifying knowledge about the man she loves?
Courtesy of publisher
Touchstone
amazon.com
$9.85
BUY IT
This classic beach book looks at the juicy intrigues of King Henry the VIII's reign through the eyes of Mary Boleyn—sister of the infamous Anne Boleyn. Here's hoping Prince Harry didn't take any love lessons from his ancestor.
Courtesy of publisher
Penguin Press
amazon.com
$16.20
BUY IT
This novel, about two families in suburban Cleveland who get caught up in an adoption custody battle (leading to the unearthing of some crazy secrets), is the next book that Reese Witherspoon will be adapting for the small screen. Can't. Freaking. Wait.
Courtesy of publisher
Dial Press
amazon.com
$9.70
BUY IT
In this emotional book, June's beloved Uncle Finn has died of a mysterious illness. Feeling alone and abandoned, June befriends a stranger named Toby who she meets at Finn's funeral—and who holds some key secrets about Finn's life.
Source: Read Full Article