Working on a television show or movie with someone that you're interested in can be difficult. We know it would be hard for us to be on the same set as Jennifer Lawrence for example, but that does not make us weird. It's a common issue, as people often work with people that they are quite attracted to. Actors are supposed to be like this, as they're literally made out to be "stars" for a reason. Whether that is a lot of make-up or CGI, we're not sure. In fact, have you ever seen The Rock and Dwayne Johnson in the same place at the same time? We're onto you!!
Lawrence and Rock aside, actors and actresses often experience an attraction on set. However, it is normally not an issue. In fact, things often do stay professional. Take the case of Tom Hanks and Wilson. There was no major attraction there, and yet he was all alone on an island for years with that ball. Of course, this was a ball. Yet the same principle applies to relationships like Chris Pratt and Jennifer Lawrence on Passengers. They had a love scene and Lawrence felt so awkward about it, she got in touch with Pratt's wife Anna Faris and talked to her about the situation.
Of course, neither of these are useful examples considering the latter saw a break-up about a year later. However, the major consensus was that the co-stars did not hook up on set. Yet there are those times where it's not just some ordinary situation. There are times, when the lights go off for the day and the time for a break is there that people find comfort in the arms of a co-star, sometimes even when they are married.
This is nothing new either. While we've often heard these stories lately, it used to be common practice to fool the media into thinking a real romance was going on in order to sell a film a bit better. People also really did connect on set in Old Hollywood too. Whether old or new, we're going to list 24 examples of things below. Half claim to be "just friends," and half really openly fell in love on set. We hope you enjoy.
24

Just Friends: Dakota Johnson And Jamie Dornan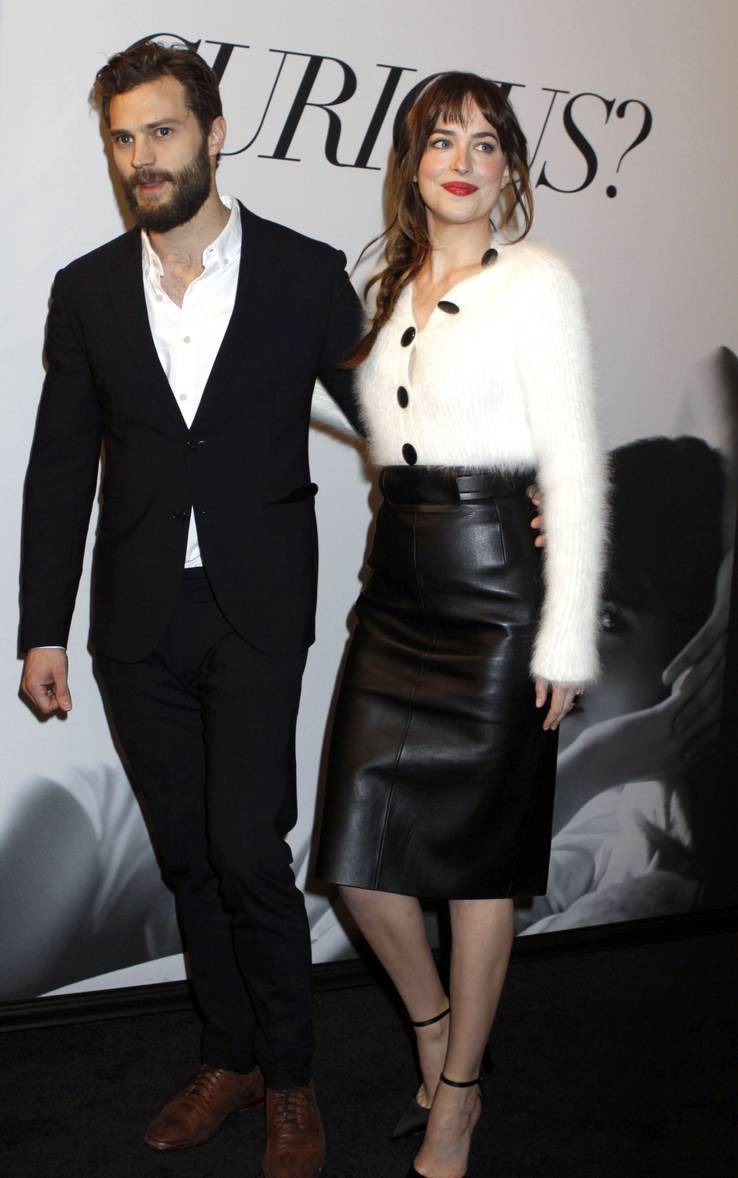 When we first saw these two together, it was during the original 50 Shades of Grey movie. The book series took off wildly among women and became one of the best selling book series in years. It's not a shock that a movie came out of it. The studio was smart to make sure that the author of the books, E.L. James, was on set as much as they could be. Dakota Johnson and Jamie Dornan were perfect for the part they played and the movie saw massive numbers at the box office. The second movie did very well, and it is expected the third will too.
However, due to how close they were as an on-screen couple, many assumed that Jamie and Dakota had a real-life romance. Both have been very vocal about how they're just friends numerous times since the first film came out. Dakota mentioned how nice Jamie was on set in that he always made sure she was covered up and taken care of between scenes. Due to how awkward these movies can be for men to take part in, Dakota was going to see things too. She obviously had to be a pro about it. After all of this going on with the characters, it would be odd that a romance would not bloom. Especially in a movie like this. But it never did.
The movie and obviously book series follows a rich man and introduces a shy reporter of sorts to all of it. Though a lot happens on the outside, and the following books/movies go into that more, the overall craziness of the series can be a lot. With that said, it does make sense they are just friends. However, they are friends who have clearly seen a lot more than other platonic friends out there.
23

Fell In Love On Set: Zac Efron And Vanessa Hudgens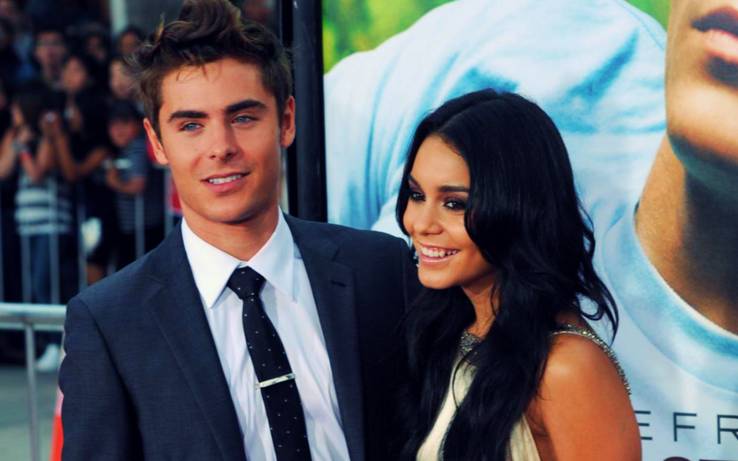 Zac Efron met Vanessa Hudgens when the two worked on the infamous Disney Channel Original Movie known as High School Musical. The movie was a wild success and allowed for both to become major stars in the teen demographic. Hudgens would go on to guest star in various Disney shows and Efron would as well. Hudgens would lean more toward a singing career while Efron leaned toward the acting life. The two would come back together for two more High School Musical movies, one even going into theaters and doing insanely well for Disney. The two were an item the entire time, and their lives seemed to be going well.
Though an infamous photo leak and scandal revolving around Hudgens went down, she and Efron were able to get past stuff like this. They were together for so long that many assumed that marriage might be a possibility. Sadly, the two would break up. It was partly due to schedules the two had as well as one other issue. Hudgens claimed it was hard for her to see other girls throw themselves at Efron when she wanted him all to herself and for them to go away. She was able to get past this, but it did sort of hurt the relationship some.
The way she acted made things hard on Efron, who did not help matters when he had been linked to every female co-star he worked with…despite no romance being involved. Either way, it was a great relationship to be what it was and lasted from teen years to adulthood. They met and fell in love on set, but an end occurred. At least it is better to have loved and lost than to have never loved at all. Or so we've heard…
22

Just Friends: George Clooney And Julia Roberts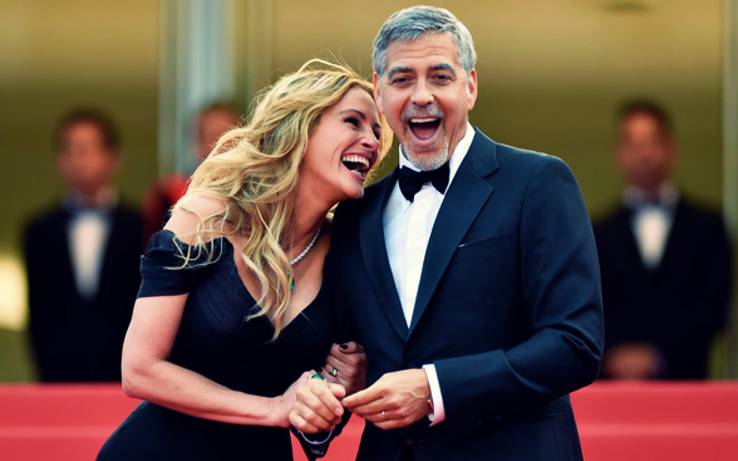 Likely known as the world's most popular bachelor for, like, ever…George Clooney finally settled down after marrying the brilliant Amal Alamuddin in 2014. While Amal is likely one of most amazing women you do not know about (we highly recommend you look her up), George has had many female co-stars that were amazing too. While some will bring up his connection to Sandra Bullock, it is likely his most notable female friend is Julia Roberts. The two began working with each other on the first Oceans movie as part of a remake of the series. Interestingly, Sandra is part of the upcoming Oceans 8. That is neither here nor there, however.
Julia would work in all three Oceans films with Clooney, playing his wife. Many assumed the two were an item or getting close numerous times. This never occurred, but they had such a great chemistry on and off screen that it made sense for people to assume. They would star alongside each other in the well-received Money Monster as well, further pushing that the two had something going on. To top it off, he even produced the Julia film August: Osage County. Yet time and time again, regardless of reports, the two have remained close friends.
It has been pretty interesting to see the two of them work together over the years. Clooney knows when he needs a proper female actor to work with, he can rely on Roberts. Meanwhile, Roberts knows when she needs a proper director, producer, or actor to work with…Clooney is one phone call away. It has been an interesting friendship and one that Hollywood is lucky to have.
21

Fell In Love On Set: Ryan Gosling And Eva Mendes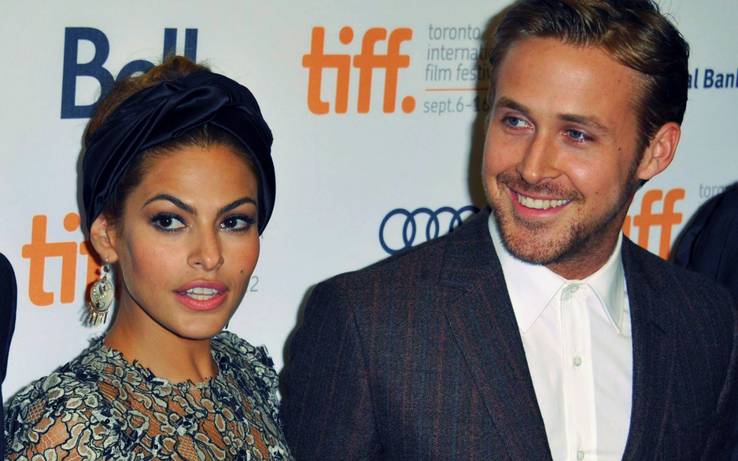 Ryan Gosling is one of the most popular actors in Hollywood. This is likely due to the good looks he possesses and nothing more…or so we men would like to think. Gosling has become a proven leading man and draw in Hollywood. His last few films have done relatively well, with one of his most recent in La La Land being nominated for a slew of awards. He proved his musical talent in this film, going back to his Mickey Mouse Club roots. Gosling remains a consistent force in Hollywood and has been linked to many of the women he has worked with. However, one has been able to stand out the most.
When working on the movie The Place Beyond The Pines, he met his co-star Eva Mendes. The beautiful actress and Gosling were able to hit it off almost right away, which did make sense. Both were pretty people and single, so things worked out. While this lower budget film did not do insanely well, it did become a success based on making over double back than it invested. This was still not massive though. The relationship between Gosling and Mendes, however, was a pretty big deal that became huge.
They would begin dating in 2011 and be married by 2014. They would go on to have two daughters together and have remained happily married since tying the knot. Most female fans of Gosling still try to sway him to get away toward them and leave Mendes while male fans say the same to Eva. However, neither have truly been able to leave the other behind and try to make sure to schedule their time to see each other as often as possible. This has to be done with working people, especially working parents of two.
20

Just Friends: Hugh Jackman And Anne Hathaway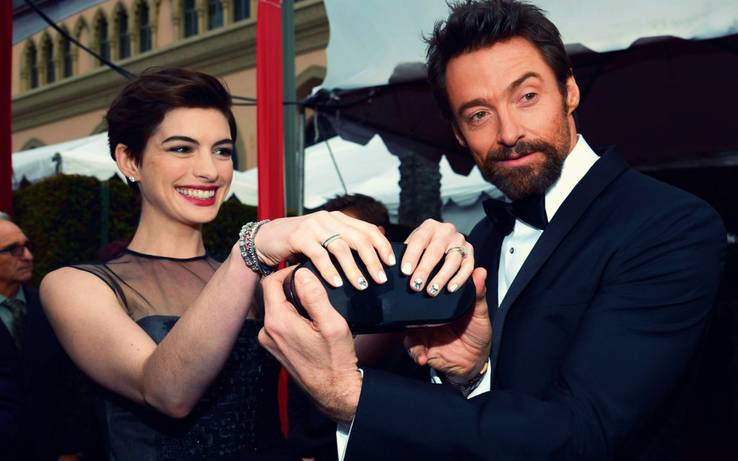 While most will call Hugh Jackman Wolverine for the rest of his career and call Anne Hathaway Princess Mia, the two have never backed away from loving their iconic roles. However, both have moved on to other major roles beyond these movies. Whether it was Anne with Get Smart, Havoc, Love And Other Drugs, Bride Wars, and Interstellar. Or it was Hugh with Van Helsing, The Prestige, and The Greatest Showman. There is proof that the two no longer need to be recognized only for their iconic roles of the past and clearly need to be watched in the present, especially when working together.
The two starred in the movie of the infamous play Les Miserables. There was a book before this written by the brilliant French writer Alexander Dumas who brought us The Count of Monte Cristo and The Three Musketeers as well. However, the Broadway play became legendary and thus the movie was a complete musical. Jackman and Hathway played the two main characters in the movie. Hugh with John Valjean and Anne with Fantine were amazing and both nominated for awards. Hathaway would win the Academy Award for the part. The movie began numerous rumors that Hathaway and Jackman were getting close on and off-set.
This was not the case, up to a point. They were close, but this was due to becoming best friends. When asked about it, they claimed that they both had similar personalities and numerous agreements. So it became an easy friendship. They have remained good friends ever since the film and claim to talk as often as possible. It would not be a shock to see them work together again. Ya know, we've heard of a Hamilton movie based on the musical of the same name. We're just saying…
19

Fell In Love On Set: Elizabeth Taylor And Richard Burton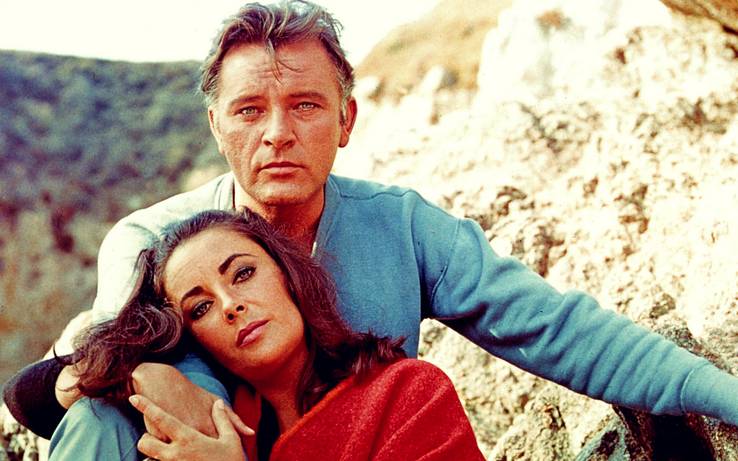 Back in the 1960's, it is likely that we could not find two bigger actors in Hollywood than Elizabeth Taylor and Richard Burton. They had been part of major movies before, so when they came together to work on Cleopatra together in 1963, it made sense. The movie was a modest success and came out in a time period when "epics" and westerns were all the rage in Hollywood. Similar to the 40's and 50's with Musicals or the 2000's with Superhero franchises. Taylor played the title character of Cleopatra in their film while Burton played Mark Anthony. Rex Harrison also starred in the film and played Julius Ceasar.
We're not saying the movie was good or historically accurate, but it did start a romance between Taylor and Burton. However, this was a bit problematic. Both were married to other people at the time they fell for each other on the set of this film. Marriages issues were common for Taylor, who married a grand total of 7 times in her life. Meanwhile, Burton was not known for his numerous marriages like Liz. The two divorced their spouses and ended up together. Most felt the relationship would not last, but to be fair to them, they made it work for some time. This was the 5th marriage for Taylor and still remains the longest she ever had.
They married in 1964 and divorced in 1974. Yet they remained quite close, and actually remarried again in 1975 before their final divorce in 1976. They remained friends afterward, and close ones at that. Throughout their marriage they would star in many movies together and clearly loved each other. Sure, it was terrible the relationship ended. They had a ton of media attention and spotlight on them the entire time they dated and then during their marriage. This especially grew in the breakup stage. Yet they seemed to handle all levels pretty well.
18

Just Friends: Kaley Cuoco And Johnny Galecki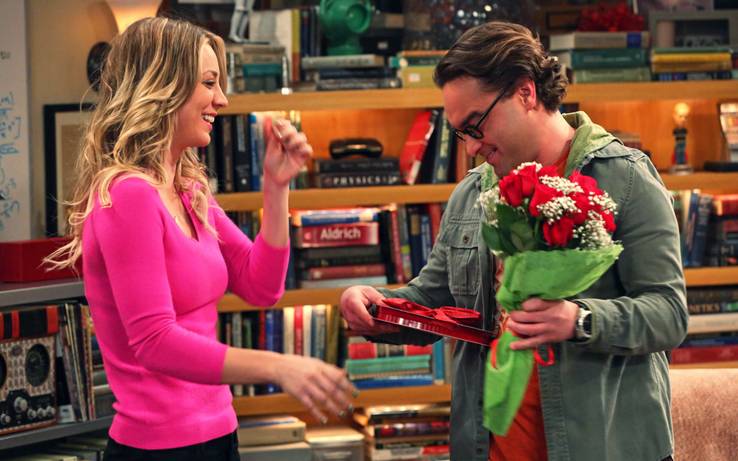 When The Big Bang Theory premiered, the show was seemingly an instant success for CBS. The network pushed the series to the moon and each cast member managed to see a huge pay increase as the series progressed. Everyone seemed to have some outside success on top of this, especially the gorgeous Kaley Cuoco. She was the only female regular on the show for some time, until producers felt there was finally a need to put other female cast members on the show as main stars too. Despite any relationship with other guys and girls on the show, one stood out above them all. That was always Penny and Leonard.
While both Kaley and Johnny were great together on screen, no one assumed a true romance was coming for the two off-screen. It made total sense to rarely ask, right? However, it would still be asked and both denied this. They claimed to just be friends dozens of times and were rarely seen in public together without other co-stars around. This was sort of all by design, as being seen in public with one castmate of the opposite gender could start rumors. We're sort of cheating with this "just friends" thing when it comes to Cuoco and Galecki too. They actually did fall in love on set and had a relationship for a while together before quietly breaking up.
They hid it from their own friends on the cast for about 5 months, until finally revealing it to them later on. They would then reveal the relationship to the world in 2010 that they were together for 2 years. Seemingly as fast as they told them, they broke up. Kaley went on to marry and divorce Tennis player Ryan Sweeting in real life. Meanwhile, Galecki was linked to Kelli Garner and Katie Waissel. Their characters Leonard and Penny were married on television and do well there. Meanwhile, Johnny and Kaley are just friends off-screen. They remain very good friends to this day. So it's a bit of both for these two. High-Five to Johnny and Leonard for giving guys hope!
Featured Today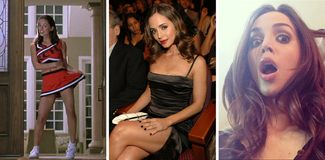 20 Photos Of Eliza Dushku (And Reasons Why She Needs A Comeback)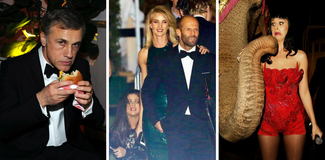 20 Most Awkward Celeb Photos Taken At Exclusive Hollywood Parties

20 Things Kim K Spends Her Millions On That Fans Wouldn't Expect

17

Fell In Love: Grace Gealey And Trai Byers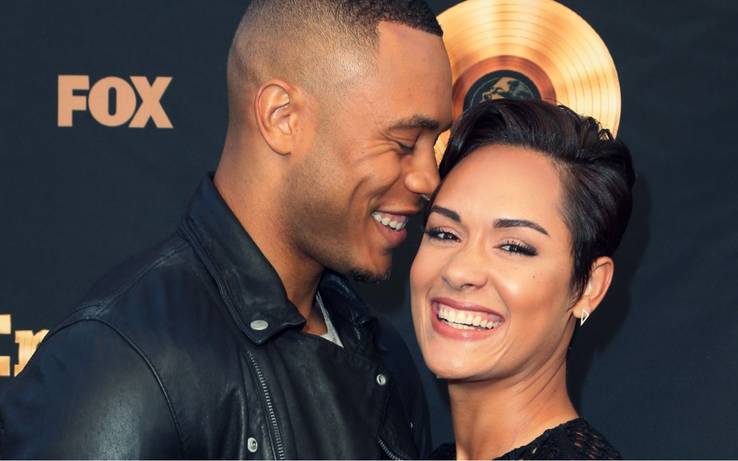 From one couple from television to another, Grace Gealey and Trai Byers have been an item for some time. They met on the great FOX series Empire and have become pretty significant in Hollywood as a result. Both met in 2015 when the series began and seemed to fall for the other quick. They would begin dating and by 2015, it was revealed by Grace that the two were engaged. They would get married in 2016 at the beautiful Grand Cayman Island. It's interesting to note that the two somehow ended up here on the same set at the same time.
While Trai was an experienced actor who had taken part in TV shows like All My Children and 90210, and even a major movie like Selma…Grace had not. In fact, her first true role of any kind on television was Empire. She would get the role near the age of 30, but it isn't as if Gealey was not a veteran actress by the time she landed the role. Her time was mostly spent on Broadway with plays. She even did Off-Broadway productions like Venus Flytrap: A Femme Noir Mystery as well as the infamous play, Rent. She would even earn her Master's of Fine Arts degree from the University of California. Her musical talent clearly helped when landing a role on a show like Empire.
While the show is not Glee made over, it is quite musical. It allows for some impressive music to be heard on the regular, which is quite important to note. There were many women who tried out for her role as well as many who tried out for the role Byers would take on. Yet both got the role, met, fell in love, and are now married. Life has a thing about making sure stuff happens for a reason.
16

Just Friends: Daisy Ridley And John Boyega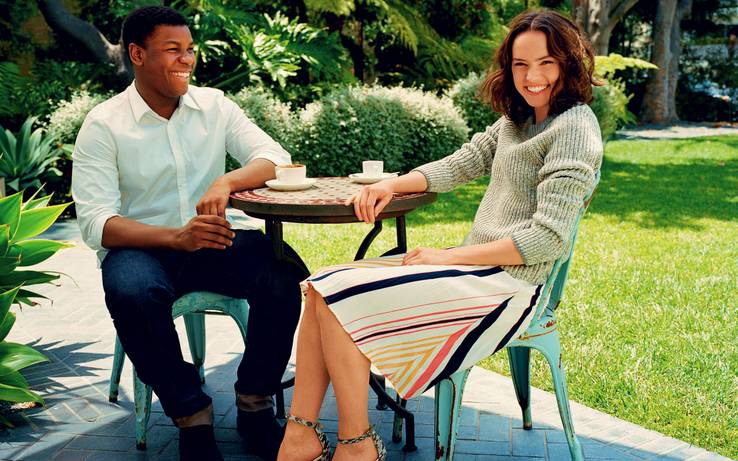 When Star Wars rumors came out regarding Disney deciding to do a lot of content on the series, fans were happy and afraid all at the same time. While remakes would not be good, no one wanted George Lucas' films to be ruined, at least any more than he already did himself with Episodes I-III. Disney put out a lot of animated material, but when a live action movie was announced, an Episode 7 if you will, fans went nuts over the prospect. No one knew what was going to happen, but when the premise was laid out it seemed interesting. Star Wars would yet again make sure a female character was at the forefront of a series, but they did not want to make her just another woman with a big role.
They wanted notable actors, but not to play the two main roles. Most of them would only be supporting. The two big roles would be from no-name people, which totally fit the British actor John Boyega and actress Daisy Ridley. The Force Awakens was a massive hit for Disney and was beloved by Star Wars fans. While the recent Star Wars: The Last Jedi has mixed reviews, people are still hanging on for every ounce of Star Wars material. Ridley and Boyega were close on the first two films, but a relationship was never made official with the two, just a friendship.
The first two films have Fin make sure he finds her, at all costs, regardless of his own life being at risk in doing so. Rey at the same time wishes to always make sure she finds Fin and protects him at all costs. The romance of the characters are unique and interesting, but both off screen are great friends. Ridley and Boyega have made it quite clear that while they do love the other person as a friend, there is nothing more past it. This does make sense, as sometimes you need to let spoilers out. Who better to do that with than a co-star?!? We volunteer as tribute if needed!
15

Fell In Love: Will Smith And Jada Pinkett Smith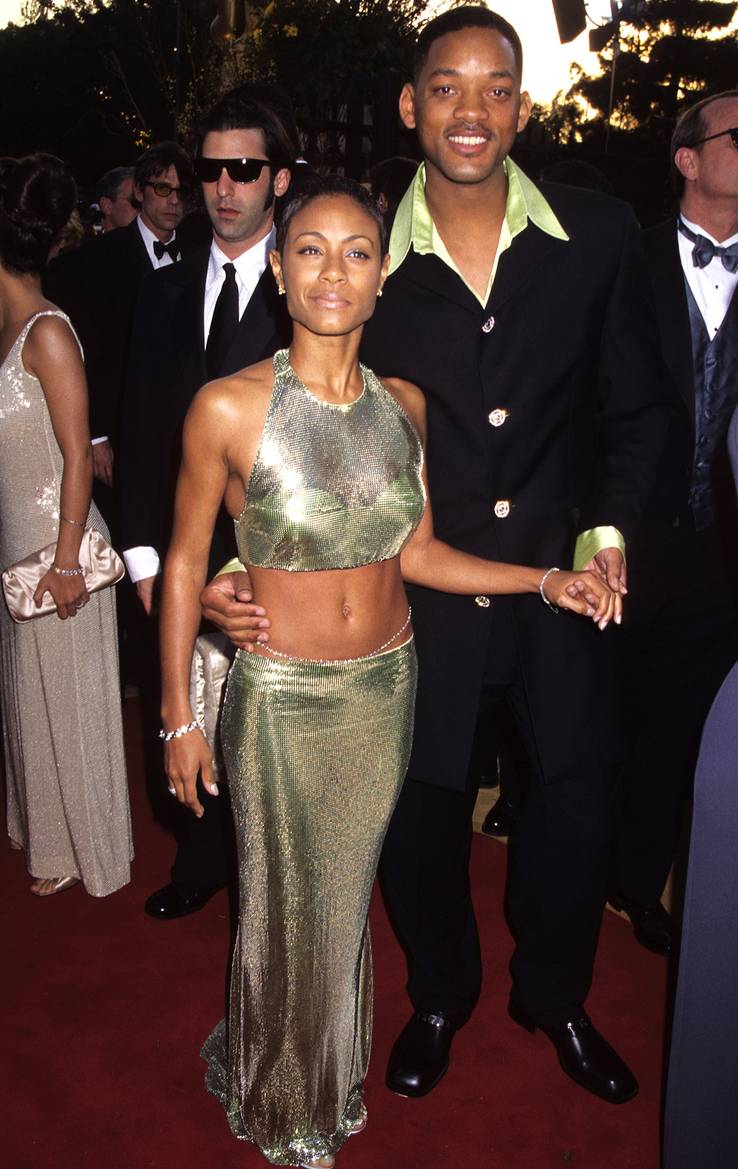 Likely the only couple on this list that never actually worked together before being linked as a couple, Will Smith and Jada Pinkett met on the set of The Fresh Prince of Bel Air. Will was obviously the star of the show and becoming a major name in Hollywood, with Grammy Awards already for his music. They needed a person to play Will's girlfriend on the show, however. The character of Lisa Wilkes would be important to Will's character and would last for some time on the show. It made sense for many younger actresses to go out for the role, as Fresh Prince was already a top show on television and could be a breakout role for anyone who gets it.
Jada Pinkett tried out for the role and even worked with Will in the casting period to try her out in the role. The show chose the terrific Nia Long for this role, who went on to become a significant name in Hollywood after the show concluded. Jada and Will would end up becoming friends after she failed to get the part, however. Shortly after, they began dating and would get married a little later on. They now have two children, both involved in the world of media. Their daughter Willow has been involved in music for a while, but son Jaden has been doing various movie roles. Most involved his father in some way, such as After Earth and the Will Smith-produced return of The Karate Kid.
Despite all the success their marriage has had, there have been a lot of rumors for years that their marriage was declining. While nothing ever truly came from any of these rumors, it does make people wonder. Either way, everything seems to be working out for the couple these days. We do have to wonder if Jada holds a grudge over not getting that girlfriend part though.
14

Just Friends: Adam Sandler And Drew Barrymore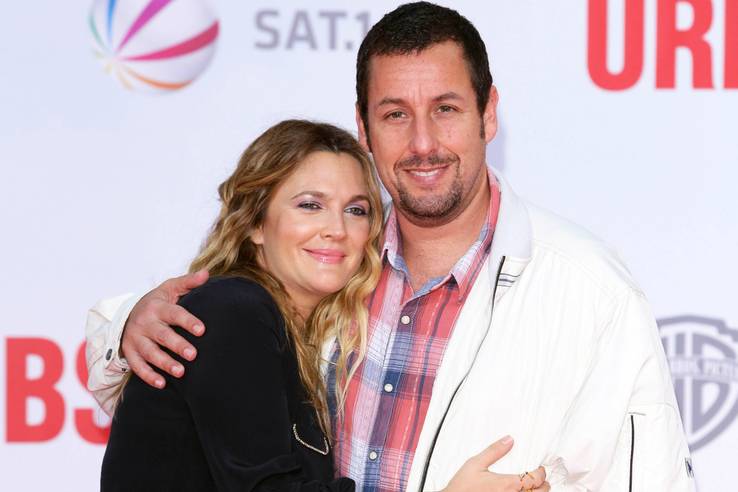 Adam Sandler and Drew Barrymore have been two of the bigger names in Hollywood for the past few decades and both got started on their career at a young age. Drew first began as a child actress and memorably had a breakout role in the movie E.T. before going on to have other major success as an adult. Meanwhile, Adam Sandler started a stand-up career by his teen years and was one of the youngest Saturday Night Live members ever hired to the cast. Adam had wild success upon his departure from SNL with big hits throughout the 90's and 2000's with movies he wrote and produced. He would meet Drew on the notable film The Wedding Singer where they would end up together in the movie.
In real-life, however, they were just friends. They have been really good friends for years now and even starred in movies afterward like 50 First Dates and Blended. Adam even surprised Drew on The Tonight Show by singing to her and using part of his song from The Wedding Singer. It was a sweet moment we advise you check out on YouTube after you read the rest of this, of course. Sandler and Barrymore love working together and being around each other, so it's likely we're not done seeing them in movies with the other at this point.
It'll be interesting to see if it ever happens, but in the meantime, the fun moments they bring us as friends have been great to see. Both have their own families on the side, and successful careers. Adam is still making movies and has a huge deal with Netflix for original movies there. Meanwhile Drew has her own show on the same brand and has been starring in movies whenever possible too. Overall, both remain a success and yet also remain friends on top of it. Hopefully, both continue.
13

Fell In Love: Channing Tatum And Jenna Dewan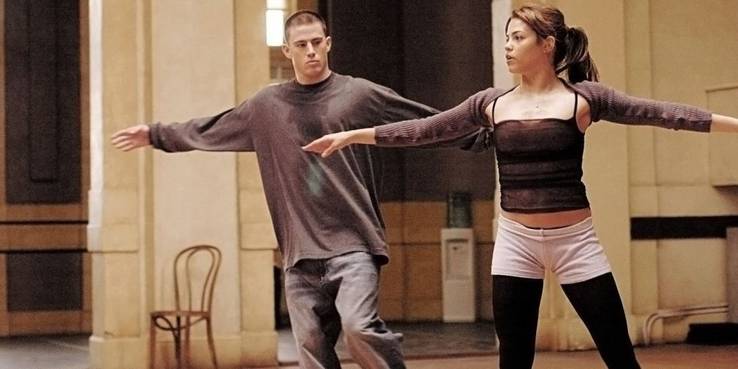 Channing Tatum has become one of Hollywood's biggest stars over his major work in the last decade. While his first true major appearance happened alongside Amanda Bynes in She's The Man, his true breakout role was in the movie franchise Step Up. This used Tatum's background in dance to its fullest extent and allowed him to also meet Jenna Dewan. She was a young actress getting her start like Tatum with his. Yet she also had a good bit of dance experience herself and used it in a big way. People often forget about this now with Jenna, but her appearance on Lip Synch Battle certainly will remind people. Meanwhile, Tatum went back to his stripper routes in the Magic Mike movie franchise.
Meeting Jenna on Step Up was huge for Channing. They began dating shortly after all of this and would be married in 2009. They even have a child together from the marriage. Everything seemed to be going well with the couple, but as both began to see a rise in their careers even more…things became harder to work out. Neither wanted to separate, but they felt it would be better than staying in a bad relationship. Jenna's own parents split and things were not easy. The split here allowed the two to remain good friends and great for their child. Jenna recently told Elle about her relationship with Channing:
"We started out as friends, and I would say it was an instant recognition. When we met [on the set of Step Up in 2005] it felt like we had known each other for many years. Ultimately, no matter what Chan and I are doing, we're really great friends. I think that will never change, no matter what."
12

Just Friends: Jennifer Lawrence And Many Of Her Male Co-Stars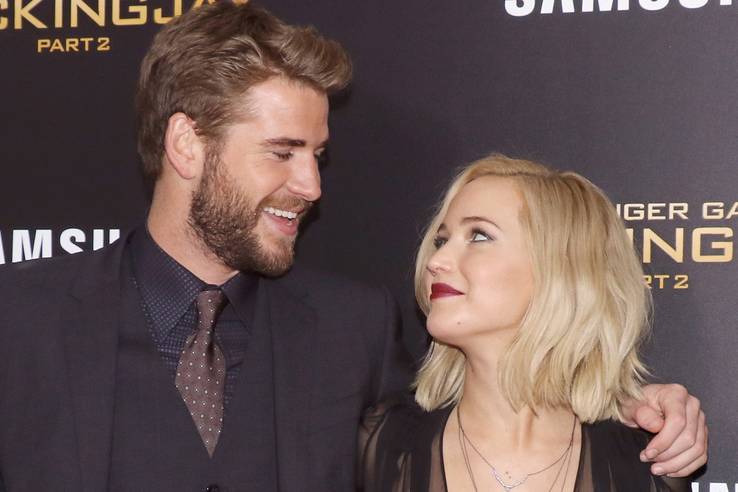 Liam Hemsworth met Jennifer Lawrence on the set of The Hunger Games. They would work together on the movie franchise and become good friends as a result. Though Liam had an interesting situation on his end. He actually met Miley Cyrus on the set of the movie The Last Song. They would hit it off and would become a couple shortly after. They have remained together ever since, nearing the better part of a decade. It made sense for Jennifer to be a wedge between his relationship with Cyrus due to her rise in popularity, beauty, and overall personality. However, nothing ever came out of it seemingly. Despite all Hollywood tabloids trying to make something happen.
Lawrence has dated off and on for years but rarely a co-star, especially a taken one. With the movie Passengers, she has a love scene with Chris Pratt. She felt bad about the whole thing as she knew Pratt was married at the time to actress Anna Faris. She even spoke to Anna directly to sort of get permission to even do it, though it was more alerting her that it was happening rather than asking for it to for the movie. Faris found it quite lovely J-Law did such, but never had to. That said, Lawrence did not do anything with Hemsworth despite all reports claiming the opposite.
She has been really good about avoiding this. While she has dating co-stars, she tries to avoid it anyway. But breaking up a relationship, especially a marriage is not in the cards for her. Though she and Liam were linked in the movie, things never really went to a crazy close point for the two characters. This does not mean people cannot fall for the other. That is why tabloids continued to push the idea every time they met up for another Hunger Games movie. It's likely one of the more pushed things the tabloids tried. Liam was not alone in this, as they also pushed that she was developing a relationship with Hunger Games co-star, Josh Hutcherson, too. That also did not happen.
11

Fell In Love: Rose Leslie And Kit Harrington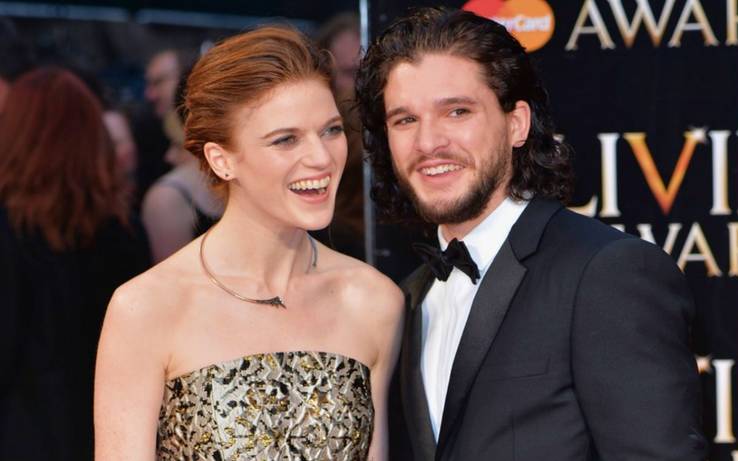 Now we get to the point of the list where we come across royalty. Rose Leslie and Kit Harrington met on the set of the insanely popular HBO series Game of Thrones. Both have had critical roles in the series, but also became critical to each other. Rose and Kit are clearly huge names in television due to being on such a massive television series, but unlike many on this list, they are not married. Well, at least not yet. They have been together since 2012 when they began dating. They announced in September 2017 that they will be getting married in 2018. It looks to be coming up fast, and it's likely as big as the royal wedding right now.
Harrington and Leslie have done more projects than just Game of Thrones, especially Leslie. Her character was written out a few years ago while Kit was written out and brought back. While Kit would sort of be written out due to movie commitments, Rose was done with the show completely. She was known for her role on Downton Abbey before Game of Thrones really hit its stride. She would go back here for a small comeback before leaving to do other projects.
While Kit and Rose are not working on the same show these days, they are clearly remaining close. Their marriage will likely be pretty big, and we're going to see both after Game of Thrones finally wraps up too. The question is, will they ever work on another major project again together? Time will tell.
10

Just Friends: Joseph Gordon-Levitt And Zooey Deschanel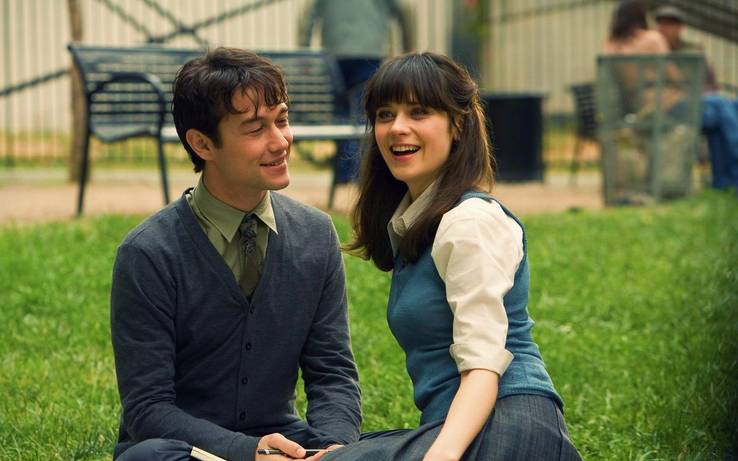 Joseph Gordon-Levitt and Zooey Deschanel met on the set on their movie (500) Days of Summer. The movie went incredibly well for both actors and truly set them on a path of major opportunity in Hollywood. It had a low budget but more than quadrupled it with what it made at the box office. While Zooey was truly getting her start around this time and went on to take part in movies like Yes Man and television shows like New Girl, Joseph was already pretty well known. Zooey did do the Elf film that became a holiday classic, but it was not much compared to JGL who had starred in the television show 3rd Rock From The Sun. He also appeared in hit movies like Angels in the Outfield, 10 Things I Hate About You, Havoc, and Brothers Bloom as well as a hit animated movie called Treasure Planet.
Overall, both went on to make major things happen for themselves in Hollywood. JGL would work a great deal with Christopher Nolan as he would appear in The Dark Knight Rises and Inception. He would also have a nice role in movies like Lincoln, Don Jon, The Interview, and Snowden. Zooey has mostly been seeing great success with New Girl. Both have remained great friends since their movie in 2009. They were linked as a couple far more than a few times after this and have been consistently happening ever since.
They have managed to remain very good friends despite all of those rumors to the contrary and have had relationships with others. Zooey has been married twice since meeting Gordon-Levitt while he has been married since 2014 to a great woman. Both are happy in their marriage yet love hanging out with the other or seeing the other whenever possible. Sometimes platonic relationships go very well.
9

Fell In Love: Kristen Stewart And Robert Pattinson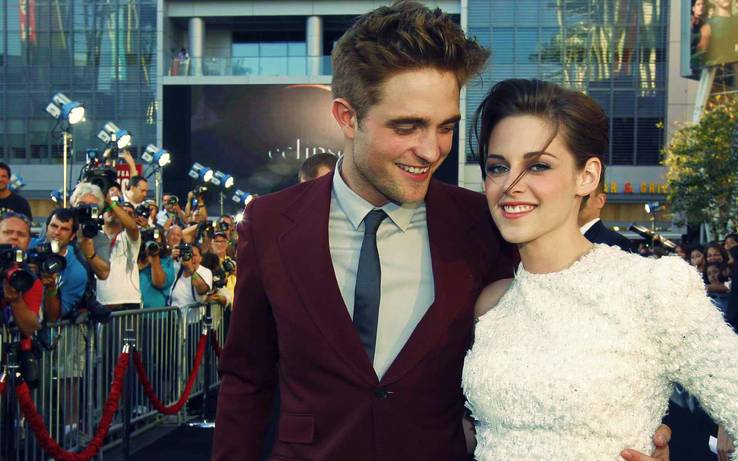 The Twilight franchise became a massive success at the box office years ago, and the two stars of the film end up together. What could be better than this? Yet the happily ever after is not as happy as people would want it to be. Robert Pattinson met Kristen Stewart on the set of the first Twilight film. They would instantly hit it off and as the couple on the film got closer on camera, they would get closer off of it. They tried to keep it a secret that they were together from the media but eventually, things could not go any further and we would all find out.
It was a good thing to see and they would remain together through all of the films, and some time afterward as well. Both went on to have some great success outside of the Twilight movie series too. Both happy and both successful, which seemed like a perfect situation. They even made time to see the other around projects and sometimes during. However, this happy little moment in time faded. Stewart was on the set of her film Snow White and The Huntsman when she met the director of the film named Rupert Sanders. He was quite a bit older than Stewart, but Rob was also a bit older too. Not quite Sanders old, but oh well. They were caught by paparazzi kissing, which hit the media insanely fast.
Due to the storm it caused, Pattinson would break things off with Stewart. Kristen mentioned that she loved Pattinson and issued an apology over the entire thing. It all worked out for Pattinson who was linked and engaged to singer FKA Twigs and is back on the market. Stewart never really progressed things far with Sanders and now found that she likes ladies more than men. All of this drama started on the set of Twilight, however, where they really did fall in love. Sadly, it ended in a bad way.
8

Just Friends: Zendaya And Tom Holland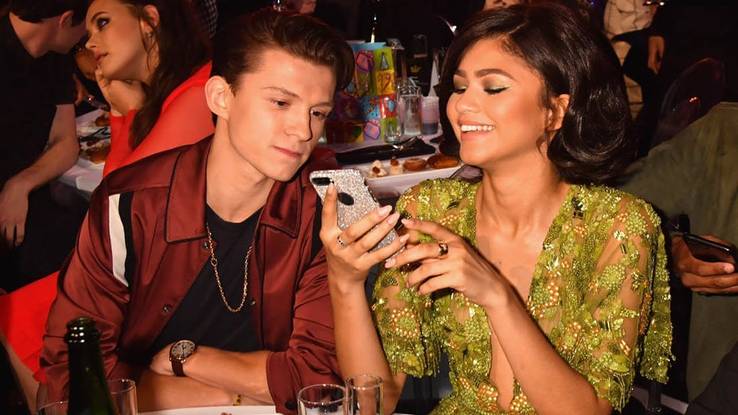 Tom Holland had been doing some small things before getting the call of a lifetime. He would become the new Spider-Man for Disney and Marvel Studios and play the role in the MCU. This was the first time the character was part of the MCU as Disney did not own the character but Sony (owner of movie rights) had given them the ability to use him. Tom would play this role in the Captain America: Civil War movie before reprising it in his own solo film, Spider-Man: Homecoming. Zendaya, on the other hand, had been doing a lot. She was part of Shake it Up, a massively successful Disney Channel show, as well as another, called K.C. Undercover that she also produced. She even made a major run on ABC's Dancing with the Stars.
By the time the movie came out, Zendaya was a star as was Holland and the movie would do massive numbers at the box office. Due to being close in age and of course being rising stars in Hollywood, it made total sense for tabloids to push that Holland and Zendaya were in a relationship. Why not? Plus they did not do a lot to stop the rumors, as they were caught hanging out together away from press tours a few times. Clearly, the thought was they were together but keeping things on the DL. Who could blame them?
Despite the thought, Tom and Zendaya have been adamant that they are not together and are just very good friends. Is it too early to believe them? Possibly. Though both have gone on to have great success in other roles and live in two different countries when they're not filming anything. Even to this very day at the moment of this writing, there were reports of them being together due to hanging out. Could they finally come out and say they've dated all along? Of course. For now, we should just take them at their word.
7

Fell In Love: Brad Pitt And Angelina Jolie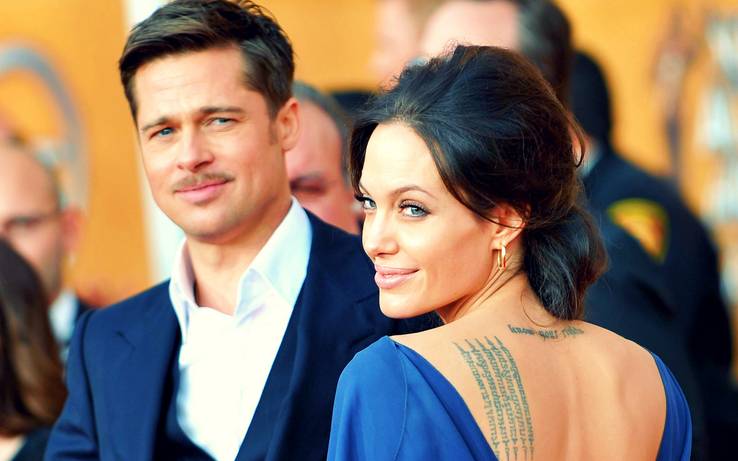 When Brad Pitt met Angelina Jolie for their 2005 movie Mr. and Mrs. Smith, he was actually in a relationship with Friends' star Jennifer Aniston. Jen was one of the hottest actresses in Hollywood and has kept that title even to this day. She was on the rise, but so was Pitt. Brad had been in a lot of major films by this point, including hits like Seven, 12 Monkeys, Meet Joe Black, Fight Club, and two Oceans franchise movies. Meanwhile, Angelina had been a pretty major star before 2005 herself. She was nominated for several awards and won Golden Globes and Academy Award. Her breakout roles in movies like Gia, George Wallace, the Tomb Raider franchise, and Girl, Interrupted made her one of the best actresses in Hollywood at the time.
They were perfect for a movie together, especially one like Mr. and Mrs. Smith. However, they would fall for each other on set to the surprise of no one. The problem was that Pitt was in a well-known marriage to Aniston. When reports came out, it was hard to believe. Tabloids do this sort of thing all the time, so Jennifer did not believe the first wave of things. But as things progressed and Pitt was pushed to be truthful, their relationship ended. By the end of 2005, Jolie and Pitt were in a relationship that everyone knew about but they had not confirmed. By early 2006, Jolie announced she was pregnant with Pitt's child and announced they were officially together.
They remained together around ten years, but only married for 2 of them. Reports came out about some problems with Pitt. As a result, Angelina called everything off and separated from Pitt. They would never officially divorce since the split in 2016. Some assume they could very well end back up together. As of now, that does not look likely. Though they did hold a long relationship compared to other celebrity couples.
6

Just Friends: John Stamos And Lori Loughlin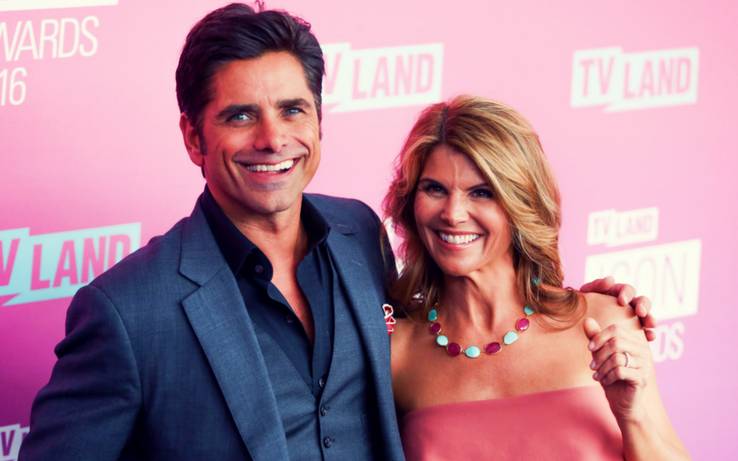 John Stamos met Lori Loughlin on the set of Full House. The television show was a massive success and just about every main star from the show has gone on to have some great success in some form since the show wrapped up. Stamos and Loughlin became pretty much everyone's favorite uncle and aunt. It seems the two of them were known for being the fun couple that all aspired to be like. They were the young 20 somethings that were entering into their 30's who had all the same problems we all do in that position. They seemed to be perfect. Yet neither were right for the other in real-life. Sadly, they were better as friends and that was all either ever truly needed from the other. It was not as if they never thought about it though.
Stamos was one of the most desirable men in all of Hollywood, while Lori was the original "Becky with the good hair." Age will determine who will know what they reference refers to. Both went on to have some nice success in Hollywood following Full House. Most of it happened to be in television. Lori would get nice guest roles but also have some nice main roles in shows like Hudson Street, Summerland, 90210, and now with When Calls to Heart. Meanwhile, Stamos has had some success of his own. He has worked on TV projects like Jake in Progress, ER, and Grandfathered.
Meanwhile, both have come back for the Netflix show Fuller House. The show has brought back everyone from the original television show except for The Olsen Twins. Both have gone on to have other relationships, which kept them apart. Stamos mostly dated models and even married one in Rebecca Romijn but they would divorce. He is now married to Caitlin McHugh, an actress. Lori would be married through her time on Full House but divorce before marrying her husband Mossimo Giannulli in 1997, a clothing company owner. It appears as if Becky and Jesse won't end up together. Remaining good friends is clearly a good thing, however.
5

Fell In Love: Freddie Prinze, Jr. And Sarah Michelle Gellar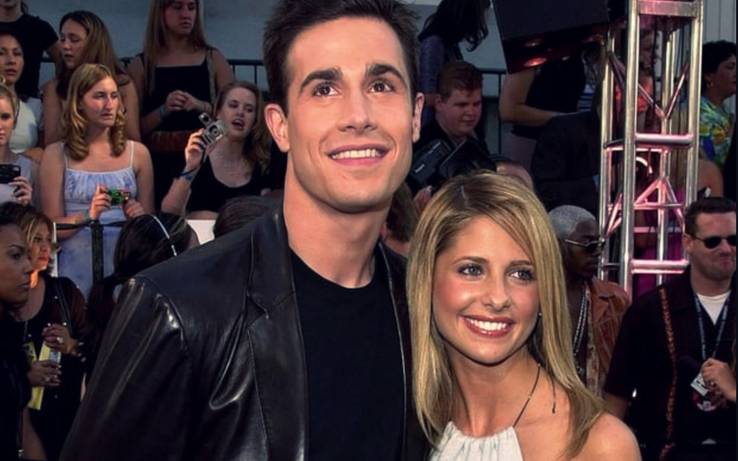 Freddie Prinze, Jr. met Sarah Michelle Gellar on the set of the movie I Know What You Did Last Summer in 1997. Most assume they met on the Scooby-Doo movies where they worked together a few times. They met on the previous one and truly fell for the other but did not begin dating for a little while afterward. They would be married by 2002, which helped their characters on Scooby-Doo truly work out well and have tremendous chemistry. They would work together again in movies like Happily N'Ever After and work together in voice roles for the animated series Star Wars Rebels. Freddie and Sarah were two of the biggest stars of the 90's and early 2000's, having been in some notable teen movies and/or shows from that period.
Freddie is known for his roles in movies like She's All That, Boys And Girls, and Summer Catch beyond the movies listed above. He was even on television in notable roles on shows like Boston Legal and his own show, Freddie. He has sporadic roles in TV since, mostly in voice. Notably, he has worked on Robot Chicken, 24, and was a writer for WWE Monday Night RAW. Meanwhile, Sarah had some larger success with shows like All My Children, and her smash hit Buffy The Vampire Slayer which she reprised some in the spin-off, Angel. She would work on other movie roles outside of the ones listed above like Cruel Intentions, Scream 2, Southland Tales, The Grudge, The Grudge 2, and more.
Though she too has done a lot of voice acting with Robot Chicken, as well as TMNT, American Dad, and The Simpsons. She and Freddie have two children together and have been one of the more notable happy couples in Hollywood. Both have attempted to do as much together as they could, or would take on roles that would allow them to see the other as much as possible. As well as their two children. Yet it all started with a first meeting on a movie set.
4

Just Friends: John Travolta And Olivia Newton-John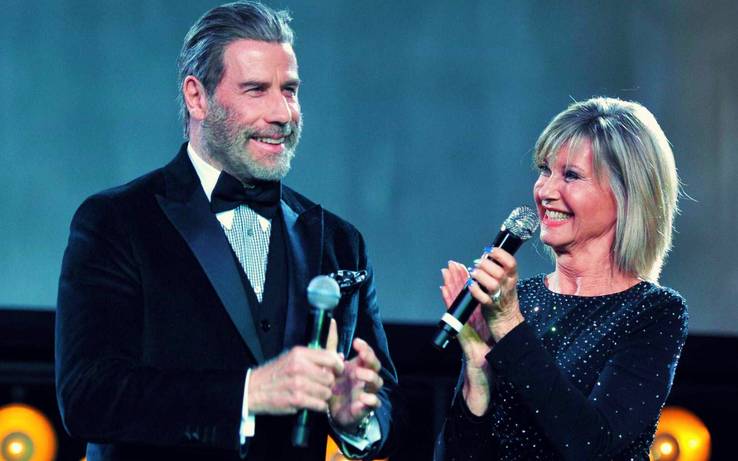 John Travolta and Olivia Newton-John met on the set of the infamous smash hit, Grease. The movie was not necessarily a complete musical like that of Les Mis, but they often broke out into song. Most of the songs from the movie are pretty legendary. Do you want us to tell you more? It was love at first sight for the characters on Grease, but for the actors who played the roles…not so much. Travolta was one of the top actors in all of Hollywood and well known before this movie came out. Olivia was getting her true start with the movie and many thought she would go on to have some wild success in television or movies. Though weirdly, she never truly did branch out into this world well like Travolta continued to do.
She would get involved in music after the conclusion of Grease and would become a pretty big star. She would win an Academy of Country Music Award, 10 American Music Awards, 9 Billboard Music Awards, and 4 Grammy Awards. She was nominated for many more. While she did get involved in movies and television, the real path was music for Olivia. She has remained a major fixture due to her music, but she's a clear legend due to her role on Grease. While Travolta would have a lot more roles that would become well-known beyond this, he too is still known by most from his role in this. Both have remained very good friends for several years now.
After Olivia went through her issues, Travolta was right there for her. This according to Newton-John herself. They would hang out off and on, and call whenever they had the time. After the diagnosis though, he checked in often. There comes a time when we may like or despise someone, but when they do good things…we have to recognize it. Overall, it's hard to not see them together after all these years. However, they're likely great friends as a result of not going down that path.
3

Fell In Love: Ben Affleck And Jennifer Garner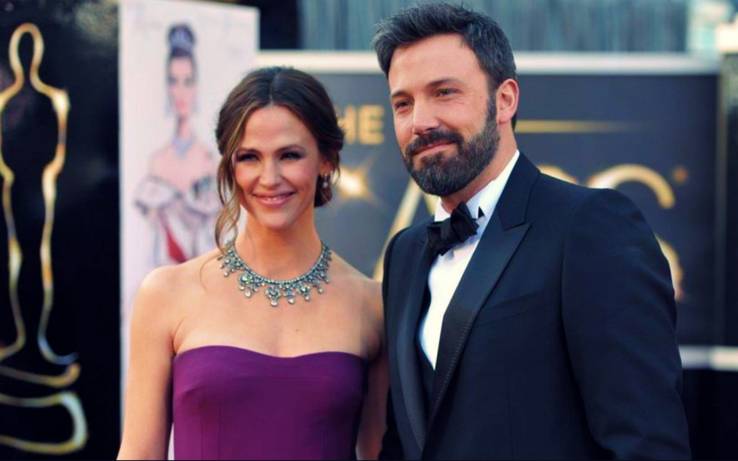 Ben Affleck had a thing about meeting and falling for women named Jennifer it seems. For quite some time he was in a relationship with Jennifer Lopez after their movie together in 2003 called Gigli. They would also work on Jersey Girl together after this. Both were notable flops. But the relationship went well for a time before ending. He would then take on the superhero genre. At the time, this genre was just getting started and had only seen some minor success stories as far as movies are concerned. Moderate success was still good, and thus bringing Daredevil to theaters seemed like a good plan. Ben did his best with the role but it was not quite good enough to work out.
The movie did not flop but was not well-liked, yet he would meet Jennifer Garner on the set of the movie and fall for her. They would begin dating during all of this and be linked by the tabloids. After trying to play it coy on any sort of relationship, it came out that they were together. They would be married by 2005. On top of this, they would go on to have 3 children together from the marriage. Sadly in 2017, they would file for divorce over a lot of reasons we do not have time go over here. Both have been pretty good about the entire thing as well.
They have spent a great deal of the holidays together and overall tried to be good for the other due to the children being involved. They have remained friends after the entire thing too, and seemingly had one of the more civil breakups among celebrity couples we've ever seen. Some believe it has gone so well that they will be back together eventually. As of now, that does not look to be the case. However, this is Hollywood…so you never know.
2

Just Friends: Kate Winslet And Leonardo DiCaprio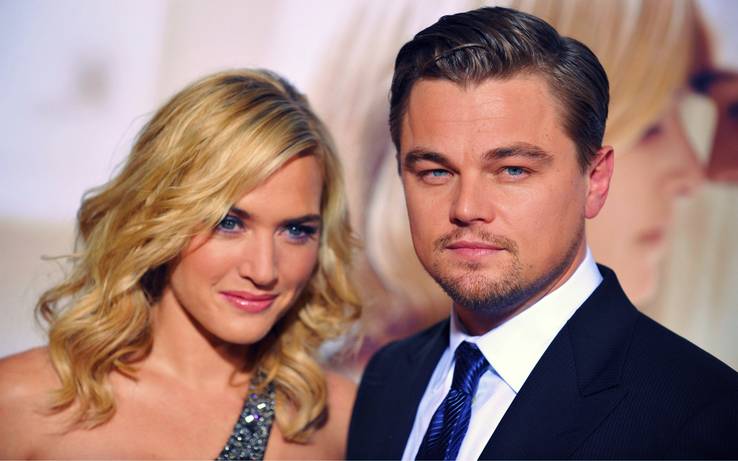 Kate Winslet was a notable actress before meeting Leonardo DiCaprio for the massive hit, Titanic. Leo was no slouch either, having appeared in some notable things. Both were nominated for Golden Globe or Academy Awards before stepping foot on the set of the movie. This made many feel that they may have a hit on their hands before it was ever filmed. They were right. Until the 2000's came along with their superhero movies and higher ticket prices, Titanic was the biggest box office success in history. It made in total over a billion and is one of the few to ever do so outside of the Superhero franchises.
Titanic was loosely based on the tragic sinking of one of the world's most notable luxury ships that went by the same name. Much of the film is accurate as well, in that it did hit an iceberg and there were people named Jack and Rose on board the ship. Though that is kind of where the history starts and ends. The movie followed Jack and Rose and their love story. She would then not let him on the floating door where he passed away frozen in the water. You could have made room for him, Rose! We've done the science on this, there was room!!
Anyway, both would be linked for some time after the movie wrapped. Leo has been a known bachelor who has been dating models pretty much ever since. Kate has had some nice relationships too. Overall, both went on to have wild success in major movies. They have remained really good friends and have been quite notable for it. They would even appear in the movie Revolutionary Road together, which saw some award nominations.
When she won an award for the movie, Kate thanked Leo and said: "Leo, I'm so happy I can stand here and tell you how much I love you, and how much I've loved you for 13 years." When Kate married her husband, Leo was there to give her away in 2012. When Leo FINALLY won his first Academy Award, the first person there to congratulate him was Kate and he would mention his love for her after. Seriously, we need tissues. Where's our tissue guy?
1

Fell In Love: Ryan Reynolds And Blake Lively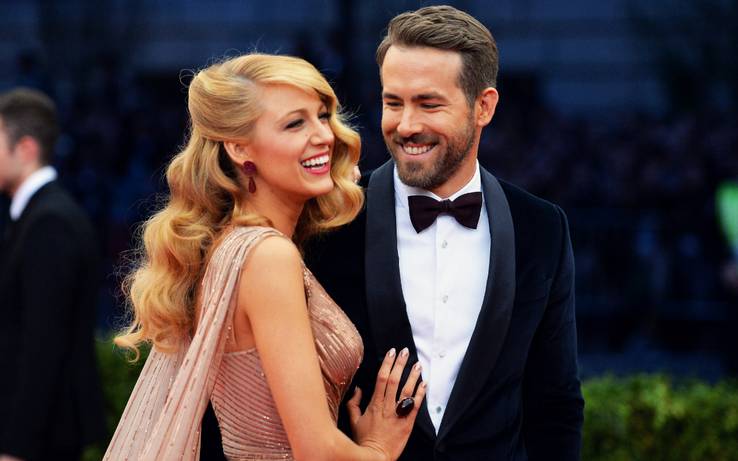 Ryan Reynolds once dated and married major actress Scarlet Johansson, which worked out for a while. However, they would get divorced and Ryan would slowly see his career rise in Hollywood. Warner Bros. would choose him to take on the role of Green Lantern in his own solo movie. He would meet Gossip Girl and Sister of the Traveling Pants star Blake Lively on the film as his love interest. While Green Lantern was considered to be the worst superhero movie likely ever made, Blake and Ryan hit it off on the movie in a major way. So much so, they would begin dating shortly after and would get married in 2012.
The couple now has 2 children together. While Blake has seen some success in Hollywood afterward, she mostly found happiness being home with her children. Especially while Reynolds was filming big hits. As Deadpool rose to popularity due to Reynolds, he would often reference the Green Lantern bombs. The character has thrown shade at Blake's Sisterhood of the Traveling Pants movies a couple times in the movies now.
Blake and Ryan are infuriatingly perfect as a couple. They're like that couple on Facebook that likes to bring up their special person a lot on their feed. Except they actually make it worth seeing. We highly suggest checking out their Twitter and Instagram material with each other. It'll usually be good for a laugh. When Ryan was given his star on the Hollywood Walk of Fame he spoke about his love for Blake and the kids, but Blake has been vocal about her love numerous times as well. Seriously, if this one ends then we're going to riot the streets. We'll even bring Cable along!
Sources: [
Source: Read Full Article