Lindsay Lohan undoubtedly has been a train wreck in her life. She systematically ruined her career in Hollywood because she partied too much and behaved like an entitled little brat whenever she found herself on a set. She was literally booted from Hollywood and they still haven't let her back in. In 2016, Lohan made the extreme move to pack her bags and leave the United States and head to Dubai for a new life. Talk about leaving it all behind. She felt at the time that being near Hollywood would cause her to get into trouble again and she just wanted to leave her past behind her. But man, why didn't she just move to Michigan or something.
Since she has been living In Dubai, we have to admit it seems like she has changed her life and is trying to move on for the better. We doubt that we will ever see her on top in Hollywood again, but at least she is living a healthy existence and seems to be genuinely happy. We also saw a new profile of the actress in W magazine this year that showed Lohan as if she was back to her old self again. We're not sure what to think or whether it's possible for someone to do a 180 like that. Take a look at these photos and you be the judge. Check out these 15 photos showing Lindsay Lohan as done a 180 since visiting Dubai.
15

Taking In As Much Sun As She Can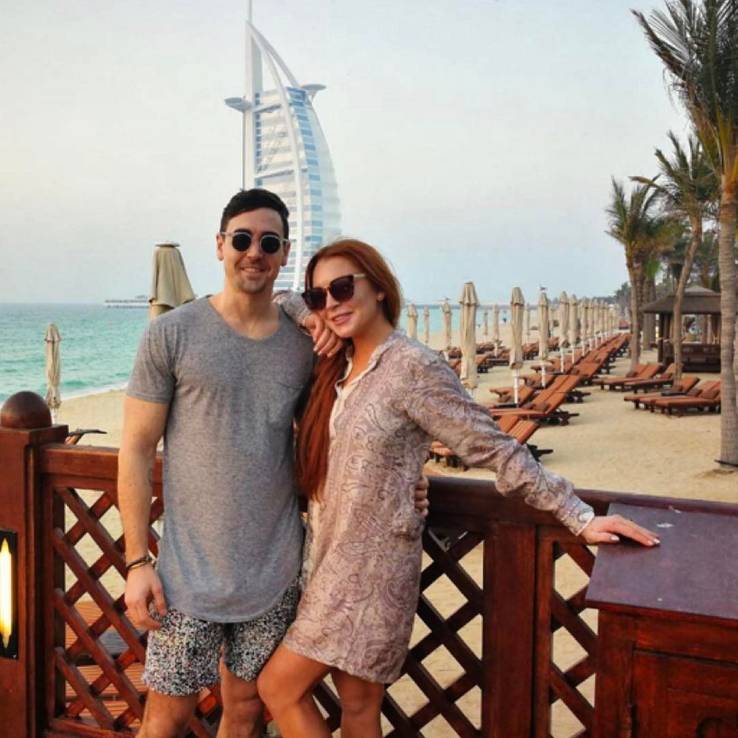 Living in Dubai sure wouldn't hurt. You are surrounded by water and sun all the time, never mind the insane beauty of the place. Lohan has been doing all kinds of things since she arrived there and it seems as if she is more entrepreneur than anything else. She had a line of candles, leggings and even tried to start a fashion line at one point. Some ventures work out while others don't. She has also bailed on social media on more than one occasion. She once deleted photos off of her Instagram account and started it all over again. We're not really sure why she does these things other than for attention. There is only a handful of pictures on her Instagram now and who knows how long they will stay there. She really does seem to be making a good change for herself and she tries to start off each morning the right way. "Everyone has highs and lows that they have to learn from, but every morning I start off with a good head on my shoulders, saying to myself, 'It's going to be a good day!'" It's definitely a great way to start the day.
14

She Tried Out Skydiving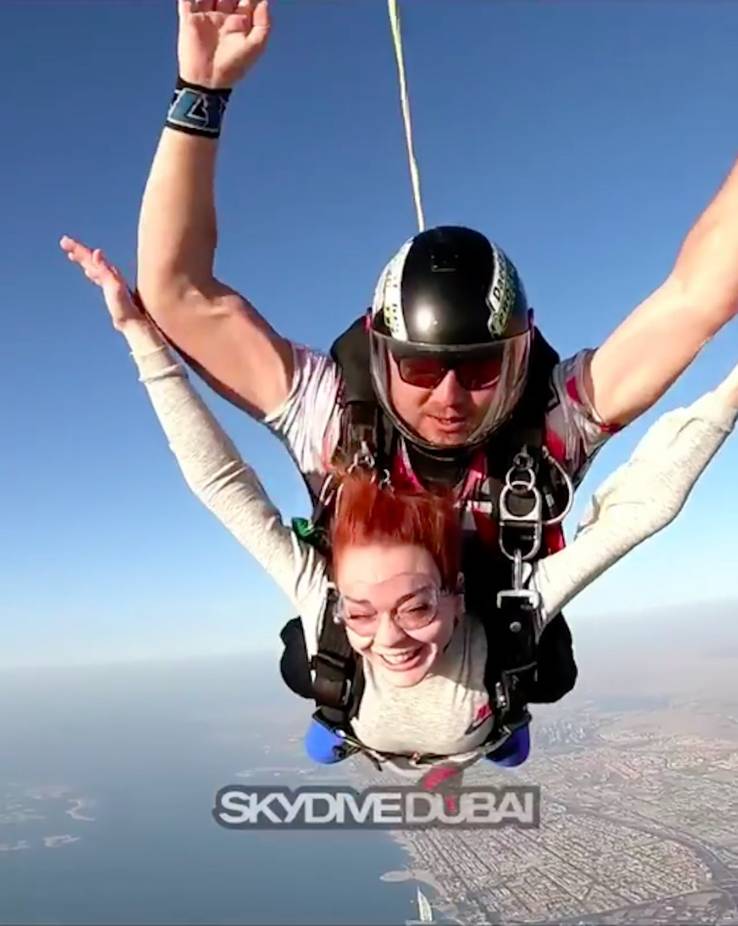 We would never have thought that Lindsay Lohan of all people would ever go skydiving, but the actress is trying to open herself up to new things. This photo was taken of the actress as she launched herself off an airplane over Dubai. She took the plunge and she didn't even look scared at all. The reason why many people think that she's such a disaster in Hollywood is because every time that she comes out of the woodwork, she says the most bizarre things like defending Harvey Weinstein or saying that she should be the girl that plays Batgirl. Really? Lindsay, you have been gone from Hollywood forever. But her quote about Sex and the City was truly an epic one. "My mom is going to kill me for talking about sleeping with people. But I don't want to put myself in the position where I'm in a monogamous relationship right now. I'm not dating just one person. Sex and the City changed everything for me because those girls would sleep with so many people." Wow, she basically threw monogamy out the window and to be honest, it has been a long time since we heard that she was in a steady relationship.
13

She's Still Close to Her Family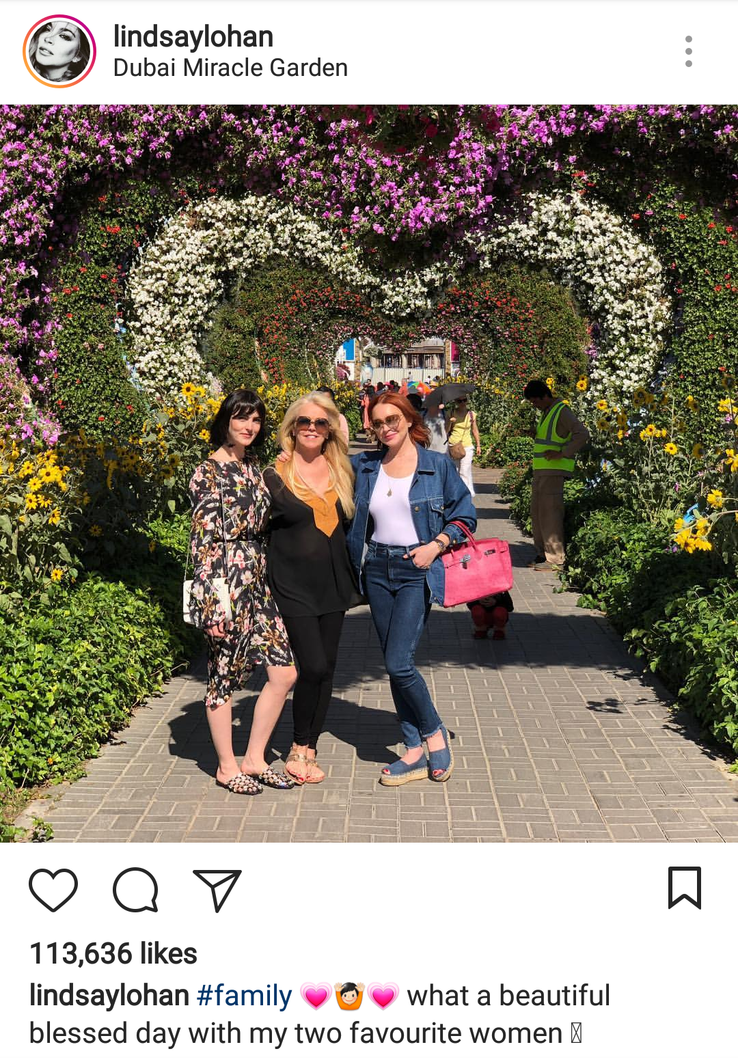 It must have been hard for her to move to Dubai all by herself especially since she was so close to her mother. Granted, her mother sure didn't help her career any, but the two were close. Lohan's mother and sister have often visited her in Dubai. She posted this photo on Instagram of her mother and sister visiting her and she took them to see Dubai Miracle Garden which has some pretty cool attractions. There are flowers sculptures in the form of Mickey Mouse and even Emirates aircraft. She captioned the photo, "#family what a beautiful blessed day with my two favorite women." Her sister these days is still in the modeling world and thankfully not following in the footsteps of Lindsay. When she attended the Wendy Williams Show, Lindsay gushed about how much she loved living in Dubai. "I'm discussing designing my own island in Dubai at the World Islands," the actress said on the show. "I have a lot of little projects there because I like to keep busy. So, when I'm finished filming [British sitcom] Sick Note I can go back to Dubai, start the lipstick, discuss that and then design this island — Lohan Island," she revealed.
12

She Turned Surfer Girl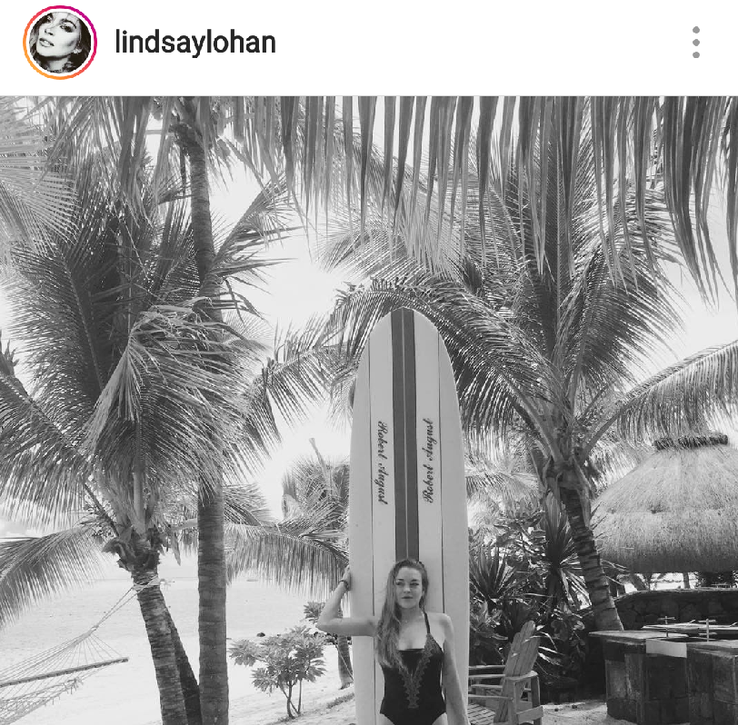 She couldn't look more relaxed than she does in this photo. Dubai definitely agrees with her and she almost looks like her old self in this picture. Whether she's just posing or if she actually took on the waves, we're not sure, but a Lohan definitely looks a lot healthier since she moved there so we can't help but think that it's a good thing for her. She admitted to W magazine that since moving to Dubai, she has found a certain sense of peace living there. "There's a certain calmness that I find there. There's no paparazzi, no cameras; that's a big deal for me." She was under a lot of stress throughout her career and that seems to be gone now. "I felt so relieved when I moved everything over from London to Dubai, and I saw everything in one place," she added. "Now I don't have to open suitcases and live out of hotels and bags. Everything is where it should be." She found the experience to be cleansing for her which is always a good thing. "[Moving is] a cleansing of your head, which is what I needed, and it took me a while to do it," Lindsay explained.
11

She Went Back to Her Natural Hair Color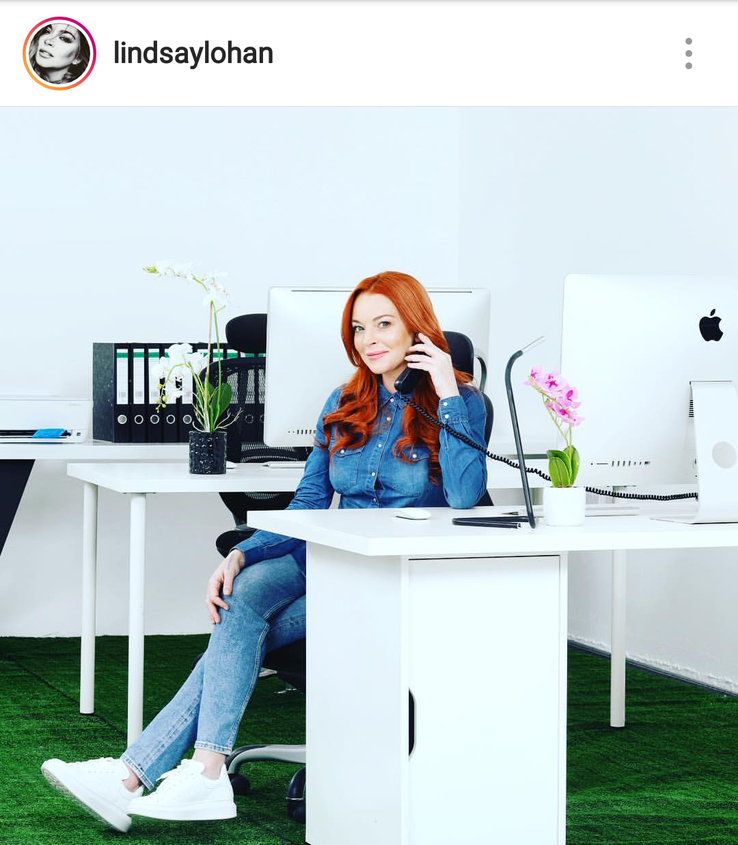 To be honest, we're not sure why she ever left it. Blonde hair never suited the actress, in fact, it washed out her complexion and always made her look too pale. This is a random photo we found on her Instagram with the tag @lawyers_com. Is Lindsay Lohan out doing ad work for random lawyer services companies? Talk about random. Most actors will try to hide that kind of low paid work, but Lohan seems to be embracing it. She does look good in the photo, but it's always interesting when a company tries to make a famous actress look normal in a photo so that she can seem relatable but who can really relate to any part of Lohan's life these days? She got a lot of advice while she was in Hollywood and hopefully, she can use some of that advice for her life now. "On a day when you're tired, it's important to just say good morning to everyone, so they're kind of aware that it's gonna be a good day. Jamie Lee Curtis told me that." She burned a lot of bridges while she was in Hollywood so we're not sure if they'll ever let her back in the club again.
10

She Can Still Pull Off Sexy Pics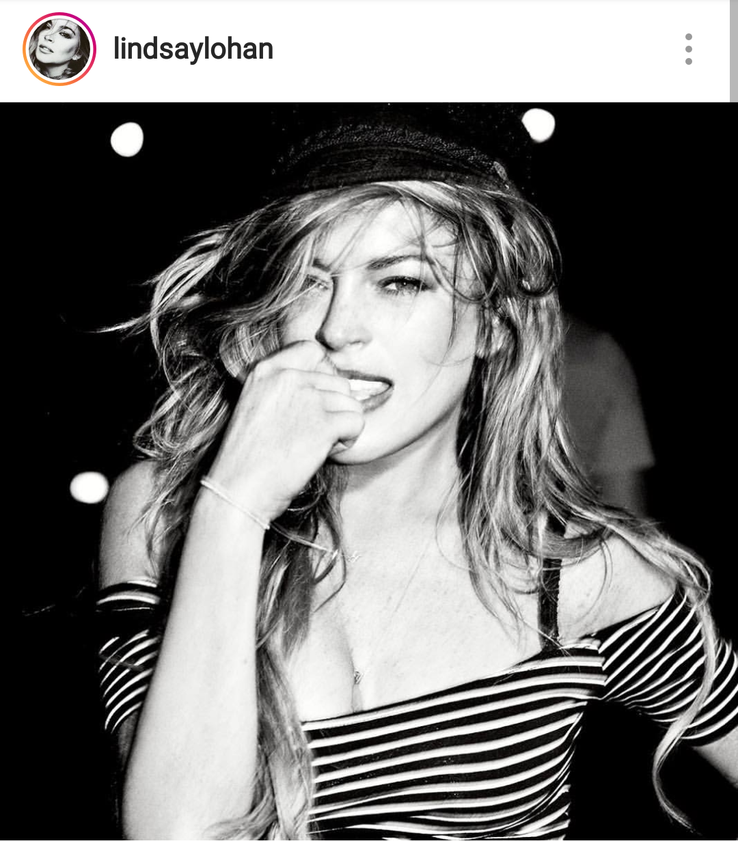 Let's be honest, there was a period of time when there was no way that Lohan could look sexy if she wanted to. She went through a period where she looked very emancipated. She lost a lot of weight whether it was from partying or stress and she lost all the natural curves that made her so popular in the first place. She posted this Instagram photo that certainly gives her an old-school vibe that we remember from when she was still acting. She's a beautiful girl and it's really too bad that her career crashed and burned. Back in the day she really didn't see what the big deal was with her behavior. "I'm 20 years old. I like to party as much as anyone my age. Going clubbing is my way of relaxing or releasing a lot of stress. I don't feel that I should have to justify that part of my life. I don't know that I'm necessarily an addict." We're betting she feels pretty different about things now. There are a lot of actresses that went through Hollywood young and they didn't do what she did.
9

Lindsay Lohan Is Getting Healthy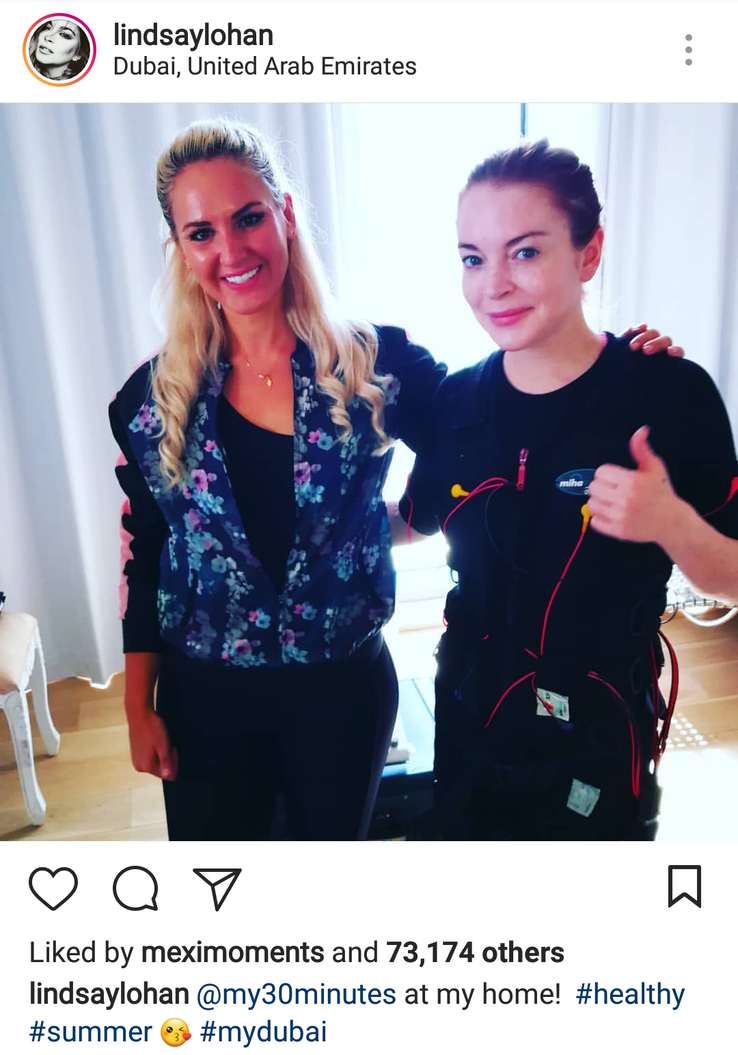 In this Instagram post, Lindsay seems to have someone that comes to her home and keeps her healthy. There was an Instagram video of her on the treadmill, so we are assuming that "30 minutes a day" is her workout regimen. Whatever it is, she seems to be doing whatever she has to in order to stay healthy. She definitely looks refreshed in the photo. She also told Wendy Williams that she wanted to open up some nightclubs in Dubai. "I have my club too, in Athens, and then we're opening one in Mykonos," Lohan told Williams. "I figured I've gone to enough, I should have my own!" We would think that would be a weird choice for someone who had a problem with substance abuse but she assured Wendy that it was cool. "Wouldn't that be the worst place for a clean person… to have?" Williams asked. "No, actually. It's really fun to watch other people look ridiculous," Lohan responded. Twitter fans seemed to love seeing her on the show. "Maybe it's because I grew up watching and loving her, but this has been the greatest interview I've seen on The @WendyWilliams Show! It's great to see @lindsaylohan back in a good space in life and looking amazing! Congrats Lindsay! #WendyWilliams #LindsayLohan"
Featured Today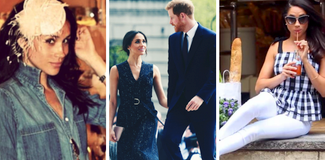 20 Royal Perks Meghan Markle Will Enjoy After Getting Hitched

20 Surprisingly Strict Rules Royals Have To Follow When They Travel

15 Insiders Reveal How The Royal Family Is Really Like IRL

8

Lohan Being Permanently On Vacation
She certainly looks tanned and healthy in these pictures and it's obvious that Dubai was a good choice for her. She loves Dubai so much because she can avoid the drinking scene and there are no paparazzi. That must be a breath of fresh air for the girl. "I didn't really know how to have a private life, because I was so young," she said, about living in L.A. "I really enjoy my serenity in Dubai. One, it's illegal to have paparazzi. It's banned. Also … you don't see people going to liquor stores and drinking and that kind of thing. You can go out and have fun, but it's a different kind of fun that you have," she explained. We're sure that there are a lot of celebrities who wish that the paparazzi were illegal in the United States. "I never considered people taking a picture 'bothering' me, but I don't want people to misinterpret who I am as a person if they see me sneezing and they say I'm crying," she said. "I do really appreciate having the life where I can just go outside and not have to worry."
7

She Makes Good Use of Instagram Videos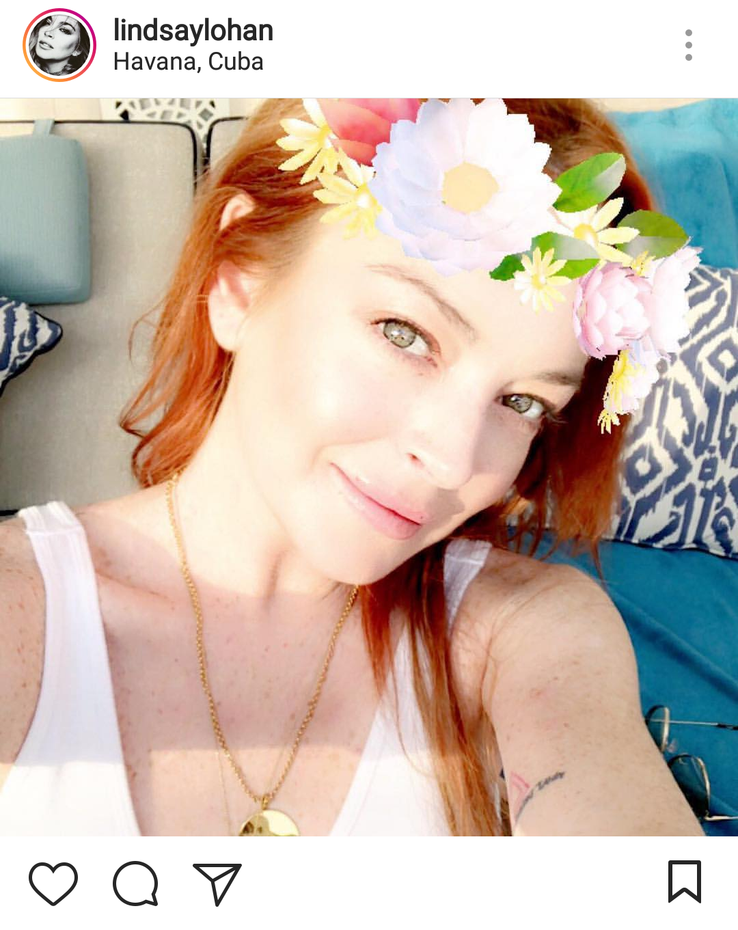 We're never really sure what Lindsay Lohan is going to do with her social media because she is constantly deleting her accounts and starting them over. This is a cute photo of the actress using an Instagram filter. She looks happy in this photo which is definitely a huge change for the actress. We think that deep down Lohan wishes that she could go back to Hollywood and do it all over again. She had a great career once upon a time and she probably wishes that she didn't throw it all away. She told W magazine how she was recently desperate to get the role in the Batgirl TV series that was going to be launched. We're not sure why she thought producers would want her especially when they can have a popular up and coming actress to do the part but she wanted it really badly. "I even considered flying to Los Angeles the other day just to stalk them for Batgirl," she said. "It's true. I thought, How do I get to Los Angeles without anyone knowing that I'm there?" She also highjacked her own Twitter account with a Batgirl theme. So weird.
6

The Refreshed Side of Lindsay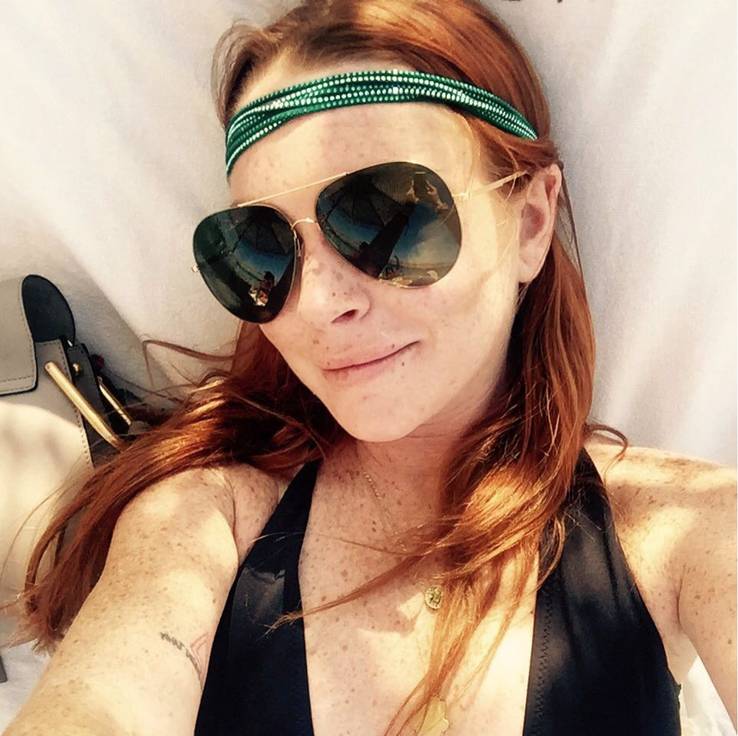 Something about Dubai just suits this girl differently. Maybe it's being sober, or maybe it's not having to worry about the paparazzi. All that sun sure can't hurt the situation either. She definitely takes a lot of selfies but we probably would too if we were out in the sun all day. She was once very protective of her sister especially when she was getting into the industry as well. The two couldn't look more different. Lindsay still has that protective nature with her sister, but we have to wonder how often they even see each other now with Lindsay living so far away. "My little sister Aliana's opinions are the most important to me. She says, 'I want to look like you, you're so pretty!' But she is very beautiful and so she is trouble in the making! She wants to do what I do. I'm like her second mother and I am very protective of her." It's clear that Lohan wants forgiveness from Hollywood but for now, she is doing things on her own terms. "I know that in my past I was young and irresponsible – but that's what growing up is. You learn from your mistakes."
5

She's Trying to Build A Strong Community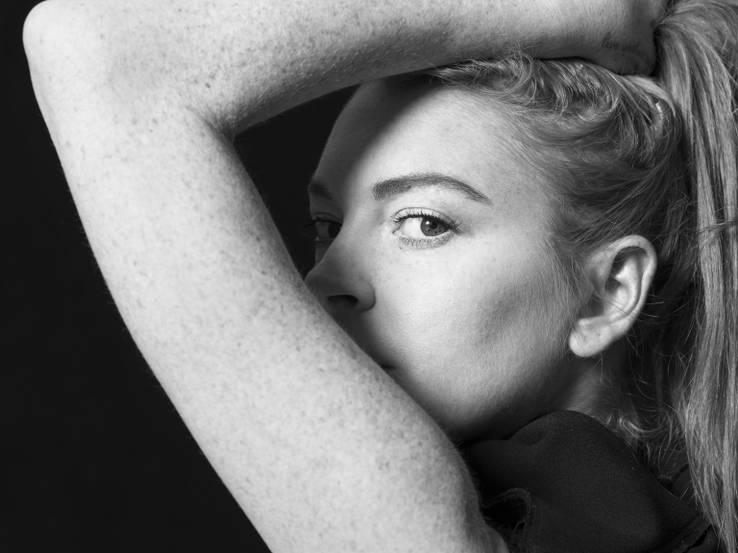 Lindsay Lohan has stated that since she moved to Dubai, she has found a sense of community while there. She starred in an all-female film called Frame in Saudi Arabia recently and that experience changed her life. She said that there is a lot of strength in Dubai as well. She stated that it's "a very big place for female activists." That's where she found a community of woman, which is the best thing for her at this point. "Women have a very strong community. It's a whole different world, which is really cool. It's a place you think women don't have as much of a right to be themselves, but they actually have more than you'd imagine," she pointed out. We're definitely still up in the air on whether Lohan has genuinely changed her life but really, what other choice did she have. "I've met amazing women [here] that are really strong and have taught me a lot … I don't think people realize how accepted it is for a woman to be a strong woman in the UAE. It is a very appreciated thing." All young women should have a strong community around them to help them through the struggle of just growing up.
4

Supporting The Culture of Dubai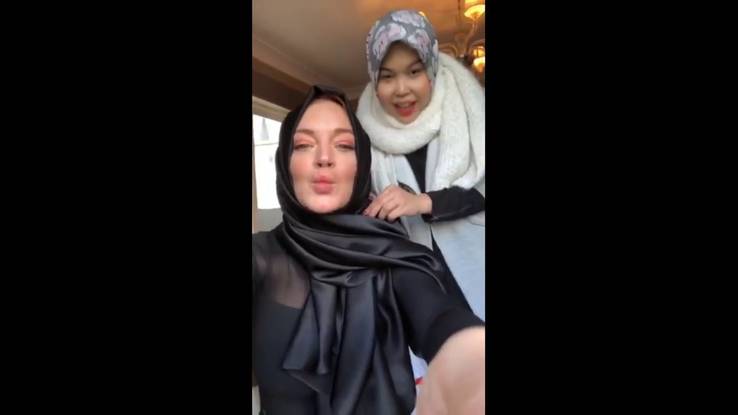 Lindsay Lohan has been photographed on more than one occasion wearing a Hijab and many people wanted to know if she had converted. She stated that she just likes to support the culture and religion that is part of the lifestyle of Dubai. She even attended London Modest Fashion Week wearing a scarf around her head. It's definitely unusual behavior according to people in Hollywood who wondered if Lohan was losing her mind. It certainly is a 180 compared to the Hollywood clubbing scene that Lohan used to participate in. "I fell in love with loving myself, and that's the most important thing that's happened to me in my life," said Lohan. That's the best thing that Lohan could do for her life right now is just continuing to do what's best for her. That's why she moved to Dubai in the first place. She just finished a horror movie called A Shadow Within, something she said she would never do. Could she be making a comeback? Her manager, Scott Carlsen, told tabloid! "We are extremely happy here at team Lohan. Thrilled to see everyone's reactions over the next year as we have some big projects lined up."
3

Spending Time With Friends
She once said in an interview that she would never do a horror movie. "I'll probably pursue doing more movies, but not horror or movies with killers in them. I'll try to stick to happy movies. I want to act and direct like Jodie Foster. I admire her because she went to college and she's still doing the same thing." But she just wrapped up the filming of A Shadow Within and her manager has high hopes that it might be a comeback for the actress. It's a B-rated movie, so we're not sure how it's going to do. We're not convinced. She has an uphill battle ahead of her if she ever tries to return to Hollywood. Plus, horror movies aren't always known for making stars. It's usually something that stars do before they become famous. But maybe it's a step in the right direction for Lohan who always wanted to win an Oscar. "I want to win an Oscar. I want to be known for more than, like, going out. For being the 'party girl.' I hate that. I bust my ass when I'm filming and when I have time off, yeah, I like to go out and dance."
2

Changing Her Life Around
This is a recent photo of the actress from the W magazine shoot and it's crazy how much she looks like her old self again. That's what Dubai has done for her. Whether Lohan can revive her career or not is hard to say. It's pretty much dead in the ground. The only work she is getting now is nothing like the films she used to get. None of them will see the light of day in the theatre. After her horror movie comes out, she is set to start filming a TV movie called Life Size-2. If there was a part one to it, she wasn't in it. Some of the things that she used to say in interviews about her success make us a little sad about where she ended up. She really did hope for a long career in Hollywood. "I did get to work with Anthony Hopkins on The Human Stain. If I ever manage to accomplish a quarter of what he's achieved, I'll have had one hell of a career." That's certainly unlikely to happen now, but at least she is focused on the future and living the best life that she can in Dubai.
1

Will She Ever Work in Hollywood Again?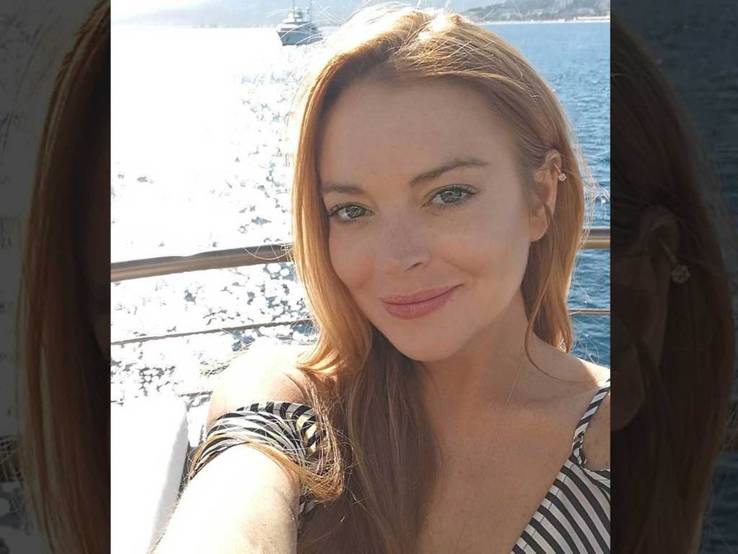 Last year when Lindsay Lohan returned to the screen in the British sitcom Sick Note many people wondered if it was her comeback but that was a year ago and nothing major has happened since. So why isn't Hollywood giving her another chance? Well, there are a lot of risks involved in casting Lohan in another big budget film. The same thing that happened on the set of The Canyons could happen again and she could not show up for filming. That would leave producers and directors out on a limb if Lohan were to start up her diva behavior again. Not to mention they have to get insurance on the movie just in case of any liabilities and right now Lohan is too much of a wildcard for them to take a risk on her. It sucks for Lohan who is just looking for another chance. "I want to be remembered for the work that I've done, rather than the car accidents that I've gotten into, the men that I've not dated – or the man that I have." Unfortunately, for Lohan, she will be remembered for her train wreck behavior and what she lost in Hollywood. Hopefully, she can turn things around while in Dubai.
References: popsugar.com, popsugar.com, globalnews.ca, littlethings.com, popsugar.com
Source: Read Full Article