After a long day of work, school, or some combination of the two, we all want to sit back and relax while doing something that is designed to take our minds off of the stresses that tend to consume our daily lives. We all relax in different ways, but the most popular form of relaxation still comes from the screens in our homes, whether it be the television screen, or the screen of our computer or electronic devices. We use these screens to watch videos, shows, and movies, but we also use them to watch sports, which is quite possibly the best form of relaxing entertainment seeing as sporting events are almost always live, and feature competition in its purest form.
Whether it is a team sport like football, basketball, or hockey, or an individual sport like golf, sports is exciting, as the top-tier leagues and associations always feature the very best athletes that the world has to offer. When you play sports at the professional level, there is a good chance that you are a millionaire, and based on how good you are, there is a good chance of you making tens of millions of dollars by the end of your career, maybe even hundreds of millions. As we all know, when you make that kind of money, you will be living a very comfortable and lavish lifestyle, filled with very expensive things that most people will never be able to own. Now, whether you are a pro athlete, or someone working an ordinary job, you will most likely own a car, but when it comes to pro athletes, they tend to buy multiple vehicles, including very expensive ones, and this list will focus on 15 athletes who drive insanely expensive cars.
15

Justin Verlander: Mercedes SLS AMG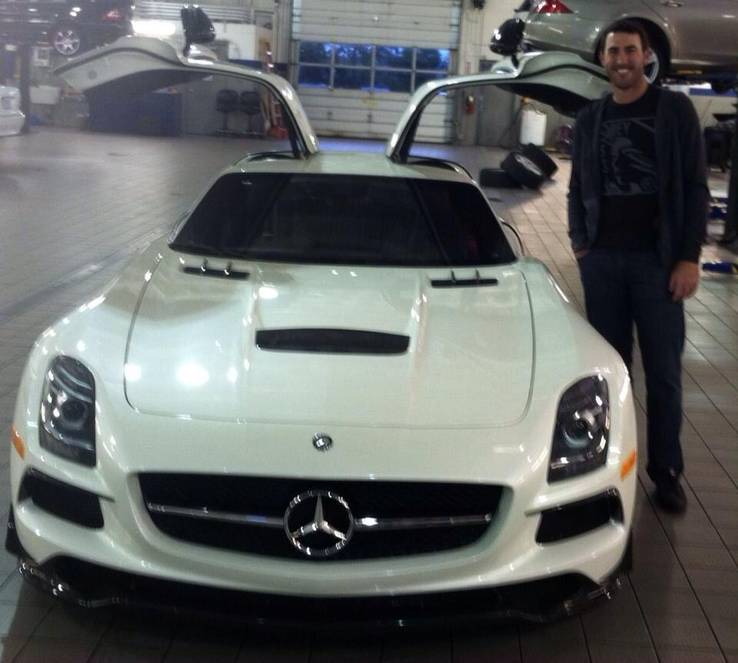 He may be 35 years old, but Justin Verlander is still considered to be one of the best starting pitchers in all of baseball, and for the most part, he has been a premium pitcher since his debut in 2005. Verlander spent the first 12 years of his career with the Detroit Tigers, and in that time, he went to two World Series, won the American League MVP and Cy Young Awards, and went to six All-Star Games. In 2013, the Tigers signed Verlander to a 6-year contract extension worth a whopping $162 million, but much to the dismay of the Tigers and their fans, the team was unable to stay competitive, and needed to begin moving pieces for a rebuild, which is why they traded him to the Houston Astros last season. Fortunately, Verlander was able to lead the Astros to a championship, earning his first ring in the process, and following that victory, he went and married Kate Upton. Verlander loves cars, and in 2014, he was one of the few people eligible to buy the Mercedes SLS-AMG, of which there were only 200 models sold in the U.S.. This limited edition vehicle came with a $250,000 price tag.
14

Yoenis Cespedes: Alfa Romeo 4C Competizione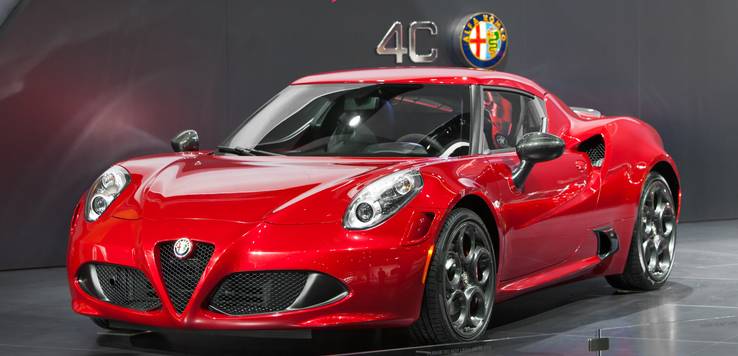 Cuba has produced some very good baseball players over the years, and one of those players is outfielder Yoenis Cespedes, who has been in the Major Leagues since signing with the Oakland Athletics in 2012. Since his debut, Cespedes has also briefly played in Boston and Detroit, but he can currently be seen with the New York Mets, who in 2016, rewarded him with a new 4-year contract worth $110 million. In 2008, Cespedes decided that he would drive a different exotic car every day of the week during Spring training, and of those cars, none were as impressive as his Alfa Romeo 4C Competizione, of which only a few were made available in the U.S., and it is truly a car that only a pro athlete can afford, as most people would never be able to pay $250,000 to own one.
13

J.R. Smith: Gurkha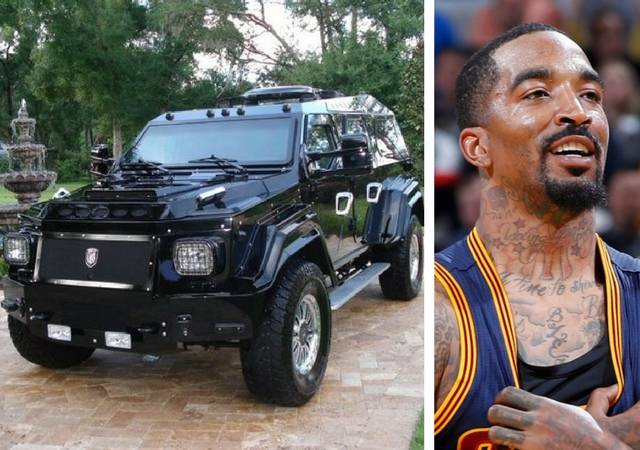 In 2004, J.R. Smith was drafted 18th overall by the New Orleans Pelicans, and since then, his career has taken him to New York, Denver, and China, but he can currently be seen on the Cleveland Cavaliers' roster. Getting traded to the Cavs in 2015 turned out to be the best thing for Smith's career, as he was essentially able to sit back and "contribute" to Cleveland's championship win in 2016. After winning his first ring, Smith decided that the best thing to do was to stay with the Cavs and LeBron James, so he signed a new 4-year deal with the team worth an impressive $57 million. Over the years, Smith has been in the news for the wrong reasons, including a car accident in 2007 that took the life of a woman, and since that accident, he has managed to have his license suspended three times. Despite being a questionable driver, Smith still likes his cars, and while playing for the New York Knicks, he showed off his Gurkha in New York's Meatpacking District. The Gurkha is an armored vehicle that is actually used in combat operations, but it is available to civilians, as long as those civilians are willing to pay $300,000 for it.
12

Robinson Cano: Ferrari 458 Italia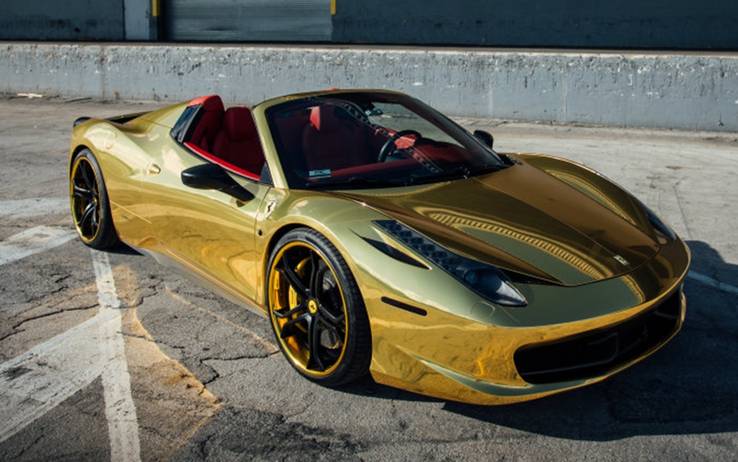 Over the course of a career that has so far spanned 13 years, Robinson Cano has won a World Series title, as well as multiple Gold Gloves and Silver Slugger Awards, and he has been to the All-Star Game more than half a dozen times. Seeing as he will most likely reach the 3,000 hit mark, the second baseman is pretty much guaranteed a spot in the Hall of Fame when he retires, but he will most likely enter the Hall as a member of the New York Yankees. Cano currently plays for the Seattle Mariners, a team he will likely play an entire decade with, but it is with the Yankees that he had the most success with. In 2014, he signed a 10-year $240 million contract, and when you have that kind of money, you are definitely in the market for expensive cars. The year he signed that new contract, Cano bought a Ferrari 458 Italia, a car he had personalized by MC Customs, with forged Vellano wheels and a gold "wet mirror" finish. With all the work he put into it, Cano's Ferrari is estimated to be worth around $300,000, but that might be undercutting its actual value.
11

Kobe Bryant: Ferrari 360 Modena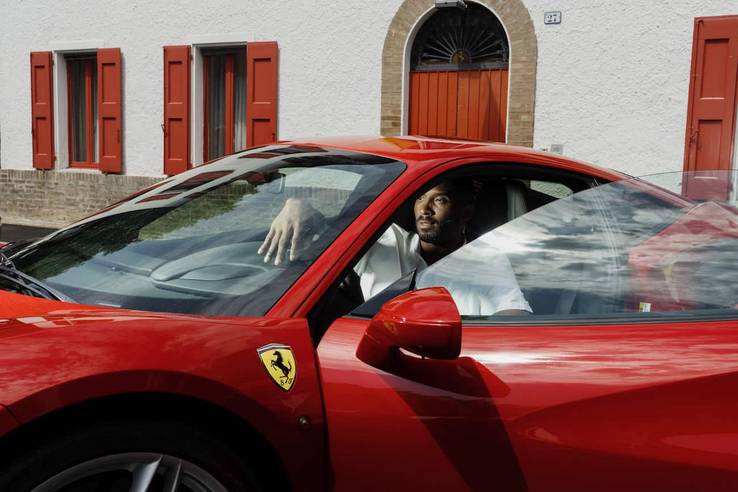 Nowadays, not many star athletes stay with one team for their entire career, either because the team is unable to afford their services, or because the team shows no signs of ever competing for a championship. Kobe Bryant will go down as one of the greatest basketball players ever, and he managed to spend his entire career with the Los Angeles Lakers, with whom he became an 18-time All-Star, a league MVP, a 2-time Finals MVP, and a 5-time champion. After 20 years in the NBA, Kobe decided to retire after the 2015-16 season, and since then, he has gone on to do some impressive thongs, like winning an Oscar for best animated short film. Thanks to basketball and endorsements, Bryant has amassed a net worth of roughly $360 million, and you used part of that fortune to buy his high-end Ferrari 360 Modena, which at the time had a retail value of $300,000.
10

Derrick Rose: Bentley Mulsanne
The sports world is filled with athletes who had incredible potential, potential that could never be fully reached due to a variety of reasons, with the most common reason being injuries. In 2008, the Chicago Bulls used their first overall pick to draft Derrick Rose, and as soon as he set foot in the NBA, experts believed that he would eventually become one of the best players in the league. After signing a 5-year contract extension worth $94 million, Rose suffered injury after injury, to the point that teams now do not even want to risk signing him to any kind of contract. With that being said, when Rose retires, he will have earned over $400 million thanks to basketball and his deal with Adidas, and he has blown through a lot of that money already, with a sizeable sum going towards cars, like his Bentley Mulsanne which cost him around $303,000.
9

Antonio Brown: Rolls Royce Wraith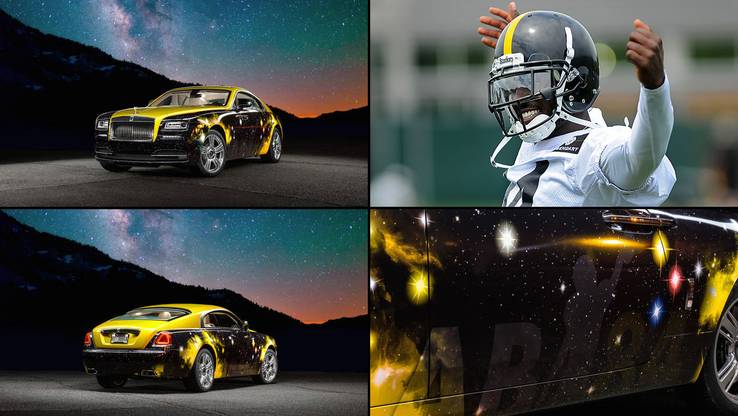 When it comes to the NFL, there are only a handful of truly iconic franchises, and the Pittsburgh Steelers, with their 6 Super Bowl Championships and 84 years of existence, are one of those franchises. Since their inception, the Steelers have had many talented wide receivers wear their jersey, and although he has not won a championship yet, Antonio Brown is a great receiver who is integral to Pittsburgh's offense. Brown has been with the Steelers since they drafted him in 2010, and during his tenure, he has become a 6-time Pro Bowler, who has led the entire league in receptions and receiving yards twice. Last February, Brown signed a new 5-year deal worth $68 million, making him the highest paid wide receiver in the NFL, which is part of the reason why he has a Rolls Royce Wraith. This $315, 000 vehicle comes with a satellite-assisted transmission and intergalactic themes, and fellow wide receiver Brandon Marshall liked it so much that he made a bet with Brown: where he would give Marshal his Rolls Royce if he finished the year with less yards, but if Brown made more yards, Marshall would give him a Porsche. Let us just say that Brown is still waiting for his Porsche.
Featured Today
Watch Justin Bieber Struggle To Reverse His Lamborghini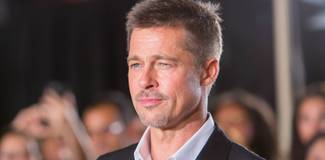 Brad Pitt Involved In Multiple Car Accident

The 15 Most Exclusive Cars In The World (And The A-Listers Who Own Them)

8

Reggie Bush: 1967 Ford Mustang Shelby GT500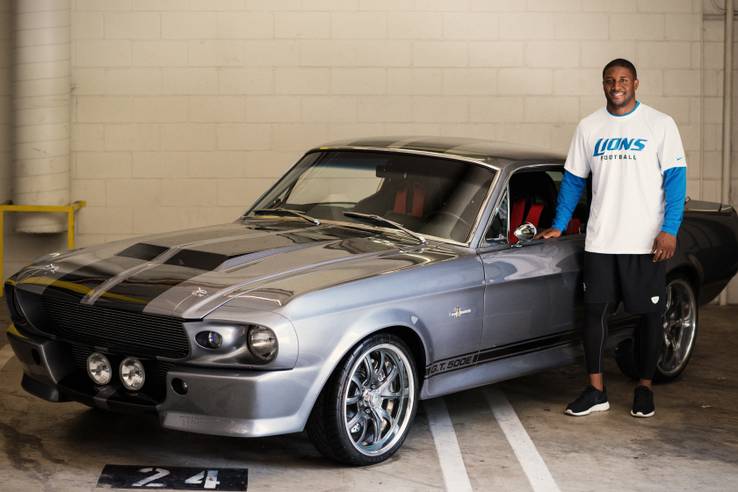 In 2009, the New Orleans Saints went on to win the Super Bowl, in what was a truly emotional moment for the entire city, and that win marked the first and only time that Reggie Bush got a championship ring. Bush played in the NFL for a full decade, and during his tenure in the league, he also spent time in Miami, Detroit, San Francisco, and Buffalo, and thanks to all those teams, he has accumulated a $51 million net worth. The former running back may now be retired, but at least he gets to live a very comfortable life, a life that includes a car collection with an estimated value of $9 million. Of all the cars in his collection, his 1967 Ford Mustang Shelby GT500, is by far the most expensive, as he spent more than $800,000 on modifications and upgrades, but even with all that work, the car is still worth about $325,000.
7

David Beckham: Rolls Royce Phantom Drophead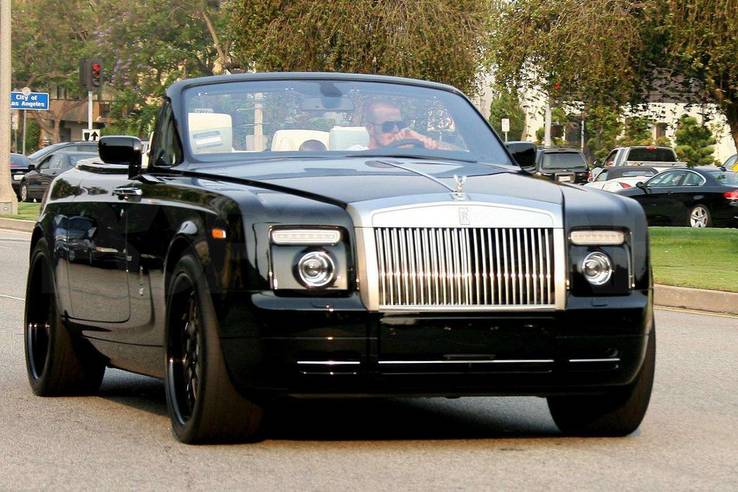 Soccer may not be very popular in the U.S., but that has not stopped the country from being home to Major League Soccer, which has managed to attract some pretty big names from Europe. One of the first major names  to come over was David Beckham, who joined the LA Galaxy, and even won a championship with them before retiring, and in 2020, he will be part of a new franchise based in Miami, this time as a part-owner. At one point in time, Beckham was the highest paid soccer player in the world, and thanks to his playing days, his business dealings, and a modelling career, he has put together a net worth of roughly $470 million. While living in Los Angeles, Beckham was seen driving his custom Rolls Royce Phantom Drophead, which at the time, only had about 6,000 miles on it, and it cost him a nice $390,000.
6

Bubba Watson: Cadillac C-Hawk Roadster
Most of the athletes on this list play team sports, but there are also many pro athletes who make a living playing individual sports like tennis and golf, and when you do not win in those sports, it is VERY hard to become insanely wealthy. So far, Bubba Watson has earned $24 million while playing in the PGA, and a sizeable amount of that money has come from winning The Masters tournament in 2012 and 2014. Unlike all the other athletes on this list, Watson does not just love cars, he sells them too, as he has been the owner of a Chevy dealership since 2016. Aside from owning the General Lee Dodge Charger from The Dukes of Hazard, he also owned a custom 1939 Cadillac C-Hawk Roadster. At auction, this car fetched a whopping $410,000, so imagine just how much the car is actually worth.
5

Odell Beckham Jr.: Rolls Royce Phantom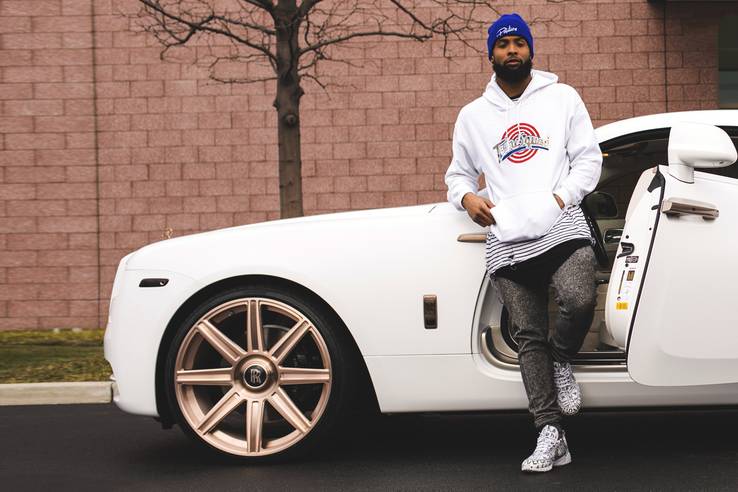 It does not matter what league it is, there will always be a handful of teams who have incredible seasons while another handful find themselves at the bottom of the standings with terrible records. In the NFL, fans of the New York Giants expected to see their team be somewhat competitive, but by the time the season was over, they had one of the worst records in the league, despite the fact that they have good players like Odell Beckham Jr.. The wide receiver has been with the Giants since they drafted him in the first round in 2014, and when he is healthy, he is good for at least 10 touchdowns and 1,000 yards. This upcoming season marks the final year of Beckham's contract, which will see him get paid $8 million, which means that he will have made just over $10 million during his short playing career. Relatively speaking, that is not a lot of money for a star NFL player, but  that has not stopped him from buying some pricey cars, like his $417,825 Rolls Royce Phantom, which comes with a V8 biturbo engine capable of 577 horsepower.
4

Aroldis Chapman: Lamborghini Murciélago LP640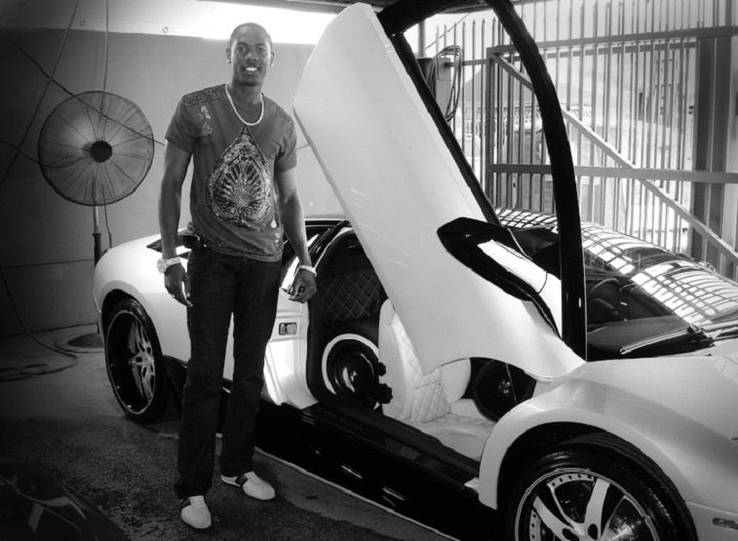 In 2016, the Chicago Cubs won the World Series, and that win put an end to a championship drought that had lasted for an astonishing 108 years, and relief pitcher, Aroldis Chapman was a big part of that victory. Chapman has been in the Majors since debuting with the Cincinnati Reds in 2010, and from the get go, he was recognized for having a very good arm, in fact his arm is so good, that he currently holds the World Record for throwing the fastest pitch. Following his World Series performance, Chapman signed a 5-year $86 million contract with the New York Yankees, becoming their new closer in the process. Since his debut, Chapman has bought quite a few cars, including a Lamborghini Murciélago LP640, which he had highly customized by MC Customs, to the point that the car went from being worth $392,000, to at least half a million.
3

LeBron James: Lamborghini Aventador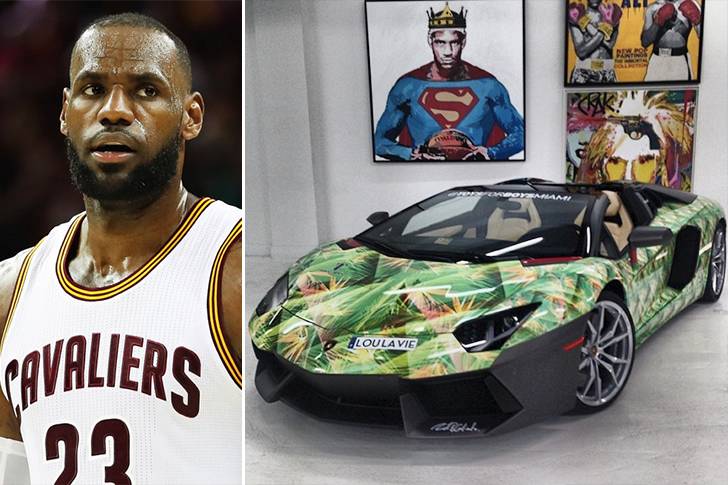 In every single sport, there exists one individual who stands atop the mountain as the best player of all time, and when it comes to professional basketball, there is currently a debate going on amongst fans and sports insiders. There is no doubt whatsoever that LeBron James is one of the best players to ever set foot in the NBA, and he has the championship rings and MVP awards to show for it, but Michael Jordan has more of both, and it is also because of just how dominant he was on the court that he is still regarded as greatest of all time. Even if LeBron is remembered as the second best player of all time, he is currently the best basketball player in the world, which means that he is one of the top earners in the NBA. As of right now, LeBron has a net worth of roughly $400 million, and a hefty chunk of that net worth actually comes from his deal with Nike, who allowed him to design his own car. That car was a Lamborghini Aventador, which comes with a floral sneaker design, and it comes with a pretty big price tag as well, as the car is estimated to be worth $670, 000.
2

Cristiano Ronaldo: Bugatti Chiron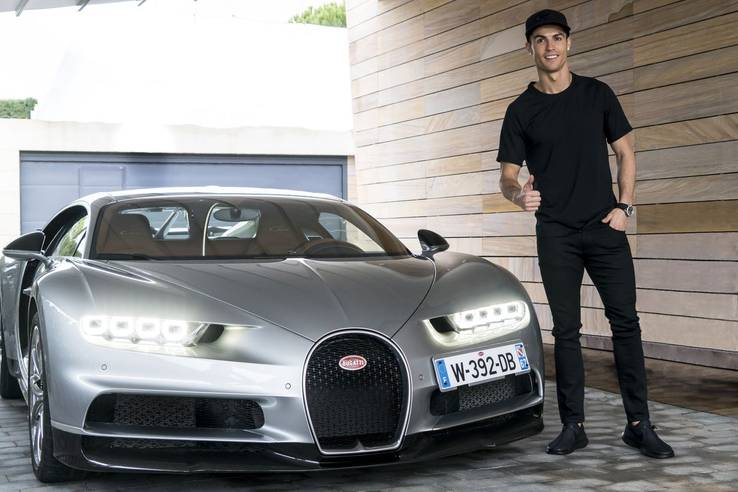 Even with the surprising popularity of Major League Soccer, the game of soccer as a whole is still not very popular in the U.S., which is a real shame seeing as it is the most played/popular sport in the entire world. There is a reason for that though, as virtually every single soccer game features a great deal of player embellishment, while the games themselves are usually low scoring affairs that end in ties. In the soccer world, there are quite a few notable names, with one of them being Cristiano Ronaldo, who is considered by many to be the best player in the world, as well as the greatest player of all time. The Portuguese forward currently plays for Real Madrid in Spain, but the crowning achievement of his career came in 2016 when he and the rest of Portugal's national team managed to win the Euro tournament. Ronaldo is one of the most marketable athletes in the world, and for the past two years, he has been the world's highest-paid pro athlete, which would explain his estimated net worth of $400 million. Ronaldo has several Bentleys, Ferraris, and Porsches in his collection, but his Bugatti Chiron is his most prized possession, as the value for one of the fastest cars ever made is around $2.5 million.
1

Floyd Mayweather: Koenigsegg CCXR Trevita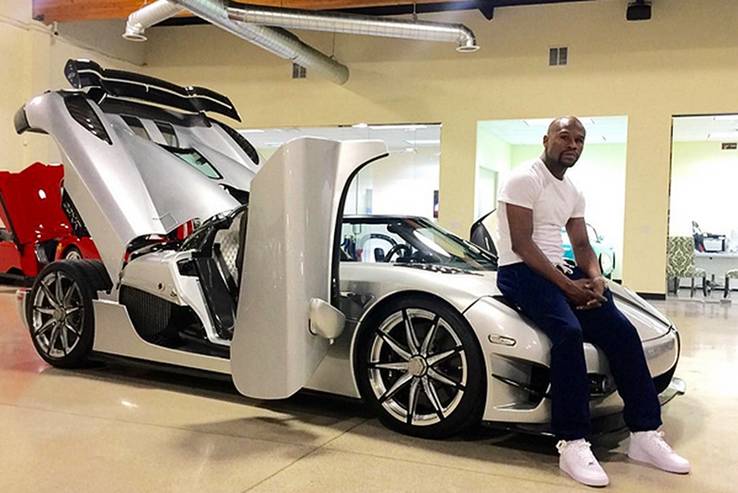 Last August the sporting world came together to watch Floyd Mayweather take on Conor McGregor in a boxing match, a match that was marketed into oblivion, and extremely over hyped. In the end, Mayweather won via technical knockout, and that win allowed him to finish his career with a perfect 50-0 record, which helped to cement his place in the pantheon of history's greatest boxers. As the best defensive fighter in the sport's history, Mayweather was able to generate 24 million pay-per-view buys, with the total revenue from all of his fights amounting to $1.67 billion, making him the biggest attraction in the sport's history as well. Over the course of his career, Mayweather has earned roughly $700 million, with his net worth currently sitting at around the $400 million mark, and it sits there because he has spent a lot of money on really expensive things. Like other Athletes, Mayweather has a collection of cars, but his includes the Koenigsegg CCXR Trevit, of which only two were ever made. This car produces over 1,000 horsepower, can hit 60 mph in 2.9 seconds, and has a top speed of over 240 mph; but the most impressive thing about this car is the fact that it cost Mayweather an incredible $4.8 million.
Source: Read Full Article