The Hollywood dating carousel never seems to stop. Everyday, the tabloids speculate about a potential celeb couple in the works, and most of the time, nothing seems to come to fruition; they are simply rumors. But, there are a few cases in which the headlines turn out to be true.
Typically what happens is that a dedicated paparazzo lurks around the streets of LA or NYC, camera in tow, hoping to grab a candid photo of a celebrity. When they finally get the opportunity to snap a few pictures, they may realize that another celeb is following close behind their intended target, igniting a potential dating rumor. If they are lucky, they may catch the rumored couple engaging in some unknowing public displays of affection.
Once the shutterbug sells the picture off to the highest bidder, the tabloids run with the rumor. Hollywood reporters contact sources close to the celebrities, trying to confirm the dating allegations. Next thing you know, a new celeb power couple is born.
Still, most of these stars try to keep their private lives out of the public eye. Although, they don't always do the best job at concealing their relationship. That leads us right into the latest rumors and speculation with 15 surprising photos of new celeb couples when they thought they were alone.
15

Emma Stone And Dave McCary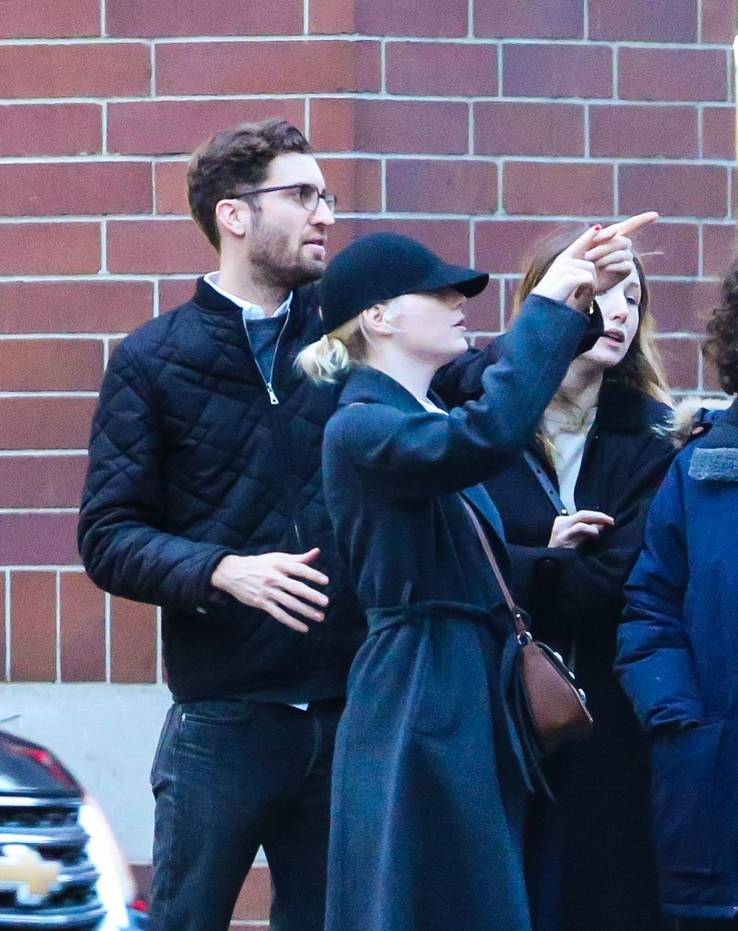 Lovable actress Emma Stone has an odd relationship history in Hollywood: she's always dated her co-stars. There was musician Teddy Geiger whom she me on the set of the 2008 comedy The Rocker, Kieran Caukin whom she met while filming The Paper Man, and of course Andrew Garfield whom she starred with in The Amazing Spider-Man. But recently, it seems like she's gotten sick of big-ego actors, and has settled with a more behind-the-scenes kind of guy: SNL director Dave McCary.
While they tend to keep their relationship behind closed doors, Stone and McCary were spotted together in the Big Apple back in November of 2017.
Per the Daily Mail, they went to catch a showing of the The Nutcracker. Stone hid from the paparazzi in a black cap pulled low over her brow, but the ever-seeing camera still got a glimpse of the actress. Perhaps there is another reason these two want to hide from the public eye? Speculation aside, the Easy A actress is busy building an empire as she is set to retain her title as Forbes' highest paid actress in 2018. She has upcoming roles in Disney's live action remake of 101 Dalmatians, where she stars as the wicked Cruella de Vil, and the period drama, The Favourite. Hopefully she has enough time to hang out with her new boy toy.
14

Lucy Hale And Riley Smith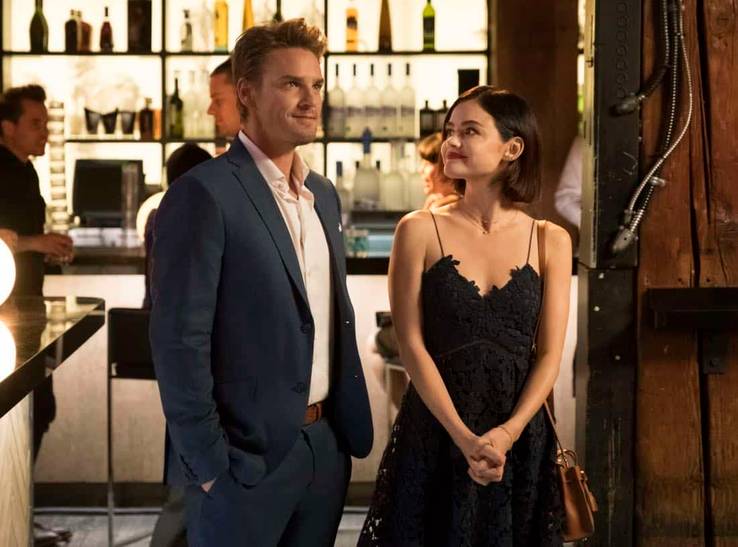 Actress Lucy Hale seems to be getting romantic, both on and off the screen with her co-star Riley Smith. According to US Weekly, the couple was spotted together sneaking in a quick smooch for Valentine's Day after Smith had bought Hale a lovely bouquet of flowers. A source close to the situation has said that the couple was extremely lovey-dovey, even as they were aware of lurking paparazzi.
The two celebs star in the CW comedy series, Life Sentence, which is about Hale's terminally-ill character seizing her last days on Earth only to find out that she's been cured, and then has to deal with the consequences of her supposed "last hurrah." In a recent Instagram post, Hale noted the show for being her "new chapter in life." She continued by saying "It was extraordinarily scary to start something new and lead the charge, but boy am I glad my heart led me here."
The Pretty Little Liars actress has also been linked to celebs like Anthony Kalabretta, Graham Rogers, Chris Zylka and David Henrie in the past, but it seems that Riley Smith is the future. For Smith, he's just looking to break out of the character actor mold and finally make it into a starring role.
13

Nick Jonas And Madeline Brewer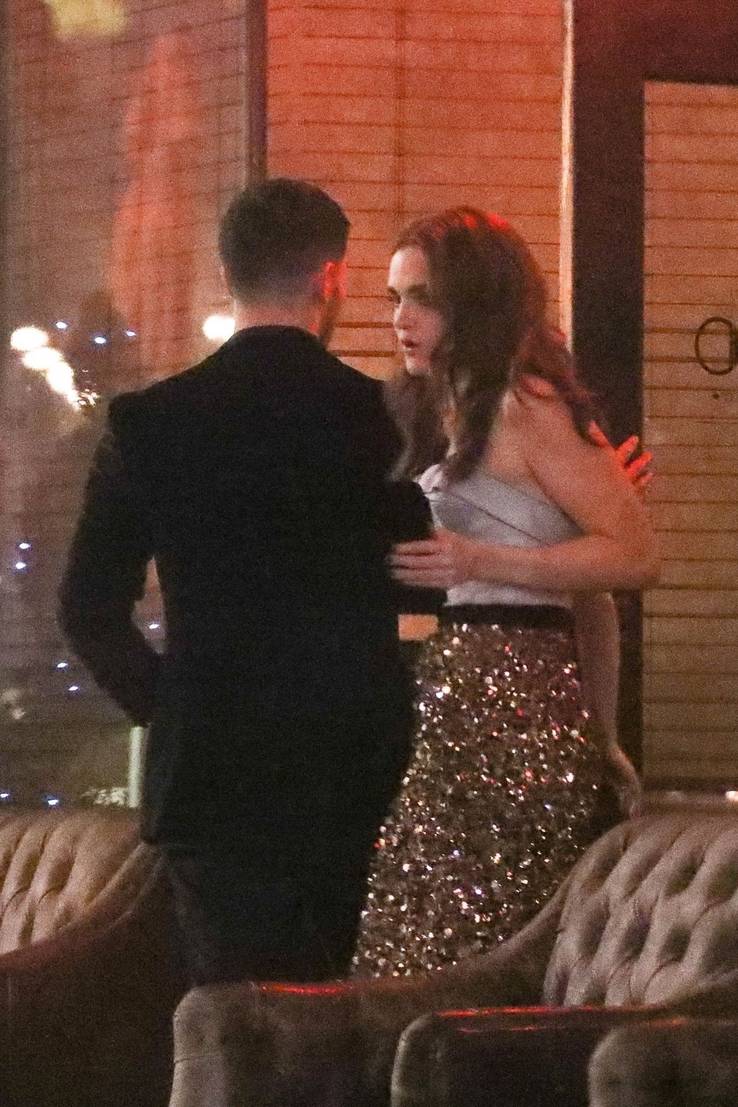 Once donned with a purity ring, singer Nick Jonas is now on the prowl to catch some of Hollywood's most elite star. In his early days in the spotlight, the most famous Jonas Brother was linked to big celebs like Miley Cyrus and Selena Gomez, yet he doesn't discriminate when it comes to the dating world as he's also been alleged to have had a fling with Kate Hudson. Most recently, the pop artist has been spotted with The Handmaid's Tale actress, Madeline Brewer.
According to The Blast, the two celebrities were seen romantically dining at the Italian restaurant, Via Veneto, in Santa Monica, California back in January of 2018.
Yet the actress, who also has starred in the hit Netflix series Orange is the New Black, has denied that she is dating Jonas despite the intimate dinner. On the red carpet of the Screen Actor's Guild Awards, Entertainment Tonight reporter Keltie Knight asked Brewer about the Jonas rumors, in which she refuted by saying that it wasn't an "official" date. She continued by praising the "Close" singer: "He's adorable, yeah. I mean that's just, like, objectively, yeah, he's a cute guy." While it Brewer's stumbling words gave fans hope for a future relationship, the Hollywood pair hasn't been spotted together since.
12

Chris Martin And Dakota Johnson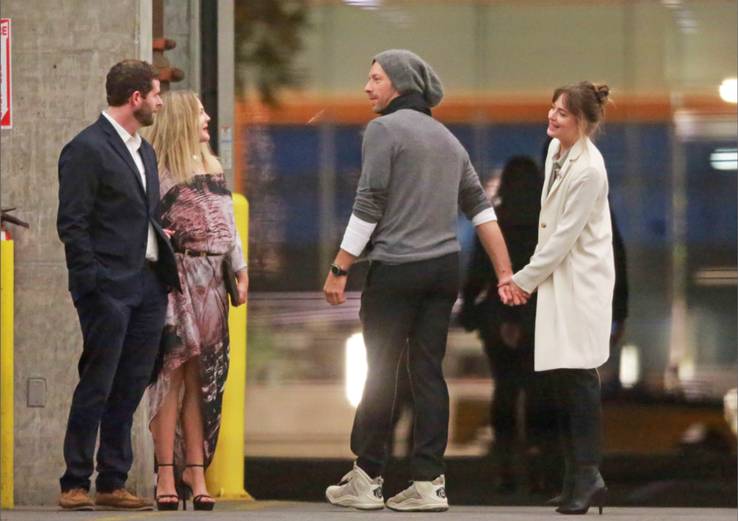 Coldplay frontman Chris Martin and Fifty Shades of Grey actress Dakota Johnson are a well-known commodity in Hollywood. According to People, the couple was first spotted together in October 2017 on a Sushi Date and they appeared to be "cozy, laughing and affectionate." Johnson has also been seen at Coldplay concerts sitting behind the sound stage, but it wasn't until Ellen DeGeneres' 60th-birthday bash until the rumors were confirmed.
Martin and Johnson were caught by the paparazzi romantically strolling hand-in-hand outside the venue. That's when the couple started chatting with Santa Clarita Diet actress Drew Barrymore and her unknown date. So maybe the picture itself isn't too juicy or revealing, but in combination with the party's guest list, the situation gets a little more interesting.
Also in attendance of the celebration were Martin's exes: Gwyneth Paltrow and Jennifer Lawrence. With the singer not in great terms with his "controlling" ex-wife Paltrow (who also brought her fiancé, Brad Falchuk), it is surprising that he brought Johnson to the party in the first place.
That love rectangle appeared to be one nasty confrontation away from an all out cat fight, but hey, the "Viva La Vida" singer is doing exactly that: living his life.
11

Baron Davis And Laura Dern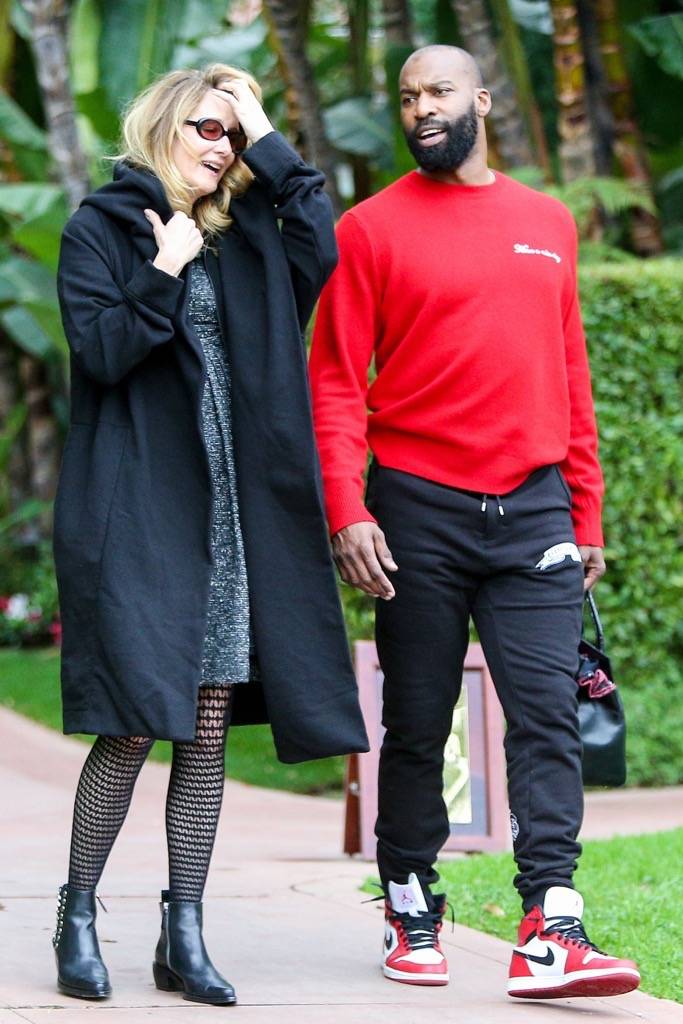 50-year-old actress Laura Dern has found an unexpected love in an otherwise tumultuous Hollywood dating pool: 37-year-old NBA player Baron Davis. According to US Weekly, the couple has trying to keep a low-profile after a December 2017 lunch date, but an eyewitness saw them "talking, laughing and having a great time."
The onlooker even added that they were showing some private displays of affection that turned out to be public.
Both celebs have gone through messy breakups in the past. For the Big Little Lies star, she divorced her husband of eight years, musician Ben Harper, in 2013, but her most devastating separation came in 1999 courtesy of Hollywood bad boy Billy Bob Thornton. The Bad Santa actor left Dern for the much younger and mysterious Angelina Jolie, as she later told ABC News." Davis on the other hand experienced a more recent break up when his wife of three years, Isabella Brewster, filed for divorce last June and sought custody of their two children.
While it is still unclear how the unlikely celebrity couple met, it's possible that Davis's ex sister-in-law, actress Jordana Brewster, may be the missing link. Again, that's only speculation, but how else do you think these two became an item?
10

Michelle Williams And Andrew Youmans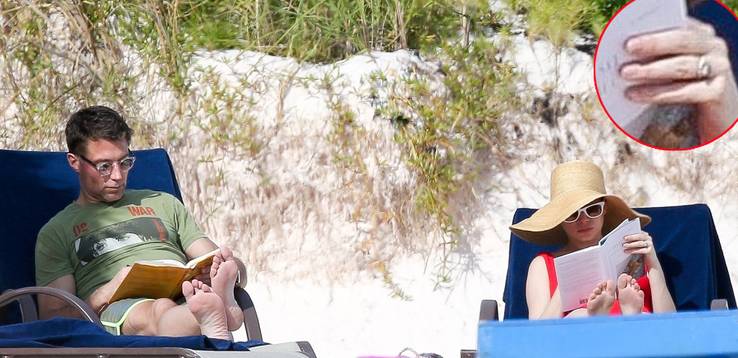 Golden Globe award-winner Michelle Williams has tried to maintain a quiet life out of the spotlight, and for good reason. The Brokeback Mountain actress began dating co-star Heath Ledger in 2004 and they had daughter together, but the relationship ended in September of 2007. Only four months later, Ledger passed away, leaving Williams as a subject of criticism in the tabloids. Yet, a decade later, it appears as if the 37-year-old has moved on as it appears that she's ready to tie the knot.
According to People Magazine, Williams has traded in the typical Tinseltown boy toy for a Wall Street hunk, as it has been confirmed that she is dating New York financial consultant, Andrew Youmans.
While the couple was spotted on the beach with what looks like an engagement ring, Williams has since downplayed the rumors, telling reporters on the red carpet of the Golden Globes that it was just a piece of "beautiful jewelry."
Youmans on the other hand may not be a regular in front of the camera, but he's made a decent career for himself nonetheless. He has degrees from both Dartmouth and Harvard, and has seen much success with his company, Yomo Consulting. Stepping down in 2011, he now simply invests in companies, leaving him plenty of time to dote on Williams.
9

Prince Harry And Meghan Markle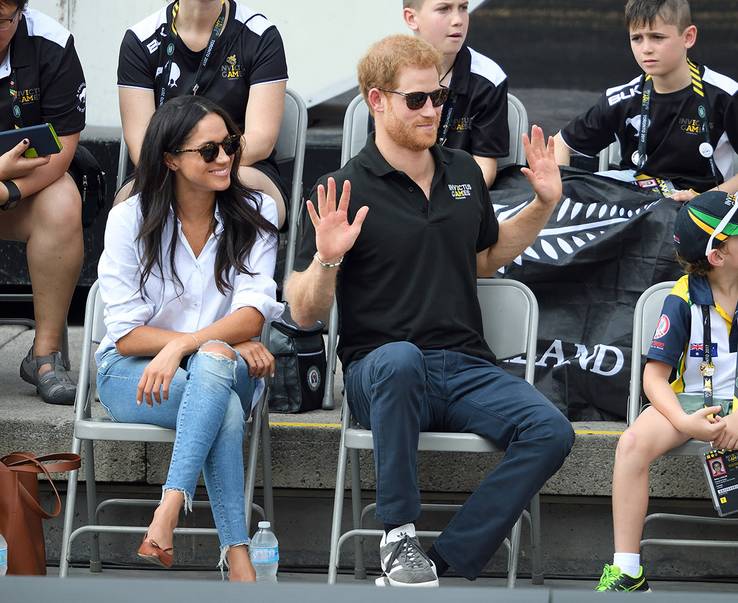 The newest royal couple has been making waves across the world. Prince Harry will be tying the knot with American Meghan Markle on May 19, 2018 on the grounds of the Windsor Castle. The wedding has been highly-anticipated by celebrities and lay people alike, with big names like Prince William and Serena Williams rumored to be in the wedding party. According to The Sun, several other celebrities will be in attendance at the ceremonies, including Sir Elton John and possibly the Spice Girls, yet politicians like Donald Trump, Barack Obama, and Theresa May did not make the cut.
The two love birds first met on a blind date set up by a mutual friend and instantly hit it off. Just weeks later, they took their relationship to the next level as they flew off to Botswana. Seriously, Harry? How are normal men supposed to impress their ladies with a trip to Africa after a few dates?
Commentary aside, the two finally announced their engagement in November 2017. Constantly surrounded by the paparazzi, there is no shortage of candid photos of the couple. Seen here, Prince Harry and Meghan Markle attended the Invictus Games back in Toronto in 2017. Harry looked to be getting a long great with the children at the event; perhaps there will be another royal baby in the future?
Featured Today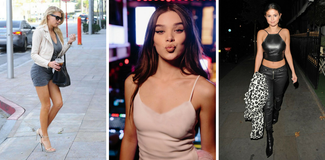 20 Female Celebs In Their 20s Who Are Still Single And Available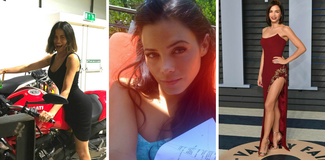 25 Photos Of Jenna Dewan (Now That She's Single)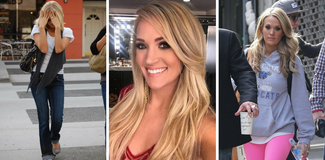 20 Things About Carrie Underwood That Make Fans Rethink Her Nice Girl Image

8

Dane Cook And Kelsi Taylor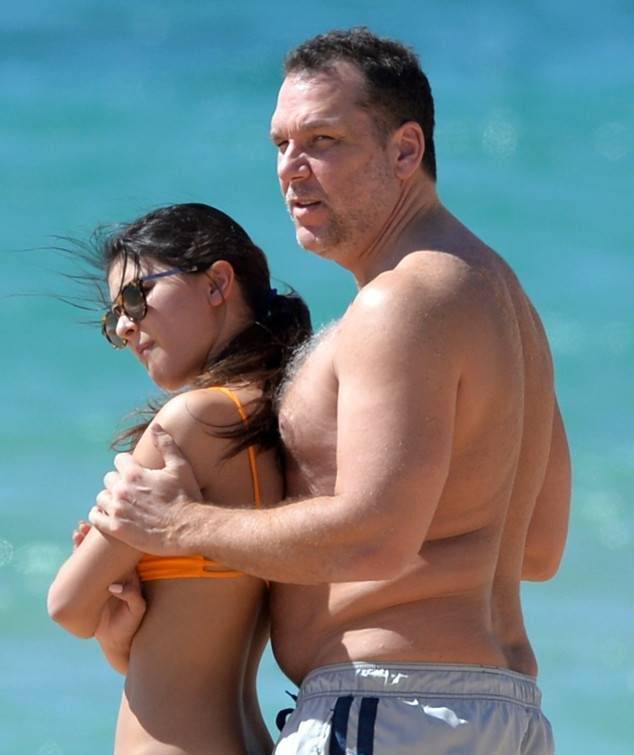 Age is only a number for 45-year-old comedian Dane Cook and his 19-year-old girlfriend Kelsi Taylor. The couple was spotted enjoying each other's company among the sand and surf in Hawaii back in February 2018. While Taylor looks like she has been maintaining her figure, Cook has added a few pounds over the years.
The Good Luck Chuck actor was at the top of the comedy world in the mid-2000s, but due to a few insensitive jokes and incidents, he quickly fell out of the spotlight. Per Entertainment Weekly, he performed a tasteless joke about the 2012 Aurora, Colorado movie theater shooting, just one week after the massacre. Also in 2015, he was banned from performing at the Laugh Factory in LA, where he was a regular, stemming from an argument with a waitress that escalated into a shouting match.
As for Dane's young GF, you may have never heard of her before, and that's because she's still trying to make it in Hollywood.
According to People Magazine, Taylor has performed background vocals for artists such as Demi Lovato and Little Big Town. She has been trying to further her solo career, producing a few covers of famous songs here and there, but nothing that has caught on quite yet. With her famous boyfriend by her side, expect to see Kelsi Taylor on the Billboard charts within the next few years.
7

Justin Bieber And Selena Gomez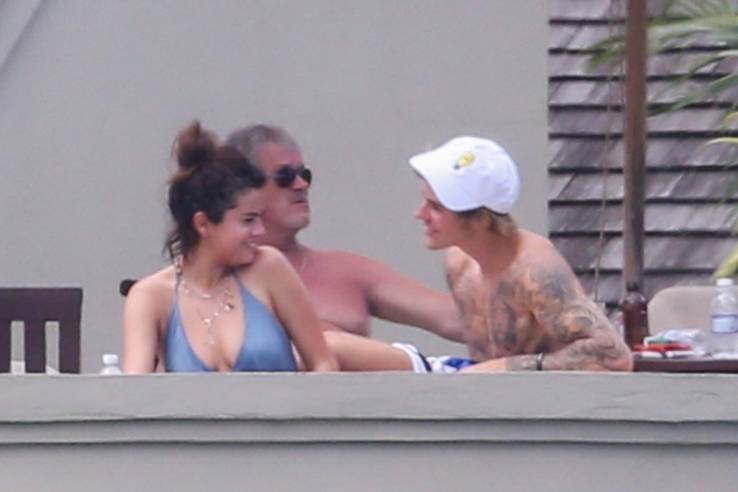 Justin and Selena have had an on-again off-again relationship for years. Recently, they rekindled their romance in Jamaica for Bieber's father's wedding. The paparazzi caught the two love birds cuddling up by the pool and showcasing some PDA. They looked to be having a blast, but their tropical paradise was short-lived, and when they got back to the states, the couple finally broken up for good.
According to the celeb gossip site Hollywood Life, Bieber has come to terms with his split from Gomez and thinks their relationship is over forever. Per a source close to the Biebs, "[Justin] thinks about Selena all the time, but he is also realistic and knows he can't continue to bother her if she doesn't want to be with him." It looks like the "Love Yourself" artist will have to do exactly that from now on: love himself.
The power couple's brief fling came after Selena cut ties with musician The Weeknd after dating for ten months, and the singer recently released a song on his latest album chastising Gomez. He noted that he was just another "pit stop" in her dating life. As for the 24-year-old Bieber, it appeared that he was simply just the rebound relationship.
6

Camila Cabello And Matthew Hussley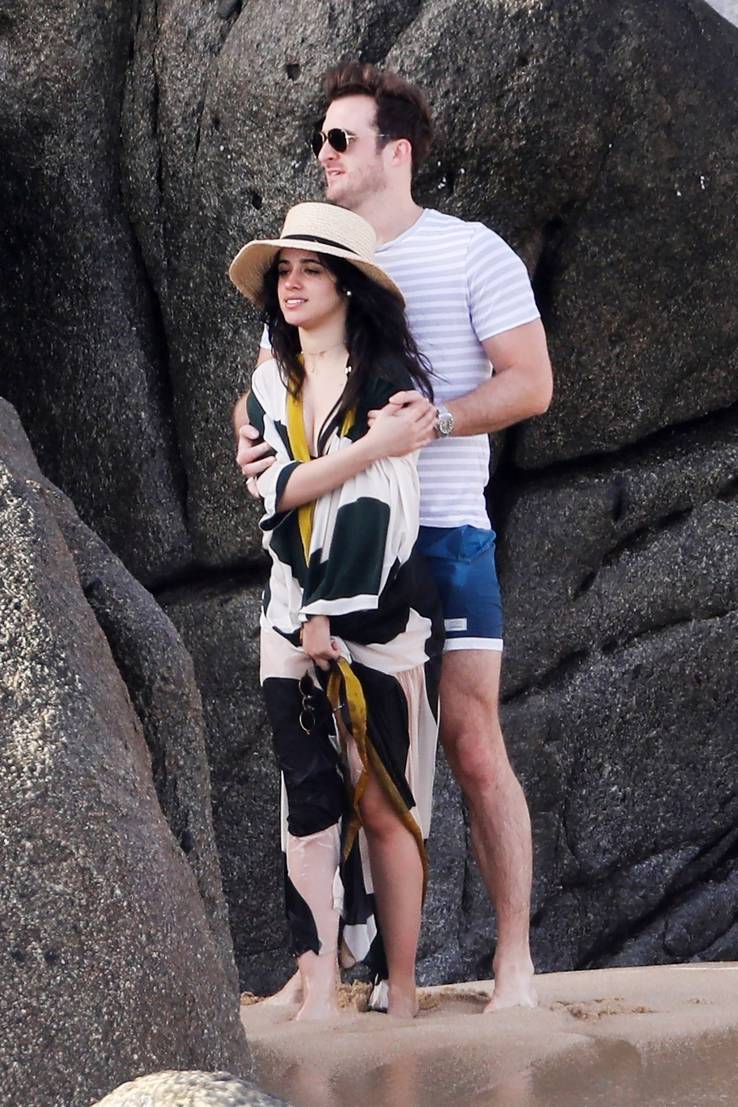 Former Fifth Harmony member, Camila Cabello, has finally made a name for herself outside her former group's shadow. She has teamed up with artists like Machine Gun Kelly and Kane Brown to skyrocket up the Billboard charts. On top of her budding career, Cabello is thrilled about her relationship with British dating coach (yes, that's a real thing), Matthew Hussey.
According to E! News, the couple was spotted behind the rocks in Cabo getting some much needed alone time. Little did they know, there were shutterbugs lurking in the sand to snap a photo. While they were watching the sunset over the ocean, an eyewitness said that there was "lots of PDA and smiles."
But, it's still no secret that the Cabello and Hussey are madly in love, as she told The Dan Wootton Interview podcast that "I am really, really happy… I feel like I've never been happier in my life." Although, the 21-year-old "Havana" singer knows the spotlight of Hollywood can be extremely detrimental to building a relationship, so she tries to keep her dating life behind closed doors. In the same interview, she said that "I need to keep some things mine for them to be special—and just to protect that." Unfortunately, there will always be group of cameras waiting to get a perfect shot of the couple to sell to the tabloids.
5

Aaron Rodgers And Danica Patrick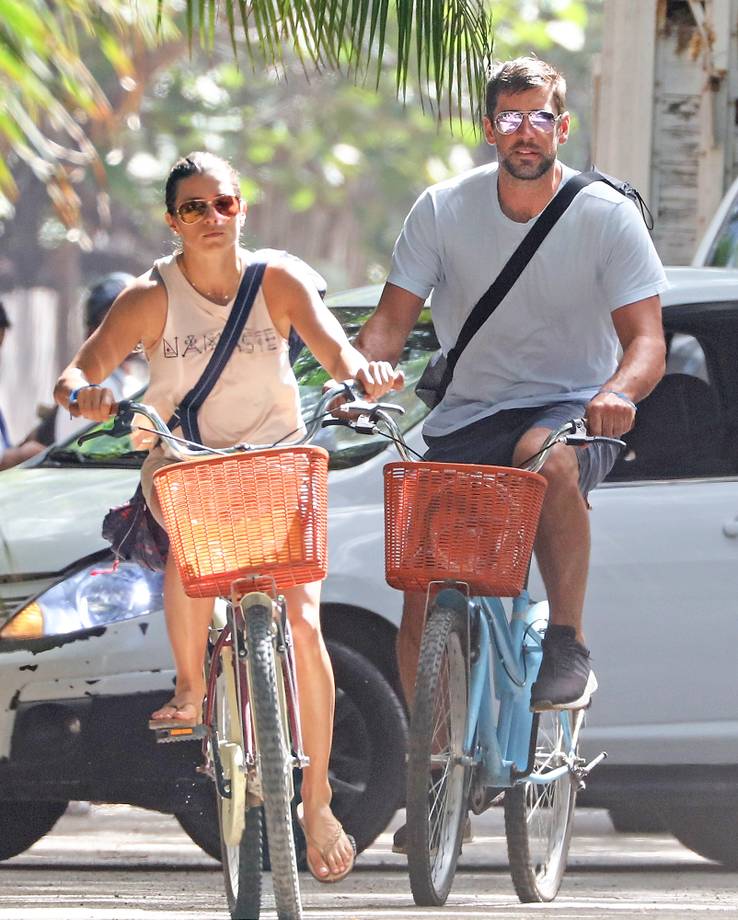 Green Bay Packers quarterback Aaron Rodgers and former NASCAR driver Danica Patrick have slowly been coming out into the spotlight as the premiere celeb sports couple. While they have tried to keep there relationship under wraps in the past, Patrick confirmed that she was in fact dating A-Rod in January 2018. The two celebs met all the way back in 2012 at the ESPY Awards, but were only "friends." That's because Danica was taken for nearly a decade as she was married to physical therapist Paul Hospenthal, while Aaron was dating Hollywood Actress Olivia Munn.
Now, both Rodgers and Patrick seem to be more comfortable in front of the cameras as compared to this February 2018 bicycle pic from Mexico. According to ESPN, both athletes were recently spotted sitting courtside at the Milwaukee Bucks basketball game. Rodgers was being honored for purchasing a minority stake in the Wisconsin NBA team.
Yet it hasn't been all butterflies and rainbows in the couple's relationship. Patrick's father recently took a shot at Rodgers when it came to the issue of the NFL's anthem protests. T.J. Patrick, like this rest of blue-collared NASCAR, has been a vocal advocate against kneeling during the anthem, while Rodgers has voiced his support for the players. That's got to be one awkward family dinner!
4

Shailene Woodley And Ben Volavola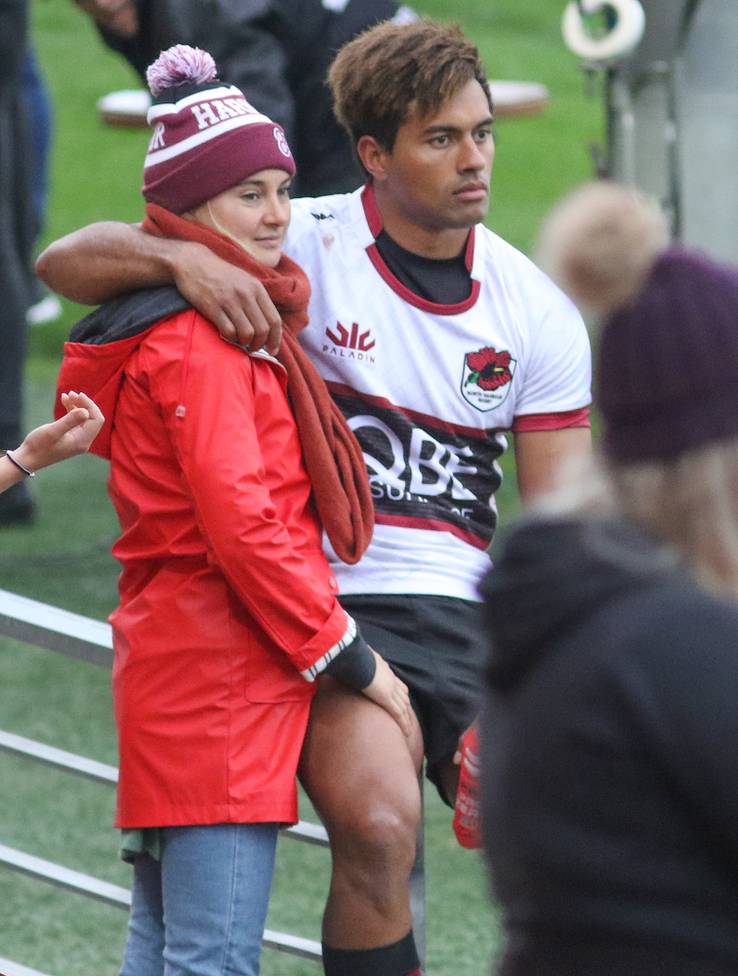 The Secret Life of an American Teenager star, Shailene Woodley, doesn't have such a secret love life anymore. When she's not protesting with the Native Americans at Standing Rock, the 26-year-old actress is spending time with her rugby player boy toy, Ben Volavola. According to People, the couple was first spotted outside a cafe in Auckland, New Zealand, and was later photographed cuddling up at Volavola's rugby practice. As you can see from Woodley's hand position, these two are pretty serious.
So how did this odd couple come to be? Well, per E! News, Woodley met Volavola in Fiji while she was shooting the film Adrift about a woman sailing into a hurricane to save her loved one. Maybe the couple's story isn't so dramatic, but from Woodley's Instagram, you can see that they are truly into each other.
Yet unlike her fellow Hollywood entertainers, the Divergent star isn't used to being in a committed relationship. She told Teen Vogue in 2014 that she "literally [has] not had a boyfriend in almost five years." That's probably why they have such a fairytale romance: Woodley missed out on the cheerleader/quarterback relationship in her younger years, and is simply reliving every 90s teen movie in her 20s!
3

Justin Theroux And Aubrey Plaza
For all of you that are paying attention, former Parks and Recreation co-stars Justin Theroux and Aubrey Plaza aren't exactly dating, but that didn't stop the tabloids from speculating about a potential relationship. After being spotted strolling together on the streets of the Big Apple (and also entering Theroux's apartment), both actors dispelled the rumors that there was anything between them, with sources telling People that "they met to discuss a potential film project."
The reason the rumors caught on so quickly is because of Theroux's recent highly-publicized split with actress Jennifer Aniston. According to Reuters, the former couple released a joint statement in February 2018 announcing their mutual separation "but look forward to continuing [their] cherished friendship." Even though the big news from the break up is the potential of a Pitt-Aniston reunion, the smaller headlines appear to show that Theroux is taking the split like a champion, with sources saying that "he's just doing his thing. He eats at the same time, goes to the same places, hangs with the same people."
As for Plaza, the 33-year-old actress has been dating screenwriter and director Jeff Baena since 2011. The couple has worked on films together like Life After Beth and The Little Hours, somehow maintaining steady relationship in the process.
2

Chris Pine And Annabelle Wallis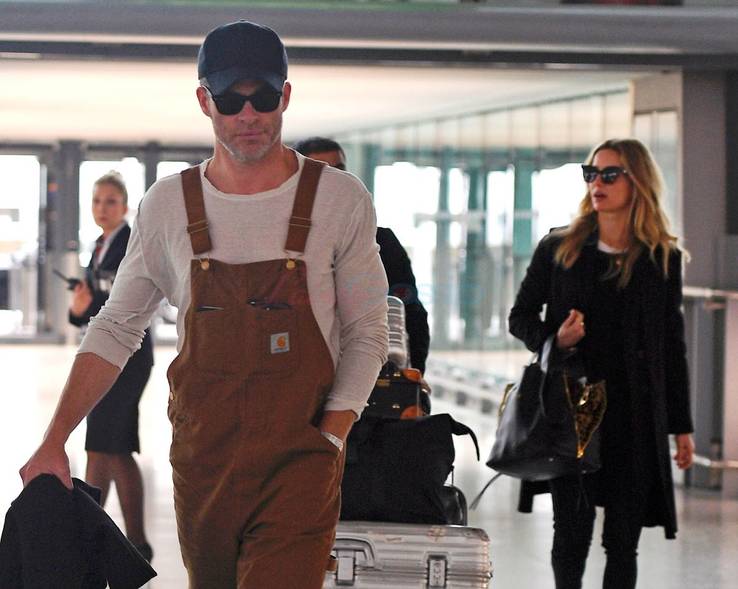 It has been confirmed! Chris Pine and Annabelle Wallis are indeed a couple. According to Us Weekly, Wallis was seeing another man when she met Pine, but "Chris was very attentive and wooed her to get her attention away from the other guy." They were spotted at London Heathrow Airport dressed in heavy disguise (Pine looks like a fashionable electrician) and walked a few meters apart to avoid any suspicion. Yet, a lucky paparazzo was able to capture the moment.
Aside from his new relationship with Wallis, the 37-year-old Pine has been busy shooting the newest film in the Star Trek series, where he portrays Captain James Tiberius Kirk, once played by William Shatner. On top of that, he has seen huge successes in the box office with his roles in Wonder Woman and A Wrinkle In Time.
As for the 33-year-old Wallis, she got her start by portraying Jane Seymour on Showtime's period drama series The Tudors, but has recently transitioned to the big screen, starring alongside Tom Cruise in the 2017 remake of The Mummy. Needless to say, if this duo can stick together through the pressures of Hollywood, then they may emerge as one of Tinseltown's most successful power couples.
1

Emma Watson and Chord Overstreet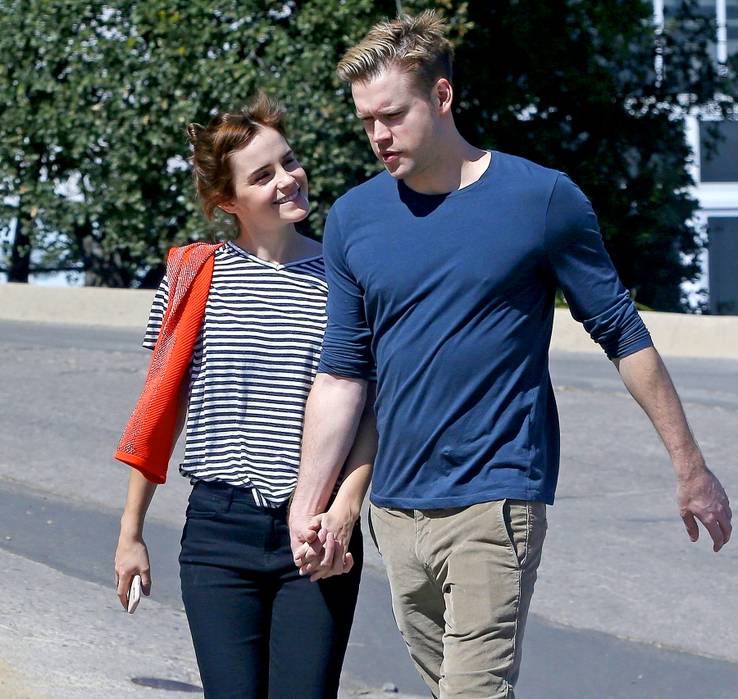 27-year-old Harry Potter star Emma Watson must have cast a spell on fellow actor Chord Overstreet, as Us Weekly has confirmed that the couple has been dating since around the beginning of the year. A source close to the the "Hold On" singer told the tabloid magazine that "they are definitely hanging out and hooking up."
Rumors started when the couple was spotted leaving the Vanity Fair Oscars after party together, and speculation grew when they were seen on a date at a concert. But they finally made it official when the cameras spotted them strolling hand-in-hand along the streets of LA, seemingly filled with glee as they soaked in the sunshine.
In the past, Overstreet has been linked with celebs like Taylor Swift, Rumer Willis, Emma Roberts, and Brooke Butler (among a slew of other beautiful ladies), so it doesn't seem that he is too picky when it comes to relationships. Watson on the other hand has a staunch dating policy: no celebrities. The British actress told Elle Australia in 2014 that "I don't date people who are famous" since she doesn't want anyone's dirty laundry aired out to the public. Although, something about Overstreet must have really struck a chord with the Beauty and the Beast actress, as she seems to breaking her own relationship rules!
Source: Read Full Article