Emma Stone is definitely an A-list actress and her star just seem to go higher in the sky by the day. We love Emma's sense of style, her weird friendship with Jennifer Lawrence, and even her super close and (sometimes) inappropriate friendship with Ryan Gosling.
We have seen her in awesome movies like Crazy, Stupid, Love, Easy A, The Help and La La Land. She's a very sought-after actress in Hollywood these days and we can't believe no one has swept her off her feet yet. She has insane chemistry onscreen and off and she's just the kind of girl that you want to hang out with all the time. She's been called a "ray of sunshine" by people in the industry. That's a pretty great compliment and it makes us want to meet the girl for ourselves. There have been a lot of great things written about the actress over the years. We've also heard a lot of weird things as well, like the fact that she doesn't really like to be hugged.
Good or bad, this girl has spirit and the best part about her is that she is able to find humor in almost any situation. She's someone that likes to keep her personal life private and we can't help but respect her for that. Check out these 15 things about Emma Stone That make us love her even more and 5 that don't sit right with us.
20

She's So Awkward, It's Hilarious 
This girl, like we said, can find humor in almost any situation and that's part of why we love her. When it comes to doing a love scene, even those scenes can make her feel awkward. Apparently in the movie Easy A she got an asthma attack when it came time for a love scene. Emma Stone was supposed to fake a love scene and she had a hysterical reaction. The scene in the movie took place at a high-school party and Stone's character was going to help a guy friend out by pretending to be intimate with him so their schoolmates would stop thinking he was gay.
When she was filming the scene, it was hours of jumping up and down on the bed and screaming like a lunatic. What she put herself through caused an asthma attack, but at least she was able to laugh at herself in the end. She was interviewed by MTV and said, "Oh for the love, I can't even simulate sounds without dying." We love the fact that she sounds like she is so much fun to be around. We could imagine her doing that scene and then having to stop for an asthma attack.
19

She Has A Thing About Being Hugged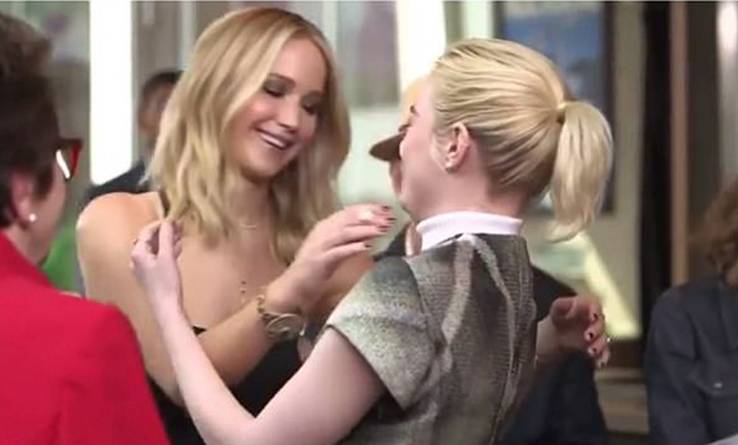 One weird thing about Emma Stone is that she's not a big fan of being hugged even with people that she really likes. Her and Jennifer Lawrence are super close and they became fast friends quickly over text message. They finally decided to meet to truly cement their friendship, but it didn't go as planned. If you thought Jennifer Lawrence was awkward, you haven't seen anything like Emma Stone. The two met at the Toronto International Film Festival and Lawrence tried to hug Stone, but Stone wasn't having any part of it.
It was so awkward, many people thought the friends were fighting at the time.
No need to worry though the two are closer than ever, Stone is just a little weird. The two often go to dinner together or to see their friend Adele in concert. NBD! Lawrence has talked about the friendship. "She texted me that she got my number from Woody," Lawrence told Vanity Fair. "I replied, 'eff off!' And we've been really good friends ever since." The two texted each other every day for a year before they even met. "I feel like it was our version of The Notebook — 365 texts," Lawrence joked to Vanity Fair.
18

She Speaks Out About Real Issues
Emma Stone has had to deal with a lot of anxiety in her life over the years and that may have something to do with why she appears to be awkward at times. The great thing about it is she doesn't mind talking about it. "Do you know Jesse Eisenberg and I both had our first panic attack at eight? I had separation anxiety, I worried my house was going to burn down, I was wringing my hands all the time, and so my parents took me to a therapist." She wants to talk about her experiences in the hopes that it will help someone else with their own struggles. The more women that speak up, the more it will encourage others. She learned to cope by focusing on improv.
"Improv was my sport. I learned how to not waffle and how to hold a conversation, how to take risks and actually be excited to fail."
It's pretty cool when a celebrity is willing to put themselves out there and talk about something that may make them uncomfortable. It's a great thing when you see them want to help others out even though they are exposing themselves publicly.
17

She Was Devastated Over An Oscar Loss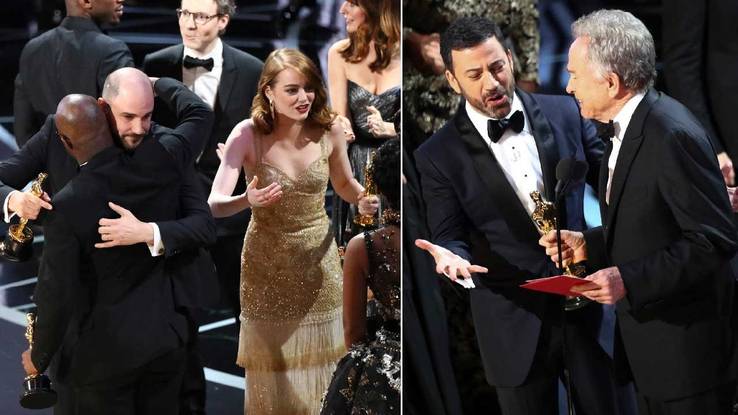 When it came to the Oscars in 2017, Emma Stone won an Oscar for her performance in La La Land. She thought that the movie was also going to get Best Picture as well because of a blunder that was made by Warren Beatty. We've probably all heard about the mistake that was made at the Oscars and the fact that Ryan Gosling had a good laugh about it. Warren Beatty and Faye Dunaway announced that La La Land was the winner when it was really the movie Moonlight that won. Stone and Gosling, among others, were on stage when it was announced that a mistake was made. Emma Stone must have been looking for more accolades because she was devastated by the mix-up and told Daily Mail about it.
"One of the most horrible moments of my life. Wow! It was just so horrible."
We are kind of shocked by her reaction. For one thing, it wasn't even an Oscar just for her. We could see if she lost out on the Oscar that she actually won but one for the movie doesn't really affect her directly. We think it was an extreme way to act and really, it was the "most horrible moment of her life?" There's just not something right about that.
16

She Loves To Give Pep Talks
Emma Stone loves everybody and she's all about self-love. She wants people to take care of themselves and treat each other with love. She may be just a young woman, but she seems so much wiser than her age. She's often been quoted in her quest for girl power. "My great hope for us as young women is to start being kinder to ourselves so that we can be kinder to each other." It's the best advice that anyone could give anyone and we love that about her.
"To stop shaming ourselves and other people: 'too fat, too skinny, too short, too tall, too anything.' There's a sense that we're all 'too' something, and we're all not enough."
She's a down to Earth actress that really just wants the world to be a better place. She can just keep inspiring the world and we will love her any more. There aren't too many genuine actresses in the world and she's one that takes the cake. No wonder so many people love Emma Stone. "I think the number one thing that I find important is the importance of honesty with your friends and your parents, if you can be. But I think that telling people how you really feel, being who you truly are, being safe and taking care of yourself is the most important thing."
15

She Wasn't Willing To Start A Family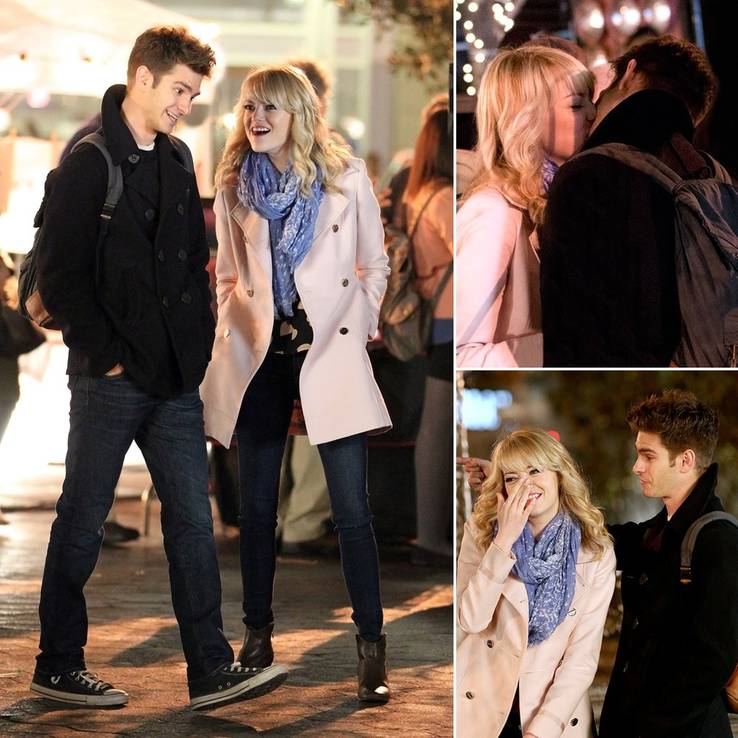 It seemed like Emma Stone and Andrew Garfield were the perfect couple. Everyone was waiting for the engagement announcement but instead were shocked to find that they broke up. Apparently, he was all ready to settle down, but it was Stone that wasn't ready. We get it, she's still young and her career is on the upturn right now. It just may not be the time to start having a family. But instead of waiting, she just broke off the whole relationship. They had their differences and they just couldn't see eye to eye. "Andrew was all about starting a family, and began pressuring Emma about two years ago," a source told HollywoodLife.com. "She kept saying she wanted kids, but wanted to focus on her career first." At the time, Andrew was 33 and didn't really want to wait any longer. He tried to hold on to the relationship, but in the end, she just wasn't ready.
"Andrew decided to compromise and wait it out, but Emma just kept stalling and stalling,"
the source continued. "He's 33 now, and doesn't want to wait anymore." It's too bad she wasn't willing to stick it out because they really were an adorable couple.
14

She Wants The Paparazzi To Focus On Better Things
We're sure every celebrity in Hollywood wishes that the paparazzi would find something better to do with their time. Unfortunately, it's unlikely that it's ever going to happen, but Emma Stone is trying to get their attention. One time, when she and then-boyfriend Andrew Garfield were having lunch, the paparazzi started stalking them. Stone took it upon herself to send them a little message. The two held up postcards to get the attention of cameras and it just shows how cool these two people are. The generosity of the couple blew people away. The Kardashians are trying to get fame any way that they can and yet Stone doesn't want the attention at all.
Her postcard read, "Good morning! We were eating and saw a group of guys with cameras outside. And so we thought, let's try this again. We don't need the attention, but these wonderful organizations do…" Andrew Garfield's postcard listed a bunch of organizations that could use a little attention. The organizations listed concerned youth mentoring, autism awareness, and the Worldwide Orphans Foundation. It was a pretty awesome gesture and it's just one of the reasons why we love her.
Featured Today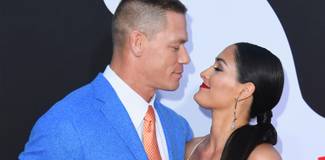 John Cena Tweets After Splitting From Nikki Bella

10 Celebs Who Rely On Their Nannies For Parenting (And 10 Who Raise Kids On Their Own)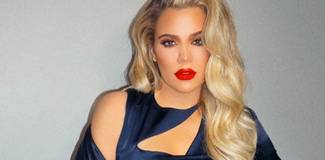 Khloé Kardashian Drops Big Money On Her Baby's Travel Gear

13

Emma Stone Is The Most Awkward Actress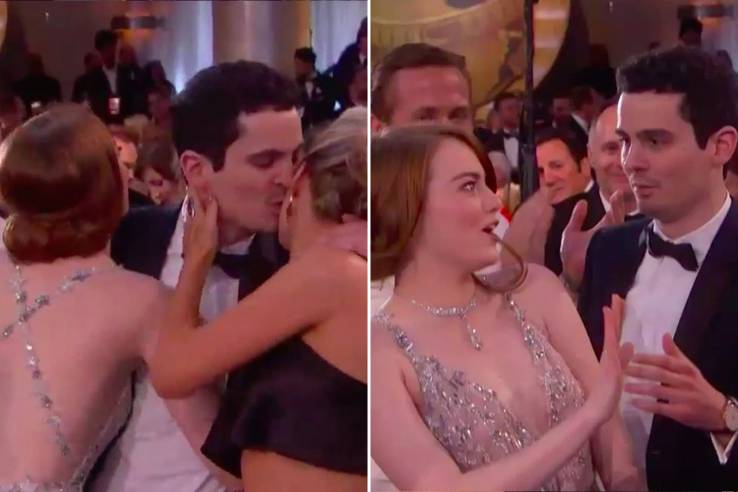 Sometimes, Emma Stone gets in situations that just make her end up looking weird. Her behavior at times can get so weird that it sits oddly in our stomachs. We can't even believe the awkward moments she gets into sometimes. She completely embarrassed herself one time at the Golden Globes this year and she has had to spend many interviews since then living it down. She was trying to connect with director and screenwriter Damien Chazelle at the awards show and it turned into a big incident. She got up to hug the director just at the same moment that he leaned in to kiss someone else. The timing was all off and although Chazelle didn't mean to turn down the hug from Stone, it embarrassed her to no end.
"Damien certainly wants to hug not me. I'm not a highly choreographed person,"
she told Jimmy Kimmel. We feel so bad for Stone because she really seems to insert herself into these weird situations and her awkwardness is so intense that it's borderline weird. It might have a lot to do with her anxiety, but situations like what happened at the Golden Globes probably don't help.
12

We Love Her Friendship With Ryan Gosling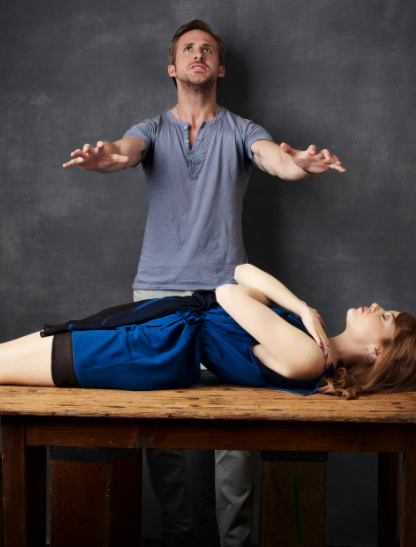 Part of their friendship is the fact that they have amazing chemistry together. They have been in three movies together such as Gangster Squad, La La Land, and Crazy, Stupid, Love. These two are each other's biggest fan and the things that they have said about each other really has made us wonder why they never got together. These two are often seen together at events and they are always laughing together. After Crazy, Stupid, Love came out he couldn't say enough good things about the actress. "She's everything, all the time. There's no one like her. As soon as she signed on for this movie, I knew it was going to be good." It's not the first cute thing that he has said about her.
"The whole film depends on my character giving it all up for her. When she came in the room, it all made sense. Show me someone that wouldn't give it all up for Emma Stone, and I'll show you a liar."
Wow, seriously and these two never got together? We can't believe that these two aren't the couple of the year. It may have had something to do with the fact that she was with Andrew Garfield at the time.
11

Emma Stone Is Not Her Real Name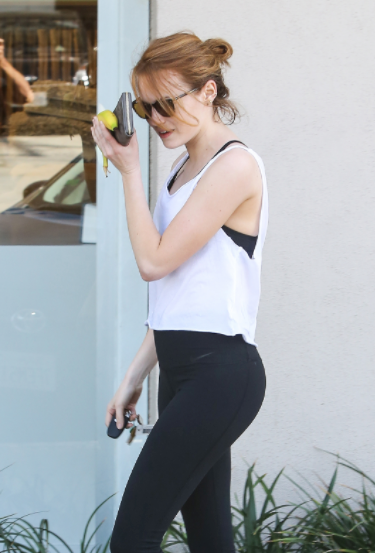 You might be shocked to find out that Emma Stone's real name is Emily Jean Stone. She had to change her name when she registered with the Screen Actors Guild because there was already an Emily Stone on the list. At first, she thought of changing her name to Riley which we can't even picture.
"I landed a guest spot on Malcolm in the Middle, and one day they were calling, 'Riley! Riley! Riley! We need you on set, Riley!' and I had no idea who they were talking to. At that moment, I realized that I just couldn't be Riley."
There are lots of actors in the industry that have stage names and some of them have changed their names to more "Hollywood" names so that they would get more attention. "My real name is Emily Stone, but when I started acting, that name was already taken by another actress, so I had to come up with a different one," she told the magazine. We can't imagine her name being Riley or Emily, though Emily is a lot closer to her real name. She has stated that she wishes that she could have her name back and we're not really sure why she even cares. "I would love to get her back," she said.
10

She Is Very Ambitious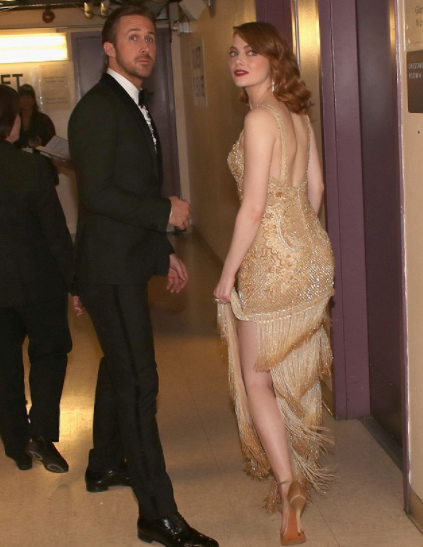 She really wanted the part of Claire Bennet in Heroes and actually auditioned for the part. She was devastated when she didn't get the part. She didn't get the part obviously and she considered that moment to be rock bottom for her. She found the audition to be difficult and she was actually there when Hayden Panettiere got her audition and of course, got the role. She told Vanity Fair,
"I could hear that, in the other room, a girl had just gone in and they were saying, 'You are our pick. On a scale of 1 to 10, you're an 11. I went home and just had this meltdown."
Obviously, the girl that came out of the room was Panettiere and she was probably riding on cloud nine because she ended up being the actress chosen for the role. That day was "rock bottom" for Stone, but it also made her want to work even harder for the career of her dreams. When it came to her next audition for the series Drive, she decided she was really going to let loose and she ended up getting the role. After Drive came Superbad and we know what that led to.
9

She's A Really Good Friend To Have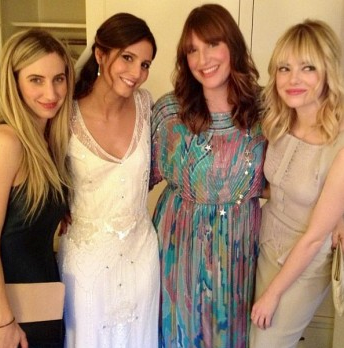 We're not talking about how close she is to Jennifer Lawrence; we're talking about the time she became an officiant for her friend's wedding. We never knew that she was qualified to be a minister. She actually got ordained in 2012 just so that she could marry her publicist Holly Shakoor. That's really being a true friend. Holly could have found her own minister but since it was Emma who set her up with her husband, she figured it would be cool to have her act as the minister for their wedding. While filming Gangster Squad, Emma set the director, Ruben Fleischer, up with Holly and the rest is history. She was honored to be the one ordained to marry the lovebirds.
We would all probably have her ordain our weddings if we could no matter how weird it is. Maybe she would even crack a joke or two during the ceremony, how epic would that be? Not only is she a model and actress but now she can add minister to her list. "I just live my life how I live as a person. I certainly am not, like, a saint or an angel by any means. I'm not anything like that. But I live just how I live. I mean, I have a little paranoia, but that's about it."
8

Her Friends Think She Should Stay A Redhead
It's surprising just how a hair color can change someone's perception of you. When we see a blonde, we skip to judgment and we do the same with most any hair colors. We think that Emma Stone is an absolute fox as a redhead though she has also been a brunette and a blonde at one time or another. She has had somewhat of a hair evolution over the years and one of her friends thinks that she looks funnier as a redhead. "When I dyed my hair red again, my best friend since I was 11 walked into my apartment and said, 'You know, you look funnier as a redhead – you looked like such a b**** when you were blonde."' We would have to agree, though,  we approve very much of her redhead status. She gets her humor from her parents who have always been supportive of her.
"My parents are both very funny but they're also relatively soft-spoken, normal human beings while I'm just a lunatic. I don't know where this loud, ballsy, hammy ridiculousness came from. I'm just glad I followed my goals and my parents did too.
It's not like we even had a plan when I dragged my mom to Los Angeles."
7

She And Her Mother Have Matching Tattoos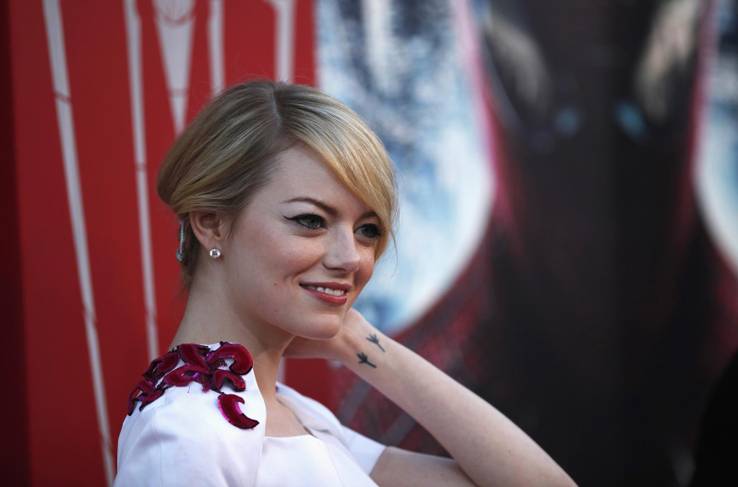 That's obviously something special that the two can share. We knew there was a reason why we thought she was perfect, to begin with. She and her mother share a special bond together and they commemorated that with a tattoo. If you have ever seen the tattoo of bird's feet on Stone's wrist, then you will have seen the matching tattoo that she has with her mom. There's a story behind the tattoo and we have to say it really is a special one. She and her mother shared a special song together as she grew up and it was Blackbird by the Beatles. Her mother went through a battle with cancer and thankfully she is now in remission.
At the time, Emma penned a letter to Paul McCartney and asked if he would draw her a picture of two little bird feet. He was more than happy to do so.
When he sent Emma the drawing, she and her mother went to get the tattoo done. She told BBC America that it was her first tattoo and she's unlikely to ever get another one. That's something special that she can share with just her mother. That's a pretty cool story.
6

Emma Stone Laughed At Mean Tweets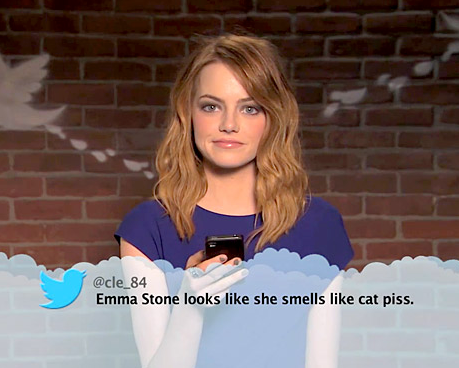 Jimmy Kimmel cracks us up every time he has celebrities on to read the mean Tweets about themselves. These tweets are pretty awful, but at least these celebrities can laugh at themselves. Emma Stone is one of the actresses that has been on the show to read the mean tweets. Emma was able to laugh at herself and the look on her face when she read the tweets were priceless. She read off a tweet that said, "Emma Stone looks like she smells like cat piss." Seriously, where do these people come up with this stuff? She read the tweet with an unimpressed look on her face and replied simply with an "Okay…" and that was the end of it. We honestly can't imagine how these celebrities deal with all the mean stuff that is said about them on a regular basis. It's a wonder they ever go on social media again. We can't imagine what goes through their heads when they are forced to read this stuff and it's not even accurate, it's just random and mean comments about them. She handled it well.
5

She's Extremely Talented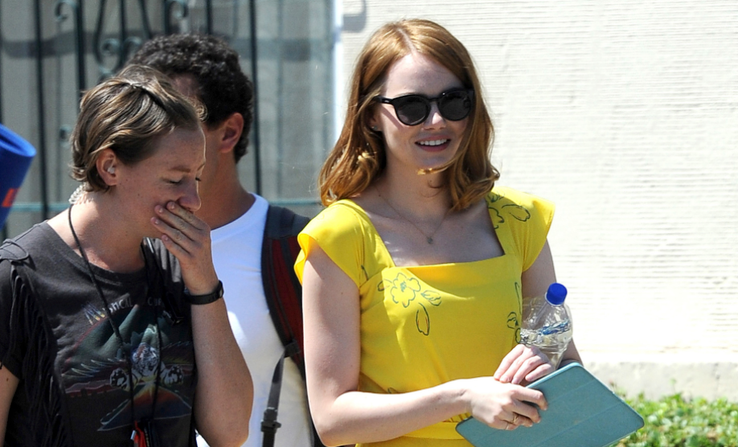 After watching her in La La Land, there is no denying that this girl is really talented. She has come a long way from Superbad and she should really be proud of herself. Not only can she act in an amazing way but she can also add singing and dancing to her resume. She was actually a stand-in at one point for Michelle Williams in a Broadway play called Cabaret. She had to sing and dance all while staying in character, that's just how awesome she is. It was that moment when director Damien Chazelle saw Emma Stone and knew she would be the perfect actress for La La Land. Talk about great timing. We loved her raw performance and even though she's not the best singer out there, you know she is still rocking every moment. She has said that at times she can be her own worst critic, but she is trying to work on that.
"When I look back, I don't have regrets.
In the moment I am really, really hard on myself, I'm definitely my own worst critic and can be my own worst enemy, and I'm trying very hard not to be that." That's exactly why we love her.
4

She Really Wanted To Host SNL
One of the reasons she got into acting was so that she could one day host Saturday Night Live. We aren't even kidding you. Hey, don't knock the girl's dreams. We can't even blame her when we see those skits we totally want to be on the show as well. When she first dragged her mother to Los Angeles, she really didn't have a plan. All she knew was that one day she wanted to host Saturday Night Live. She went to Hollywood with no plan, but plenty of dreams and that was all she really needed. Her dreams certainly came true in more than one way, but she not only got to host SNL once, but twice.
She's stated that she has never been so happy in all her life and it's always fun to see people have their dreams come true. She told Vanity Fair, "Walking into Studio 8H and seeing pictures of Gilda Radner and Bill Murray and Steve Martin and Jan Hooks and Eddie Murphy and Molly Shannon and everyone I've ever admired in this exact room on this exact stage — I mean, beyond." Could she be any cuter? She's definitely got an awesome sense of humor and SNL suits her just fine.
3

She Proves That She Is Just Like Us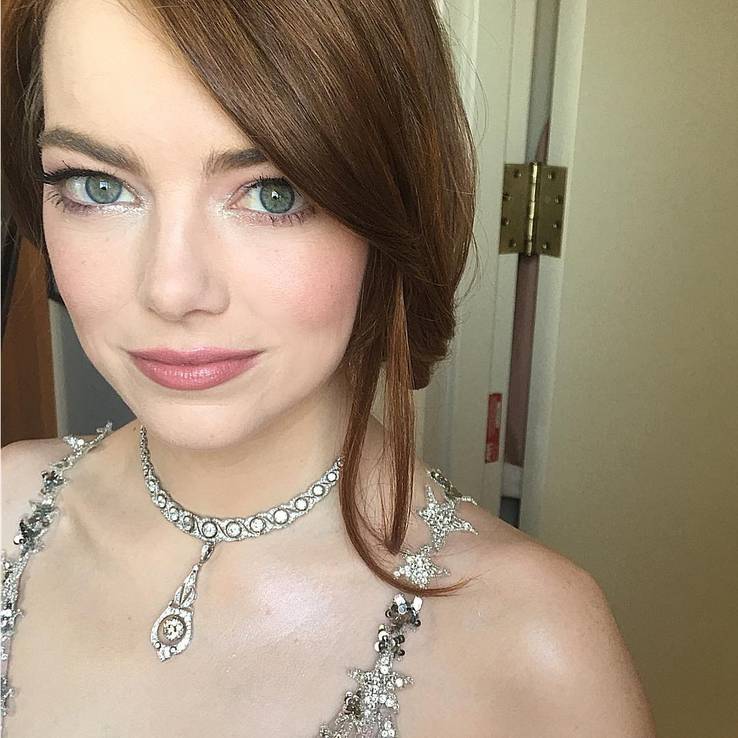 Don't we all just love it when we realize that our favorite stars are just like us? We totally do. It's so much fun to see these awesome Hollywood stars acting completely normal. It's funny that we all find this so surprising. They are all just human beings after all. When we take away their fame and fortune, they are just like the rest of us. It's fans that tend to put them up on pedestals, they rarely want to be up there themselves, except the Kardashians of course.
Celebrities all feel the same things that we do and when they are scared, angry or sad, it's no different than when we are. They can't even go for lunch without the media making it news and we are so pumped to see what they had for lunch. It's definitely a weird world we live in. It's so refreshing when we see a young star like Emma Stone literally saying, "I don't know what I'm doing," because she's not being fake and we would all probably feel the same if we were in her shoes. She's also just like us when it comes to body issues. "You won't hear me saying I have no body issues because I wouldn't be human if I didn't."
2

She Actually Knows Jennifer Aniston
Now she's definitely our favorite girl. Apparently, she has no problem hugging Jennifer Aniston when the moment strikes her. Sorry, J-Law! We could seriously spend a whole day shopping with these two and it would be the best day ever. These are a couple of strong, independent badasses in Hollywood, so it's no wonder they are friends. Just look how fiercely they are hugging each other. It's awesome. While Emma Stone was making her dreams come true on SNL, she also got to meet Jennifer Aniston when the two did a sketch together called Gender Equality. It was a hilarious skit and the two were hilarious together. It's pretty obvious that the two became friends afterward and we are loving every minute of it. SNL is a great way to practise improv and Emma Stone loves improv.
"I love improv. Crazy, Stupid, Love, the script was really great, but the directors were open to letting you try different things. And that felt like a muscle I hadn't exercised in a really long time."
She is one actress that is highly talented and we see that in virtually everything that she does. How could we not love this actress?
1

She Is One Of The Nicest People You Could Ever Meet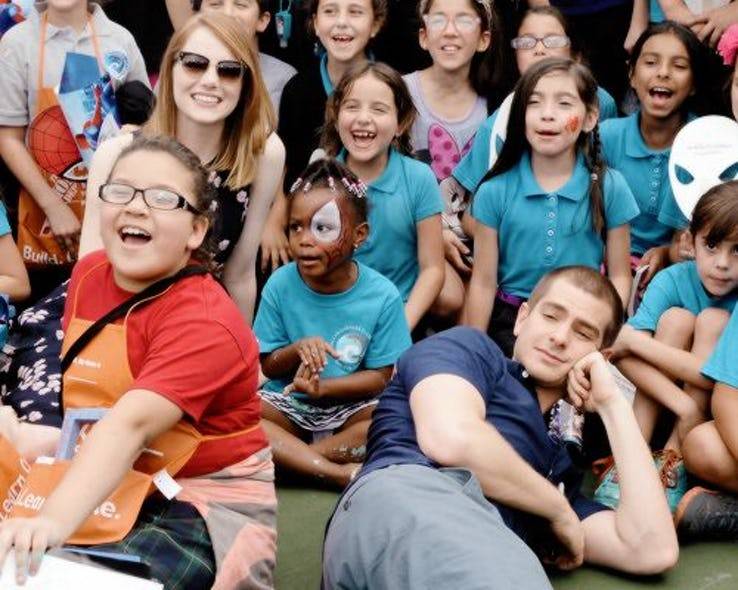 We have seen more than one instance where we would consider Emma Stone to be a really good person. Deep down she's an awesome human being and no wonder so many females flock to be friends with her. This girl is all about doing good deeds. She does good deeds all the time because she has a good heart. She works with charities and tries to bring about awareness about certain organizations. When she was still with Andrew Garfield they both attended the Be Amazing event in Miami Florida and that's where this photo was taken. The couple spent time there helping to plant gardens for Hialeah Gardens Community Improvement Organization. It's things like this that make us love Emma and have so much respect for her. She wants the attention off her and unto things that matter and that's the best part about her.
"I've read a lot of different versions of myself, and all of them are true because it's all opinion, and they're as accurate as it can ever be. But I don't think that I've been deft at hiding parts of my personality."
There is a lot of truth in what she says and at the end of the day, we love all versions of her.
References: cinemablend.com, marieclaire.co.za, ca.hellomagazine.com
Source: Read Full Article