The Olsen twins first gained popularity as the adorable twins who played one role as Michelle Tanner on Full House. As they grew older, they also grew from the spotlight, maintain a secret life that often appears strange to outsiders. They're very shy, keep to themselves, and don't give away much information. As kids, they were always smiling and appearing on red carpets, giving cute interviews about themselves. We couldn't tell them apart when they were young, but now that they're older, it's clear that they're two very different and independent women.
They do, however, slip up and tell some details about their life, and we've gathered those bits and pieces here to share with you. Many of us grew up watching these girls grow up, so it's definitely hard to think about where they might be now, not having any idea what happened to the adorable Michelle Tanner. Many fans were bummed when they decided to not return to their role, but they're pretty busy building a billion-dollar fashion line.
The twins don't give much away, but what they do gives us a look inside the glamorous and modest lives they're living now. They're still young, and as they grow older, only time will tell what more information might be revealed about the twins.
15

Mary-Kate Married Olivier Sarkozy And Has Two Step-Children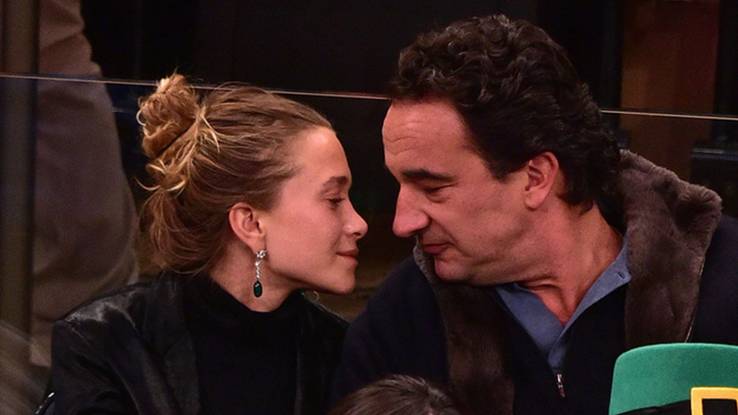 Mary-Kate Olson married her boyfriend of three years, Oliver Sarkozy, in a small Manhattan ceremony three years ago this November. When you think of the type of people that are living in $6.5 million apartments downtown and having expensive weddings in the middle of the city, it seems that Mary-Kate and Oliver are living that dream. On her marriage, she stated, "I think we're lucky. [Working hard] comes quite naturally for us. We don't need so much time to sit and think and ponder."
You definitely have to be a hard worker to get where Mary-Kate and her husband are now. She also stated, "But then I have a husband, two step kids, and a life. I have to go home and cook dinner. I ride horses on the weekends. You find the thing that helps you relax, and if you don't have it, you have to look for it. Or you get burned out, and then you're not productive."
Mary-Kate has received some criticism based on the age difference between the couple. They're visibly different ages from each other, but some believe the girls are more mature, having worked since they were nine months old. They've been together for over half a decade, so only time will tell if they'll live their intended happily ever after.
14

Ashley Was Recently Spotted With Jonah Hill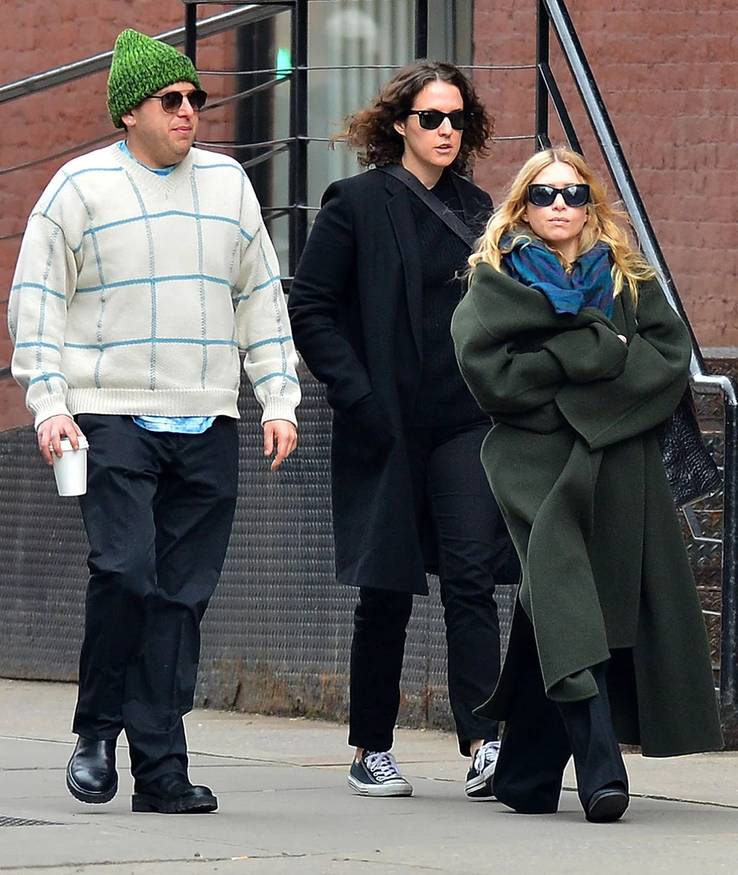 Ashley Olson has been known for having a thing for older guys like her sister, Mary-Kate. At one point in time, she was known to be dating Johnny Depp, someone 23-years-older than her. She was recently seen out with 64-year-old Richard Sachs, though the couple has reportedly split since then. It's a big age difference between the couple, and almost doubles the difference between her sister and her husband.
She's reportedly single, though she has been spotted with a mystery man as well as actor Jonah Hill. The two are allegedly friends and have been since they went to high school together, growing up close in California.
They've been spotted together in New York a few times, so the reality of their situation is only known by the two. Some say that if you love someone truly madly deeply, age is just a number. When it comes to the Olsen twins, we can't help but wonder if there might be some unresolved underlying issue for why these girls have a trend of dating men older than them. Ashley is notoriously private as well as her twin sister, so the juicy details about their romantic relationships are only known to the duo.
13

They Never Show Emotion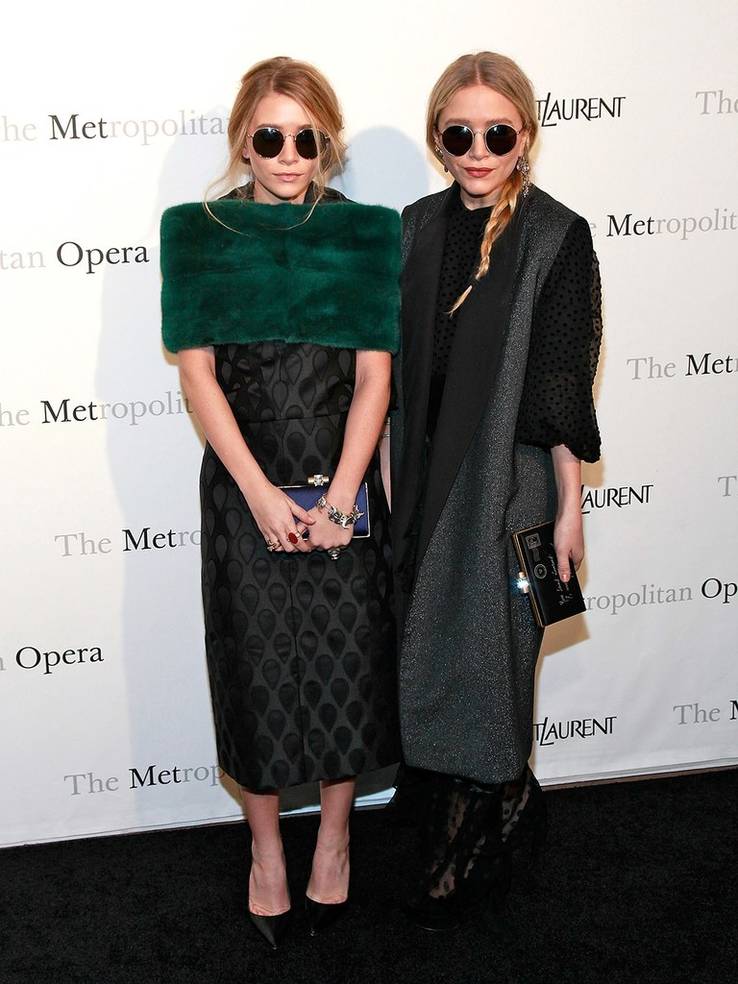 As children, Michelle Tanner was one of the funniest little girls on TV. The twins eventually started doing other movies and shows, not being afraid to let their bubbly personalities shine behind the camera. They were known for being cute and funny, always wearing trendy clothes and popular among teens and kids.
The biggest criticism they get now that they're older is that they lack any emotion at all. They rarely give interviews and stick mostly to the fashion world, so not being seen and heard as often as they used to automatically makes fans perceive them as reclusive.
The girls are very private from the media, and having grown up in front of the cameras has likely caused them to seek their privacy again. They were, and probably still are in most places, the most famous twins. That's a lot of pressure for two young girls, so we don't blame them for not always flashing smiles.
It's still rare to see the girls even smile, unless it's a candid shot, of course. It could be that they don't care about putting on fake smiles, or it could be in the name of fashion.
12

They're Ghosts On Social Media With Only A Few Strange Posts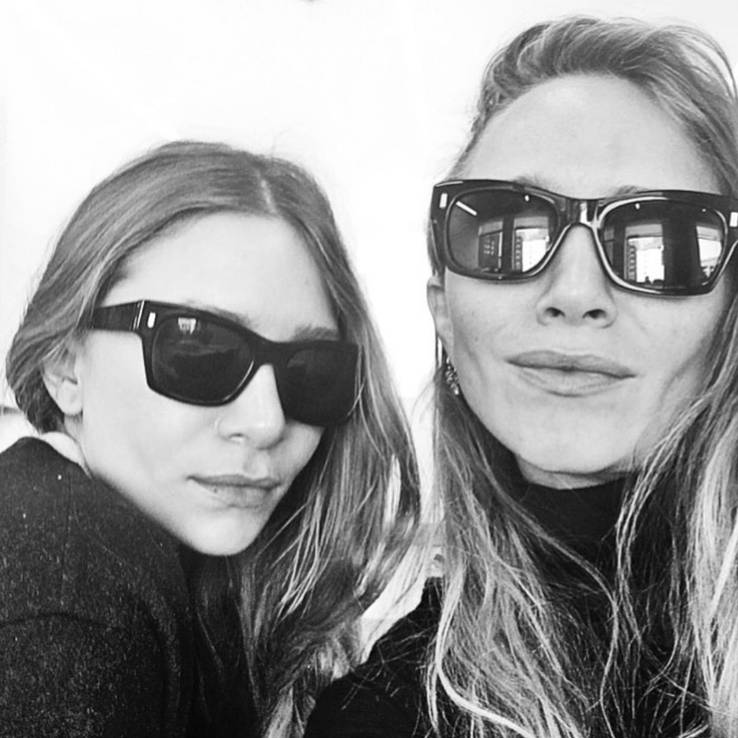 The sisters are so absent on social media that they actually seem like they're a bit scared of it. The only known selfie of them is one that was posted on Sephora's Instagram when the girls took over the social media page. They could have hundreds, thousands of selfies, but they don't post them online or anywhere for the public to see.
Staying off social media seems like it has to do with their desire for a private life. People oversharing online has led to their safety on more than one occasion, especially in celebrities' lives, so the girls are being smart by avoiding various accounts to ensure their privacy.
As designers and businesswomen, it seems like they would want to use the free advertising social media offers. Kim Kardashian and Kylie Jenner are able to sell out their products by not paying for any advertising due to their use of social media. Could the girls be missing out by not expanding their brands through their own personalized social media?
Maybe they will join one day, and if that ever happens, we know that it would break the Internet. Would they each have their own account, or share won together?
11

They Haven't Seen The Full House Cast Since 2004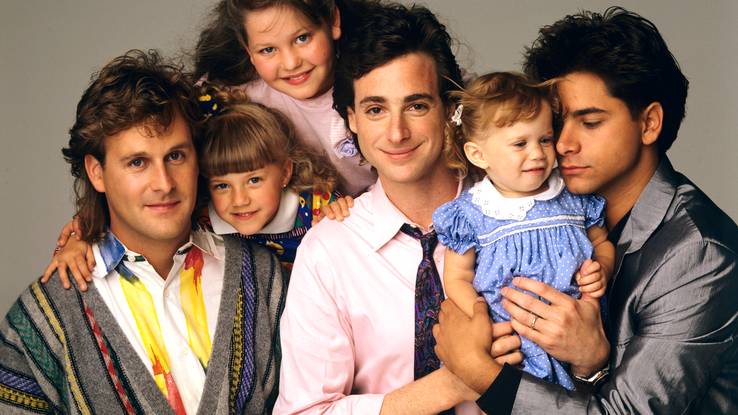 The cast has allegedly not met up with the Olsen twins in over a decade. The show's creator had apparently been trying to get ahold of them for three years, deciding to eventually give up on inviting the girls, knowing that they hopefully knew the door would always be open.
It was no surprise that the girls decided to not rejoin the cast when the show was rebooted on Netflix. The girls claimed that they had only known about the revival once John Stamos posted online about that, but Stamos himself was quick to call bull on that claim. He had desperately tried to get the girls to come back to the show, all attempts failing.
They're serious about their business and won't have the desire to act. Fashion is all about image, and the show likely wouldn't align with the aesthetics of their fashion lines.
The show is successful without them and has even poked fun at the ex-actresses, stating in the show that Michelle was away working on her fashion line. Do you think the girls watch it together? Or maybe they agreed to not watch it at all, but in the struggle to resist the temptation, they actually broke down and have secretly watched it.
10

They're Worth Hundreds Of Millions On Their Own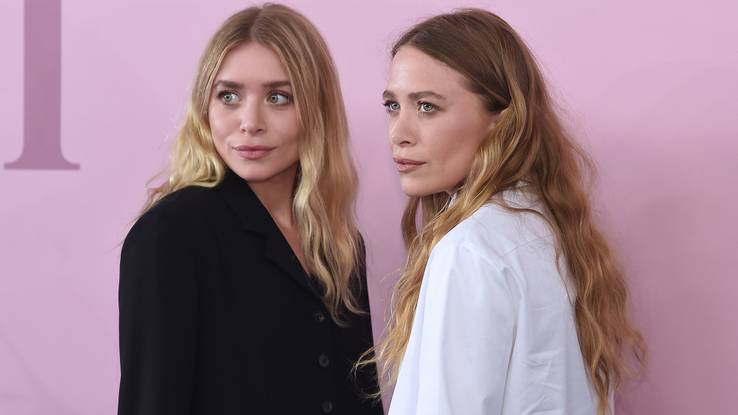 The twins have dated millionaires throughout their adulthood, and it's clear that this is purely out of choice, being financially successful individually. The girls have had countless pieces sold, some expensive and some affordable. They've created bags, dresses, fragrances, and countless other items sold both in stores and online. They started it all on Full House, but they managed to keep it going after that, investing their money wisely and making smart decisions to help grow their brands. Their industry is estimated to be worth close to $1 billion, but with that wealth also come some controversies. The girls ended up getting sued by former interns who stated that the twins failed to pay them. The unpaid interns were overworked, one of them, Lalani, stated,
"I was doing the work of three interns. I was talking to her all day, all night. E-mails at nighttime for the next day, like 10 p.m. at night. You're like an employee, except you're not getting paid. They're kind of mean to you. Other interns have cried."
Lalani said that she was also hospitalized after getting dehydrated from working a 50-hour work week.
9

They've Sold Some Questionable Designs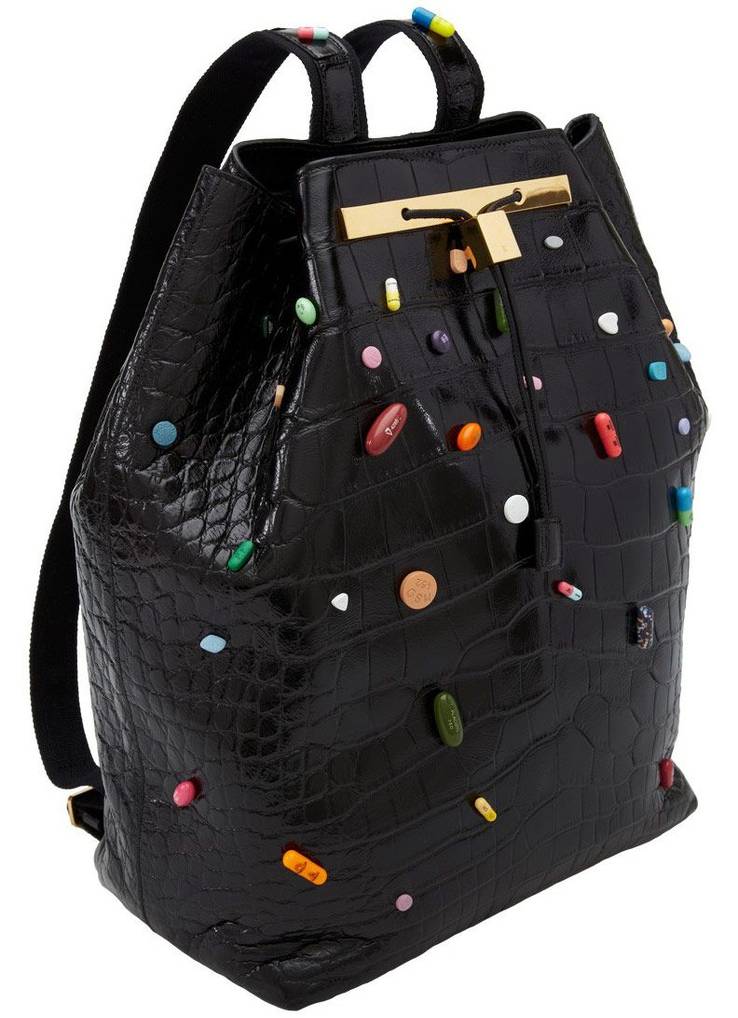 Fashion is complicated, it's a way for one to express themselves, and that can certainly be done in some strange ways depending on the designer's vision. The twins are known for having an eclectic style, most of it inspired by a masculine, vintage, and unique designs. One of the unique things they sold online was a $39,000 crocodile skin back at Barney's. The bag ended up selling out right away, to whom we don't know.
The girls saw this as an opportunity to upgrade this deal and partnered with Damien Hurst to create another bag. Hurst is a painter who is known for being able to sell pieces for millions of dollars. Together, the three artists created another crocodile skin bag, this time adorned with pills.
The bags go up in value as they're signed by Hurst, and they certainly show some strong symbols through the use of the pills. The girls have other bags that sell from only $1,000 to $3,000, still out of most people's price range but at least less than the cost of a really cheap house. A portion of the sales from the bag was said to go to charity, though that amount is unknown.
Featured Today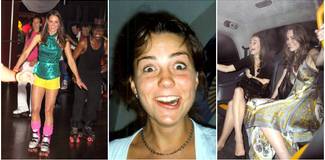 25 Rare Photos Of Kate Middleton Pre-Royalty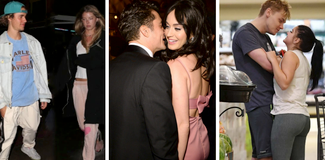 15 Attractive Celebs Who Are Out Of Their BF's League

15 Rules Dwayne Johnson Makes His Daughters (And Newborn) Follow

8

Mary-Kate Was Close To Heath Ledger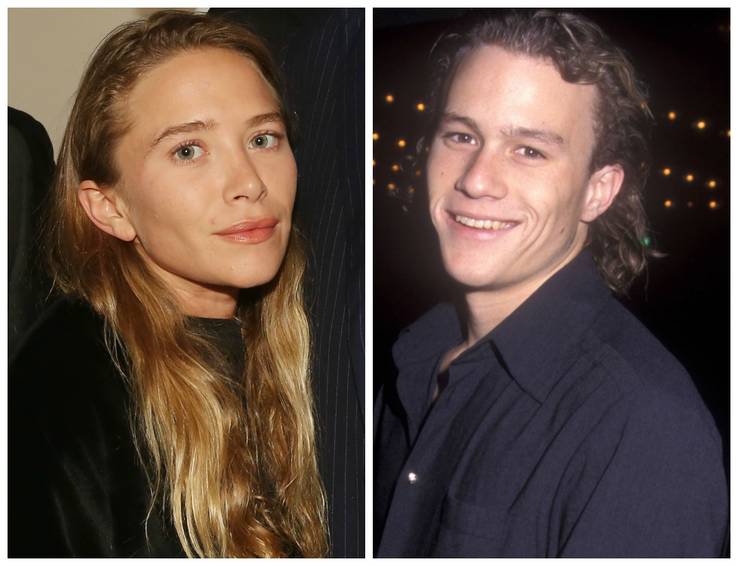 A source close to Mary-Kate stated that before Heath Ledger's death, "Mary-Kate and Heath were casually dating. They were hooking up, but neither was particularly interested in making it exclusive."
The couple had never once been spotted together and even less was known about their relationship. She was never mentioned in anything after his death, and it was unclear what her involvement in his life really was. What makes it strange, however, is that the person who found Heath Ledger's body called Mary-Kate even before they called 911.
When it came to the investigation to his death and how he got the pills that killed him, Mary-Kate refused to cooperate unless she was granted immunity. Some stated that this proved she was guilty, but many would advise that immunity is always something to ask for just in case information gets twisted. She hasn't commented on the incident and a decade later, nothing more is known about her involvement in his death. The twins have been accused of being under the influence because of how much they've changed since childhood. Ashley fought back at those claims by suing a newspaper that stated she was caught in a scandal.
7

The Pair Still Squeeze Each Other's Hands To Say "I Love You"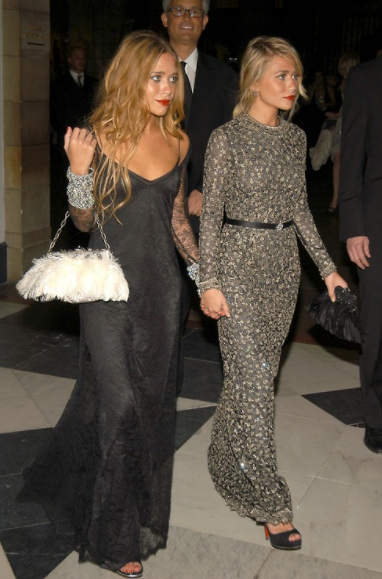 When Mary-Kate and Ashley were still just little girls that were on Full House, she stated in an interview that, "We had this little thing, we love each other. We'd squeeze each other three times, then I'll squeeze her hand back like four times, like 'I love you too'." A little secret like that was adorable to fans when they first heard of their secret language, and years later, it's just as heart-warming.
After being spotted together at New York Fashion Week to present their brand, The Row's Fall/Winter 2018 collection, it was clear the twins still do the same hand signal.
Someone went against the no phone rules and took a picture of the pair touching hands, stating that they still signalled to each other that they love each other. Some state that twins have special communication abilities, knowing what the other one might be thinking or doing. There isn't much science behind that, but Mary-Kate and Ashley's hand holding and overall closeness with each other is definitely a relationship to admire and envy. Even though one is married, and the twins are in their thirties, the two still remain close to each other, always make appearances together and supporting one another.
6

They Have Bad Habits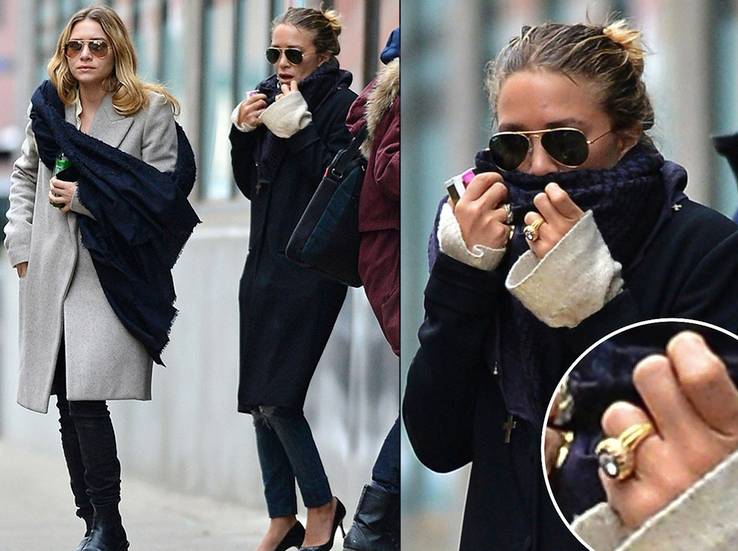 Many people go crazy when it comes to wedding decorations. They'll spend thousands on floral arrangements that are only going to die a few days later. Mary-Kate takes the award for strangest wedding decorations after some described her wedding as basically being "cigarette themed." The girls took up smoking like many young people do, especially in the fashion industry. They're often caught smoking outside on the streets of New York, coffee in hand. Some state that the habit helps keep them thin while others such on tobacco to help relieve stress. Why Mary-Kate and Ashley smoke is unknown, but it is known that they love it so much they decided to puff up pretty much throughout the entirety of Mary-Kate's ceremony.
There were only fifty people in attendance and it was at a private residence. There was a strict no-phone policy, which isn't surprising given their desire for privacy.
The guests described the wedding as having bowls and bowls of cigarettes spread throughout, pretty much everyone smoking the entire time. The Full House cast was not invited, though some did publicly congratulate the couple. It was Mary-Kate's first wedding, her husband's second.
5

Their Younger Sister Doesn't Mind The Spotlight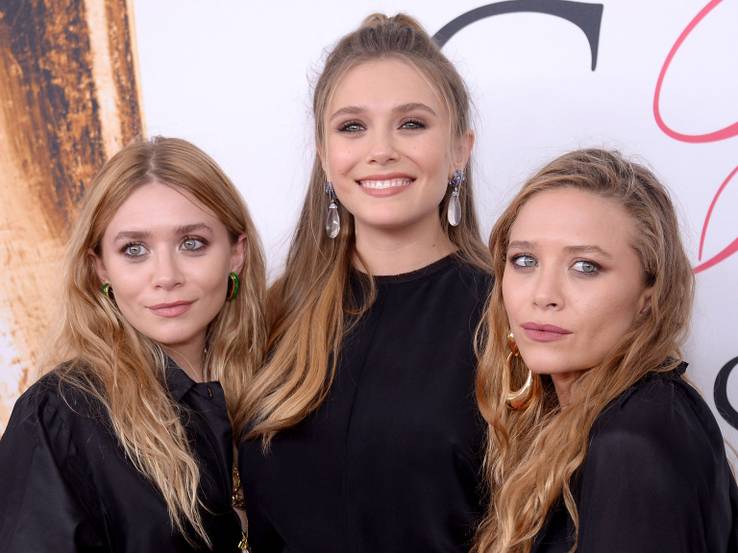 The twins are known for being siblings, and what many people overlook is that they have more siblings than just each other. The twins don't have any other twins as siblings, but they do have a sister, Elizabeth Olson, who's known for being an actress. She is much more open and gives appearances and interviews more often as well. She stated that she got some good advice from her big sisters and that they told her: "I was not caring what I was saying [in interviews] because I'd assumed no one would read it. That's when we'd have conversations. [Mary-Kate and Ashley] would say,
'You know, even if you don't think anyone's going to read this article, someone might pull the quote later [for something else]. It's all part of how you hope someone interprets you and how they frame who you are and the work you do.' They're very tight-lipped — notoriously so."
She still gets the same anxieties about how the media might frame her that her sisters do, stating, "I still deal with so many anxieties of how I come across. I'll go home at night, spinning with a guilt complex of, 'Did I say something stupid to that person who I respect? Do they think I'm a freak?' I don't want to think like that anymore."
4

They Have A Forgotten Brother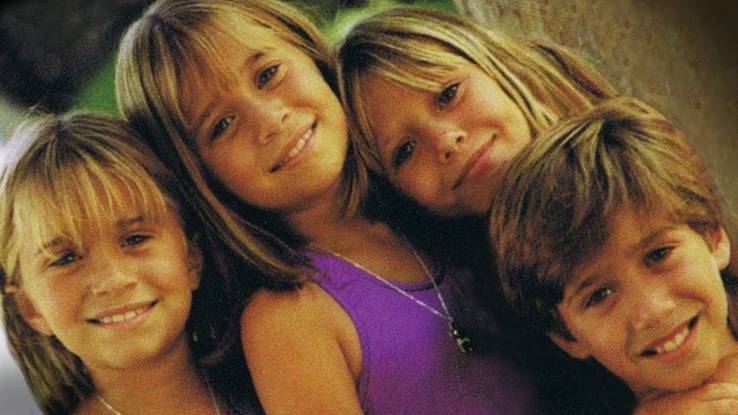 Even lesser known than their sister Elizabeth is their younger siblings Jake Olson, brother, and their youngest sister, Taylor Olsen. The two are not in the spotlight, and like many siblings of uber-famous celebrities, they have tried to make a name for themselves. Not much is know about Jake Olson.
He apparently sold the signed headshots of his sisters when he was in college, rising to popularity and successfully graduating, something that can't be said for his twin sisters.
Olsen isn't that uncommon of a last name, though it wouldn't be surprising to find out that he gets asked a lot of he's related to some of the most famous twins on the planet. the entire Olsen family seems to be very private when it comes to social media. It would be pretty interesting to get a peek at what their family holidays look at, as we're sure Mary-Kate has a strict "no phones" policy like she does for many of her events.
3

They Handed Out Crystals At A Fashion Show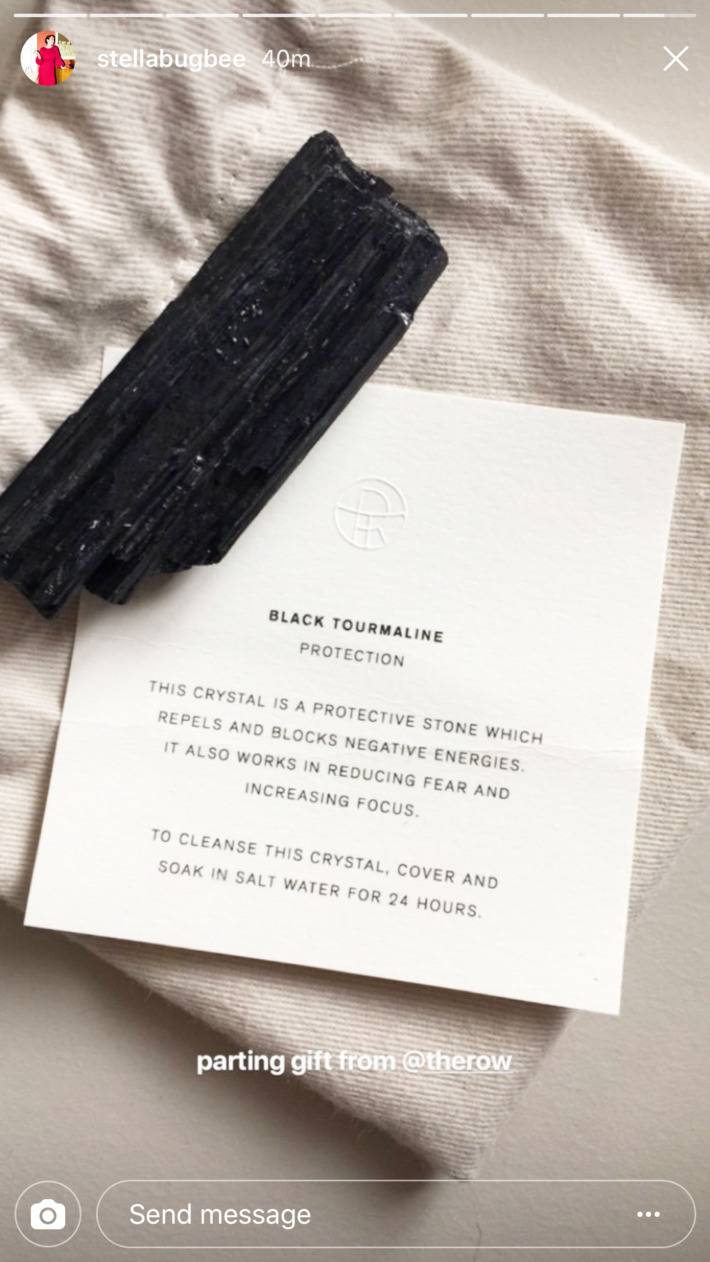 The Cut reported on the most recent fashion show of the Olsen twins and stated that the goody bags at the show were incredibly on brand and rather unique. The website reported, 'Each person was given a palm-sized crystal, either in black or white. Clear quartz crystals were meant to be used for 'universal harmony,' or balancing and revitalizing the 'physical, mental, emotional, and spiritual planes.' Meanwhile, black tourmaline crystals were specifically for 'protection.
'This crystal is a protective stone which repels and blocks negative energies,' read an accompanying notecard. 'It also works in reducing fear and increasing focus.' There were instructions for both on how to clean your crystal, in case you didn't already know that requires a 24-hour salt bath."
The Olsen twins are known for going above and beyond and truly caring about their unique brand, showing their passion through their design. This little detail certainly helped create an idea of what more is to come in their eclectic designs.
2

They Make Some Interesting Fashion Choices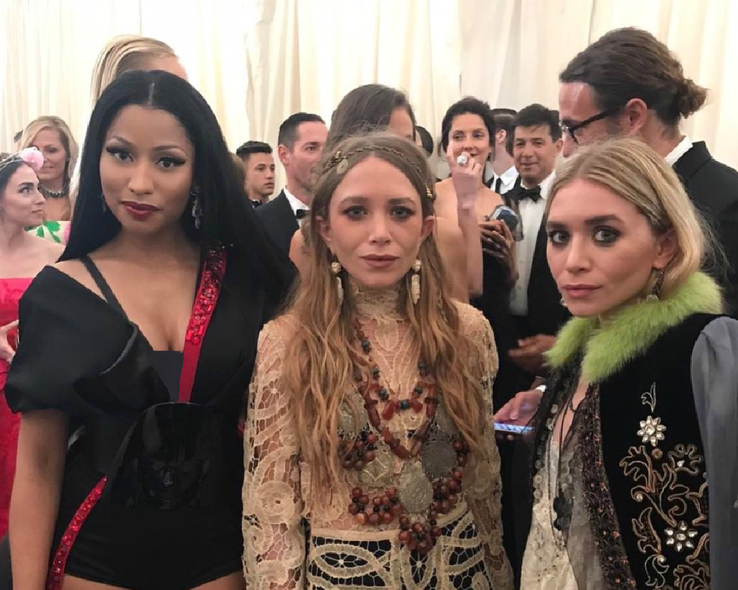 When appearing for various purposes to promote Full House as children, the Olsen twins were seen wearing cute matching outfits. As they got older, they strayed away from wearing similar dresses, and eventually developed their own individual brands, allowing each of their uniqueness to show through their designs and personal style.
Some have criticized the duo for looking so different now than they did as children, but that was clearly something they struggled with, as they had no desire to be remembered as Michelle Tanner forever. Instead of becoming party animals like many child actors, they were able to become the leaders of a huge industry.
They don't do that by wearing normal things. The twins are known for being petite, but they are often seen wearing baggy clothes and drape coats. They wear black and rarely have bits of color. They're incredibly modest in the clothes they wear, barely showing much off at all. It's become their signature look, and while some criticize them for being strange, they clearly don't look like other people. Their hair has stayed similar as well, usually split down the middle, light brown or blonde with waves. They keep it natural, classy, and neutral, and they've done so for a while now. Just as they've changed throughout the years, their style likely will and we'll be eager to keep up.
1

Mary-Kate Enjoys Her Alone Time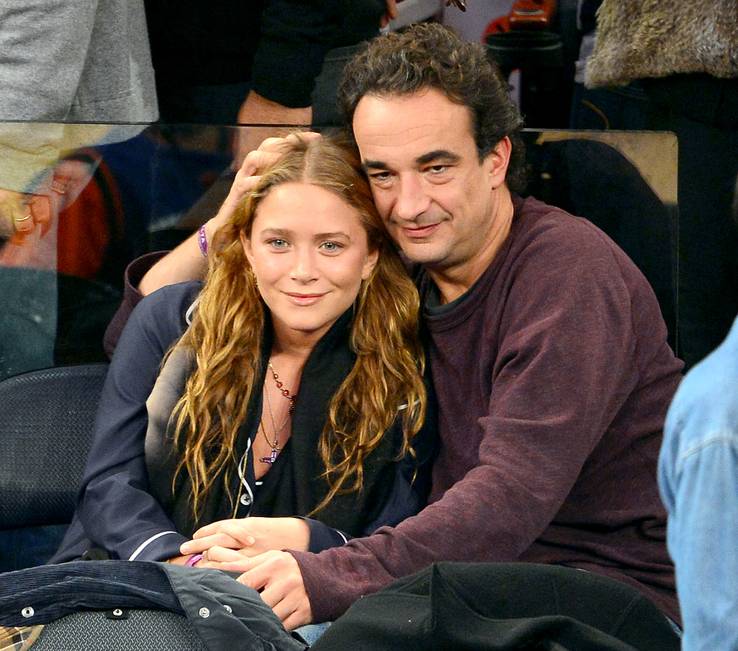 Mary-Kate has apparently stated that she enjoys walking around her house without clothes on. Some of us do that, but usually when it's just to grab something quick from the dryer or if we forgot to bring a towel to the bathroom. She said in an interview: "I run around my house naked with heels all the time. It's so funny. All my friends will tell you I love running around in kimonos and jewelry or naked with jewelry."
Mary Kate takes it to a bit of a strange level by stating that she does it while wearing jewelry and high heels. This was stated in an interview she did in a decade ago, however, so who knows if that has still held up. She looks at clothes all day, so it makes sense she'd want to take a break from them every now and again.
The girls made a rare TV appearance on Ellen, agreeing to play a game with her where they tell if the behavior Ellen described was more like Ashley or Mary-Kate. At one point, Ellen asks who would survive better on Naked and Afraid, and the girls stated that they weren't even sure what that show was! It's clear now that Mary-Kate would likely win that battle, having had much practice walking around in her birthday suit.
Sources: US Magazine, Daily Mail, Chicago Tribune, Bustle, Vanity Fair
Source: Read Full Article