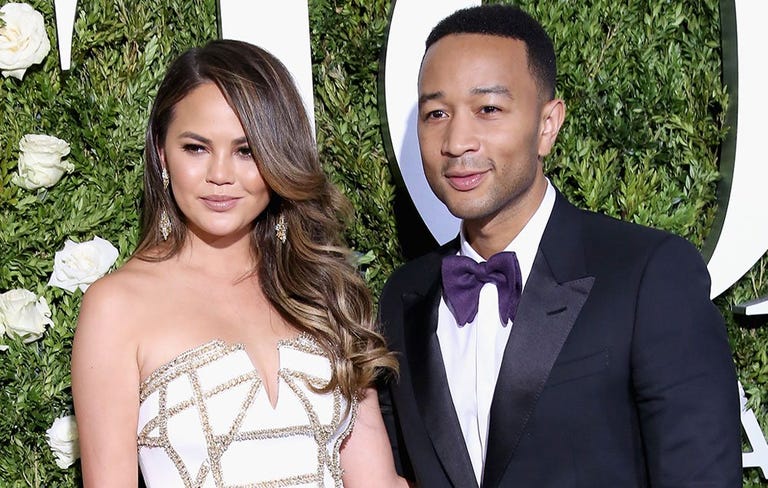 Chrissy Teigen has built a massive Twitter following thanks, in part, to her delightfully unfiltered musings — from the time she realized doggy-style sex was a little more revealing than she thought to the time she made fun of herself for having a sex dream about her husband.
Here are 19 times the model and cookbook author was refreshingly — and hilariously — honest about sex, relationships, and her marriage to Grammy-winning singer John Legend.
1. When she discovered the secret to a successful marriage
marriage is all about pretending to be excited pic.twitter.com/AEk3VOOV7Z
2. When she analyzed her sex dream about her husband
I had a really sexy dream about my husband. How lame is that
3. When she punished John Legend for making her watch sports
it's important to talk about how attractive each player is when being force-fed football by your husband
4. When she took over a friend's dating app
I love doing dating app takeovers for my friends pic.twitter.com/d4Bynyv6qs
5. When she gave John Legend "crabs" at Red Lobster
Just gave @johnlegend crabs at red lobster. So romantic! No but really, it was delicious. Pound and a half of crab juice on my jacket. Mmmmm
6. When she admitted that marriage has made her more relaxed about her grooming routine
I bet I used to buy twice as many razor refills before I was married
7. When she forgot she was married to John Legend
@johnlegend sometimes i go to your page and get excited it says you follow me then i remember you married me im drunk
8. When she cried watching a reality TV show wedding — and not at her own
Definitely just cried at Tom and Katie's wedding on pump rules. Did not cry for my own.
9. When she expressed her sympathies for men whose partners plan themed weddings
Let's have a moment of silence for any man who was forced to have a themed wedding
10. When she invited former president Barack Obama to her wedding
I invited Barack Obama to our wedding. He asked what the date was. I said, "I dunno, we'll work around you". I'm drunk and awesome.
11. When she gained a LOT of confidence after a few glasses of wine
John and I shared a bottle of wine now I wanna go skateboarding
12. When she didn't need the real-life version of her husband anymore
I don't even need human John anymore https://t.co/qF885WtXdp
13. When she just really, really, really hated John's footwear, okay?
please stop reporting me for saying I want to die when John wears sandals pic.twitter.com/CsobDs4rAJ
14. When John's vocal warmups became too much to bear
I know he has a beautiful voice and I know I am "soooooo lucky" and blah blah but john's vocal warmups make me want to stab my brain
15. When John's vocal rest made her panic about the state of her relationship
Touring life with John is basically him resting his voice and never speaking and me saying "are you mad at me" every 45 minutes
16. When she remembered what she said to her husband on the night they met
Every time someone asks john for a selfie and says "I never do this" I think back to the night we met when I said it but not about selfies
17. When she made a shocking discovery about sex
Yes. I didn't know men could see my butthole during sex. It was a naive thought and I'll never be the same. https://t.co/LMrR7GceBD
18. When she gave advice on getting verified on Twitter
u should have sex with a famous person like I did
19. When she revealed how her husband forces her to bathe
John had to physically pour ranch dressing onto my naked body to just get me to shower today. It's 8pm.
Source: Read Full Article